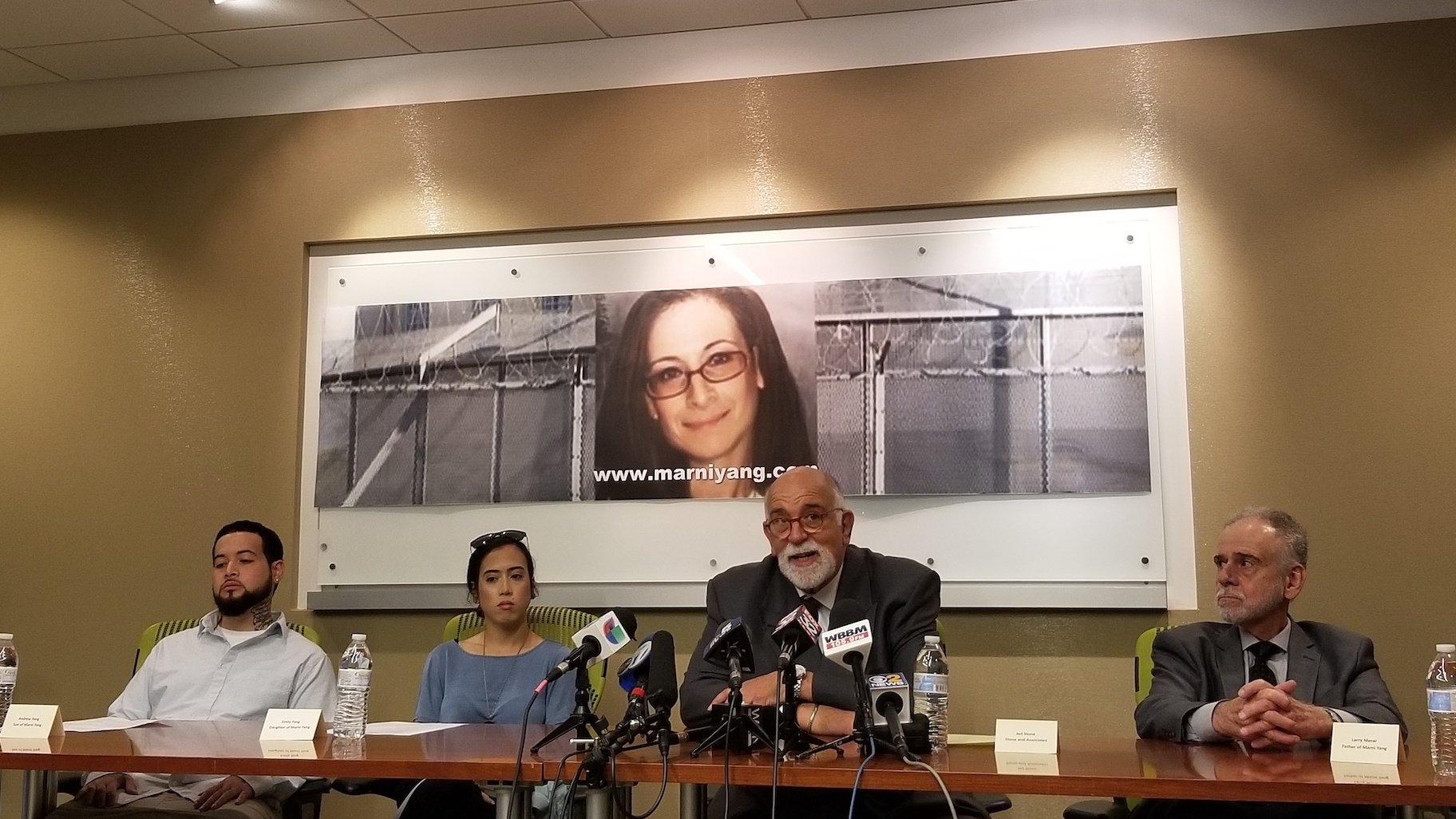 Attorney Jed Stone, center, speaks during a news conference Wednesday discussing his new petition for Marni Yang's freedom. He is surrounded by Yang's children, left, Andrew and Emily, and her father Larry Merar. (Matt Masterson / WTTW News)
It's been more than eight years since Chicago real estate agent Marni Yang was sentenced to life in prison for the 2007 murder of Rhoni Reuter, the pregnant lover of former Chicago Bears star Shaun Gayle, in a sensational case that garnered headlines for years.
But Yang's attorneys now say they have evidence proving their client's innocence.
Waukegan defense attorney Jed Stone this week filed a post-conviction petition demanding Yang, 51, either be released from prison or granted a new trial based on new ballistic and forensic evidence he claims will exonerate his client.
"We're going to get a hearing because there is evidence of actual innocence," Stone said during a press conference Wednesday in Chicago. "We're going to get a hearing because there is evidence of police misconduct. We're going to get a hearing because there is evidence of a prosecutor suborning perjury. And when those things are proven to a judge, we will get a new trial."
Yang had worked as Gayle's real estate agent on several projects, but the pair also had romantic encounters. Lake County prosecutors said she grew intensely jealous of Reuter, 42, who was carrying Gayle's child, and plotted for months to kill her.
At trial they argued Yang was in a "jealous rage" when she snuck into Reuter's Deerfield condo and shot her romantic rival six times, killing her and her unborn baby. She was arrested and charged in the slaying two years later in 2009 after she was recorded confessing to her friend Christi Paschen, who was wearing a wire for police.
Yang had allegedly informed a friend of her plans the night before the killing and disguised herself before entering Reuter's condo. It took jurors just four hours to convict her of first-degree murder – a conviction that was later upheld on appeal.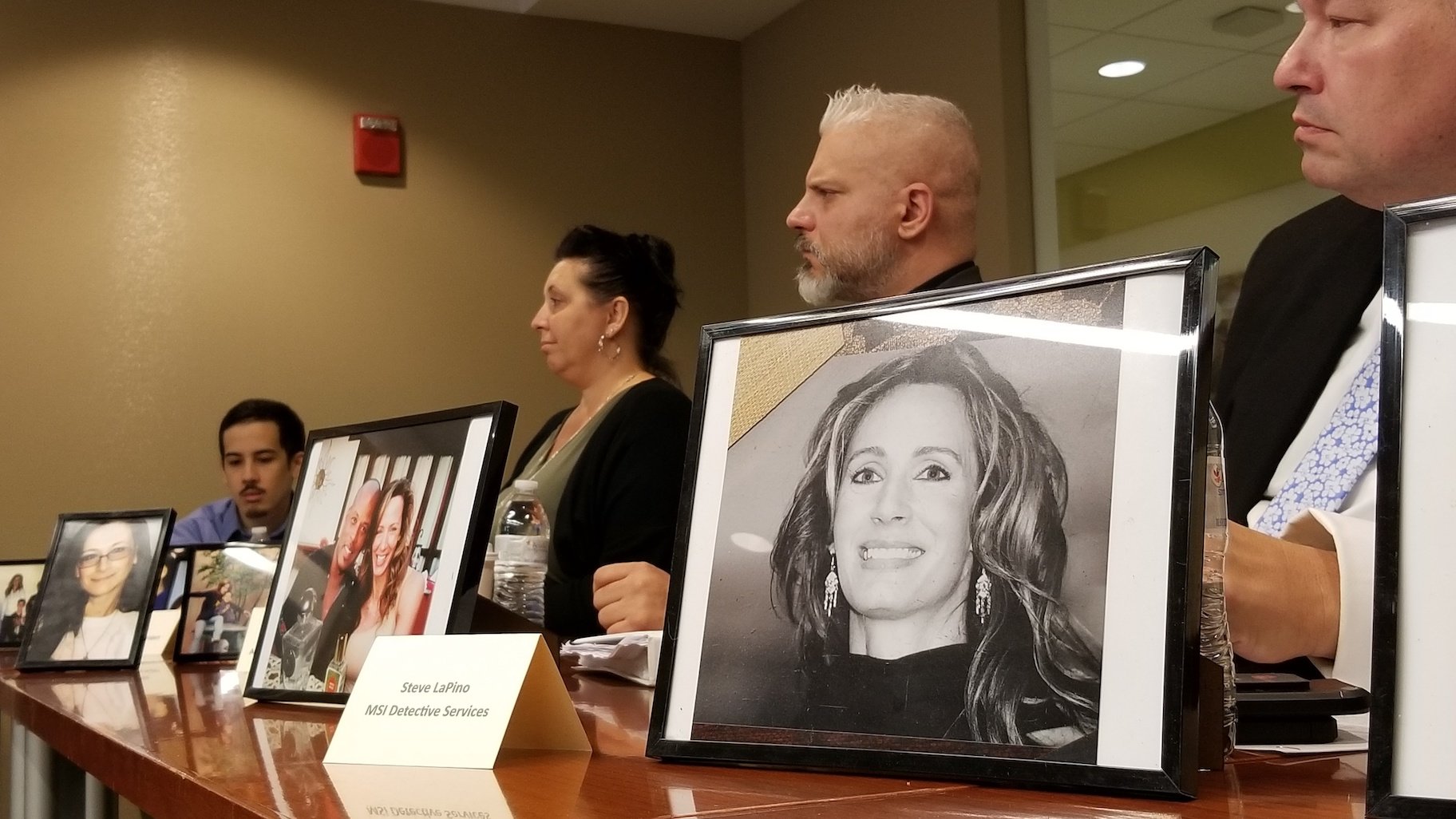 Members of Marni Yang's family and investigative team sit behind photos of Rhoni Reuter, who Yang was convicted of killing in 2007. (Matt Masterson / WTTW News)
Stone's team included nearly a dozen experts who spent years evaluating every detail of the case.
Their motion covers a number of points. He claims bullet trajectory data indicates the shooter was much taller than Yang. The only DNA recovered from five unspent shell casings at the scene came from an unknown male. And the gun Yang allegedly used had been stolen five months before the shooting, a fact that was apparently not disclosed at trial.
But the most consequential piece of evidence was Yang's taped confession, recorded as Yang and Paschen sat inside a Denny's restaurant.
Stone now claims Yang was aware Paschen was cooperating with investigators. On another tape Paschen made, she indicates that her recording device slipped out during a conversation with Yang. Stone said his client knew she was being recorded and planned to "make s--t up" by giving a false confession which didn't match known details of the murder.
He said Yang did so in order to protect her son Andrew, 16 years old at the time, who the Lake County Major Crimes Task Force had allegedly threatened to arrest for the murder despite a total lack of evidence.
"I had nothing to do with it," Andrew Yang said Wednesday. "My mother had nothing to do with it. I don't think they cared, they just wanted a conviction."
Yang's father Larry Merar corroborated that claim, saying his daughter told him she planned to give a false confession after learning of Andrew Yang's impending arrest. Merar said he pleaded with Marni Yang not to go through with it.
"She was adamant," he said, "and said that she couldn't stand by and watch them destroy her children."
Beyond the physical evidence, the petition also alleges Lake County prosecutors manipulated evidence and suborned perjury, while Yang's trial defense team provided ineffective counsel by failing to challenge several key pieces of state evidence.
A spokesman for the Lake County State's Attorney's Office declined comment, citing the pending case.
Stone said he's won exonerations for nine previous clients who were wrongfully convicted. He believes Yang will be No. 10.
"I learned a long time ago, even before I was a lawyer, that things aren't always as they appear," he said. "I am telling you now, things are not always as they appear."
Contact Matt Masterson: @ByMattMasterson | (773) 509-5431 | [email protected] 
---
Related stories:
Man Falsely Convicted of 1993 Murder Says He Was Framed by Former Police Detective
4 More Cleared in Latest Exonerations Tied to Former Chicago Police Sergeant
Illinois Leads Nation in Exonerations After Police Corruption Scandal
Is Chicago Really the 'False Confession Capital'?
What Leads to False Confessions? 'Making a Murderer' Attorneys Weigh In
---