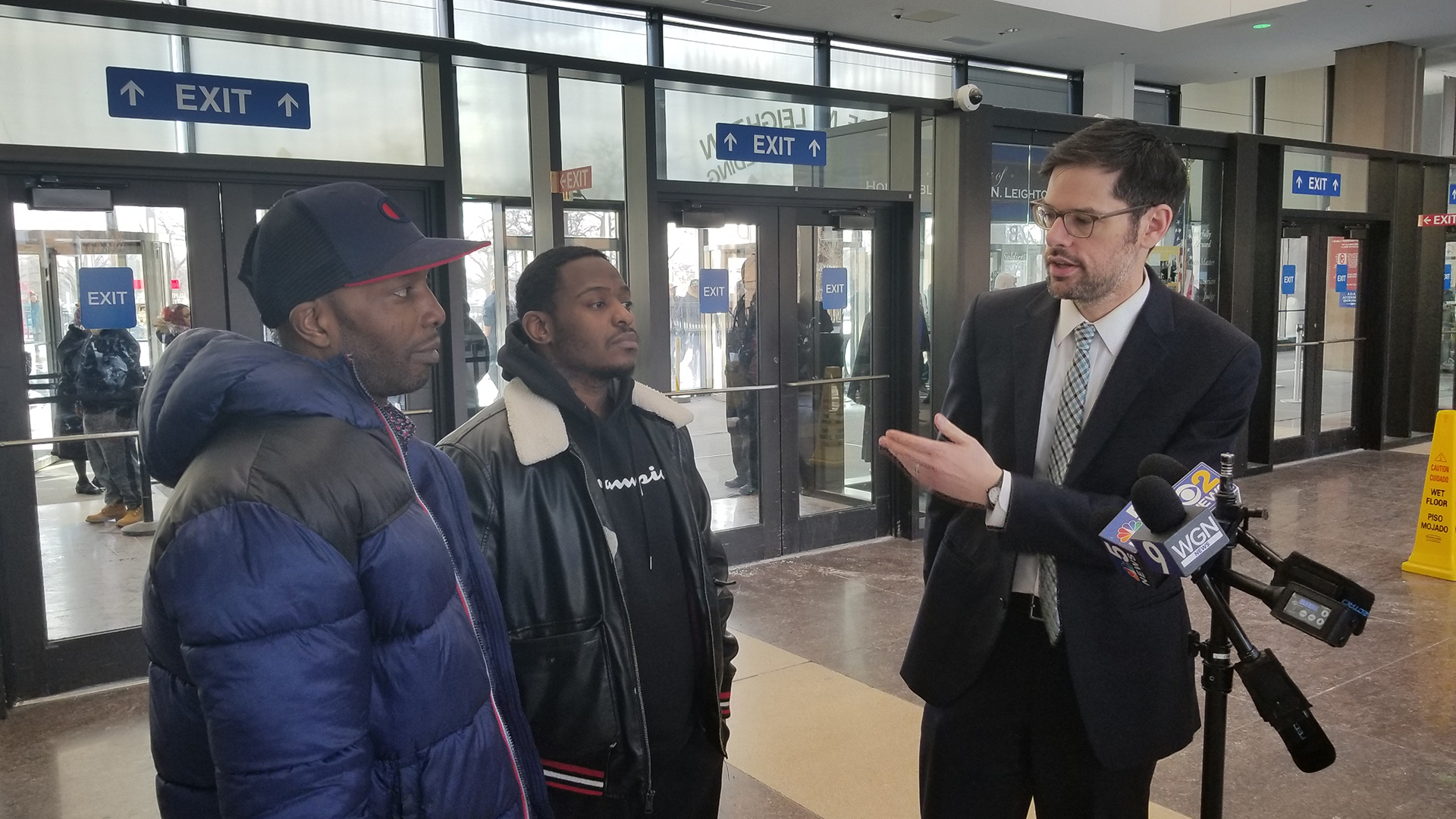 Attorney Joel Flaxman, right, stands inside the Leighton Criminal Court Building with Jermaine Coleman, center, and Germain Sims on Wednesday, Feb. 13, 2019. (Matt Masterson / Chicago Tonight)
Standing before Cook County's presiding judge inside the Leighton Criminal Court Building on Wednesday morning, Jermaine Coleman and Germain Sims turned to their lawyer, smiled and shook his hand.
Coleman and Sims had just become the most recent exonerees to have their convictions vacated after being framed by disgraced former Chicago Police Department Sgt. Ronald Watts and his team at a South Side housing project.
"I'm glad justice has been served," Sims said after the brief hearing.
Four men – Coleman, Sims, Robert Lindsey and Jabal Stokes – were exonerated of false drug convictions Wednesday. They join 10 others who had convictions tossed out Monday and dozens who've been falsely convicted and later exonerated in cases related to Watts.
Watts, former CPD Officer Kallatt Mohammed and others on their tactical team would routinely extort residents at the Ida B. Wells housing project in the Bronzeville neighborhood. If they didn't pay up, the cops would then allegedly plant felony-level drug amounts on them and lie about it under oath.
"When the system fails one of us, it fails every single one," Sean Starr, an attorney with the Exoneration Project, said Monday. "These individual guys' stories … are just the latest example of a calculated, feigned ignorance on behalf of the Chicago Police Department."
In all, 63 people have had a total of 82 convictions thrown out since 2017 in a series of mass exonerations connected to Watts and his team. Many of those arrests followed a similar script, with Watts or other officers rounding up residents and guests at the housing project and demanding payment in order to avoid an arrest.
"If you ain't got money, they locking you up," Coleman said. "If you don't pay them, they locking you up. They were just doing a lot of things they weren't supposed to be doing."
Coleman said he was doing nothing more than standing outside and playing with his kids when he, Stokes and about 10 other men were arrested. He assumed he'd be facing some sort of trespassing charge. But once he was taken to a holding center, he learned he'd instead been charged with heroin possession.
Coleman was convicted and served 1.5 years in prison.
"I come home, my son running around, 2, 3 years old," he said following his hearing. "A few years of my life going down the drain for nothing cause I'm outside chilling in front of a project building."
Kim Wilbourn, who was in court Monday, said he was visiting a friend at Ida B. Wells in September 2006 when Watts and his team arrested him. His brother, Vondell Wilbourn, was also framed by Watts and had a pair of drug convictions dismissed last year.
"He took everything from me," Kim Wilbourn said Monday. "Not only that, he destroyed my family, he destroyed my mental stability. I will never be the same again."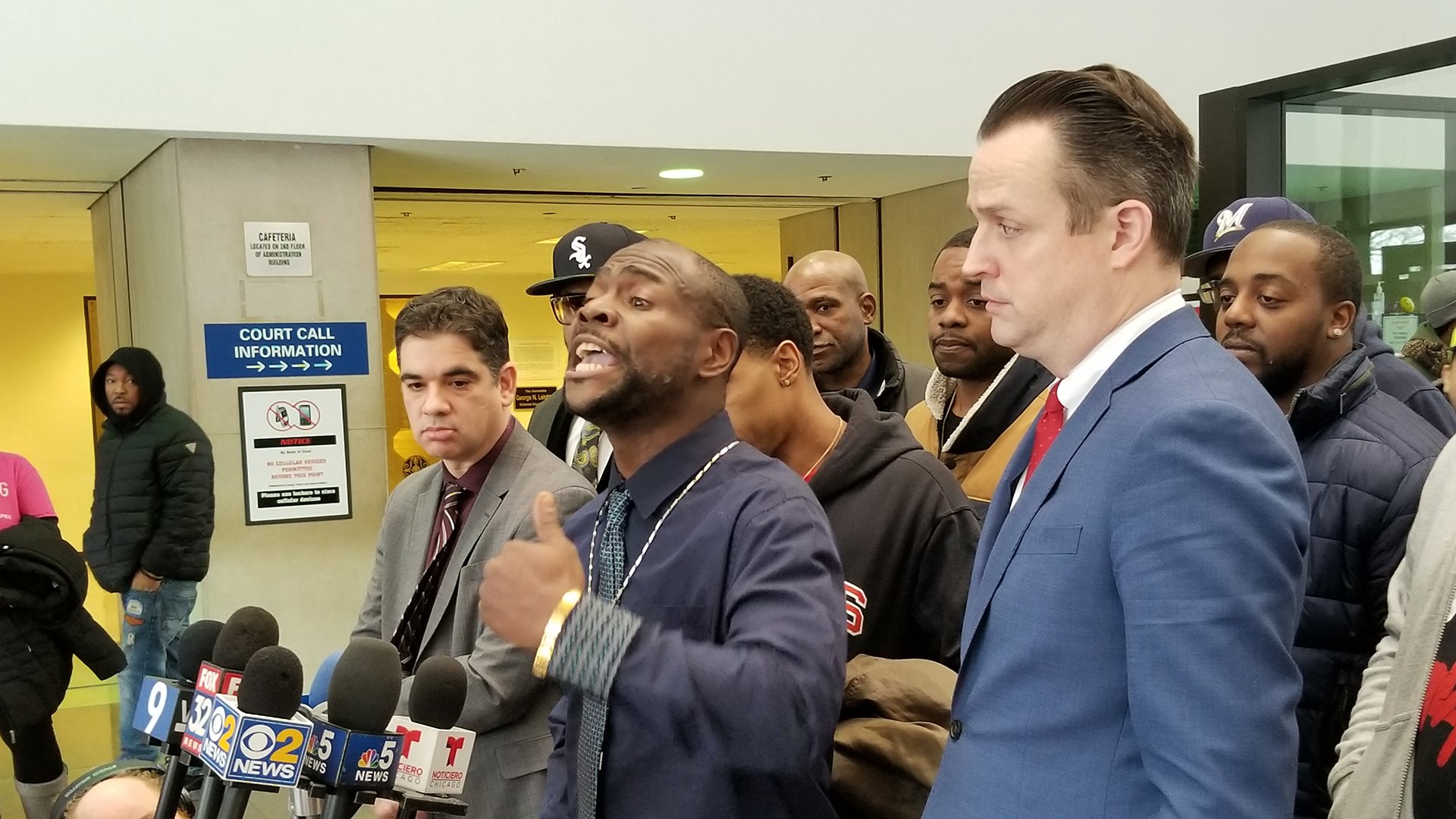 Kim Wilbourn, center, speaks to media following his exoneration Monday, Feb. 11, 2019. (Matt Masterson / Chicago Tonight)
Watts was eventually arrested on federal charges after he was recorded attempting to steal money from a federal agent posing as a drug courier. He was convicted in 2013 and sentenced to 22 months in prison. Mohammed was sentenced the previous year to 18 months in prison for extortion.
The 63 exonerees have been collectively represented either by the Exoneration Project or Joel Flaxman of the Law Office of Kenneth N. Flaxman P.C., which represented the four men Wednesday. Both groups have said they're already in contact and vetted dozens of others from the housing project who may have likewise been framed by Watts and his crew.
Mayor Rahm Emanuel and CPD Superintendent Eddie Johnson have previously condemned Watts' actions, saying they have "zero tolerance" for any police misconduct or abuse.
And while Watts and Mohammed are no longer on the force, Flaxman said there may be as many as 15 other officers tied to these false convictions who remain on paid desk duty.
"Every time we're here we thank the county for hearing these voices and taking action for justice," he said Wednesday. "Every time we're here we say it's time for the city to do the same thing and finally act on these investigations … It's time for the city to take some action here."
Contact Matt Masterson: @ByMattMasterson | [email protected] | (773) 509-5431
---
Related stories:
15 Men Cleared in First-Ever Mass Exoneration in Cook County
15 Men Seek Exoneration in Lawsuit Claiming Chicago Police Corruption
Murder Charges Tossed for Chicago Man After More Than 2 Decades in Prison
Naperville Man Acquitted in Retrial 22 Years After Arson Murder Conviction
Is Chicago Really the 'False Confession Capital'?
---