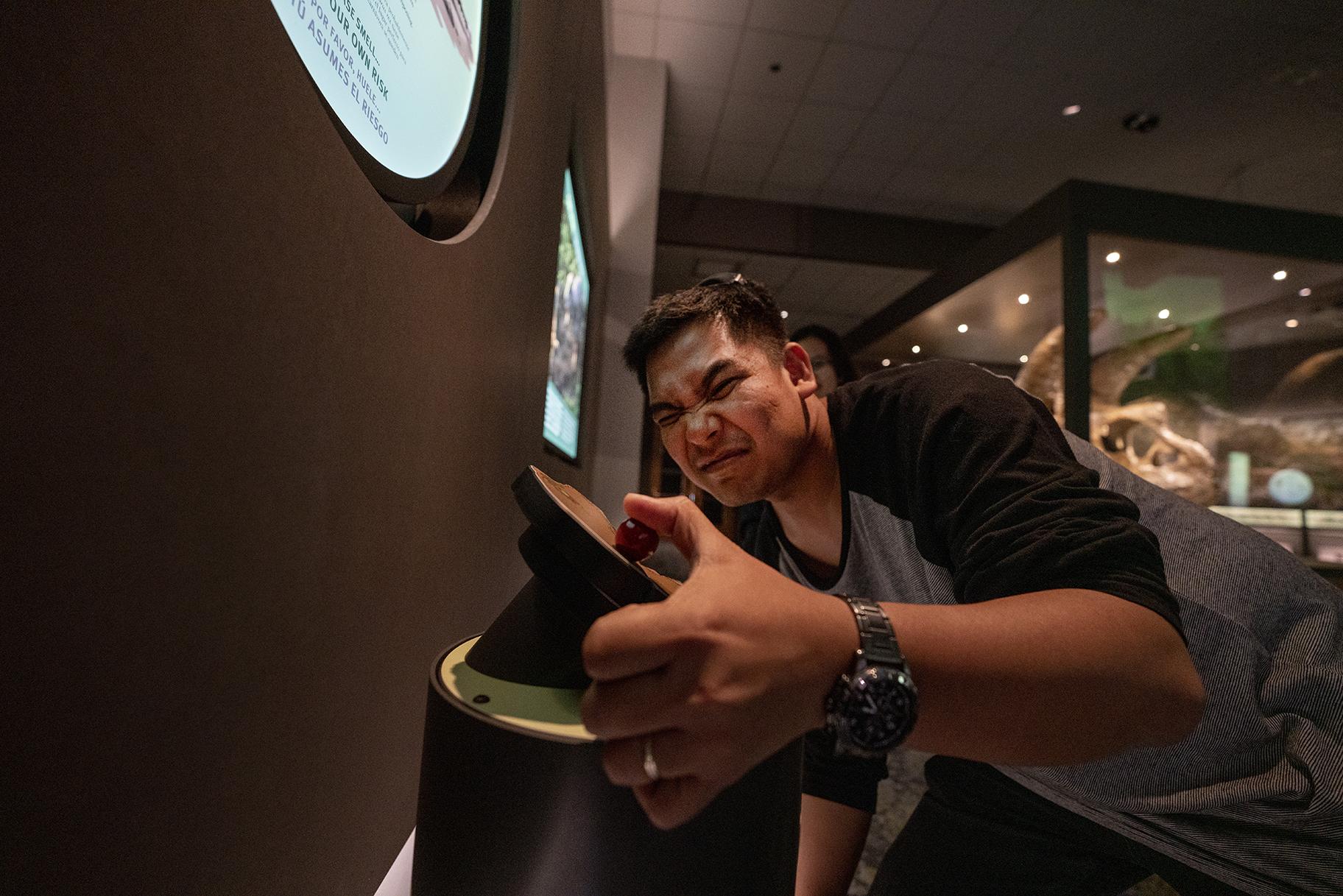 New sensory features allow Field Museum visitors to smell the rotting-flesh stench of Sue the T. Rex's breath. (Martin Baumgaertner / Field Museum)
Get a whiff of this: Visitors to the Field Museum's Sue the T. rex exhibit can now experience for themselves what Sue's breath might have smelled like after one of its meat-heavy meals. (Spoiler alert: Not nice)
The odorous twist is part of new "sensory stations" unveiled this week at the iconic dinosaur's suite inside the museum's "Griffin Halls of Evolving Planet" exhibit. The stations are designed to provide an even more intimate experience of the largest T. rex ever discovered, beyond Sue's 40-foot-long skeleton and a host of other features built into their new $8.4 million exhibit, which opened late last year.
The new stations allow guests to watch animated video of Sue lumbering through a forest from the late Cretaceous Period (some 67 million years ago, when Sue was alive); hear the T. rex's deep, subsonic rumble; and feel the texture of Sue's scaly skin compared to that of other dinosaurs.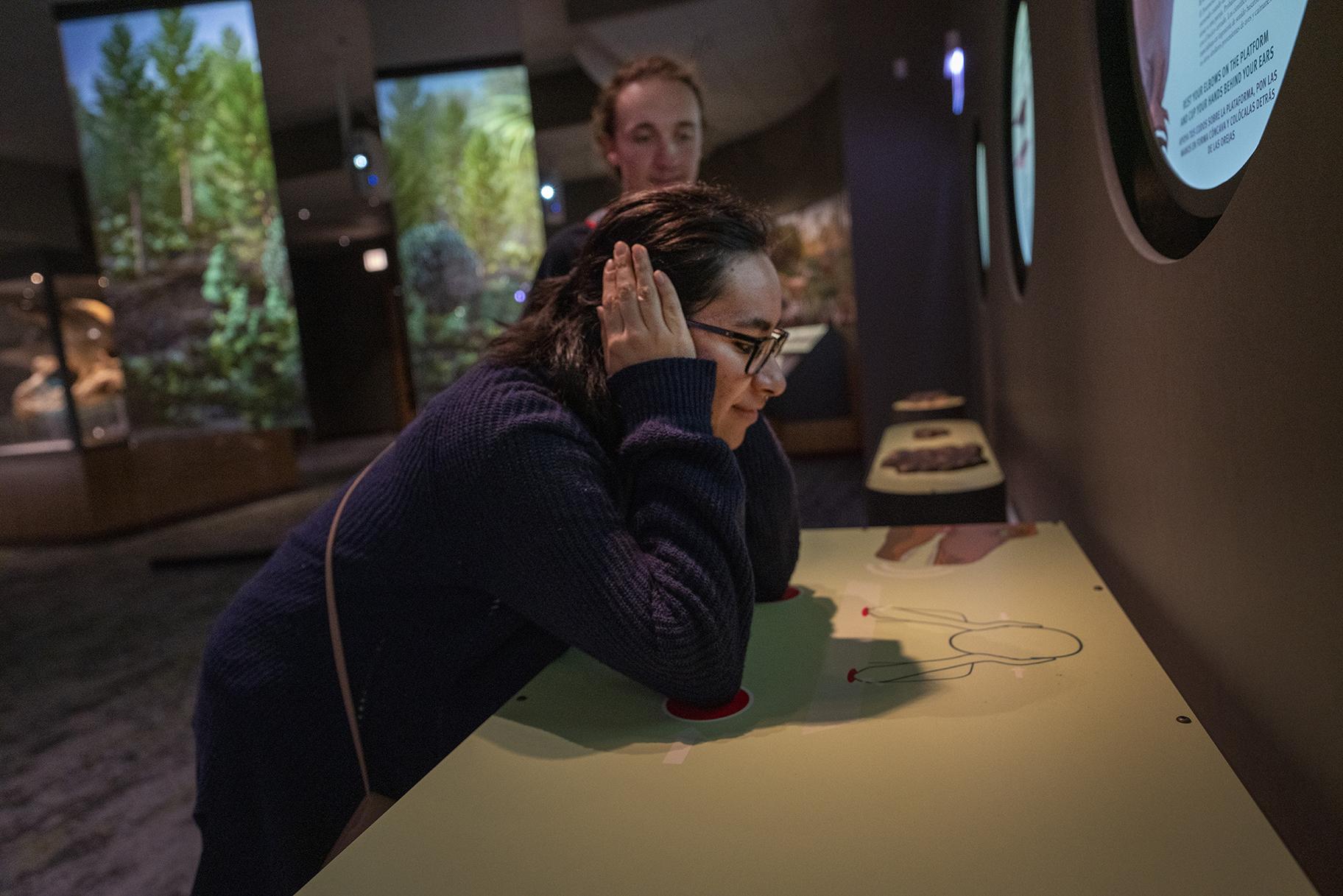 Bone conduction technology lets visitors hear and feel Sue the T. Rex's subsonic rumble. (Martin Baumgaertner / Field Museum)
But it's the stench of Sue's post-meal breath that has elicited the strongest reactions from visitors thus far, said Emily Parr, an exhibitions project manager at the Field who oversaw the development of the new stations.
Given the T. rex was a carnivore and had serrated, banana-shaped teeth, Parr said her team was able to put together a fairly accurate composite of what Sue's breath might have smelled like.
"We know that some pieces of flesh would get caught in the teeth and sort of rot," she said.
To get the right smell, Parr said the museum worked with scent companies and ordered a handful of putrid scents, which exist primarily to help police officers train for responding to environments with foul smells. One of those scents, which the Field describes as "rotting flesh," was selected for Sue.
Visitors who step up to the station are warned to "smell at your own risk," and Sue's breath is described as "the scent of death."
"It's not pleasant," Parr said.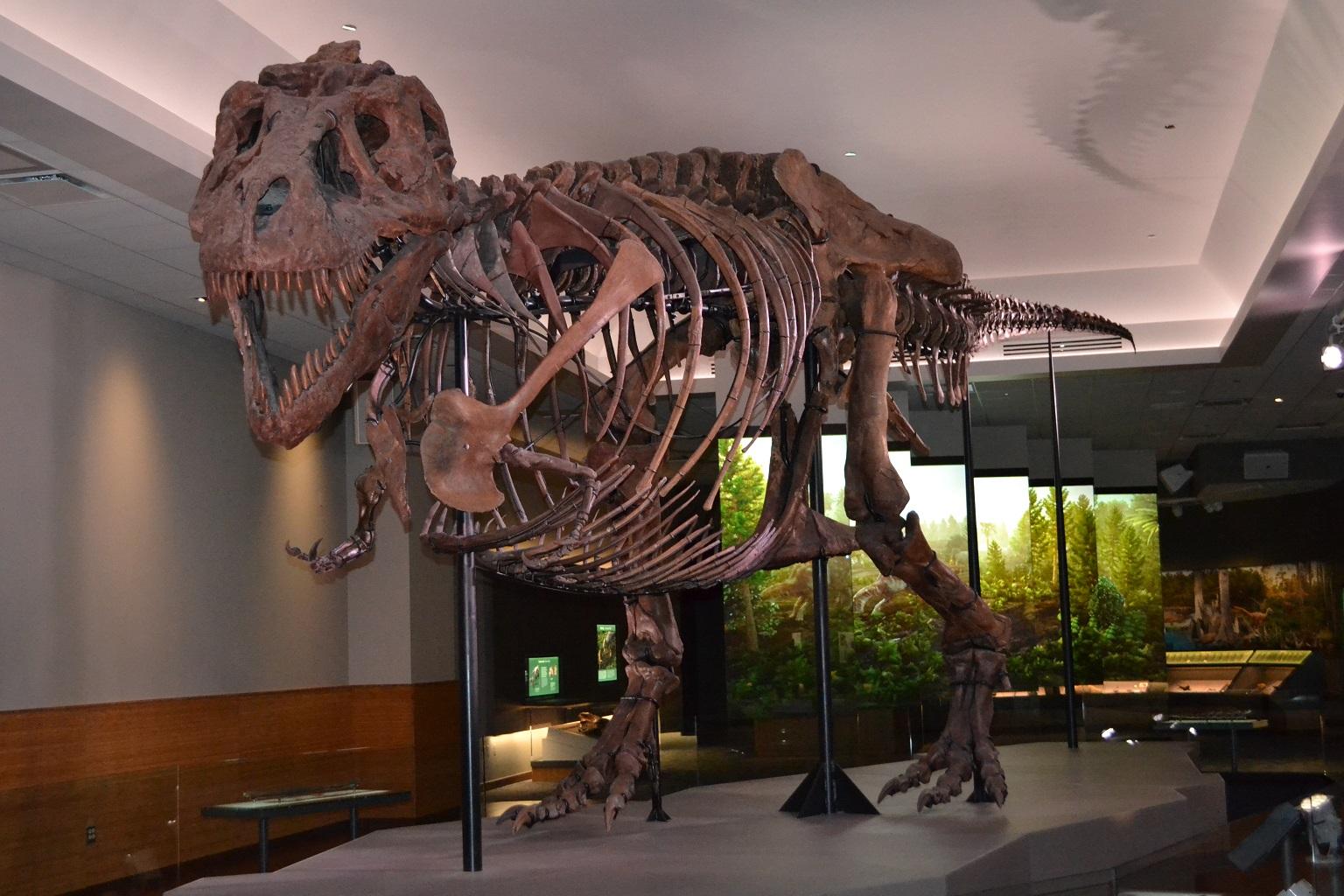 Sue the T. Rex inside a new "private suite" that opened in late 2018 at the Field Museum. (Alex Ruppenthal / WTTW News)
A much more appealing scent is available nearby to give visitors a sense of the Cretaceous forest that served as Sue's domain. But getting this scent right was even trickier, Parr said.
The museum went through 40 to 50 custom scent recipes to get the right mix, which combines scents from a tulip tree, conifer tree and ginger plant. These plants are the modern-day relatives of three fossils that have been found at or near the South Dakota site where Sue's skeleton was discovered nearly 30 years ago.
After analyzing the fossils and identifying present-day relatives, Field staff worked with the Chicago Botanic Garden to fine-tune the scented oils featured at the smell station.
Another station reinvents Sue's subsonic rumble based on research suggesting that T. rex noises sounded most similar to a crocodile rattle or the sound made by a bittern, a type of bird. The station incorporates recordings of these noises with a pitch scaled to a body of Sue's size.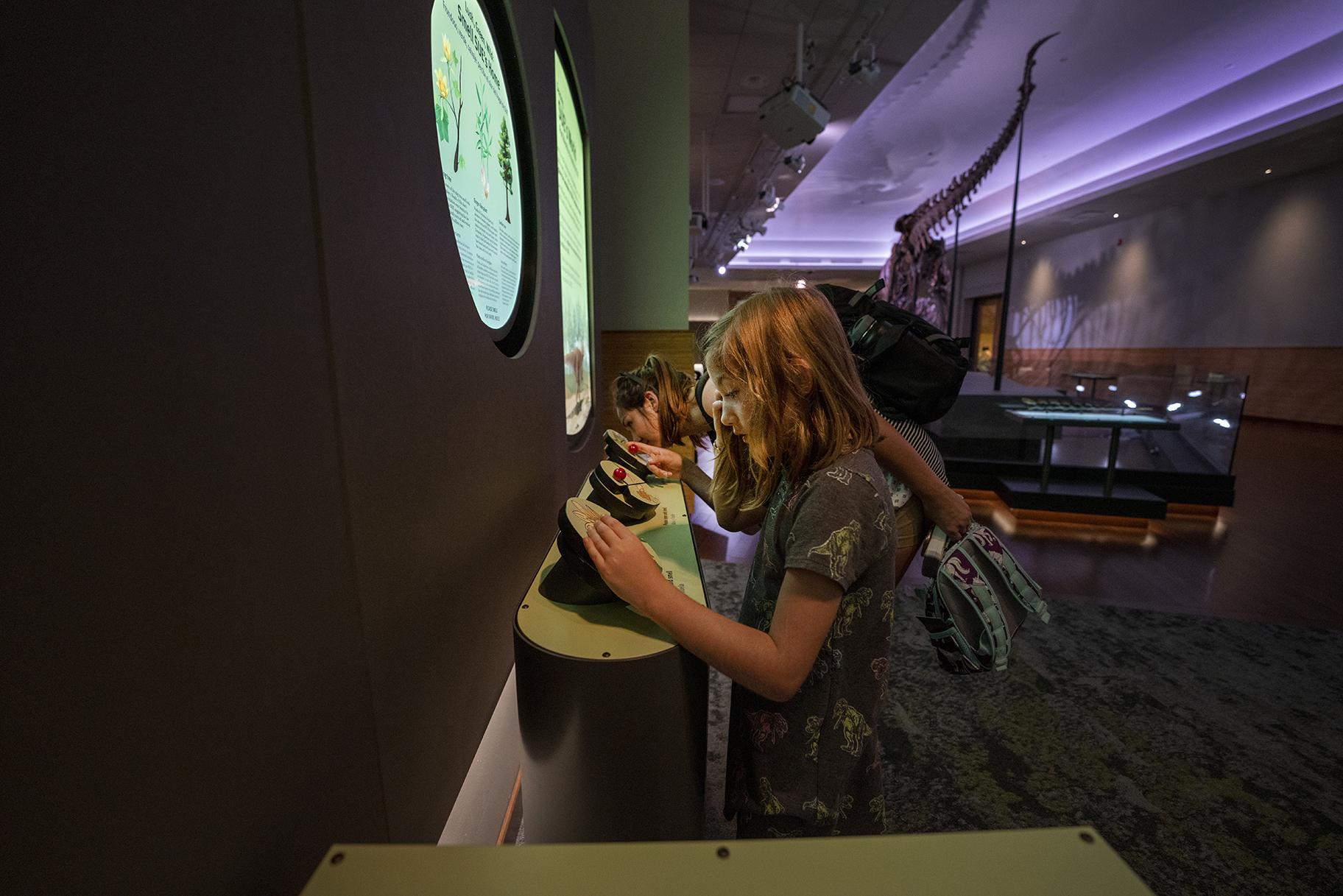 Thanks to research on fossil plants, Field Museum visitors can now experience what the Late Cretaceous forest traversed by Sue the T. Rex might have smelled like. (Martin Baumgaertner / Field Museum)
Sue's rumble is something visitors not only hear but also feel. Guests are instructed to rest their elbows on a platform that uses bone conduction technology to transmit vibrations that go along with Sue's deep-pitched noise.
Parr said the noise is far different from the screeching roars ascribed to the T. rex in popular culture.
"It's a rumbling that's made from inside the body [of the T. rex] and not just a roar," Parr said. "The rumbling sort of passes through you; you can feel it in your bones."
A final station lets visitors touch a composite skin of a T. rex designed by fabricators from the Black Hills Institute of Geological Research in South Dakota, with help from the Field's own paleontologists. The composite is based on skin impressions from the neck, tail and hip of an adult T. rex.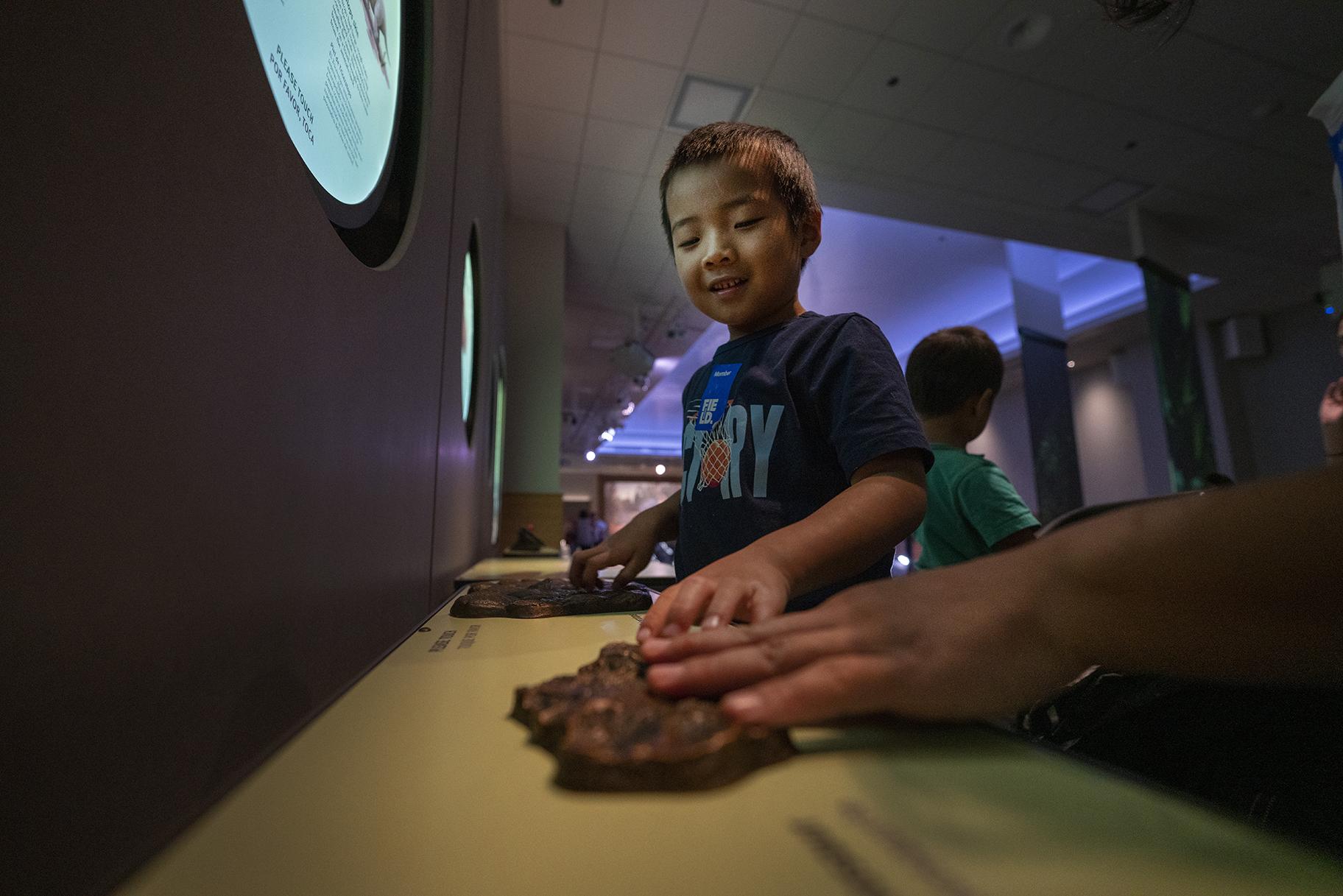 Visitors can feel how the skin textures of various dinosaurs – including the T. Rex and Triceratops – differed as part of new multisensory stations at the Field Museum. (Martin Baumgaertner / Field Museum)
Next to the T. rex skin are composite skins of two fellow Cretaceous-era creatures: the Triceratops and Didelphodon, an early mammal relative.
Parr said a team of about 10 worked on and off for a year to develop the new sensory stations, which were part of the museum's strategy to immerse guests in Sue's environment.
"How do we really bring Sue's world to life for our visitors?" Parr said. "The idea of sensing Sue's world came up, and we just wanted to take this extra time to do all this in-depth research to get the science right."
Contact Alex Ruppenthal: @arupp | (773) 509-5623 | [email protected]
---
Related stories:
T. Rex Check: Sue's Arm, Leg Bones Examined in Attempt to Diagnose Past Injuries
A Look Inside Sue the T. Rex's New 'Private Suite' at The Field Museum
Sue the T. Rex Moves into 'Private Suite' Next Month at Field Museum
Shark Remains Discovered in Rock That Contained Sue the T. Rex