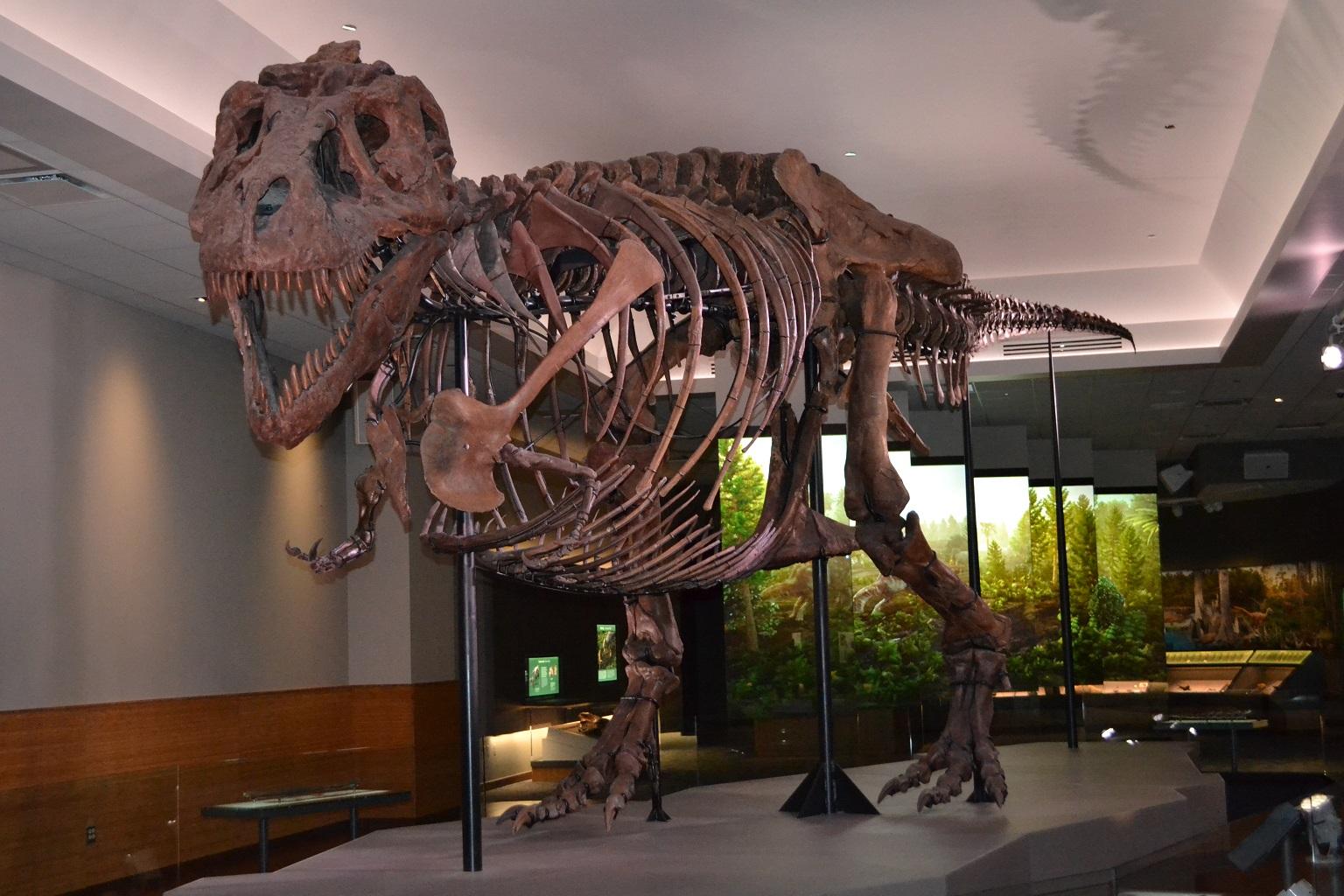 Sue the T. Rex inside a new "private suite" at the Field Museum. (Alex Ruppenthal / WTTW)
It cost a lot of money – $8.4 million, to be exact – for the Field Museum to acquire Sue, its world-famous T. Rex, more than two decades ago. And it cost even more to repair Sue, whose skeleton was discovered in 1990 during a commercial excavation trip near Faith, South Dakota.
By the time Sue debuted on May 17, 2000, the museum had no money left to move the skeleton into a space near the rest of its dinosaur collection, which had been the plan, said museum President Richard Lariviere. So Sue was left in Stanley Field Hall – the museum's massive central hall – where the dinosaur would become an unofficial greeter to more than 23 million visitors over the next 18 years.
As of this week, however, the largest and best-preserved T. Rex ever discovered is finally in the type of space that curators envisioned when, in 1997, the museum shelled out the most money ever paid for a fossil at an auction and brought Sue to Chicago.
"Welcome to the world of Tyrannosaurus Rex," reads the sign at the entrance to Sue's new 5,100-square-foot "private suite," which opened to Field members Wednesday and will open to the general public Friday.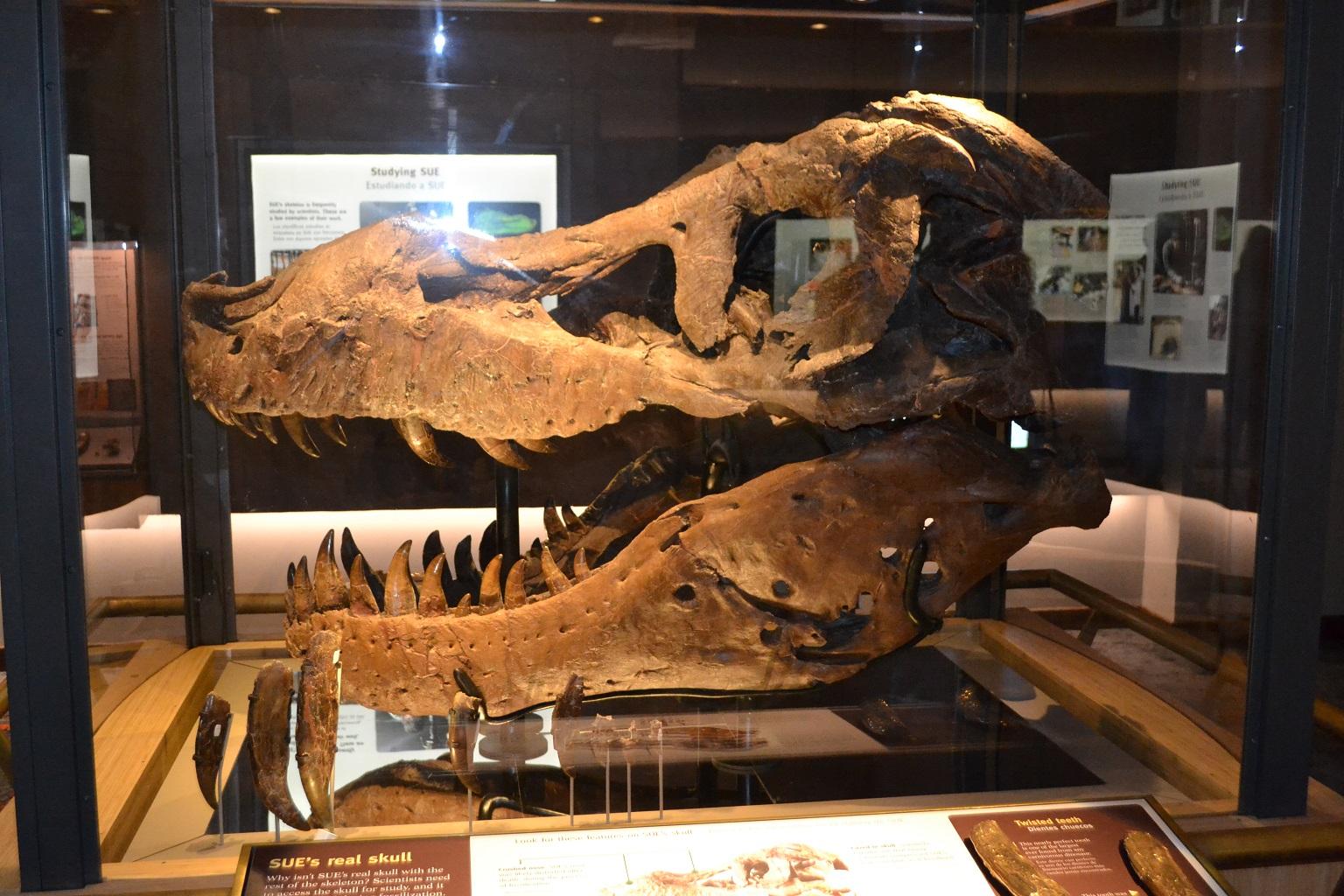 Sue's skull is kept in a separate display to make it more accessible to researchers. (Alex Ruppenthal / WTTW)
Once inside, visitors make their way past a number of artifacts, including Sue's actual skull, which is kept in a separate display because it is frequently studied by researchers. In the back of the room is Sue, who stands crouched forward in front of six 9-foot-tall screens that serve as a panoramic background, showing an animated version of the T. Rex tangling with other dinosaurs and even pooping. (More on the animations later.)
About every 20 minutes, the lights in the room dim as a voice recording introduces guests to Sue.
"If this predator were alive right now, it could easily spot you from anywhere in this room, even if you stood very, very still," the recording warns. "And don't even try to hide. T-Rex had an excellent sense of scent. Are you wearing running shoes? Sue could run across this room in a matter of seconds. If this T-rex was on the hunt, it would be too late to get away."
One goal of Sue's new home is to convey the mesmerizing nature of the T. Rex, which measures 40 feet long and 13 feet tall and weighed nine tons when it was alive some 67 million years ago. That wasn't an easy task when Sue resided in the cavernous Stanley Field Hall, said Peter Makovicky, the Field's curator of dinosaurs.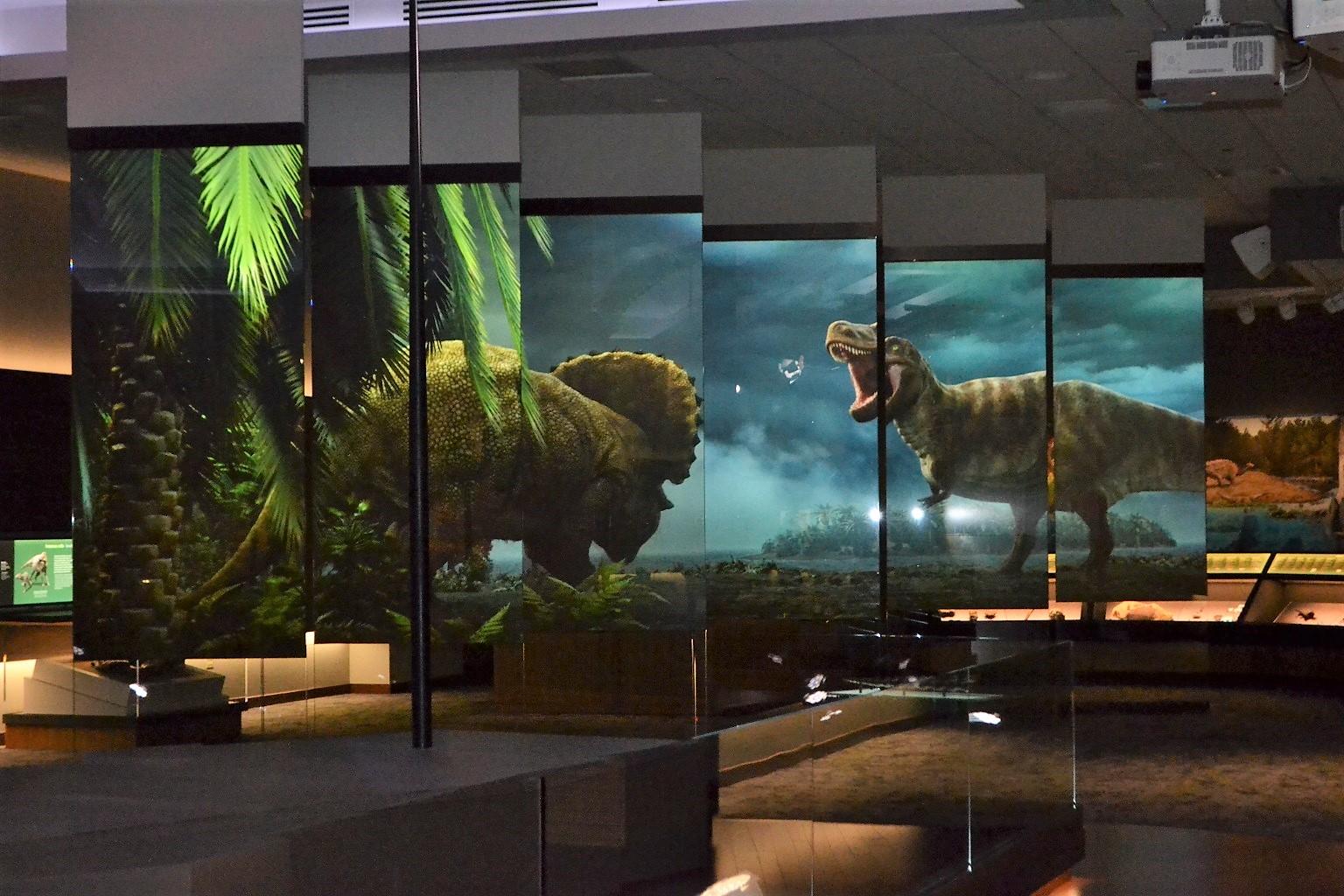 A video shows an animated version of Sue squaring off with a Triceratops. (Alex Ruppenthal / WTTW)
"You're much closer to it. It's a much more intimate space," he said about Sue's new home inside the museum's "Griffin Halls of Evolving Planet" exhibit. "I hope that [visitors] get both the very visceral feeling of what a massive and quite fearsome predator this was but at the same time get a chance to understand what we've learned about the biology of this animal and also how we've done it."
By examining the inside of Sue's bones, for example, Makovicky and Field researchers concluded their initial estimate of Sue's age at death (28 years) might not have been spot-on. Sue might have made it past 28, Makovicky said, and could have lived until 33.
"It turns out dinosaurs have growth rings, kind of like trees," he said. "So if you can get a section of the bones you can actually start inferring how old of an animal it was."
Other recent Sue-related discoveries have helped scientists paint a more vivid picture of the T. Rex's surroundings.
Of the fossils discovered in the sediment at the North Dakota quarry where Sue was found, Makovicky said researchers dug up shark teeth the size of pepper flakes that belonged to tiny bamboo sharks, which, if alive today, would likely reside in the Indian Ocean.
"It's literally the smallest fossil I've ever worked on," said Makovicky, noting that the discovery led to the classification of a new, soon-to-be-announced shark species.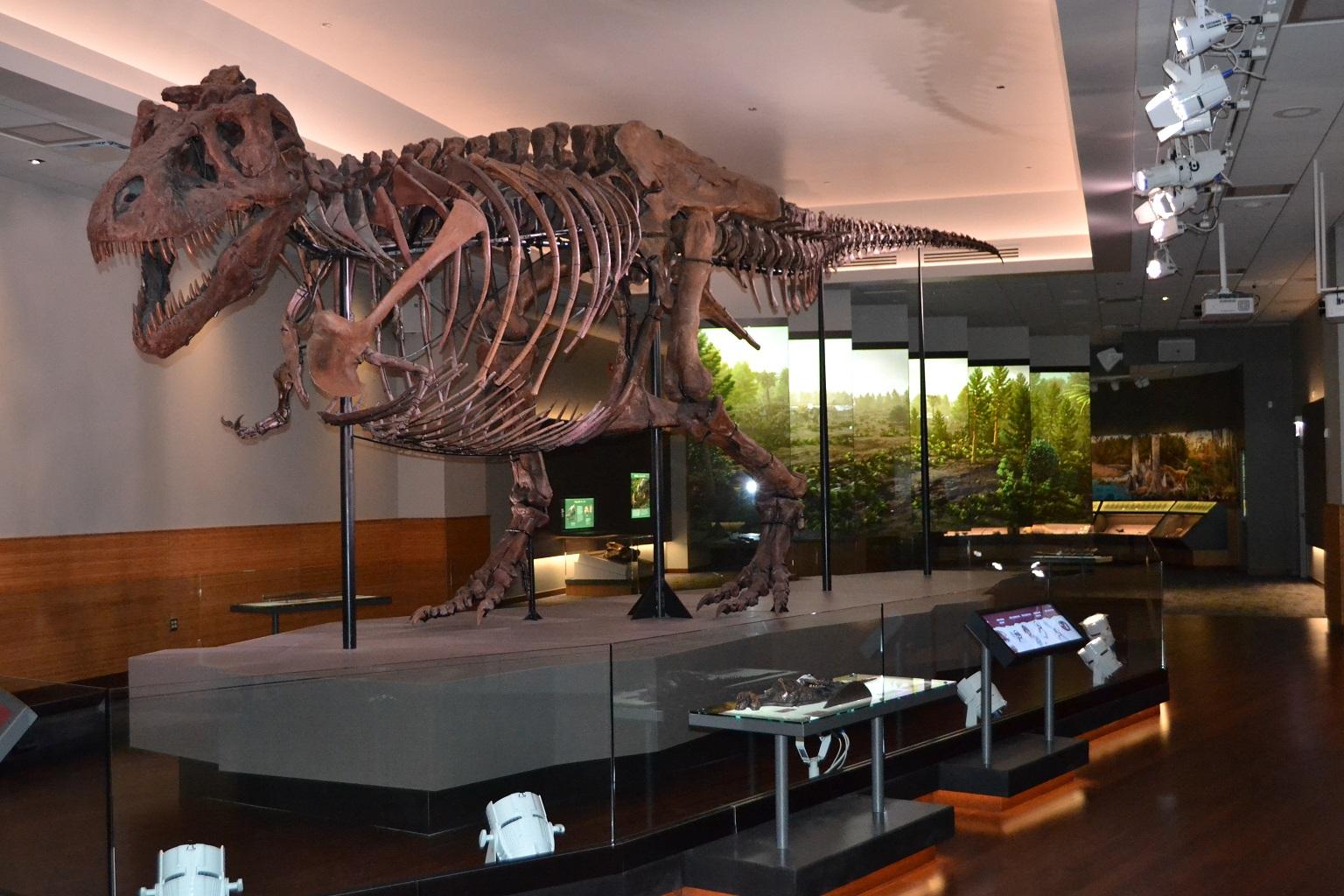 Sue measures 40 feet long and 13 feet tall. The dinosaur weighed nine tons when it was alive some 67 million years ago. (Alex Ruppenthal / WTTW)
Interactive displays help visitors learn about the shark teeth, the bone aging test and other new research, allowing the Field to fulfill its decades-old plan of presenting Sue in a proper scientific context, Lariviere said.
"This specimen is probably the most important specimen in a natural history museum anywhere in the world," he said.
6K Videos and the "Sue Show"
Sue's new digs – part of a $16.5 million gift from the Kenneth C. Griffin Charitable Fund that also delivered Máximo, a titanosaur that replaced Sue in Stanley Field Hall and is considered the largest dinosaur ever discovered – present the dinosaur in a more authentic light using technology that has come a long way since Sue arrived in Chicago more than 20 years ago.
Employing six projectors, 17 ceiling speakers, six subwoofers and four surround-sound cabinet speakers, museum staff worked with London-based Atlantic Productions to develop several five-minute animations that rotate on the series of 9-foot-tall screens situated behind Sue. The videos each include more than 200 gigabytes of data and run at 6,000 pixels wide, or in "6K." (The most advanced TVs currently operate at 4K.)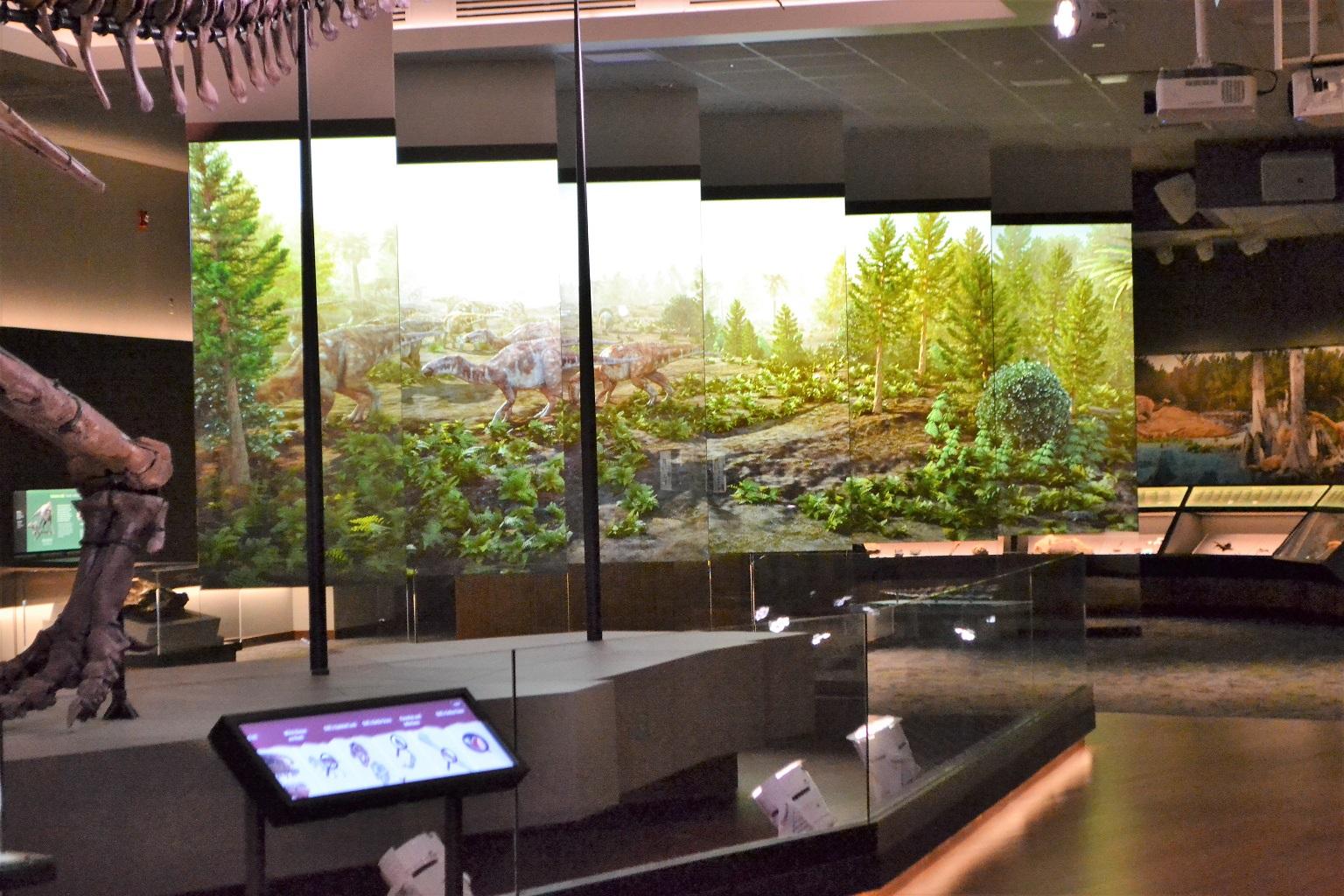 Six 9-foot screens placed behind Sue display a series of animated videos showing the T. Rex scavenging for food and tangling with other dinosaurs. (Alex Ruppenthal / WTTW)
In one of the videos, animators studied the motions of a modern-day ostrich to show Sue drinking from a river. In another, Sue gets tangled up in an intense shouting match with a Triceratops.
In a scene showing Sue under a starry night sky, the Field worked with experts next door at the Adler Planetarium. Adler's staff used modeling tools to depict what a nighttime sky could have looked like during the Cretaceous period (during which Sue lived), then rearranged the stars in the animation for Sue's exhibit, said Susan Golland, one of three exhibition developers who worked on Sue's new home. 
The last video depicts Sue hunting down an Edmontosaurus, though the T. Rex consumes its prey off the screen.
"One of the things that we knew from [another dinosaur movie shown at the Field] is that kids get kind of freaked out at certain moments if it's a little bit gory," Golland said. "We wanted to show both Sue as a successful predator – we didn't want to show Sue losing all the time – so that's how we landed on what we have here, which is Sue ends up ambushing this edmontosaurus, grabs it, it goes limp and then pulls it off the screen.
"We had to work on balancing what is scientifically accurate but also how can we make this not be too scary for children," Golland said.
A separate group of five projectors is used for what Golland calls the "Sue show," a narrated light presentation highlighting specific bones on Sue's skeleton, including the dinosaur's gastralia, a set of rib-like bones that were recently added to Sue's skeleton. Scientists weren't sure how to position them when Sue's skeleton was first mounted in 2000, but research in the years since has helped them learn more about the bones' function and placement.
The show, narrated by Golland, also also highlights a set of broken ribs that eventually healed and a jaw infection that might have ultimately killed Sue.
"This is an animal that lived a long and hard life, experienced a lot of trauma," said Makovicky, the Field's dinosaur curator. "Everyone in Chicago is familiar with Sue, but [now] she'll be seen in a very new light. We have all this information that really is telling us it's not just about Sue as an individual animal but more [about] Sue as an apex predator in this very rich and diverse environment."
Contact Alex Ruppenthal: @arupp | [email protected] | (773) 509-5623
---
Related stories:
Sue the T. Rex Moves into 'Private Suite' Next Month at Field Museum
Photos: World's Largest Dinosaur Coming to Field Museum
Máximo the Titanosaur to Debut June 1 at Field Museum
Sue the T. Rex Begins Move Upstairs Next Week at Field Museum