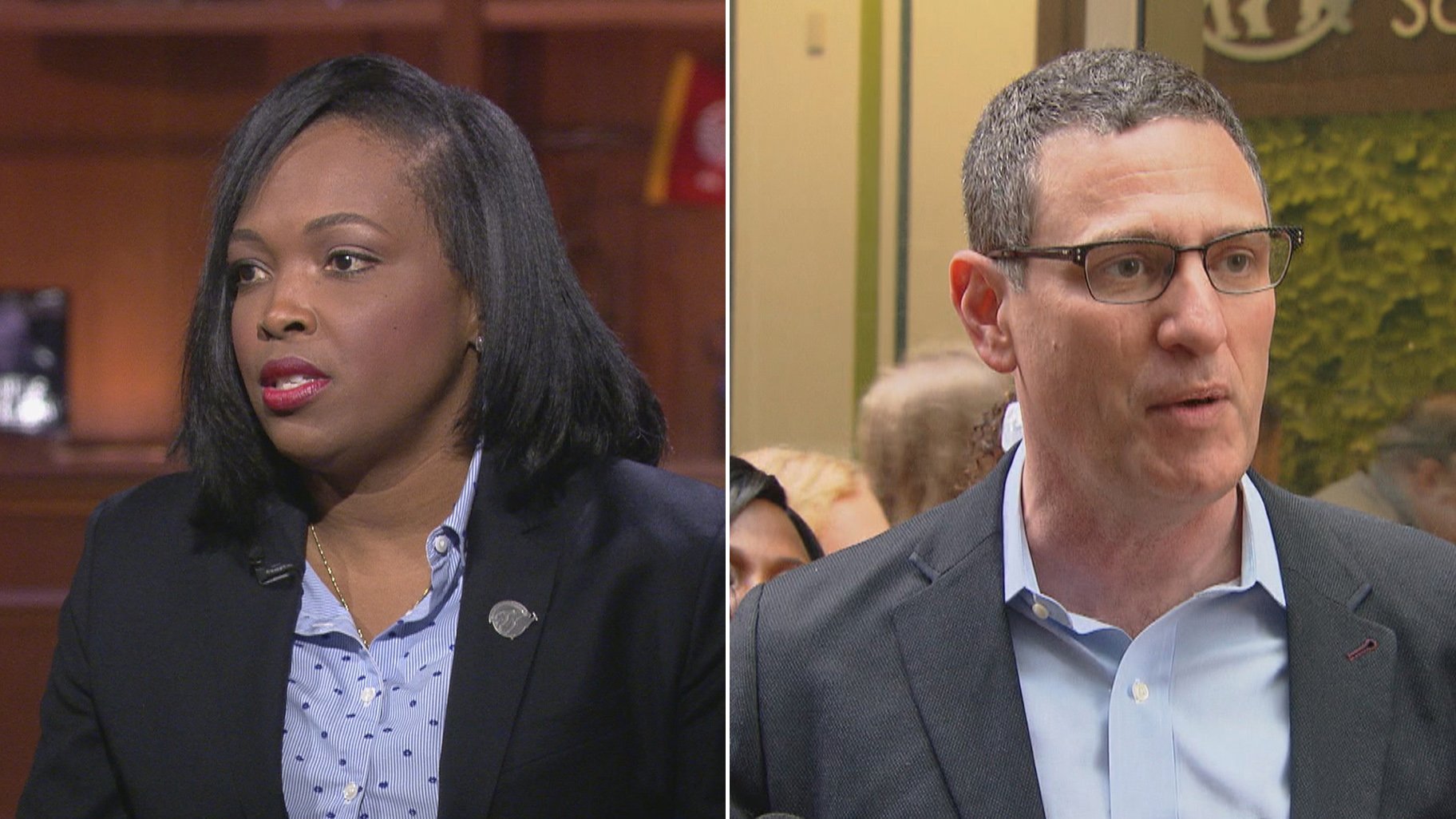 File photos of Chicago Public Schools CEO Janice Jackson, left, and Chicago Teachers Union President Jesse Sharkey. (WTTW News)
UPDATE: Chicago Teachers Union Members Vote to Authorize Strike
The head of Chicago Public Schools remains confident the district can reach an agreement with the Chicago Teachers Union to avoid a strike. But on the eve of a strike authorization vote, union leaders remain ready for a work stoppage if they can't get written assurances on staffing and class size improvements.
Days after pulling in political endorsements from Democratic presidential front-runners Joe Biden, Elizabeth Warren and Bernie Sanders, the union is set to announce Thursday the results of its authorization vote.
Voting began in hundreds of schools Tuesday morning. If more than 75% of teachers vote in favor of a work stoppage, the union can move forward with setting an actual strike date for as early as Oct. 7.
CPS CEO Janice Jackson on Wednesday said she's "optimistic" about a contract agreement, pointing again to the district's "generous offer" which she said would give teachers a 16% raise over the next five years. That amounts to about $19,000 over the life of the deal, Jackson said, which would bring the average teacher's salary within CPS up to almost $100,000.
"Our students, their families and our educators deserve to have an uninterrupted school year so we can continue building on the incredible progress that we've made in the past decade," she said during the monthly Chicago Board of Education meeting.
"I'm committed to doing whatever is within my power to help us reach an agreement that honors the service of our teachers while providing our families with the certainty that they need that the school year will not be interrupted."
But CTU President Jesse Sharkey said there's more to reaching a deal than just money. While noting the importance of salary and benefit increases, he said the union needs assurances that CPS will do more to improve teacher, paraprofessional and nursing staffing shortages, while limiting the number of students in each classroom.
"This has been a consistent refrain that we've made," Sharkey said, speaking just after Jackson at Wednesday's board meeting. "I know that the district is sort of putting a lot of emphasis on (its) economic package, but I just need everyone who's watching this presentation to understand that it's not primarily money that we're trying to emphasize."
The union also wants to see more district investments in student supports and firmer protections for special education and English language learner students.
Jackson said the district is committed to making many of those improvements, previously pledging to increase the numbers of both nurses and social workers within CPS schools.
She said the union has prioritized issues that an independent fact-finder concluded in a report last month were outside the scope of bargaining – unlike pay and health benefits, the union can't legally strike over class sizes and staffing.
But the union rejected that report, calling the fact-finding process a "total failure."
Sharkey and the union said they remain committed to the bargaining process and hope to reach a fair deal that represents the "dignity and respect for the people who work in the Chicago Public Schools."
"That's what we expect in this contract," he said.
"We're gonna keep working at the table hard until we get that. And if we can do that, then we can land this agreement without further labor conflict. If we can't, then the CTU is gonna stand on principle and do what's necessary in order to try and get those commitments in writing."
Contact Matt Masterson: @ByMattMasterson | [email protected] | (773) 509-5431
---
Related stories:
Chicago Teachers Inch Closer to Possible Strike
CPS CEO Janice Jackson on a Possible Teachers Strike and the School Year Ahead
CPS Unveils Englewood STEM High School After Controversial Closures
CTU Rejects Fact-Finder's Report, Moves Closer to Teachers Strike