Video: Brandis Friedman reports on the first day of school at Englewood STEM.
---
On a chilly Wednesday evening in January 2018, scores of parents, students and Englewood neighborhood residents descended on the nearby Hamilton Park Fieldhouse for the second of three public hearings to discuss the proposed closure of four Englewood area high schools.
Chicago Public Schools had planned to consolidate Hope, Harper, TEAM Englewood and Robeson high schools and replace them with a new multimillion-dollar STEM campus. The district hoped this new building would convince local students – some 90% of whom attend high schools outside their neighborhood – to stay in Englewood and enroll in a state-of-the-art facility.
But many in the community, at least many of the most vocal, saw this instead as a disinvestment. Rather than pulling the plug on four schools with dwindling enrollment, they asked, why not invest these millions to make each of the schools more attractive options for Englewood residents?
"I'm against the school closings, not because of a building I'm attached to, but it's a community, a legacy I'm attached to," Willie Preston, an Englewood native who attended Robeson, told CPS leaders during the public hearing. "When you talk about the school closings, you're not just closing the schools, you're closing the Englewood community."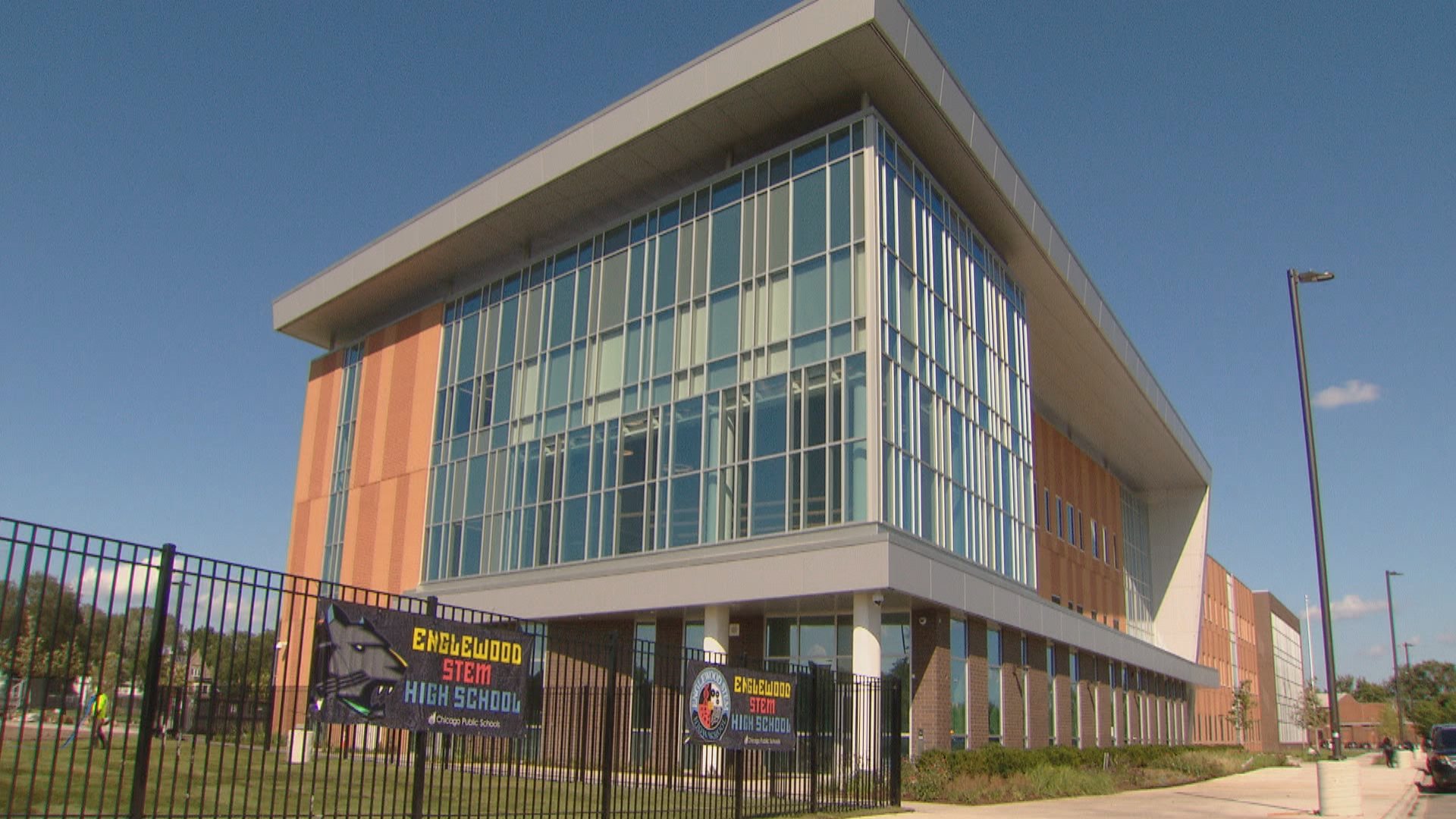 The new Englewood STEM High School welcomes its inaugural class of students for the 2019-20 school year. (WTTW News)
Others supported a new school, but also fought to keep Hope, Harper, TEAM and Robeson afloat.
"We are still in support of neighborhood schools," added Asiaha Butler, head of the Resident Association of Greater Englewood (RAGE), "as well as looking to support a brand new school."
Those who supported the district's plan were often booed or shouted down at these meetings. Police had to step in during a similar hearing held a week earlier after the two sides fell into a screaming match at Kennedy-King College.
Despite the fervent and persistent opposition, the Chicago Board of Education voted unanimously in favor of the plan in February 2018, marking the first CPS closures since the district shuttered 50 elementary schools in 2013.
Robeson would close at the end of the 2017-18 school year, while existing students at the three others have been allowed to transition out through graduation or transfer.
Now, 18 months after that vote, CPS is ready to unveil the new school it believes is all worth it.
'It was long overdue'
On Tuesday, the first day of the 2019-2020 school year, CPS will welcome the inaugural class of students to Englewood STEM High School – a new three-story, $85 million neighborhood school built on the grounds of the former Robeson campus.
The building itself is massive and ornately decorated with pastel-colored hallways and flowing murals found on walls both inside and out. The grounds feature an athletic facility with a baseball diamond and yet-to-be-finished football field. An on-site medical center will serve students, their families and also the community.
In the classrooms – what CPS calls "world-class multipurpose educational spaces" – students will focus on science, technology, engineering and math, or STEM. Upperclassmen will have the option to earn college credits through a partnership with Kennedy-King College. And all students will engage in "experiential learning" through things like mentoring programs and internships the school has organized through community partners.
"We're excited about this," CPS CEO Janice Jackson said during a building tour Thursday, "but it was long overdue in my opinion."
During the controversial approval period, CPS leaders spent months trying to convince Englewood parents and families that the new campus would be a net gain for the area.
To the district, the need for a change was clear. CPS said it had dedicated more than $4 million in supplemental funding to Hope, Harper, TEAM and Robeson between 2015 and 2018, along with almost $30 million in capital investments since 2006-07.
Even so, the four schools collectively had fewer than 500 students enrolled by 2018. And the district claimed nine out of every 10 high school-age students living in Englewood traveled elsewhere for school – the highest rate of any neighborhood in the city. Their average travel was about 5 miles.
Still, Englewood residents had grown up with these schools and didn't want to see them go. While TEAM Englewood had only been around for about a decade, Hope and Robeson both opened in the 1970s. Harper had been standing for more than a century.
"I think the thing that I also learned is that – you know I knew this already – that schools are anchors in communities and that people are personally invested and connected and that's what makes a school environment so great," Jackson said. "But we also just have to spend the time explaining to people that if you make this decision today, what it means a few years from now."
'They were proud'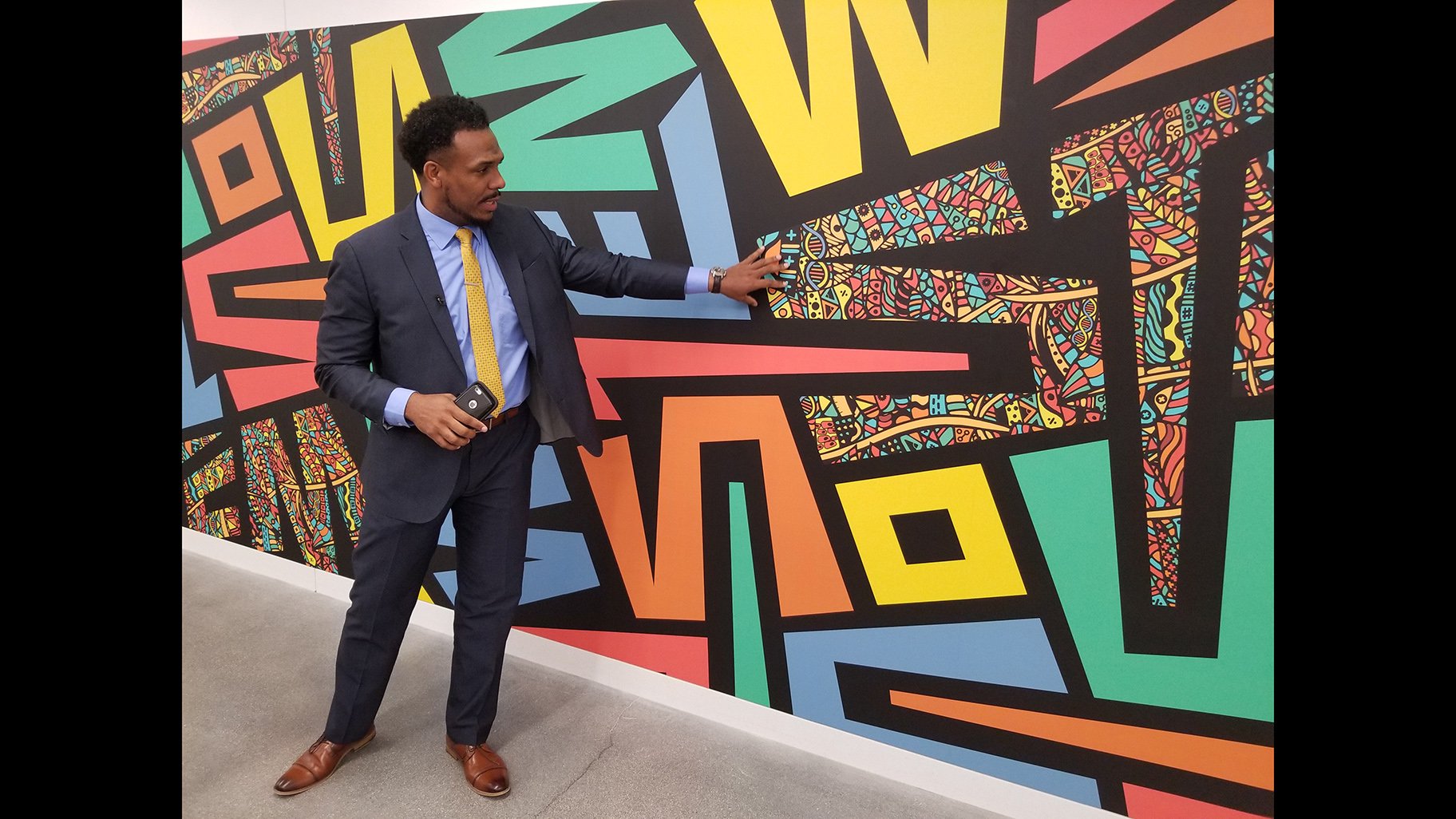 Englewood STEM Principal Conrad Timbers-Ausar shows off one of the murals inside his school's building. (Matt Masterson / WTTW News)
More than 400 freshmen comprise Englewood STEM's first class; all but 18 come from the Englewood neighborhood. Four teachers and one staffer who previously worked at the consolidated schools have also been hired on at Englewood STEM.
School leaders are concentrating on keeping families in the community.
Conrad Timbers-Ausar, who spent two years as principal at Urban Prep Academy in Bronzeville, was selected by Englewood STEM's steering committee late last year to serve in the same role at the new school.
In the months since, he's set out to build a strong school culture that's part of a pipeline for students from elementary to high school to college. Engaging and incorporating the neighborhood and its history have been specific focal points.
"From day one, I began doing a tour of all of the elementary schools in the community," he said. "Going to elementary schools, going to churches, going to (Community Action Council) meetings, (Parent Advisory Council) meetings, going to events within the community, going to different park districts."
That hasn't gone unnoticed in Englewood. Butler, who in addition to RAGE served previously on Englewood's Community Action Council and the new school's steering committee, has seen Timbers-Ausar and others aggressively marketing to local families.
That's a positive sign, she said.
"Not to say there's not still some skepticism of what may happen in the future only because we know CPS and sometimes they say one thing and do another," Butler told WTTW News. "But so far, what I'm seeing is that this is truly for the residents here."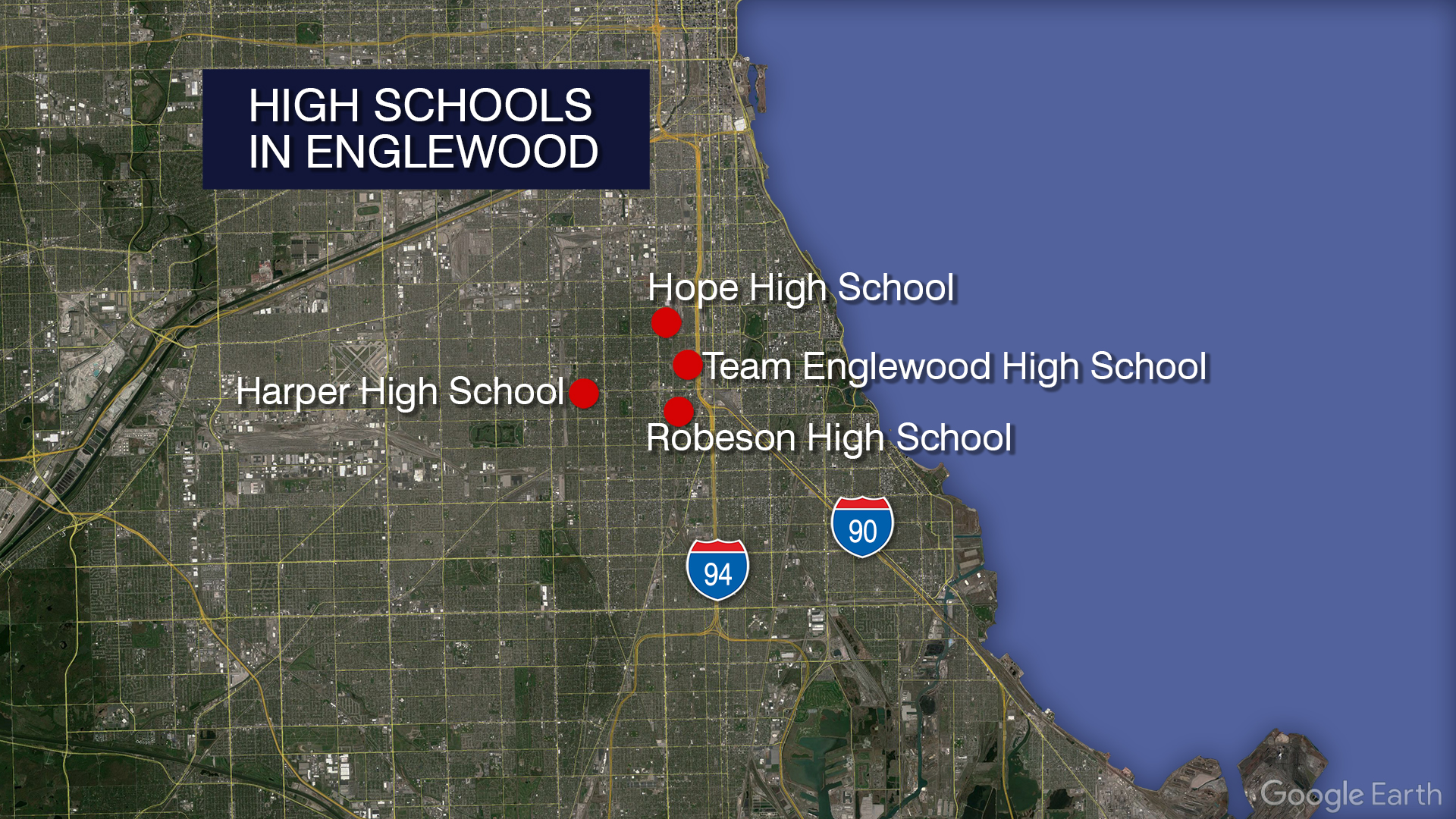 In April, the school held a Signing Day event where kids could "commit" to the school, similar to the way high school athletes announce their college selections.
That day, the school gave out Englewood STEM T-shirts emblazoned with the school's panther mascot. When incoming freshman returned to the campus for an event last weekend, Timbers-Ausar said many of them were still wearing those shirts.
"They were proud," he said. "They were proud to wear their Englewood Panther T-shirts. That tells you something about the pride that's in it."
Jackson thinks Timbers-Ausar may already be the most recognizable principal in Englewood. It's all part of building an identity that reflects the community around it.
A first-floor hallway in the new building dubbed "Alumni Hall" will honor the four consolidated high schools that came before it. A second-floor mural asks the question, "What does Englewood mean to you?" Painted words like "outstanding" and "soulful," "resilience" and "strength" provide the answers from local residents.
Even the school's nickname and mascot came about from a community vote held during a trio of engagement events.
"The Marvel movie 'Black Panther' really inspired a lot of our students," said Timbers-Ausar, who pointed to the technologically advanced society "Wakanda" depicted in the 2018 film. "They really wanted to embody what that movie meant."
Doing the 'right thing'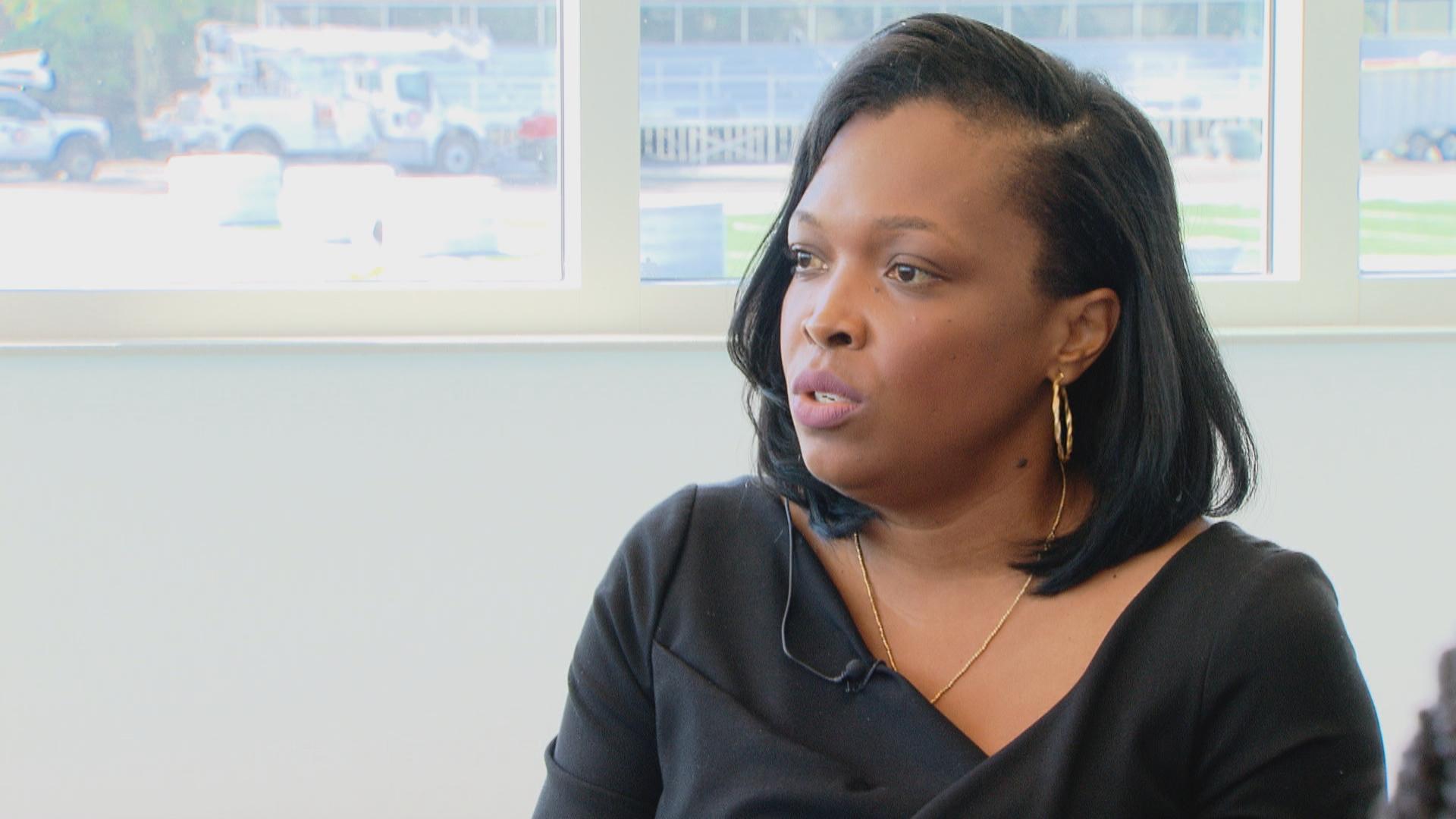 Days before its official opening, CPS CEO Janice Jackson speaks with the media inside the new Englewood STEM High School. (WTTW News)
The tumultuous consolidation process in Englewood occurred just as Jackson was moving into the school district's CEO position following the resignation of her predecessor Forrest Claypool in December 2017.
"It was a lot," she said. "I was early in my career in senior leadership having to make decisions around consolidations to bring this to fruition. And during that time your decision-making is questioned and sometimes you wonder, 'Am I doing the right thing?'"
Many in the community were also skeptical that closing four schools in favor of one new one was the "right thing." But there is optimism that Englewood STEM will succeed in keeping local kids close to home.
"If you hear we have folks from the 60621 and 60636 zip codes going to this high school, it's actually very refreshing because we haven't had an investment like this in so long," Butler said. "I hated that we had to sacrifice our other high schools for this, but Englewood did really need a school that the students could be proud of. And hopefully this is a step in that direction."
Still, Butler has heard lingering concerns from some who fear Englewood STEM may not remain a neighborhood high school or that local elementary schools won't properly prep students to succeed there. She said CPS will have to continue proving it's trustworthy before the community is fully on board with its plan.
To do that, Jackson understands the district has to keep making good on its promises to families.
"I think in the past we said we were gonna do something, and in some cases it didn't happen," she said. "And people just didn't trust that it was going to happen. This moved quickly and I think it's gonna go a long way to show that when we commit to doing something, it's actually gonna happen."
Contact Matt Masterson: @ByMattMasterson | [email protected] | (773) 509-5431
Note: This story was first published Sept. 1, 2019. It will be updated with video.
---
Related stories:
CPS Board Votes Unanimously to Close 4 Englewood High Schools
CPS Announces Plans for New $75M Englewood High School
Claypool Blasted by Rapper's Dad Over Plan to Close Englewood Schools
Englewood High School Plan Proving to Be Tough Sell for Some Residents
---