The population at Brookfield Zoo is growing.
Until last week, Brookfield Zoo had eight California sea lions. Last week, the zoo adopted two more sea lions which had been stranded on the California coast. It's been determined that the animals cannot be released back into the wild.
All new arrivals at the zoo must first receive a thorough examination. "We want to make sure that not only are the animals healthy … but we are also protecting the animals that we have here already at the zoo," said Rita Stacey, curator of marine mammals at Brookfield Zoo.
These new arrivals, 2-year-old females Carolyn and Sabiena, have both had serious health problems.
Stacey says Sabiena's early life was quite rough. "She was found stranded on a beach with numerous fish hooks in her body, embedded in her body as well as in her left eye," she said.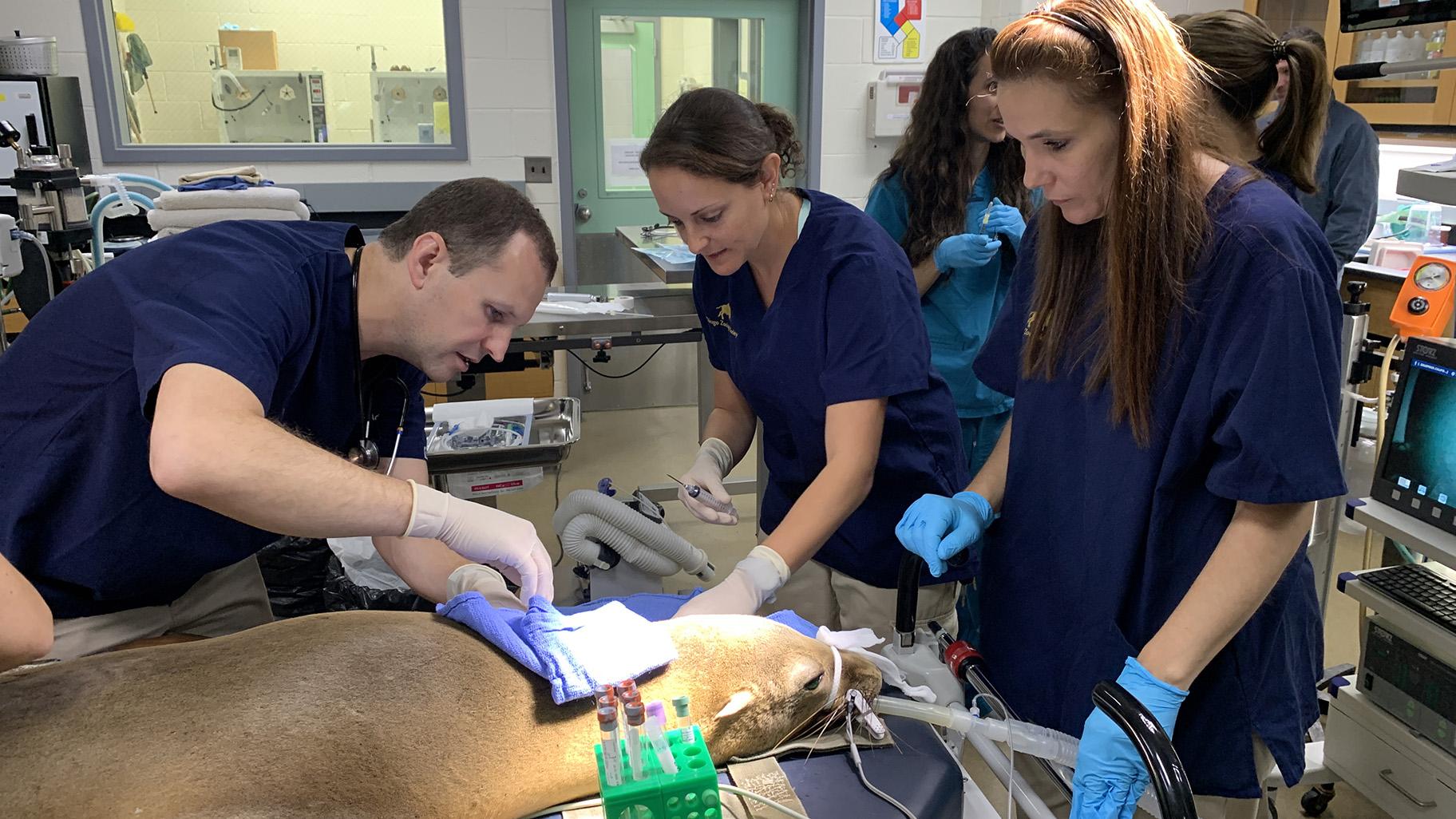 Sabiena, one of Brookfield Zoo's two newly adopted California Sea Lions, is examined by members of the zoo's medical team on Tuesday, Sept. 24, 2019. (Jay Shefsky / WTTW News)
Sabiena was also extremely malnourished, weighing just 31 pounds, instead of the 100 pounds typical of a female her age. Her health improved significantly at a rehab facility in California, but her damaged eye had to be removed, and the National Marine Fisheries Service determined she was unlikely to survive in the wild due to the eye damage.
The sea lions' transportation to Chicago was donated by FedEx, which also provided some creative inspiration: the animals were named after FedEx employees who were instrumental in making the arrangements.
The second sea lion, Carolyn, has a flipper injury, which they believe was caused by a shark or other animal. She was also severely malnourished when she was found. Stacey says Carolyn had ingested 20 to 30 rocks. "We assume she was so hungry that she ate rocks," Stacey said.
The vets on the West Coast were able to remove most of the rocks, improve her weight and release her.
"But only a month later she came back to beach starving and emaciated once again," says Stacey. "Because she was not able to survive in the wild, the National Marine Fisheries Service deemed her unreleasable into the wild."
Both Sabiena and Carolyn received CAT scans Tuesday. Brookfield Zoo is one of only three zoos in the world with CAT scan imaging.
"For Carolyn we will look to see if she still has any rocks in her body. If there are a few that we think we might be able to get to, our vets are very skilled at going in with endoscopy to pull out any foreign bodies that they might see," Stacey said. "For Sabiena we will also have any fish hooks that may have been deeply embedded in her body. And we'll be able to see that really well upon the CAT scan."
The CAT scans found no more fish hooks, but there were still several rocks in Carolyn's belly, which the team was later able to remove.
After Tuesday's exam the two sea lions will spend a few weeks under observation by the animal care team and have a chance to get acclimated to their new home before joining the sea lion habitat.
Stacey says this kind of rescue work is a particularly satisfying part of her job.
"These animals are never going to starve again and they're going to have everything they need. They're going to have excellent veterinary care and a team that will love them and share them with all the visitors here at the zoo," she said.
---
More on this story
We got word Tuesday afternoon that both sea lions were doing well.
Sabina swam in her pool and took a nap. And the vets have already successfully removed the additional rocks from Carolyn's belly.
And you can visit Sabina and Carolyn at Brookfield Zoo in a few weeks. 
These colorful rocks were removed from the belly of Carolyn, a sea lion, using endoscopy on Tuesday, Sept. 24, 2019. The animal care team suspects she was so malnourished that she ate them.
Related stories:
Where Have the Wild Birds Gone? 3 Billion Fewer Than 1970
Rare Albino Alligator Arrives at Brookfield Zoo
1,000-Pound Brookfield Polar Bear Gets 1st CT Scan
---