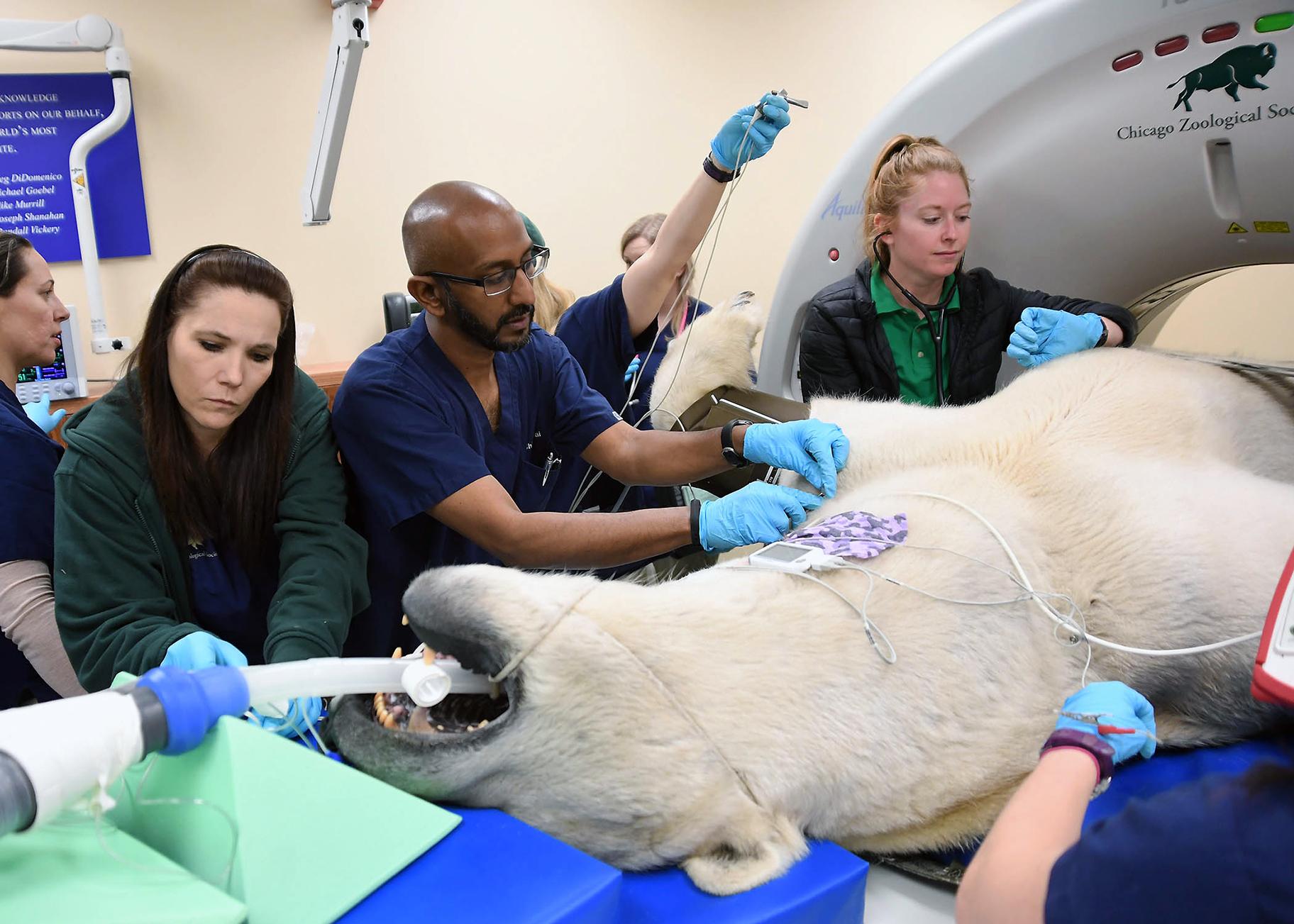 Chicago Zoological Society veterinary staff position Hudson, Brookfield Zoo's 12-year-old male polar bear, in preparation for a CT scan. (Jim Schulz / Chicago Zoological Society)
Hudson, a 12-year-old polar bear at Brookfield Zoo, went in for a routine medical exam this week that was anything but routine.
Although the male polar bear receives regular checkups, until Tuesday he had never been eligible for a CT scan, which the zoo uses to examine internal organs and structures within its other (smaller) animals.
The reason: At more than 1,000 pounds, Hudson was too heavy for the table the zoo used to conduct such scans, which had a weight limit of about 660 pounds.
But that changed late last year when the zoo received a grant to purchase a new table that can accommodate animals up to about 2,200 pounds -- more than twice Hudson's weight.
On Tuesday, after sedating the polar bear, a team of veterinary and animal care staff were able to position Hudson on the new table to execute what is thought to be one of the first CT scans of a living polar bear.
"Being able to get baseline CT images on a polar bear is a significant accomplishment to advance the medical wellbeing for the species under managed care," said Dr. Michael Adkesson, vice president of clinical medicine for the Chicago Zoological Society, which manages Brookfield Zoo, in a statement. "It allows us to assess Hudson's joints, internal organs and overall health. The images provide us with a reference to monitor his health over time and can also be used to compare to other polar bears in the future if needed."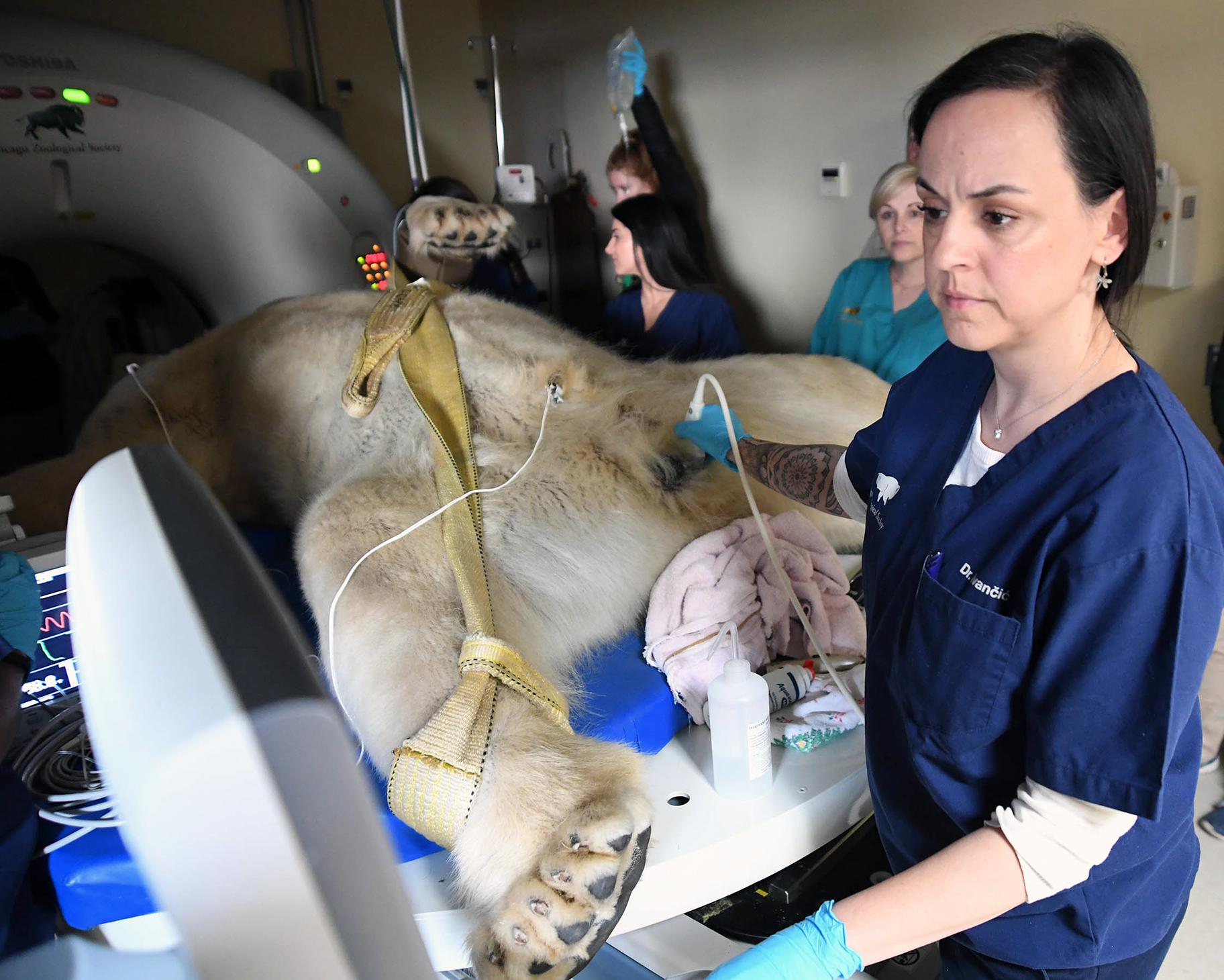 Dr. Marina Ivančić, veterinary radiologist for the Chicago Zoological Society, takes an ultrasound of Hudson, Brookfield Zoo's 12-year-old male polar bear. (Jim Schulz / Chicago Zoological Society)
Setting up a 1,000-pound bear for a high-tech imaging test might not have even been the most remarkable accomplishment from Hudson's checkup.
During the exam, a reproductive physiologist from the Cincinnati Zoo collected semen from Hudson that was used to artificially inseminate two female polar bears: one at Brookfield Zoo and another at a zoo in Madison, Wisconsin. 
Polar bears breed seasonally and produce only one to two cubs per year, so there is significant interest in developing assisted reproductive techniques to boost breeding rates for the species, according to Brookfield Zoo. Additionally, the process of transporting semen is much easier than transferring bears between facilities.
Artificial insemination on polar bears has been attempted about 20 times, according to Brookfield Zoo. 
"The development of assisted reproductive techniques have aided the recovery of many endangered species," Adkesson said in a statement, noting that polar bears are classified as a vulnerable species. "These techniques have worked well in developing sustainable populations of other endangered bears like the giant panda; we hope to someday see similar success with polar bears."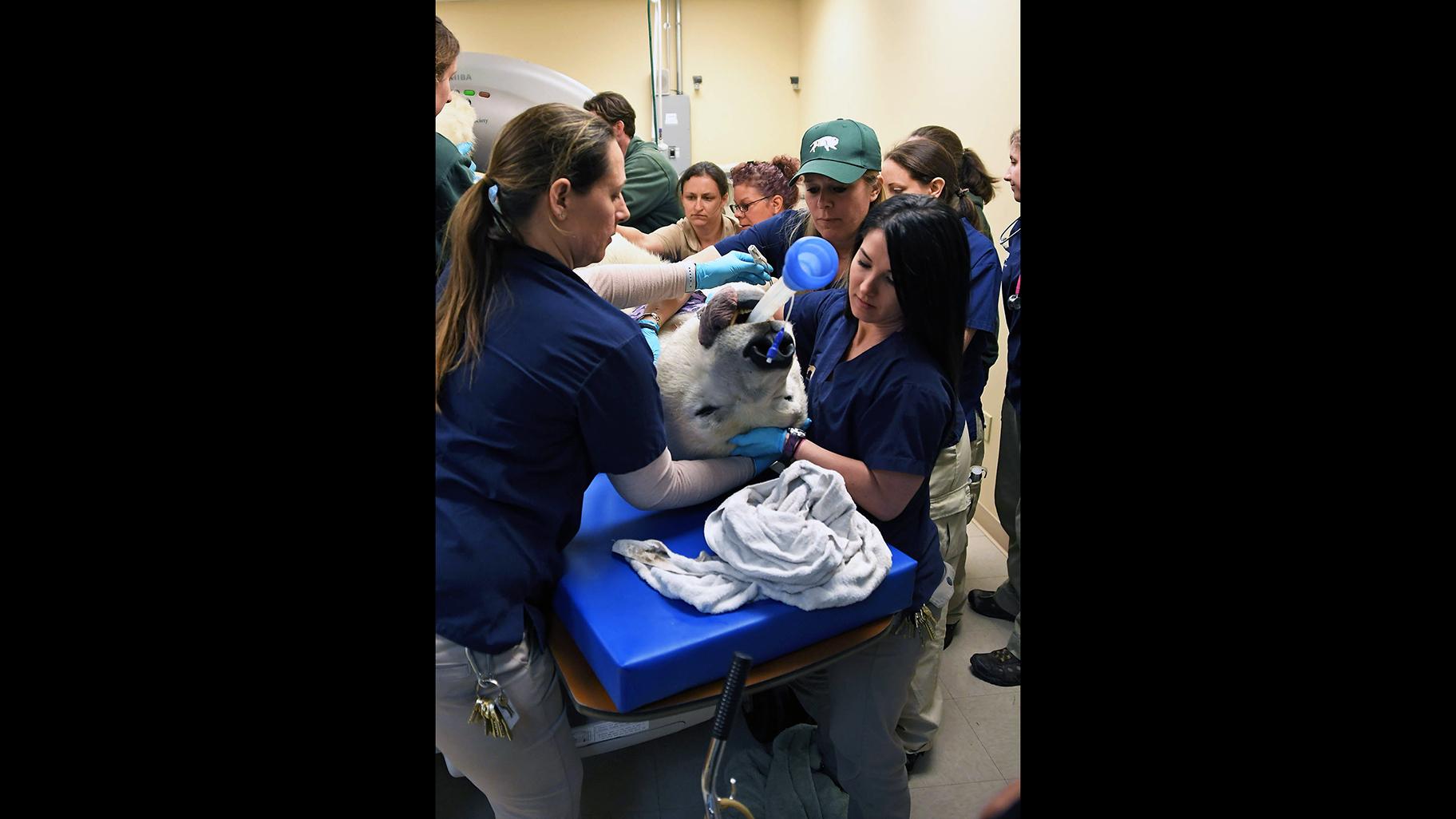 Using a new table that interfaces with Brookfield Zoo's CT scanner, veterinary staff positioned Hudson, a 12-year-old male polar bear, for a CT scan. (Jim Schulz / Chicago Zoological Society)
After confirming the viability of Hudson's semen sample, Cincinnati Zoo staff transported the sample to Madison's Henry Vilas Zoo to use with one of its female polar bears.
At Brookfield Zoo, staff have used Hudson's sample to inseminate Nan, a female polar bear.
The remaining semen will be frozen for potential use in the future, according to the zoo.
Contact Alex Ruppenthal: @arupp | [email protected] | (773) 509-5623
---
Related stories:
Photos: Lincoln Park Zoo Welcomes New Polar Bear Talini
Polar Bear Makes a Splash at Lincoln Park Zoo's Newest Exhibit
Brookfield Zoo Rhino Celebrates Birthday After Surviving Life-Threatening Infection
---