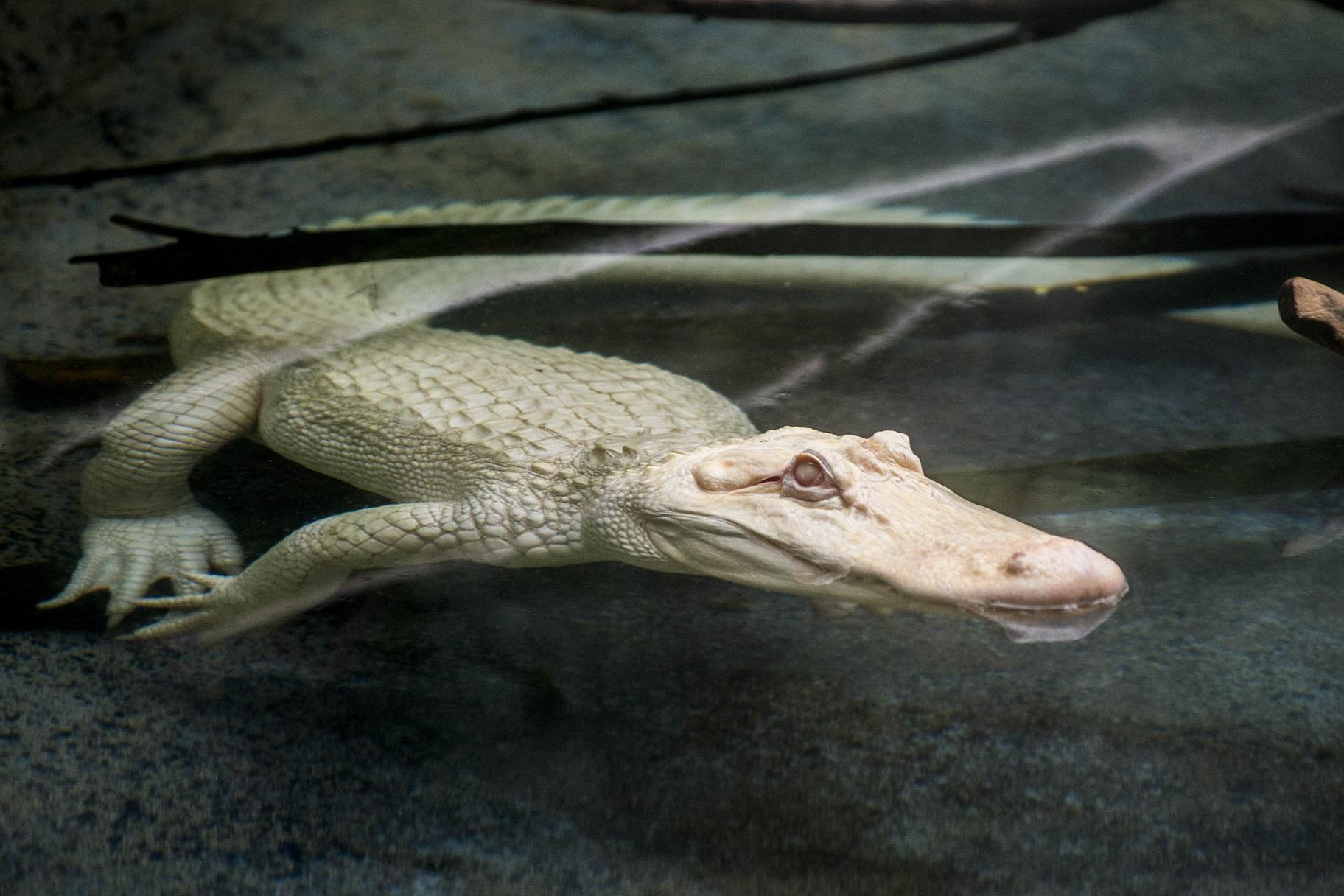 Snowflake, a 7-foot-long albino American alligator, will reside at Brookfield Zoo through September. (Kelly Tone / Chicago Zoological Society)
A rare albino alligator will call Brookfield Zoo home this spring and summer.
Visitors can see Snowflake, a 16-year old American alligator, at the zoo's The Swamp habitat through September. The 7-foot-long gator will then return St. Augustine Alligator Farm Zoological Park in Florida.
Biologists estimate that Snowflake is one of just 100 or so albino alligators in existence. Albinos are offspring of parents that carry the recessive gene for albinism, which prevents them from creating melanin to color their skin or eyes.
With ivory-white skin and pink-tinted eyes, albino alligators would not survive long in their native habitat of swamps, marshes, rivers and lakes in the southeastern U.S., according to Brookfield Zoo. Without the ability to camouflage amid their surroundings, predators would easily find young albinos.
Biologists estimate that Snowflake is among 100 albino alligators in existence. (Kelly Tone / Chicago Zoological Society)
The light-skinned alligators face another obstacle in the sun. Although alligators often lay in the sun to regulate their body temperature, an albino's skin is ultra sensitive to sunlight and can burn quickly. The sun can also burn their eyes, making it difficult for albino alligators to spot food and predators.
The American alligator population has been severely impacted by hunting and habitat loss, according to the zoo. The species was listed as endangered in 1967. With efforts by the U.S. Fish and Wildlife Service and various other agencies, the population recovered, and the alligator was removed from the Endangered Species List in 1987.
Contact Alex Ruppenthal: @arupp | [email protected] | (773) 509-5623
---
Related stories:
Giant Anteater Pup Born at Brookfield Zoo
Brookfield Zoo at Forefront of Fight to Save World's Most Trafficked Animal
New App Developed at Brookfield Zoo Helps Optimize Dolphins' Diets