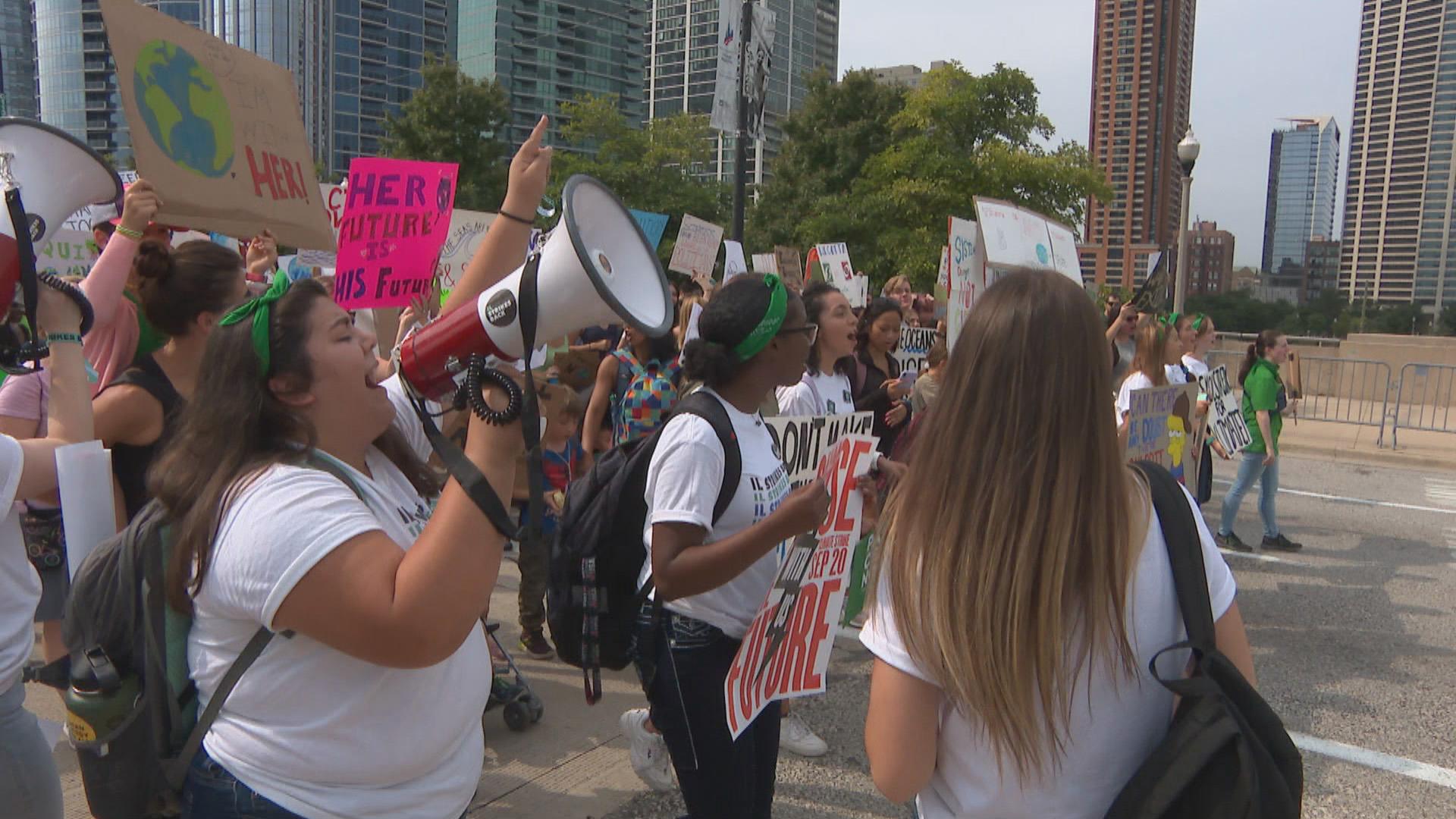 Protesters take part in a youth-led climate strike Friday, Sept. 20, 2019 in downtown Chicago. (WTTW News)
Isabella Johnson, like many of the marchers who took over streets in downtown Chicago on Friday as they marched from Grant Park, can't vote yet.
It's "discouraging" when adults "don't take us seriously" Johnson, the 17-year-old state lead for Illinois Youth Climate Strike, told the crowd assembled at Federal Plaza at the march's end.
"But we cannot give up," she said.
Johnson's greatest demand is that the Illinois legislature pass a package of measures that renewable energy advocates have dubbed the Clean Energy Jobs Act, which Johnson considers a state version of a federal Green New Deal. The measure, which has so far stalled in Springfield, sets aggressive targets that would mandate Illinois move fully to renewable energy sources by 2050 – even as the state has failed to stay on pace to meet an existing goal of 25% energy by 2025.
It's expected state lawmakers will be made to debate a wide range of energy policies in next year's legislative session.
In a statement, Gov. J.B. Pritzker's spokeswoman Jordan Abudayyeh did not specifically endorse the legislation, but said the governor "looks forward to working with advocates."
Abudayyeh cited an executive order Pritzker signed that had Illinois join the U.S. Climate Alliance, and bills he signed that will allow the state to regulate greenhouse gas emissions, boost wind energy and clamp down on coal ash.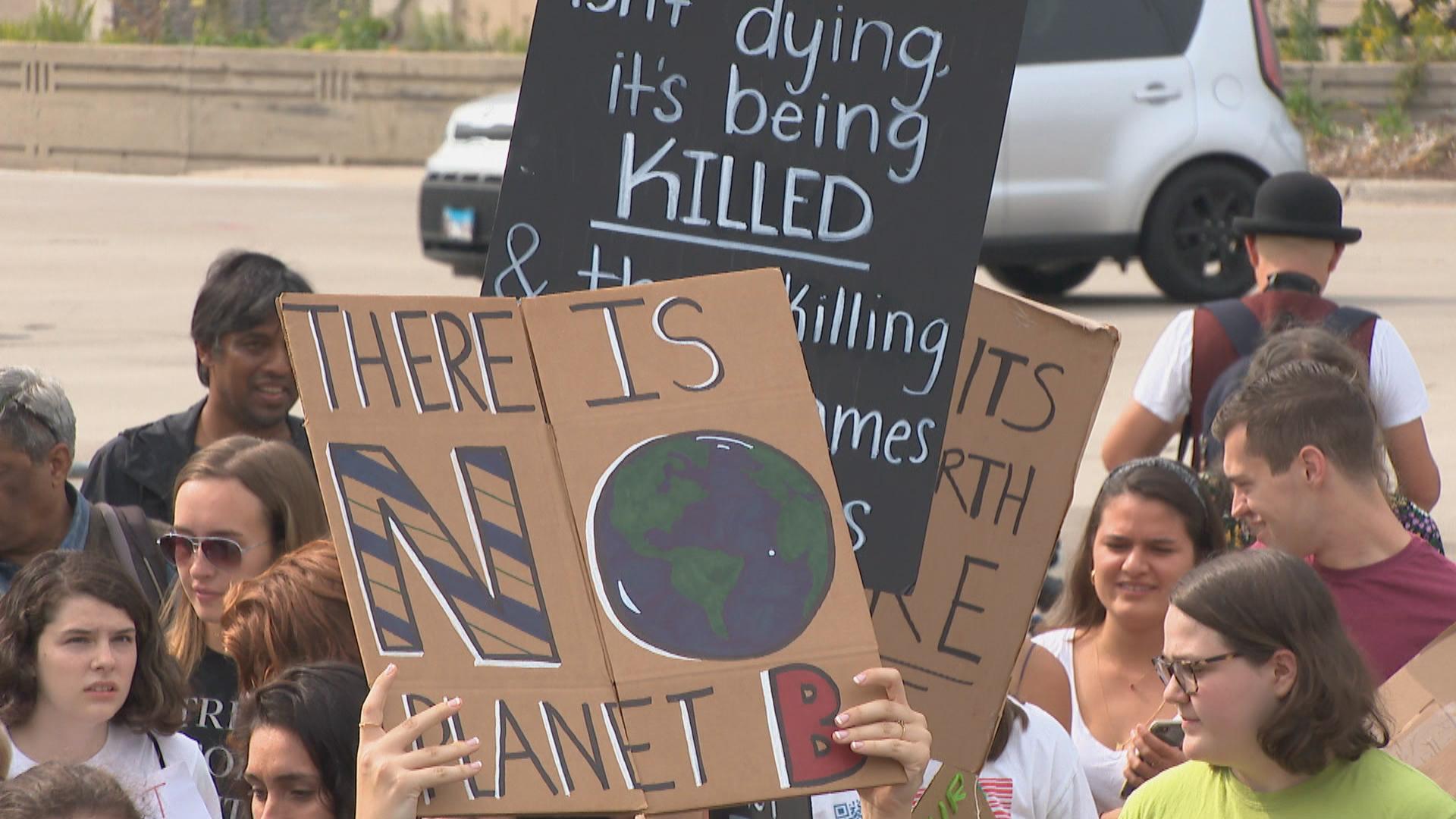 (WTTW News)
Judging by the slogans hand-painted on posters, marchers' aspirations for action to help "save the future" are varied.
Some bemoaned plastic water bottles, fast fashion production and nuclear energy; others shamed the former agrichemical company Monsanto, which remains the poster child for those opposed to pesticides in farming and genetic modification of crops; a pair of 12- and 13-year-old girls waved posters that said "save the turtles."
Snippet of posters from #Chicago #ClimateAction"
"We broke it, we fix it!"
"Reclaim, recover, protect clean water"
"Deforestation/ Burning Fossil Fuels/ Fast-Fashion Production/Bottling Water/ KNOCK IT OFF" pic.twitter.com/qKqEVQfCVW

— Amanda Vinicky (@AmandaVinicky) September 20, 2019
---
Another woman encouraged veganism as a means of combatting global warming.
Chicago police did not immediately respond to a request from WTTW News for an estimate of the crowd's size, but the throng of protestors Friday stretched over multiple city blocks as participants yelled chants like, "What do we want? A cooler planet! When do we want it? Now!" and, "Donald Trump, hey you, we deserve a future too."
The youth-backed downtown demonstration was one of several in Chicago, and one of many dozens throughout the world.
The global climate strike was spurred by 16-year-old activist Greta Thunberg, and comes before a United Nations climate summit starting Monday.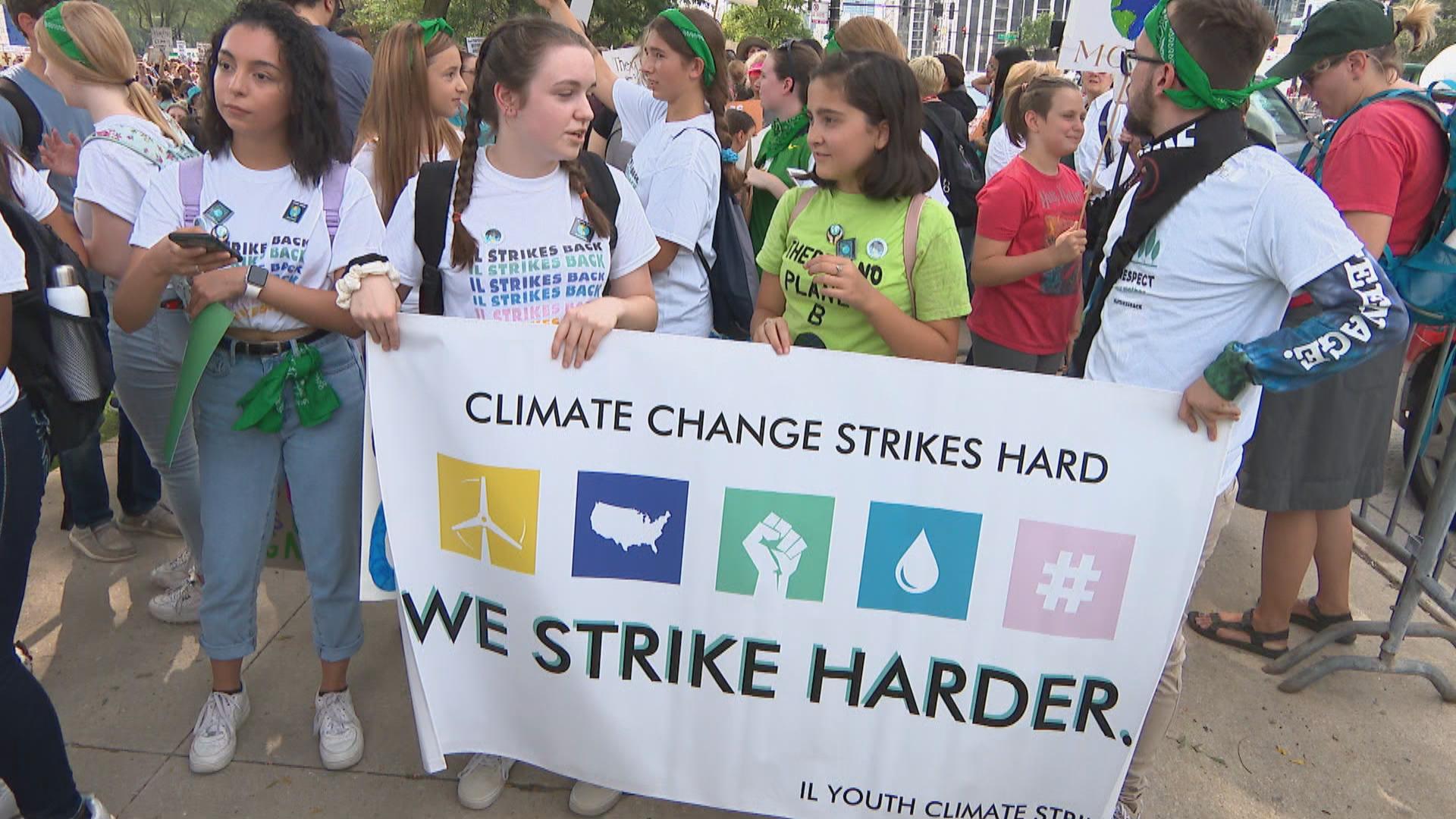 (WTTW News)
Emily Swenson, 26, and Noah Thatcher, 28, to public transportation to the march.
"It's being in solidarity with the next generation for the planet that they're going to inherit from us and from the people that are older than us," Swenson said.
Thatcher said he appreciates Generation Z's "refusal to accept the status quo … these kids just aren't taking any shit. And we're here for it."
It's unclear whether the movement will spur any legislative action; President Donald Trump has rolled back environmental regulations and will not attend the U.N. global meeting.
Johnson, the 17-year-old who helped to organize the Chicago strike, had questions for elected leaders who, she says, "laugh at our efforts."
"Will you still be laughing when we vote you out? Your actions are unforgiveable. Most of you have children," she said Friday. "What will you tell them when they have to wear air masks?"
Follow Amanda Vinicky on Twitter: @AmandaVinicky
---
Related stories:
Field Museum Joins Youth Climate Strike in Chicago
Amazon Fires 'Heartbreaking,' But Global Outcry Offers Hope
Report on Climate Change Warns of 'Killer Heat' in US
---