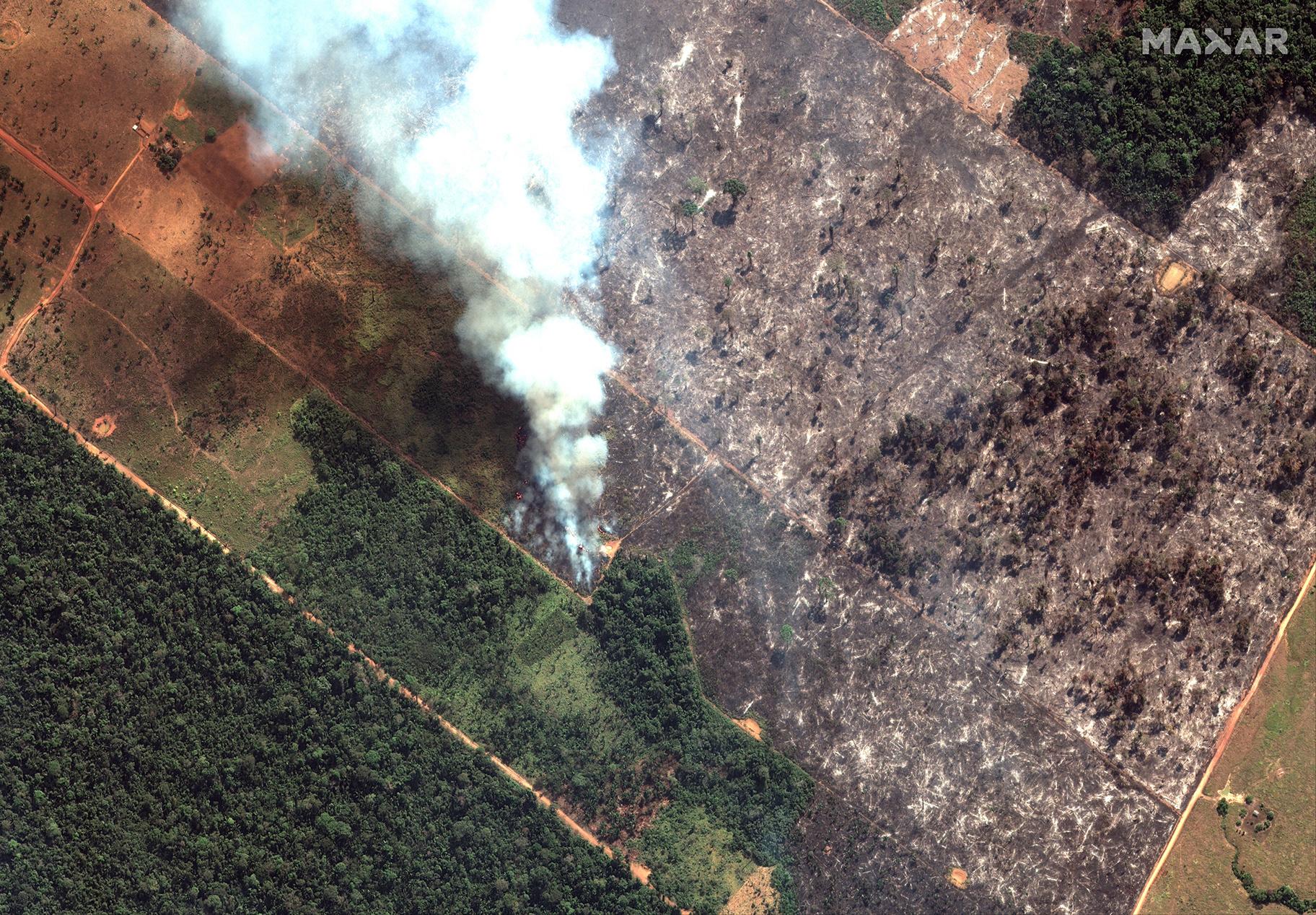 This Aug. 15, 2019 satellite image from Maxar Technologies shows a close-up view of a fire southwest of Porto Velho Brazil. Brazil's National Institute for Space Research, a federal agency monitoring deforestation and wildfires, said the country has seen a record number of wildfires this year as of Tuesday, Aug. 20. (Satellite image ©2019 Maxar Technologies via AP)
Christie Klimas has been conducting research in the Amazon since 2001. Her familiarity with the region made it particularly difficult to learn last week of a surge in wildfires across the rainforest.
"It's heartbreaking," said Klimas, associate professor of environmental science at DePaul University. "It's extremely – 'frustrating' isn't a strong enough word, because from an individual perspective, there is little I can do."
Brazil's National Institute for Space Research said last week the country has seen a record number of wildfires this year, counting 74,155 as of Aug. 20, an 84% increase compared to the same period last year. More than half of the fires were recorded in the Amazon region.
Environmental groups and researchers said most of the fires were set by farmers, cattle ranchers and loggers hoping to clear and use the land.
"This [time period] has always been the burning season, but there has never been anything like this before," said Klimas, whose research focuses on the management and conservation of tropical forests. "This is far beyond any other burning-related deforestation that has been seen in the past."
Many have suggested that farmers and others looking to profit off the land have been emboldened by the pro-business, anti-regulatory administration of Brazilian President Jair Bolsonaro. Bolsonaro, who took power at the start of the year, has repeatedly attacked environmental nonprofits that he views as obstacles in his quest to develop the country's full economic potential, including in protected areas.
"He's created an environment where it's easy to understand that there will be limited enforcement if laws are breached," Klimas said. Bolsonaro is chipping away at the country's strong track record of protecting the rainforest through various means, she said, such as by requiring farmers and ranchers to maintain half of the land as legal reserve.
The increase in wildfires has major consequences beyond Brazil. The Amazon is considered one of the most vital natural resources on the planet, producing about 20% of the world's oxygen and absorbing massive amounts of carbon dioxide – a greenhouse gas – from the atmosphere.
"It's definitely surprising, the intensity [of the wildfires] this year," said Yan Feng, a climate scientist at Argonne National Laboratory in Lemont. But Feng added that other regions, like California and her native China, have also seen devastating wildfires in recent years.
"This is definitely not just the Amazon in terms of increasing fire activities," said Feng, whose current research involves examining historic wildfire trends in the western U.S. to determine the impact of factors related to climate change. "Based on what we have seen in recent years, there are definitely more intense fires [worldwide] and there are probably more fire occurrences as well."
Although the situation in the Amazon remains dire, there are a few potential bright spots, Klimas said.
This past weekend, Brazil deployed about 44,000 military troops as part of an "unprecedented" operation to put out the fires. The move was authorized by Bolsonaro after he faced days of international pressure to contain the fires. 
Additionally, Klimas said Brazil has a robust research community that will continue to push back on any of Bolsonaro's actions that could threaten the Amazon.
"I'm very glad that this has created a global outcry and an outcry within Brazil," she said. "The Amazon is just such an incredible place where you can go from one area to the next and have different species, just a depository of biodiversity."
The Associated Press contributed to this report.
---
Related stories:
Report on Climate Change Warns of 'Killer Heat' in US
Field Museum Scientists Help Protect 2 Million Acres of Rainforest
Chicago Group Gets $1M to Plant Trees, Combat Climate Change
---