The hit movie version of "Downton Abbey" opened last month on the same day as "The King's Speech" at Chicago Shakespeare Theater. It's a play based on the Oscar-winning movie of the same title.
One prominent actor from "Downton Abbey" stars in "The King's Speech." WTTW spoke with Harry Hadden-Paton about portraying a king with a stammer onstage, and about playing a romantic lead on "Downton Abbey" on TV and the big screen.
TRANSCRIPT
Brandis Friedman: At a final rehearsal before previews, actors fine-tune their performances before an audience of their creative team and director.
"The King's Speech" is based on the best picture winner at the 2011 Academy Awards. The screenplay also won an Oscar.
But the script was originally imagined as a play – a fact-based drama about the future King George VI who must overcome a stutter and find his voice when his nation needs him the most.
Harry Hadden-Paton, who plays King George VI: He just got thrown into a situation which he was not expecting, he was not prepared for. He was actually the most ill-equipped person for the job there could be.
For someone who doesn't have friends – you're not allowed friends, you're not allowed to show any emotion whatsoever in the royal family, certainly not publicly – and he develops this unlikely friendship with an Australian speech therapist. They are both looking for something and they both find it in each other.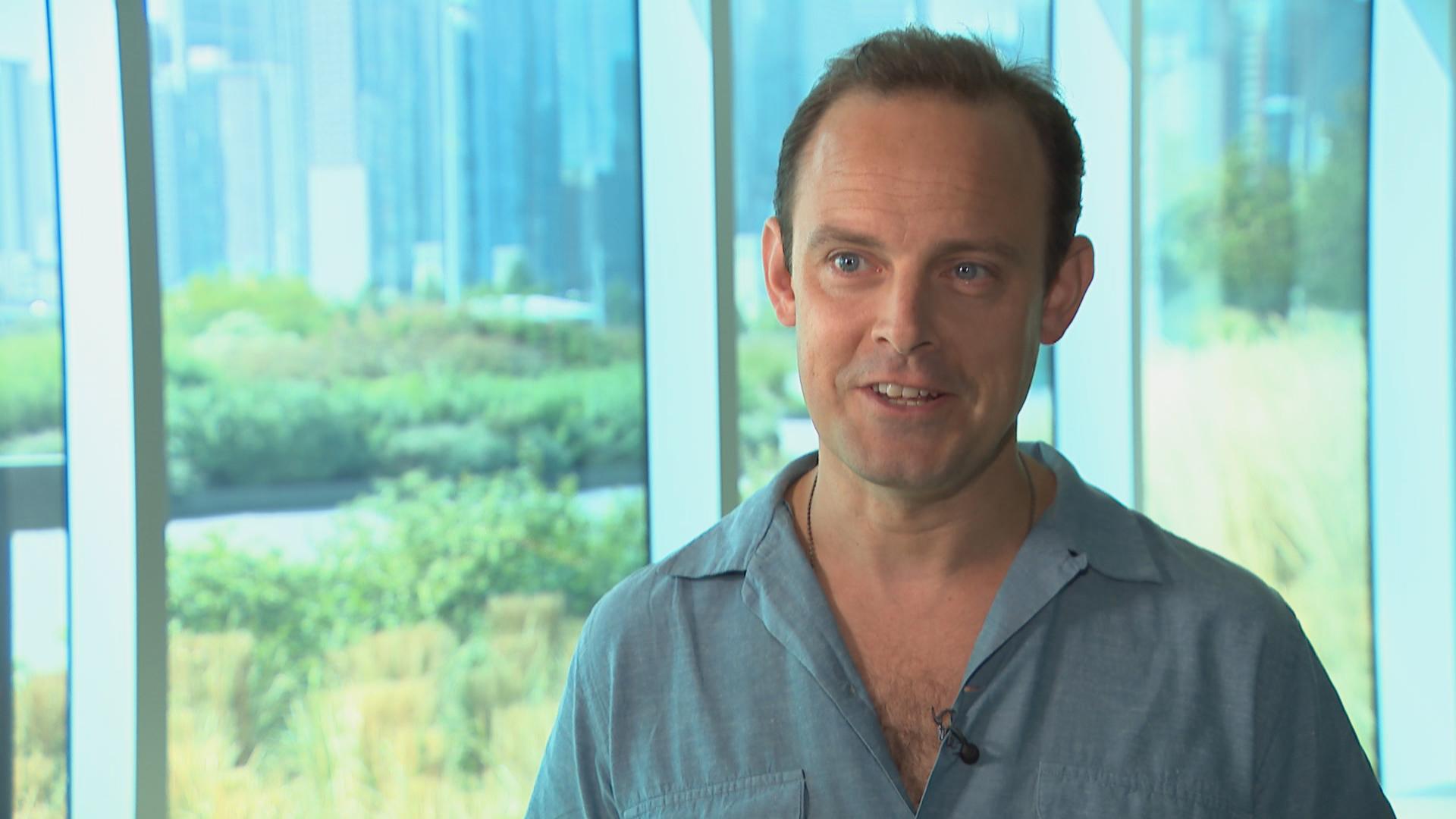 Friedman: The therapist, Lionel Logue, tries to help the monarch-to-be.
James Frain, plays Lionel Logue: He's never really had any friends before because this fact of being royal is like a glass shield around him. So Lionel Logue is punching at that shield and trying to break it down because he's like, until we get to the human core we're not going to be able to rescue your confidence.
Friedman: Back in rehearsal, there are last-minute costume adjustments and designers run through the technical elements.
The real King George VI became a reluctant hero to the democratic world as World War II loomed.
The play relives this dangerous moment in history.
Frain: The story of "The King's Speech" the play is quite different from the movie. The essential friendship between these two men, or this evolving friendship between these two men, is at the kind of center of it, but it sits in a much bigger context.
It's really about the almost total collapse of the British monarchy in the late 1930s, which was a constitutional crisis that we've never experienced before or since.
Friedman: The Duchess of York assists her husband on his ascent to the throne. She is played by the actor's real-life wife, Rebecca Night.
We asked Hadden-Paton about the vocal demands of this royal role.
Hadden-Paton: A lot of the voice work on this one, I did in advance.
What's wonderful, in my research, he did get better and this speech therapist really helped him. One of my favorite quotes is that he got a phone call from Logue saying, "Well done sir, but you did stammer on that one 'W,' I noticed." He went, "Yes, well I've got to let them know it's me."
Friedman: Hadden-Paton played Bertie Pelham, the Marquess of Hexham, on the last season of "Downton Abbey." He married Lady Edith Crawley in the series finale.
Hadden-Paton: It was amazing. I'm a bit of a fraud because I have no responsibility for the success of that show. It was already flying by the time I got involved so I feel a bit guilty that I'm even associated with all that work they did, but to come in at the end and be Lady Edith's happy ending was extraordinary for me.
Friedman: He's in the film, too. But working in Chicago means he's missing out on the movie premieres.
Hadden-Paton: I'm watching them all as they do the premieres from afar with great pride.
It's going to deliver. I think for fans it's going to be exactly what they want with more surprises, and it'll be very satisfying and I think necessary at the moment with everything else that's going on in this world. It's a chance to unplug and relax. 
Friedman: The actor is not relaxing. He and the cast are busy preparing "The King's Speech" for opening night.
---
More on this story
The North American premiere of "The King's Speech" closes Sunday at the Chicago Shakespeare Theater on Navy Pier.
---
Related stories:
An Advice Columnist Taps into the Pain, Poetry and 'Tiny Beautiful Things' of Life
Basketball Diplomacy Takes a Great Theatrical Leap Forward at Steppenwolf
'Be Here Now' a Tragicomic Gem About Seizing the Day
---