For many Chicagoans, pride in local architecture is as natural as rooting for the Cubs or White Sox.
But at the 2019 Chicago Architecture Biennial, you won't find much in the way of Frank Lloyd Wright and Louis Sullivan.
Instead, exhibits and installations from around the world hope to reframe – and sometimes challenge – the very idea of what architecture is in the first place.
Every other fall since 2015, the biennial has transformed the lobbies, courtyard and ballrooms of the Chicago Cultural Center into a four-month exhibition of cutting-edge ideas in urbanism and design. There are also programs and installations at satellite sites across the city.
"Chicago is a city that knows architecture very well – we have a great history of architecture coming out of the city," said Yesomi Umolu, the biennial's artistic director. "And the hope is that biennial will foster further exploration and new ideas in architecture and the built environment."
This year's theme is "… and other such stories," which aims to connect Chicago's architectural traditions with emerging ones from around the world.
"The idea behind this year's biennial," Umolu said, "is to try to think about Chicago, and look at its history, but also its contemporary urban conditions, and to think critically about how that might relate to some broader questions that we're all facing as a society." 
That means there's a special emphasis on issues of politics and power – like an installation that asks how a Palestinian refugee camp might be designated as a UNESCO World Heritage site.
(Courtesy of Chicago Architecture Biennial / Kendall McCaughtery, 2019)
And on the ground floor near the center's Randolph Street entrance, visitors will find four glass houses created by the MASS design group. The firm invited the public to contribute personal stories of gun violence from Chicago and across the country, which they've showcased through photos, possessions and other belongings of the victims.
There's also a wooden structure built by Chicago's Sweet Water Foundation called "Re-Rooting + Redux." Until recently, it acted as a community gathering spot on an empty lot in the Washington Park neighborhood on the South Side.  
At first, it seems a little out of place next to the flashier exhibits that surround it. But as the group's director Emmanuel Pratt explains, it's actually an ode to a quintessential piece of Chicago architecture: the worker's cottage.
"Most of the housing stock in the area spans all the way back to the worker cottages. And the worker cottages was the first affordable house in the city of Chicago," he said.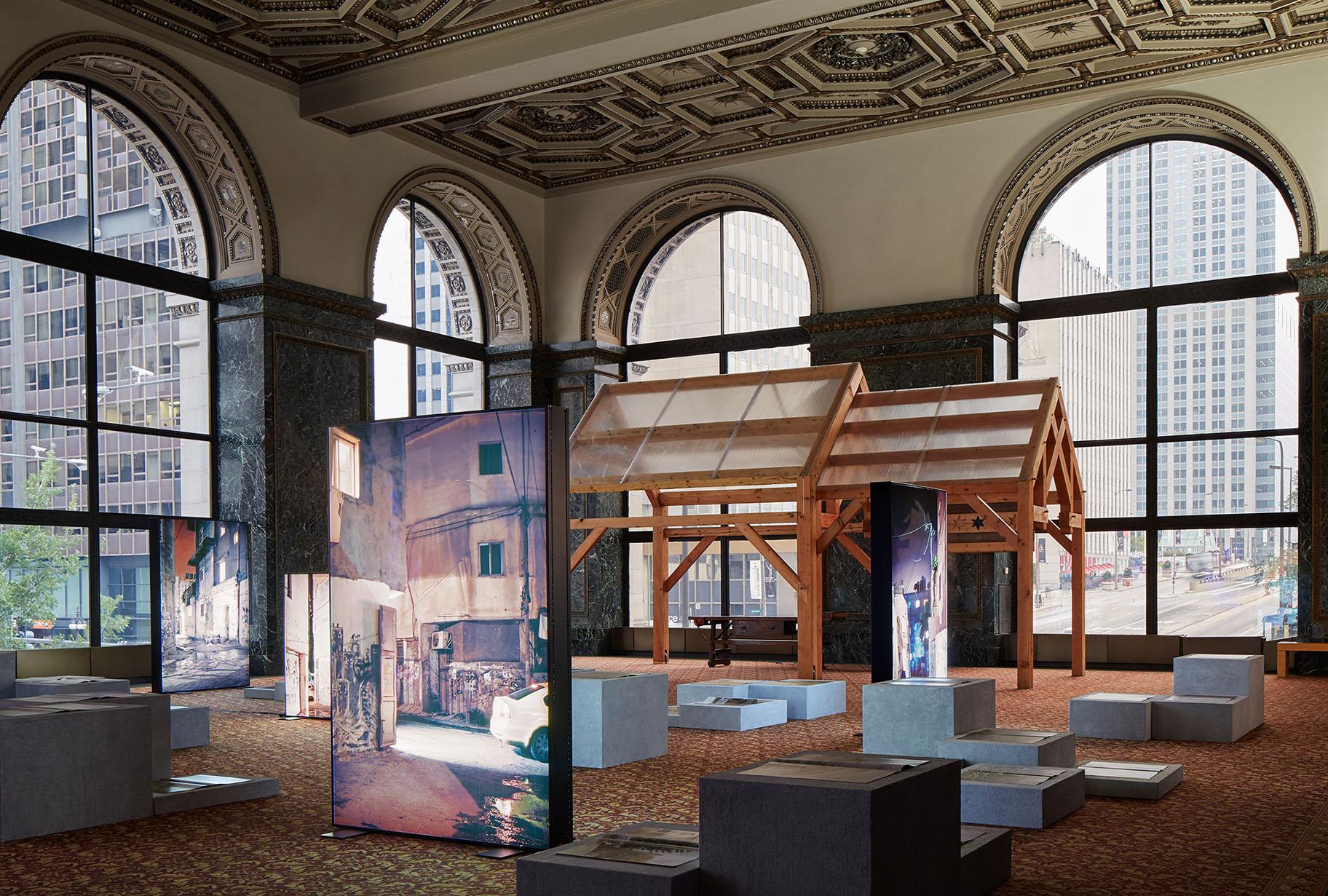 (Courtesy of Chicago Architecture Biennial / Kendall McCaughtery, 2019)
At its original location, Sweet Water invited community members in to talk about what this space could be – and how future development in the neighborhood could be more equitable.
By bringing the cottage structure to the Chicago Architecture Biennial, Pratt hopes that conversation will continue – both with other contributors and the general public.
"Chicago is globally an epicenter for architecture, as it should be. But it's interesting how much we choose to forget. There is a process of historical preservation that celebrates certain histories and forgets other histories. And it is really important to keep all those histories on the table," he said.
The 2019 Chicago Architecture Biennial opens Thursday, Sept. 19 and runs through the beginning of January. All programming is free and open to the public.
---
Related stories:
10,000 Cabbages Growing in Garfield Park for New 'Living Exhibit'
Revisiting Farnsworth House, a Masterpiece of Modern Architecture
Ask Geoffrey: What's the 'Polish Cathedral' Architectural Style?
---