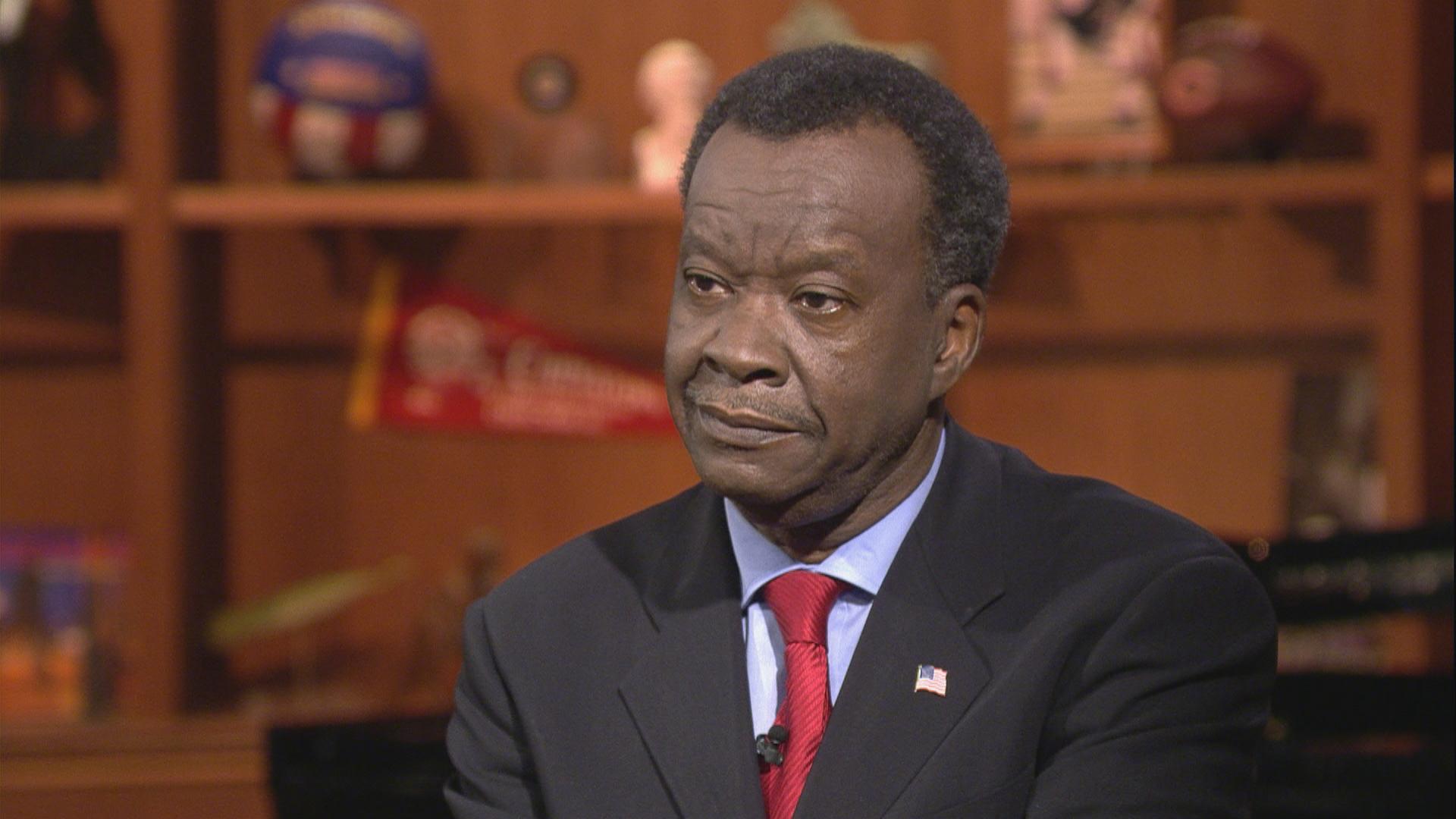 Willie Wilson appears on "Chicago Tonight" on March 28, 2018.
Wealthy businessman and Chicago pastor Willie Wilson says leading Democrats, including longtime U.S. Sen. Dick Durbin, haven't returned his calls.
"I guarantee they will call me know," Wilson said Tuesday as he announced he'll run as an independent against Durbin in next year's elections. "As an independent Democrat I want to go into the belly of the beast in Washington, D.C."
Wilson hasn't succeeded in previous runs for elected office, including a messy bid for president of the United States in the last national cycle. But his fourth-place finish in April's crowded mayoral race – and the $1.6 million of his own money he spent on that campaign – has given him both credibility and name recognition.
Wilson came under scrutiny during the mayor's race for continuing his long-standing practice of giving away loose cash and envelopes of money to churchgoers, but the state elections board determined the practice was within legal bounds.
Unlike four years ago, Wilson told reporters Tuesday he will not be casting a vote for President Donald Trump in 2020, in part, he said, because Trump's tariffs on Chinese goods are costing American families.
"As an international businessperson I have an in-depth understanding of international trade," Wilson said. "I am not going to vote nor will I ever vote again for President Trump."
He does, however, support Trump's federal tax overhaul, as Wilson said he believes fewer taxes will help grow businesses, and therefore jobs.
Wilson, who compared his matchup with Durbin to David taking on Goliath, said he's running against Durbin because he believes the senator and the Democratic Party need to do a better job reaching out to all residents, particularly the homeless, and tackling violence in Chicago.
He also called for lawmakers to pass reparations, and questioned why Democrats have vocally advocated for actions that protect immigrants living in the U.S. illegally while they have not approved reparations for descendants of slaves.
"If you can support sanctuary city, why can't you support reparation?" he said, adding that while he has "no problem with sanctuary (cities) but (you) can't leave out people."
After flirting with retirement, Durbin, who as the Senate Democrats' minority whip holds clout in Washington, said earlier this year he will run for another term, though he has not formally announced his campaign.
Durbin has $3.2 million in his campaign account. Wilson said he could not give an estimate of how much he'll spend this round, but he said it's not a "waste of money" to take his campaign directly to "the people."
Follow Amanda Vinicky on Twitter: @AmandaVinicky
---
Related stories:
Facebook Tightens Political Ad Rules, But Leaves Loopholes
Federal Election Chair Sounds Alarm on 2020 Election
Willie Wilson Endorses Lori Lightfoot for Chicago Mayor
Willie Wilson Gives Away More Cash, Comes Under New Scrutiny
Businessman, Philanthropist Willie Wilson Makes 2nd Bid for Chicago Mayor
---