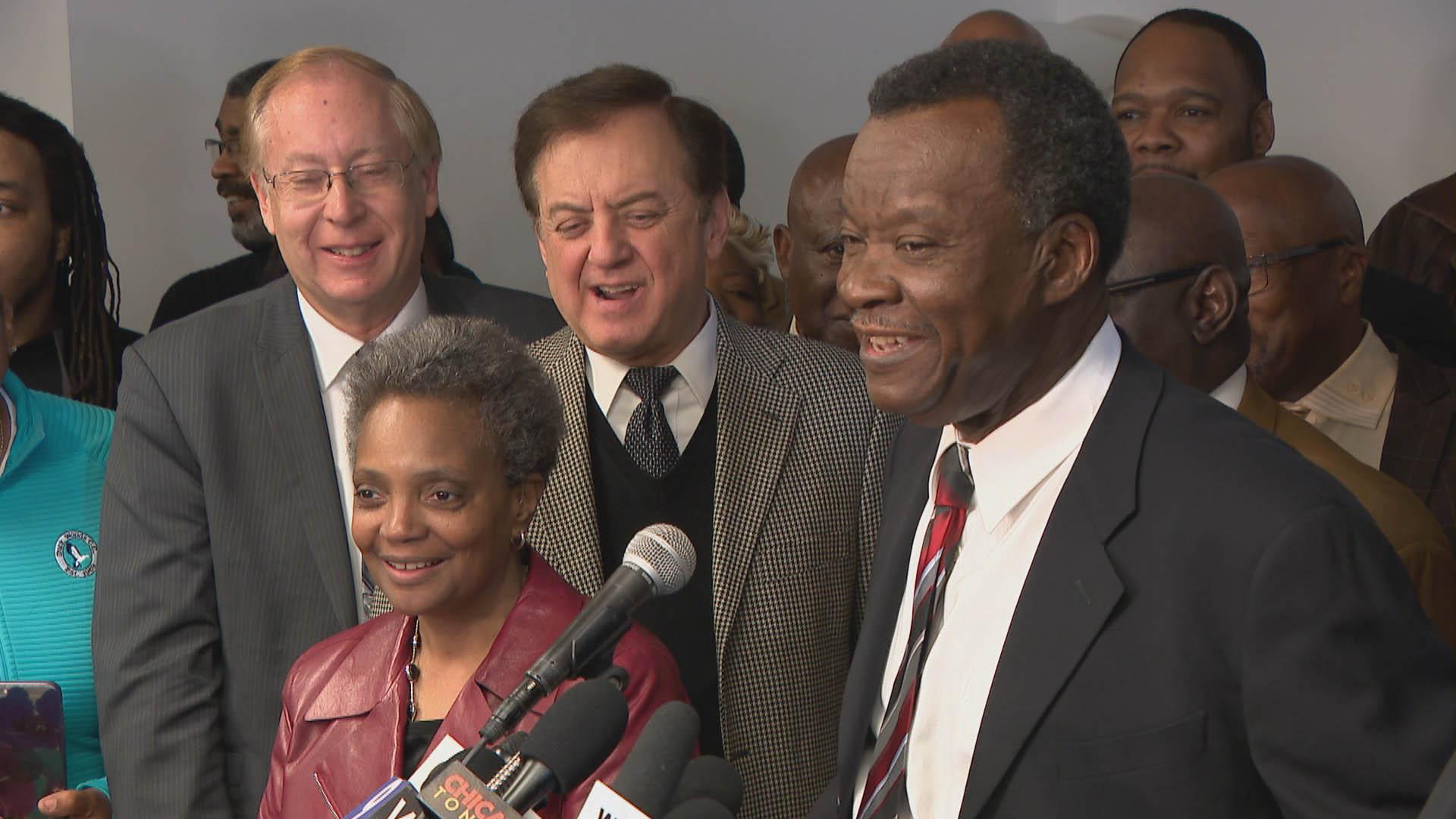 Willie Wilson announces his endorsement of Lori Lightfoot for mayor on March 8, 2019. (Chicago Tonight)
Businessman Willie Wilson, who finished fourth in his bid for Chicago mayor in the Feb. 26 election, announced Friday his endorsement of former federal prosecutor Lori Lightfoot.
"I've been very loyal to the community and I've never asked for anything for myself," Wilson said. "I'm going to ask you to endorse her.  … I ask you to vote for her because she represents the changes we sought."
Lightfoot will face Cook County Board President Toni Preckwinkle in an April 2 runoff.
Wilson said he sought input from people who voted for him and met with Lightfoot three times before making his decision. He chose not to back Preckwinkle because "she is the machine," Wilson said. "It's time for a change."
Wilson dispelled any notions of a quid pro quo. "I don't want (Lightfoot) to think she owes me anything," Wilson said. "I will not take one penny from her."
Lightfoot said she was humbled and honored to receive Wilson's endorsement, despite her tweet last month criticizing her then-opponent's support of President Donald Trump, former Republican Gov. Bruce Rauner and "horrible policies that will end up costing regular Chicagoans much much more in the long run."
"Dr. Wilson's been very clear since the beginning of his campaign that those were the choices that he made," Lightfoot said Friday when asked about the tweet. "I'm not going to speak for him, but as I said, the things that I think we share values about, is a need to create real opportunity for people who've been locked out of the city government, state government, national government."
Lightfoot also commended Wilson for his decades of "selflessness" in helping people, especially those on the South and West Sides. "He's done well in his life and has shared his knowledge and riches," she said.
Lightfoot and Wilson both share a vision of spreading the wealth and success of downtown to the entire city.
"We have bonded over our shared sense of urgency around the need to make sure that prosperity and growth and good fortune is brought to every community in Chicago," she said. "Downtown is thriving, but our neighborhoods are starving. … Your destiny should not be determined by your zip code."
Contact Kristen Thometz: @kristenthometz | [email protected] | (773) 509-5452
---
Related stories:
Chicago Business Groups Brace for Next Mayor
Preckwinkle Questions Lightfoot's Progressive Credentials
Lightfoot Accuses Preckwinkle Campaign of Spreading False Rumors
---