President Donald Trump's dream of establishing a United States Space Force moved one step closer to reality Thursday with the creation of the U.S. Space Command.
As modern militaries and society at large become increasingly dependent on space-based systems for communication and navigation, among other things, the need to protect those systems from potential adversaries has grown.
"When it comes to defending America, it is not enough to merely have an American presence in space. We must have American dominance in space," Trump said in a statement announcing the new Space Command.
The statement went on to say the move "represents a crucial step to improving the Nation's space warfighting structure in our ever-evolving world."
The Space Command will initially focus on issues related to satellite navigation and communication for troops and commanders in the field, but in the longer term Trump would like to establish a Space Force as an entirely distinct branch of the military.
According to Cécile Shea, a specialist on global security issues at the Chicago Council on Global Affairs, there is some support from both Democrats and Republicans in Congress to create a Space Force.
"There is a feeling among some of the people working on military space issues that the Air Force (which currently operates military space craft) under-supports, underfunds and inadequately respects the space side of its operations," said Shea.
If a Space Force is realized and becomes a sixth branch of the U.S. military, one thing is inevitable: more bureaucracy.
But it will be popular with military personnel looking for a promotion.
"In the short term the really big winners in having a Space Command and eventually a Space Force are generals, officers and admirals because there are going to be more four star billets, more opportunities for promotion, more opportunities for those super prestigious jobs that come with a lot of perks," said Shea.
Shea also anticipates battles ahead – but not in space.
"We can anticipate that if we do have a Space Command and a Space Force there is going to be all kinds of turf wars in Washington," said Shea.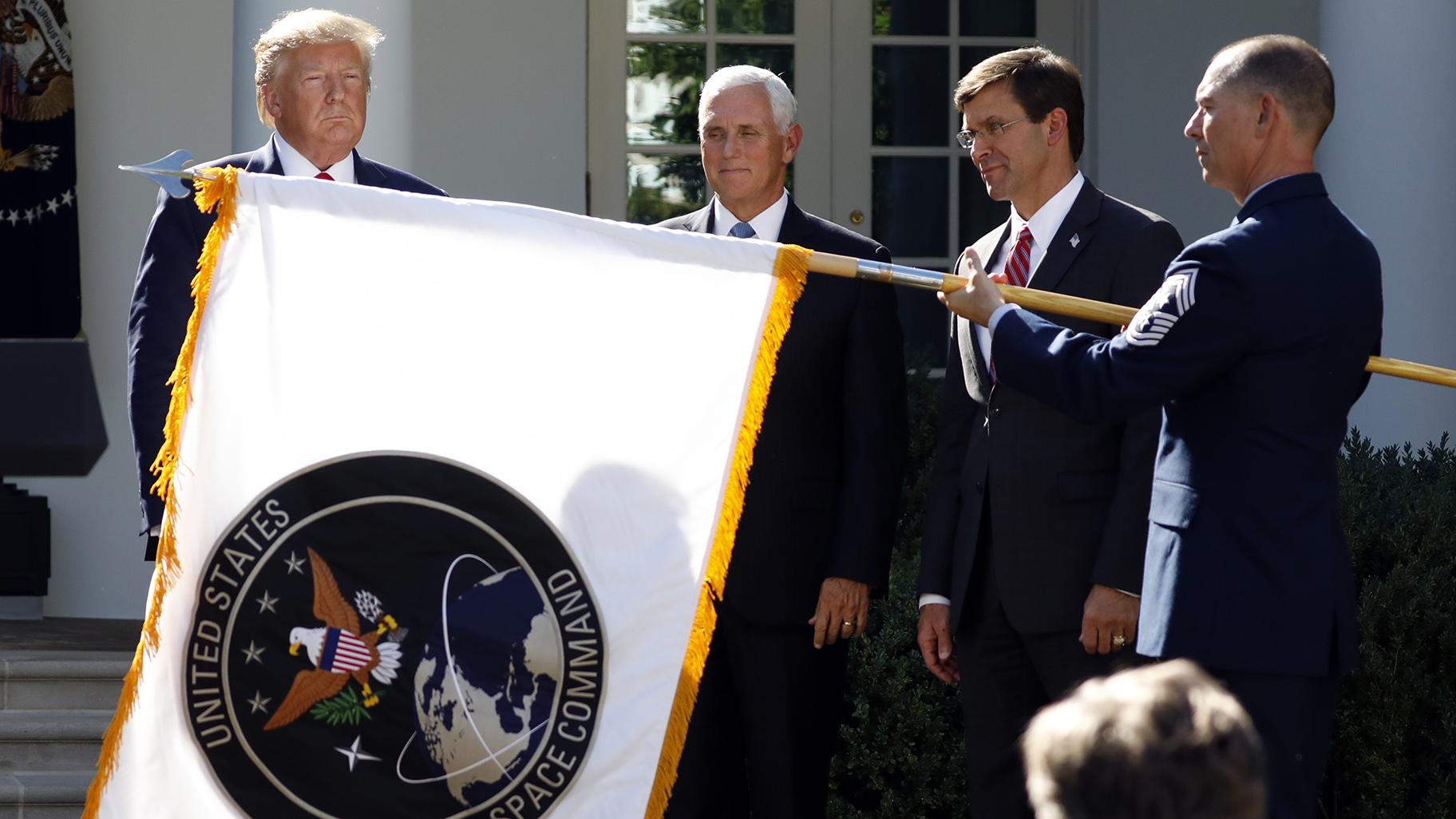 President Donald Trump watches with Vice President Mike Pence and Defense Secretary Mark Esper as the flag for U.S. Space Command is unfurled in the Rose Garden of the White House in Washington, D.C., on Thursday, Aug. 29, 2019. (AP Photo / Carolyn Kaster)
While Trump's plan to create a Space Force may have raised eyebrows in some quarters, Shea said that since the beginning of the space race all presidents have thought that U.S. primacy in space was a national security imperative. Where Trump differs from his predecessors is that he does not appear to be looking for international cooperation.
"We have always thought of these as international issues that we had to tackle with our allies but also with our adversaries," said Shea. "Clearly, if we are going to make space safe it is going to require an international effort. … We can pump all the money we want into space but if we aren't cooperating with everybody else with a space program were kind of doomed to failure. So it's absolutely a national security issue on a number of levels but it's going to require international cooperation of the kind that this president really dislikes."
But in a world that is connected by and dependent on satellite communications, the need to create institutions and laws to regulate space activity becomes greater every day.
"Can you imagine what would happen to the banking system in this country if satellite networks went down and basic communication networks went down – the economy would grind to a halt," said Shea.
And as private corporations from Elon Musk's SpaceX to Jeff Bezos' Blue Origin gear up for a new commercial space race, the need to establish ground rules on what is and is not permissible becomes more pressing.
"We're not prepared for this brave new world of the private exploration of space – commercialization, mining and possibly habitation in space," Shea said. "We need to come together with like-minded nations initially and eventually with all nations to create some rules."
---
Related stories:
What Would a US Space Force Look Like? Don't Expect 'Starship Troopers'
50 Years After Moon Landing, Billionaires Back Grandiose Visions for Space
Nation Marks 50 Years After Apollo 11's 'Giant Leap' on Moon
Astronomers May Have Detected Neutron Star Being Consumed by Black Hole
---