The city of Chicago launched its electric scooter pilot program this weekend on parts of the West Side, featuring 2,500 scooters from 10 different companies.
The program will serve as a test to see if scooters are a viable transportation option for Chicago residents.
Running until Oct. 15, the pilot is being overseen by the Department of Business Affairs and Consumer Protection and the Chicago Department of Transportation.
After this weekend's deployment, are you a fan of electric scooters in the city? https://t.co/BRy0fNoHH4

— WTTW (Chicago PBS) (@wttw) June 17, 2019
---
BACP Commissioner Rosa Escareno said Monday that so far, the launch has "worked out really well. The requirement for all the companies was to have all their fleet on the road on day one, and all the companies were able to push out their products and introduce them to communities throughout the city."
Escareno says scooters could provide a new way for commuters to get to the bus or train from their house.
"Any time you can broaden opportunities and options for residents to get around, and to connect last mile, first mile, is really important," she said.  
A map of the boundaries for the Chicago E-Scooter Pilot Program. (Courtesy of the city of Chicago)
But will Chicagoans take scooters instead of driving or taking Lyft or Uber?
Lynda Lopez says the pilot could be effective in some West Side neighborhoods that don't have many transit options.
"I'm really interested to see whether scooters can provide a viable alternative for people, who might not have cars and might not have access to efficient, fast transportation," said Lopez, a reporter with the transportation site Streetsblog Chicago.
There are also questions about safety and congestion. Scooter riders are required to ride in the bike lane, but many have already been spotted on the sidewalk.
Kate Lowe, an assistant professor of urban planning and policy at the University of Illinois at Chicago, says that could cause problems.
"There are important risks for people with mobility impairment. I know the city has some steps in place to make sure that e-scooters are not blocking the public right of way," she said. "We have to be vigilant to make sure they aren't limiting access for those with mobility impairments."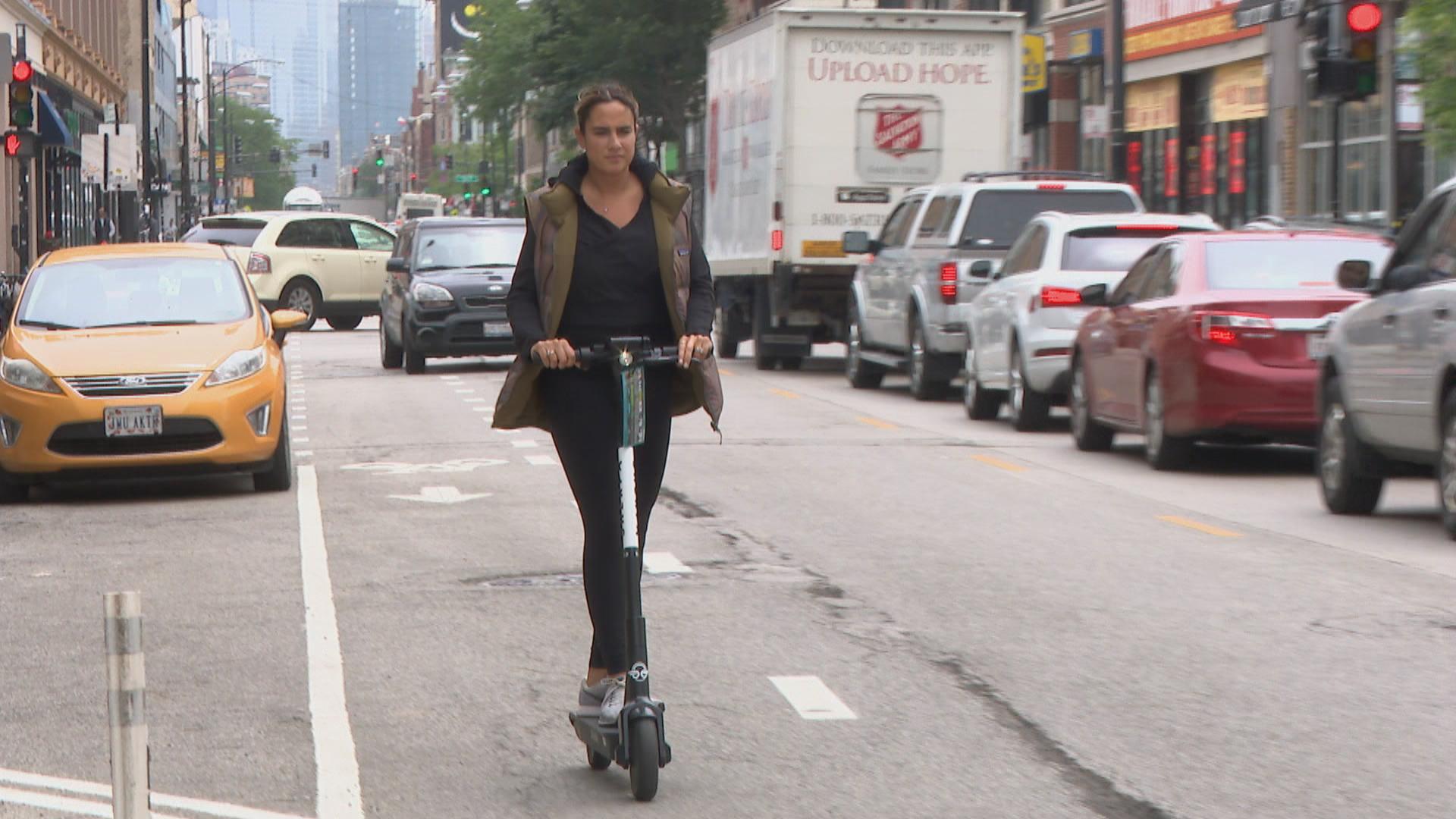 Some safety measures the city is taking include a maximum scooter speed of 15 miles per hour and a nightly curfew.
"Safety has been a top priority for us," Escareno said. "In looking at other cities, and how those cities operate, we looked at some of the best practices. We know that keeping riders off the streets late at night is important. The scooters cannot operate past 10 p.m. The scooters are required to be taken off the streets every single night."
The scooters are then distributed and placed across the pilot area before 5 a.m. the next day.
The pilot zone has two priority areas along its western border, where at least 25% of the scooter fleet must be returned to every night. But that won't stop scooters from piling up during the day and evening in certain areas, like Wicker Park and the West Loop.
"Certainly some neighborhoods are going to be potentially more flooded with them than other areas," Escareno says. "But then that will help us look at the data, [and] inform any future program, shall there be one."
---
Related stories:
Will Chicago's Shared Electric Scooters Cut Emissions? It Depends, Experts Say
Chicago is Getting Electric Scooters – But Are They Safe?
Scooter Sharing: How It Works, and Why Some Are Worried
Chicago's Divvy Divide: Convenient Bike-Share Program or Sign of Gentrification?
---