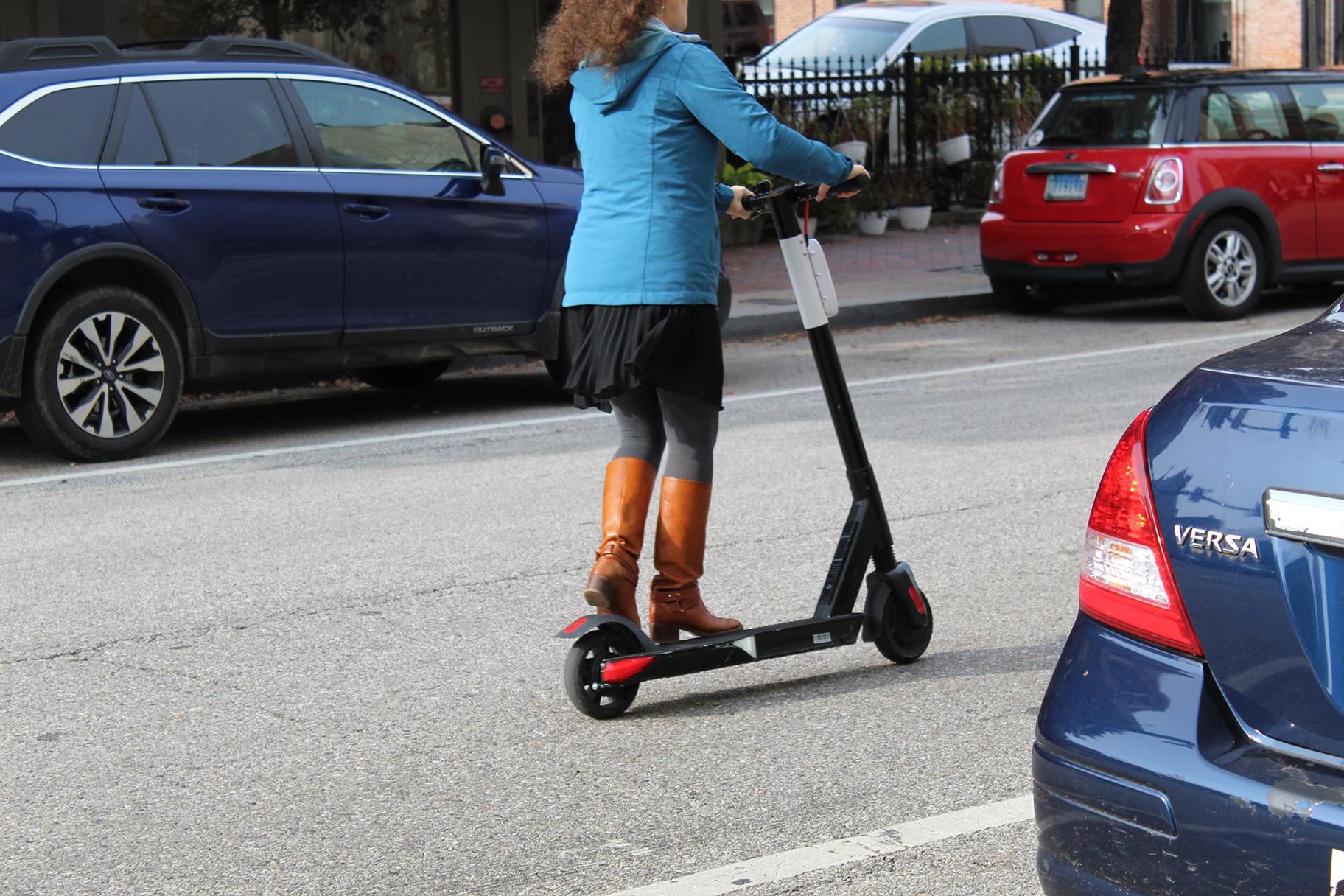 A woman rides an electric scooter in Baltimore on Nov. 18, 2018. (Elvert Barnes / Flickr)
Chicago is the latest city to give shared electric scooters a go, with up to 2,500 scooters available in certain parts of the city starting Saturday as part of a four-month pilot program.
Reaction to the rollout of electric scooters in other cities has been mixed. Scooter companies and proponents of shared e-scooter programs say the scooters fill a gap in what transportation experts call the "last mile" of transit, giving riders a convenient and relatively cheap way to get from a train or bus stop to their final destination.
Critics, meanwhile, are quick to point out that in some cities, large numbers of scooters have been dumped into rivers and left to clutter sidewalks and public spaces. There have also been at least 11 electric scooter rider deaths in the U.S. since the start of 2018, according to the Associated Press.
While the jury still appears to be out on shared electric scooters overall, one clear benefit of such programs would seem to be a reduction in pollution, given that e-scooters use a tiny fraction of energy compared to gas-powered vehicles or even electric cars.
But transportation and energy experts say the environmental impact of e-scooters is likely negligible, and that more research is needed to understand how their use affects overall emissions, if it all.
"The great potential for scooters to have a positive environmental impact is if they enable people to switch from single-occupancy vehicles, and we don't have data yet to show they are instrumental in doing so," said Kate Lowe, an assistant professor of urban planning and policy at the University of Illinois at Chicago.
Lowe and other experts note that several factors must be considered when evaluating the environmental impact of shared e-scooter initiatives, including the pilot program launching in Chicago this weekend. If a rider chooses an electric scooter over a bicycle or walking, for example, the trip costs more in terms of energy, even if only by a small amount. But hopping on an e-scooter is clearly more energy-efficient than driving oneself or hailing a ride through a service like Uber or Lyft.
"When somebody hops on an electric scooter, they're choosing a mode with minimal air pollution impacts," said Joe Schwieterman, director of Depaul University's Chaddick Institute for Metropolitan Development. "It's just such a small device that the amount of energy burned is [almost nothing] compared to a car or bus."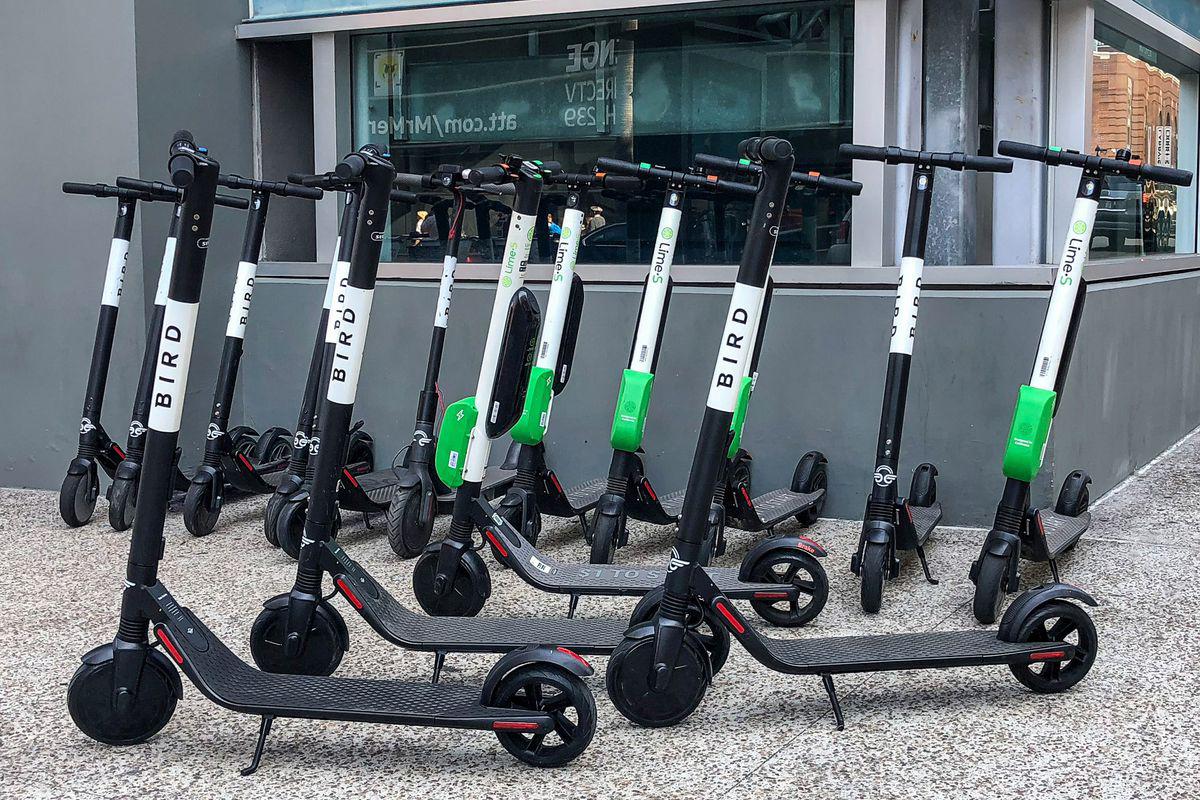 Chicago's new shared electric scooters can be used in streets and bike lanes, but not on sidewalks. Riders can park the scooters anywhere within established zones as long as they are upright and not blocking a sidewalk. (Baldesteinemanuel326 / Wikimedia Commons)
Recharging the scooters requires minimal energy, especially compared to other transportation modes. According to reporting by Wired, a 28-mile trip on an e-scooter produces just 0.3 pounds of carbon dioxide emissions, compared to 2.25 pounds for an electric car and nearly 19 pounds for a gas-powered vehicle.
But because Chicago's pilot program requires vendors to remove scooters from streets each day by midnight, that means each of the 10 companies selected for the program will have to send out vehicles to pick them up.
"The amount of mileage driven to collect them at the end of the day is an open question," said Elizabeth Irvin, transportation director at the Center for Neighborhood Technology, a Chicago nonprofit that advocates for sustainable development.
On the whole, e-scooters alone are unlikely to have a significant impact on transportation-related pollution levels, Lowe said, "unless they are part of a whole set of strategies that address emissions and improve access for those with limited mobility."
The scooters could have a bigger environmental effect if they help encourage residents to give up their cars, Schwieterman said. A study conducted by Schwieterman last year found that e-scooters were particularly time- and cost-effective for short trips of between a half-mile and 2 miles, and that the availability of scooters in Chicago could help more residents ditch their cars.
"I need to run to the 7-Eleven and buy a pack of cereal or something like that. It fits that kind of trip model, as well as short hops to and from transit," he said. "So we think it's going to augment car-free living, and that's clearly a good thing for the city."
Schwieterman, Lowe and Irvin all agree that Chicago is smart to pilot e-scooters in order to evaluate their effectiveness.
"Because if they do get people introduced to the idea that there are multiple ways of getting around the city, there could be shifts in how city residents think about mobility," Lowe said. "But the net direct impact doesn't appear to be very promising from an environmental perspective."
Contact Alex Ruppenthal: @arupp | [email protected] | (773) 509-5623
---
Related stories:
Chicago is Getting Electric Scooters – But Are They Safe?
Scooter Sharing: How It Works, and Why Some Are Worried
Chicago's Divvy Divide: Convenient Bike-Share Program or Sign of Gentrification?