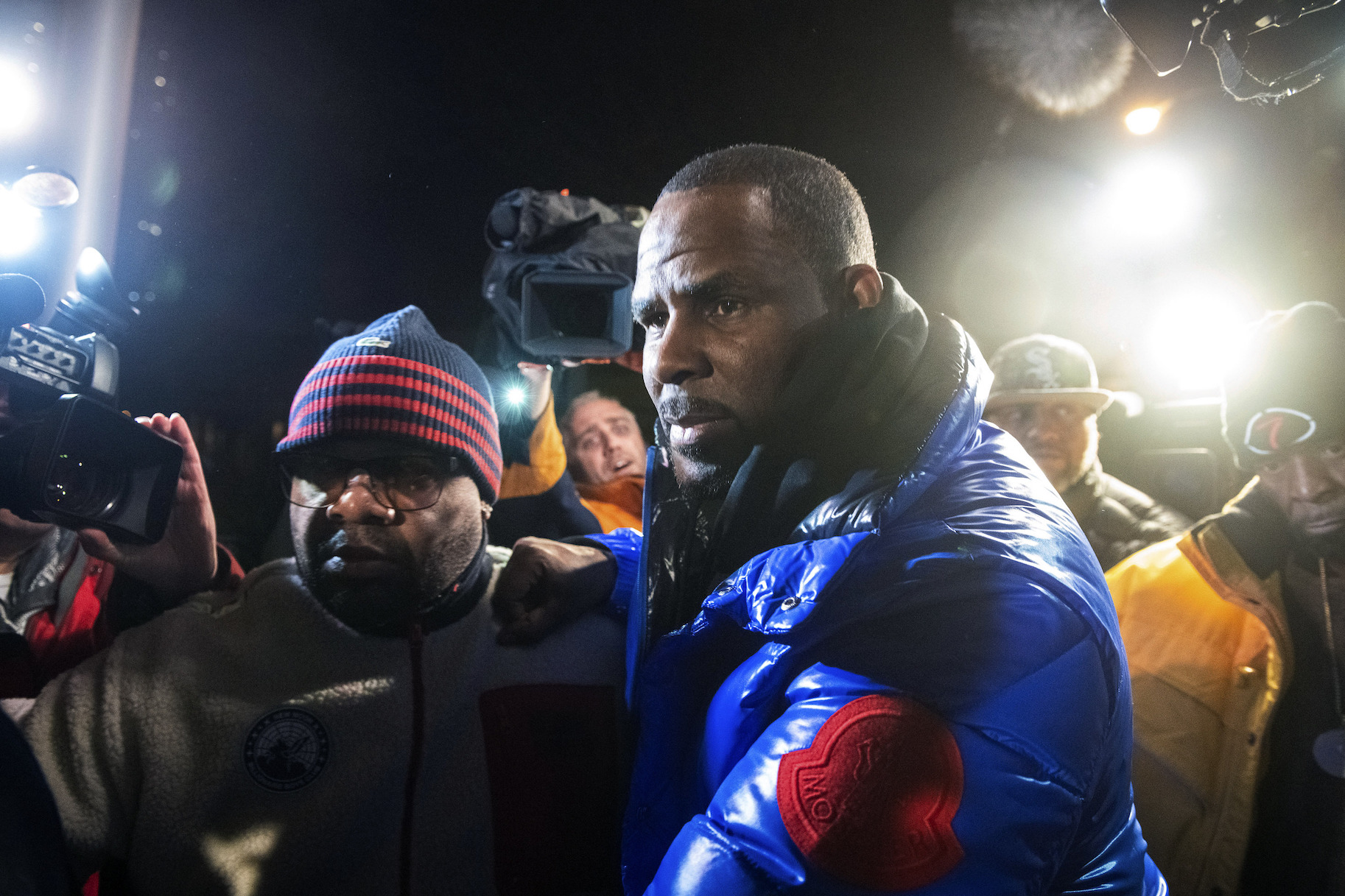 R. Kelly surrenders to authorities at Chicago First District police station on Friday, Feb. 22, 2019. (Tyler LaRiviere / Chicago Sun-Times via AP)
A Cook County judge ordered R. Kelly held on $1 million bond, a day after the R&B star was charged with several criminal sexual assaults in incidents dating as far back as two decades ago.
Cook County Judge John Fitzgerald Lyke Jr. called the charges levied against Kelly "disturbing" and ordered bond in the amount of $250,000 on each of the four cases the singer is charged in. He must post 10 percent of that total.
A grand jury indicted the 52-year-old Grammy winner on 10 charges of aggravated criminal sexual abuse. Those are Class 2 felonies punishable by probation or up to seven years in prison.
Kelly was driven to a Chicago police station in a dark colored van to turn himself in around 8:15 p.m. Friday. He remained in police custody overnight and was transported to the Leighton Criminal Court Building early Saturday morning.
Kelly, a Chicago native born on the city's South Side, is alleged to have abused four women, including three minors.
The charges came days after Cook County State's Attorney Kim Foxx's office received a roughly 40-minute video that allegedly shows Kelly engaging in various sex acts with a 14-year-old girl in the late 1990s. Attorney Michael Avenatti, who says he represents two of Kelly's victims, turned that tape over to Foxx and believes there are two other similar videos in existence.
Read the state proffer against #RKelly here: pic.twitter.com/vlQLlCFXcO

— Matt Masterson (@ByMattMasterson) February 23, 2019
---
That abuse in these cases allegedly occurred between 1998 and 2010 – including one incident from 2003 when Kelly was out on bond while facing child pornography charges.
Kelly, who appeared wearing a black sweatshirt and close-cropped hair, stood silent as allegations were read off in court.
Cook County Assistant State's Attorney Jennifer Gonzalez went through each of the four cases in detail, explaining how Kelly allegedly abused women from all walks of life - from his own inner circle to a fan he met during his previous trial.
Kelly met the first victim at a restaurant in 1998, where she was celebrating her 16th birthday. An associate gave the girl Kelly's contact information and they allegedly met up for monthly sexual encounters from May 1998 until May 1999.
The second victim was the 14-year-old girl who was recorded on video having oral and vaginal sex with Kelly in his home in 2001.
Another victim was a 24-year-old hairdresser who worked for Kelly in February 2003. Gonzalez said Kelly entered her dressing room with his pants down and attempted to force her to perform oral sex. When she refused, Kelly allegedly spit on her and masturbated onto her. An article of clothing recovered from the woman contained DNA that was matched to Kelly.
The final victim was involved in multiple incidents throughout 2009 and 2010 after meeting Kelly and getting his autograph during his 2008 trial. The girl was 16 and DNA recovered on an article of her clothing has been preliminarily matched to Kelly, Gonzalez said.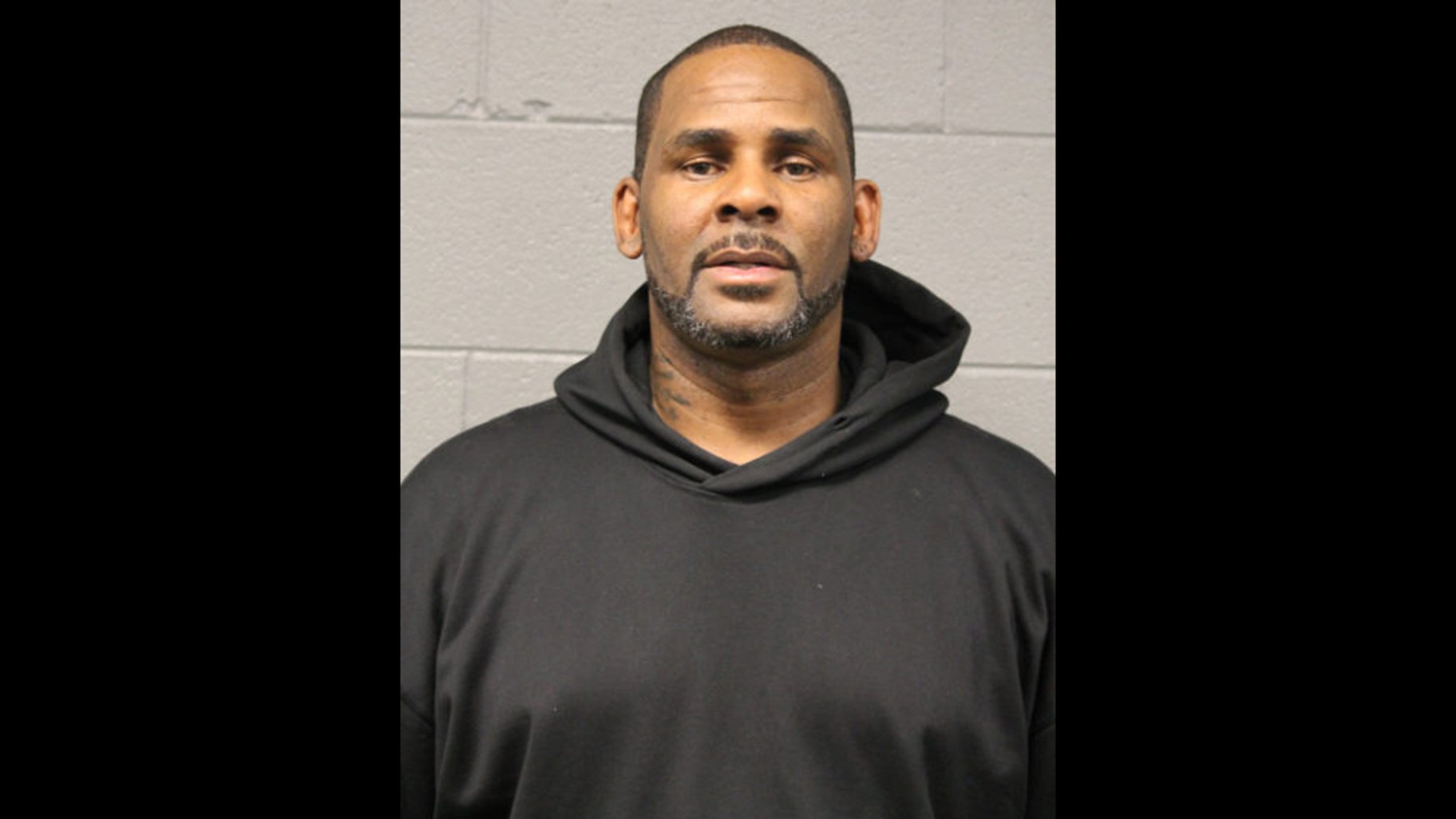 Robert Kelly (Chicago Police Department)
Kelly's attorney Steve Greenberg argued for minimal bail, saying his client's financials are "a mess" and he is not a flight risk
"Contrary to the song, he doesn't like to fly," Greenberg told the judge, referencing Kelly's 1996 hit song "I Believe I Can Fly."
Kelly has been dropped by his music label, meaning he is no longer earning residuals from his songs, and he's been unable to pay court mandated child support, Greenberg added.
After the hearing, Greenberg said he was happy with the bond total Lyke set, and expects Kelly to post the $100,000 minimum necessary for him to walk free sometime this weekend.
The embattled singer is among the most successful R&B artists of all time, having sold tens of millions of albums over his career. But he's also been surrounded by allegations of sexual abuse and misconduct for decades.
In 1994, Kelly, who was then 27, wed 15-year-old singer Aaliyah after falsifying her age on a Cook County marriage certificate. Their marriage was quickly annulled.
A 12-person jury later acquitted Kelly in 2008 on child pornography charges after he was accused of filming himself having sex with a minor sometime between 1997 and 2002 inside his Lakeview home. Parents of other women have alleged Kelly keeps their daughters in an abusive "cult," telling them what to eat, how to dress and preventing them from contacting their families.
More recently, Kelly has come under fire following the debut of "Surviving R. Kelly," a Lifetime documentary series that includes new sexual misconduct allegations against the singer.
The claims have led to a very public pushback against Kelly, including a #MuteRKelly social media campaign that's sought to force radio stations, music streaming apps and venues to ban his music and concerts.
Greenberg has denied the allegations against his client.
"He's devastated (by the charges)," Greenberg said. "Here is someone who at one point was a huge star and now he is sitting behind bars, even if it's for a day."
Kelly is due back in court for a hearing Monday.
The Associated Press contributed to this report.
Contact Matt Masterson: @ByMattMasterson | [email protected] | (773) 509-5431
---
Related stories:
R. Kelly Charged With Aggravated Sexual Abuse
Journalists Discuss 'Surviving R. Kelly' and Impact on #MeToo Movement
Kim Foxx Calls on R. Kelly Abuse Victims to Come Forward
Reports: Sony Drops R. Kelly After Furor Over Allegations
Inspectors Find Code Violations at R. Kelly's Chicago Recording Studio
---