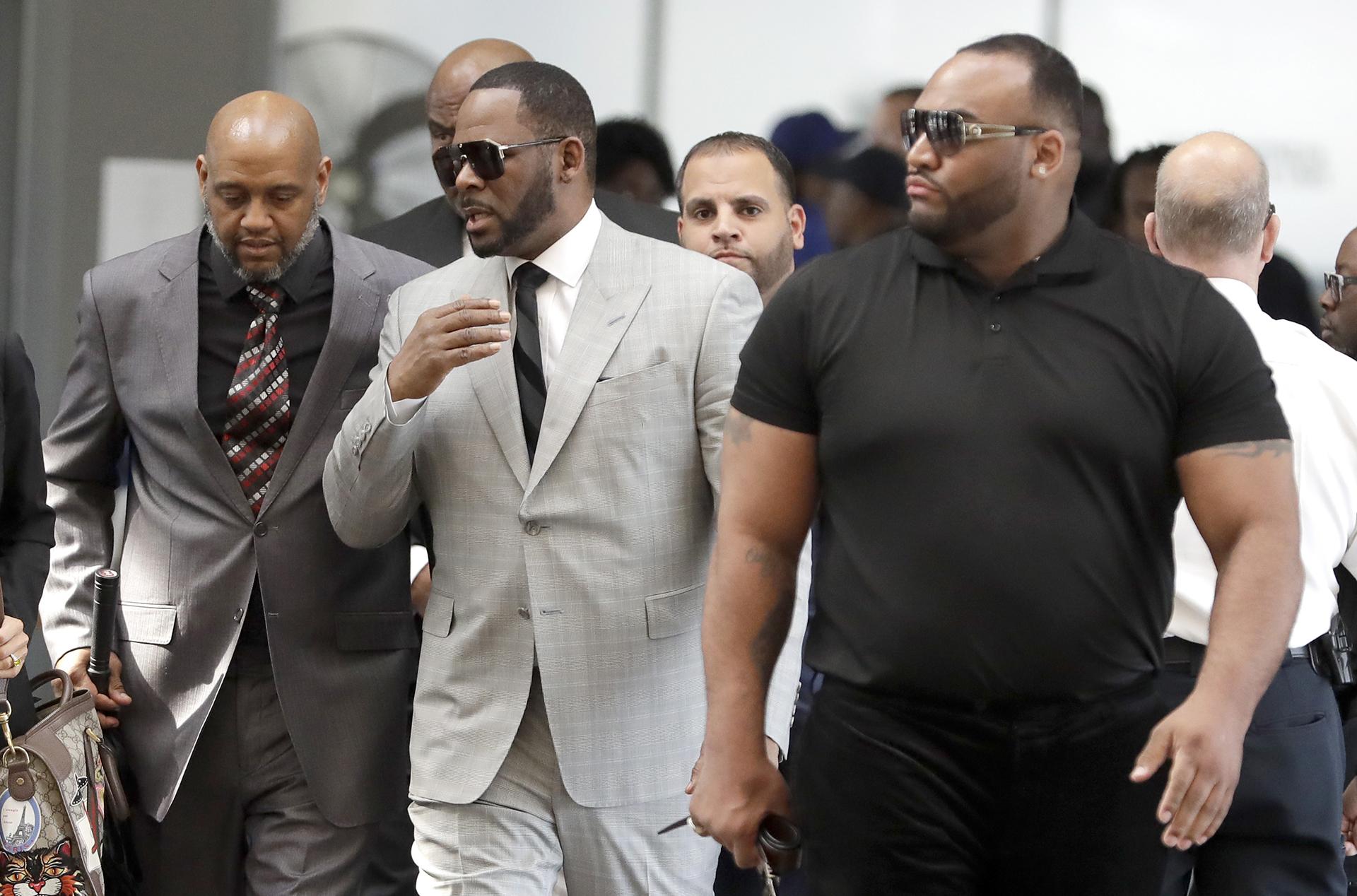 Musician R. Kelly, center, arrives at the Leighton Criminal Court building for an arraignment on new sex-related felonies Thursday, June 6, 2019, in Chicago. (AP Photo / Charles Rex Arbogast)
R&B superstar R. Kelly pleaded not guilty Thursday morning to several new criminal sexual assault charges a week after he was hit with nearly a dozen more serious counts relating to a victim who he allegedly abused when she was 16 years old.
Kelly entered his plea though his attorney Steve Greenberg during a brief court appearance. The singer last week was hit with 11 new charges, including four counts of aggravated criminal sexual assault, criminal sexual assault and aggravated criminal sexual abuse. Each are Class X felonies which carry a six-year minimum sentence and up to 30 years per count.
He pleaded not guilty earlier this year to 10 counts of aggravated sexual abuse relating to four victims, three of whom were minors, in allegations that spanned more than a decade.
The new charges relate to one of those cases involving a victim identified only as "J.P." Cook County Judge Lawrence Flood informed Kelly these counts were brought after prosecutors went back to a grand jury following his original indictment.
But Greenberg said there's no new evidence against his client.
"It's the same facts," he told reporters Thursday, "the same bond, same evidence and we expect the same result."
The alleged victim in this case was 16 when she attended Kelly's 2008 child porn trial, where she met the singer and got his autograph. Prosecutors say the girl told Kelly how old she was and that he invited her back to his Marcos Lane home in Olympia Fields, where they engaged in sexual intercourse multiple times between May 2009 and January 2010.
"The girl saved one of the shirts she was wearing when Robert Kelly ejaculated on her and gave that shirt to the Olympia Fields Police Department," Cook County prosecutors wrote in their initial bond proffer for the case. "The shirt was submitted for DNA testing and semen was identified on the shirt."
The proffer does not state whether that DNA was matched to Kelly.
Despite the new charges, Kelly's previously set bond was not altered and he was allowed to leave the Leighton Criminal Court building following the hearing.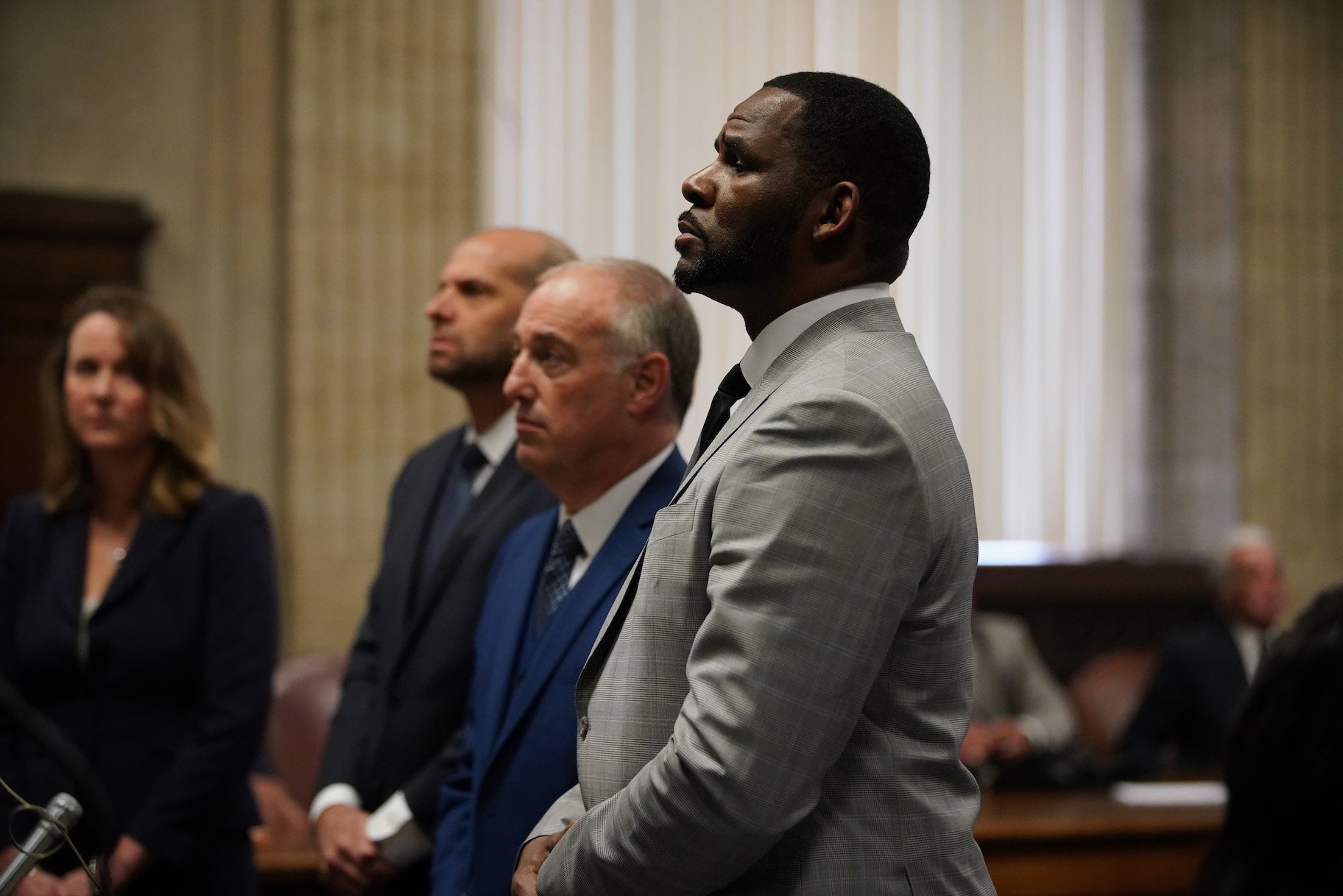 R. Kelly pleaded not guilty to a new indictment before Judge Lawrence Flood with his attorney Steve Greenberg at Leighton Criminal Court Building in Chicago, Thursday, June 6, 2019 (E. Jason Wambsgans/Chicago Tribune/Pool)
The earlier charges filed in February were all Class 2 felonies with possible sentences ranging from probation to as much as seven years in prison. That means Kelly now faces the possibility of far more substantial prison time should he be convicted.
Even so, Greenberg said that won't affect his pre-trial strategy or dissuade his client from heading to trial.
"If you didn't do it," he said, "you didn't do it."
Though it's been months since charges were first filed against Kelly, Greenberg said he is still awaiting substantial discovery from prosecutors, including DNA reports, evidence from the 2008 trial and any re-investigation the Cook County State's Attorney may have done in the years since. He expects a trial would not begin until next year "at the earliest."
Kelly apparently performed a show over the weekend at a private party, according to Greenberg, who would not say exactly when or where that took place. Kelly had previously sought to travel to Dubai to perform a series of shows overseas, but later dropped that request.
Greenberg lamented the fact his client has stuggled to find work while his alleged victims are being "wined and dined" around the country "like they're some kind of heroes" following the success of Lifetime's "Surviving R. Kelly" docuseries.
"They're not heroes, they're not heroes at all," he said. "I've never seen supposed victims behave like this, and the reason why they're behaving like this is they aren't victims."
Kelly is due back in court June 26.
Contact Matt Masterson: @ByMattMasterson | [email protected] | (773) 509-5431
---
Related stories:
R. Kelly Facing New Criminal Sexual Abuse Charges
R. Kelly Attorney Seeks Communications Between Kim Foxx, Michael Avenatti
R. Kelly Defense Emerges, Including Saying Accusers are Lying
R. Kelly Seeking Permission to Travel to Dubai for Concert Performances
Attorney: Tape Appears to Show R. Kelly Sexually Abusing Girls
R. Kelly: 'We're Going to Straighten All This Stuff Out'
R. Kelly Cries, Calls Accusers 'Liars' in Sex Abuse Case
---