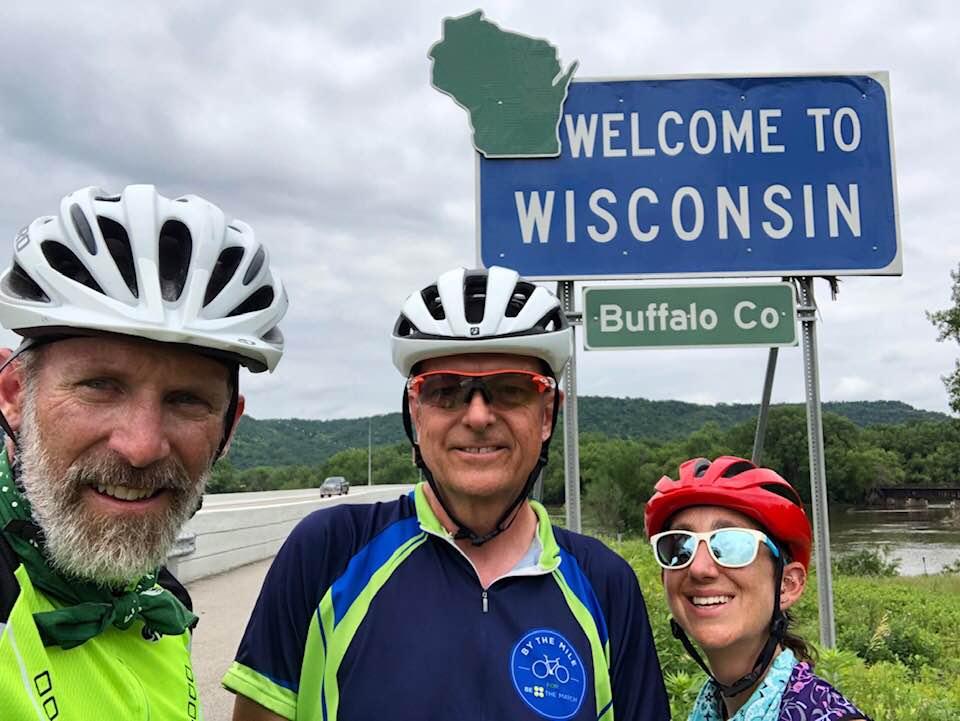 Fort Collins, Colorado residents Bob Houser (from left) and Bob Falkenberg are cycling across the country with Washington, D.C. resident Annie Lipsitz to raise funds for Be the Match, a nonprofit that helps patients who need bone marrow or umbilical cord transplants. (Bob Houser / Facebook)
In February 2009, Bob Falkenberg was diagnosed with leukemia despite "absolutely no symptoms," he said. "I had a weird blood pressure spike and was put in the emergency room."
Days later, Falkenberg began chemotherapy and by late October 2009 he had received a bone marrow transplant. Five years later, Falkenberg said he was declared "cured." 
To commemorate the 10-year anniversary of his transplant, the Fort Collins, Colorado resident is cycling 4,000 miles across the country to raise awareness and funds for Be the Match, a nonprofit that helps patients who need bone marrow or umbilical cord transplants.
He's joined by Washington, D.C. resident and two-time bone marrow transplant recipient Annie Lipsitz, who also had leukemia, and Bob Houser, whose sister, Linda Marko, is currently receiving treatment for leukemia at Rush University Medical Center.
"We want to raise money for Be the Match to add more donors to the registry. There's still a lot of people from underrepresented groups that are unable to find a match when they need a transplant," Falkenberg said.
Houser, who also lives in Fort Collins, said he decided to join the cross country trip after his sister was diagnosed in February. Like Falkenberg and Lipsitz, his sister will undergo a bone marrow transplant, which another sister, Deborah Houser, will supply. Houser says he sees the trip as a way to contribute to her treatment and recovery.
The group, which calls themselves Team Lifeblood, has surpassed its fundraising goal of $10,000, according to Falkenberg who says they've raised $20,000. While the majority of their support comes from family and friends, they've received donations from people they've met on the road, including a cyclist in Idaho who handed them a $20 bill from his wallet, Falkenberg said.
In addition to raising funds, the group hopes to inspire. "We want to help patients who are going through the same thing we did," said Falkenberg. "There is a life after transplant."
The journey began in Vancouver, British Columbia for Falkenberg and Lipsitz on June 3. Houser met them in Evertt, Washington a few days later and the trio have been cycling as a pack ever since, averaging 76 miles per day. They expect to arrive in Chicago on Saturday.
They plan to visit with Houser's sister and her family upon arrival. Houser will stay behind with his sister in Oak Park before flying back to Colorado on Sunday. Meanwhile, Falkenberg and Lipsitz will begin their journey to their next stop: Grand Rapids, Michigan, where they'll stay with Falkenberg's donor and his family.
For more information about Be the Match or joining the registry, to visit their website.
Contact Kristen Thometz: @kristenthometz | (773) 509-5452 |  [email protected] 
---
Related stories:
Wilmette Man Completes Walk Across US for Parkinson's Disease
US Aims to Help More Cancer Patients Try Experimental Drugs
Rahm Emanuel Bikes Around Lake Michigan
---