(Courtesy The Field Museum)
Cities across the U.S., including Chicago, could supply up to about one-third of the milkweed needed to save monarch butterflies from extinction, according to a pair of new studies led by scientists at the Field Museum.
Conservation ecologists at the museum combined field research with high-resolution spatial images to map where milkweed already exists across large metropolitan areas, and where there is potential to add more. Milkweed is the only plant on which monarchs can lay their eggs.
Populations of the iconic orange-and-black butterfly have decreased by more than 80 percent over the past two decades as a result of habitat loss, unintentional exposure to insecticides and herbicides and climate change. Experts say monarchs are at risk of becoming extinct in 20 years.
As part of the new studies, published last month in the journal Frontiers of Ecology and Evolution, scientists found that cities could support 15 to 30 percent of the 1.8 billion stems of milkweed that researchers have estimated is necessary to save the popular butterfly.
The significant potential of cities to help the troubled butterflies is notable given that cities make up a fraction of landmass in North and Central America, where monarchs are most commonly found. In the U.S., for example, urban areas account for just 3% of the country's total landmass.
A monarch butterfly on a common milkweed plant (Mark Rogovin / The Field Museum)
The Field-led studies are the first to estimate the amount of current and potential urban habitat available to monarchs and other pollinators.
"Metropolitan areas actually matter for wildlife conservation, and that's especially true for pollinators like the monarch that can survive with very small patches of habitat," said Abigail Derby Lewis, a senior conservation ecologist at the Field Museum and lead author of one of the new studies, in a statement. "There's an assumption that cities are not important places for plants and animals, but that's because no one had looked at these landscapes in a systematic way, or at the collective impact from many small-scale plantings across large urban geographies."
Researchers noted that while milkweed is not commonly seen in residential yards, city residents have a chance to boost milkweed numbers and, in turn, provide new habitat for monarchs.
Doing so is easier said than done, however. Milkweed – along with other native flowers – is often seen as a harmful plant and is therefore not a top choice for home landscapers.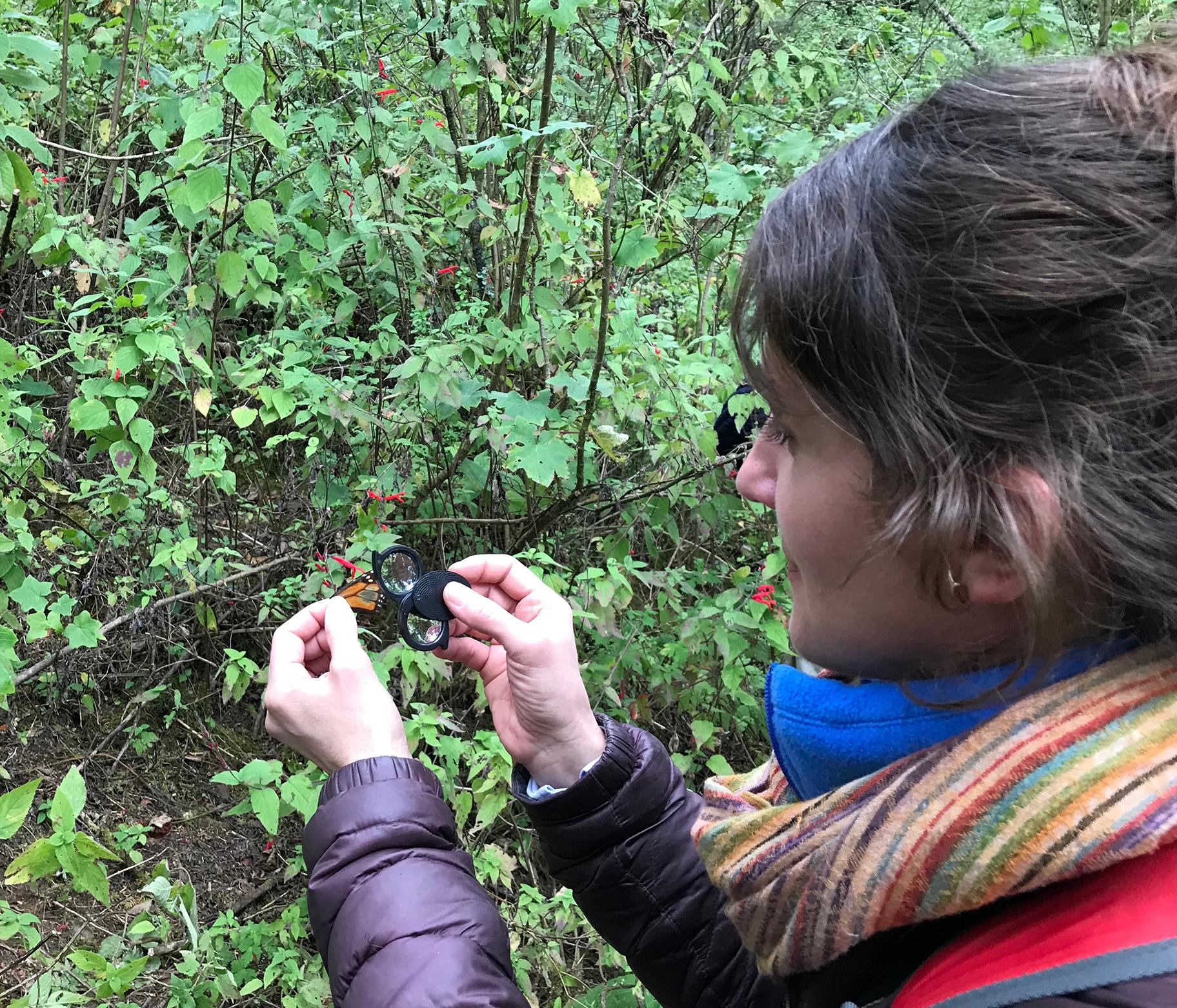 Field Museum senior conservation ecologist Abigail Derby Lewis examines a monarch butterfly. (Courtesy The Field Museum)
In response to the negative perception of milkweed, Illinois passed a law in 2017 that prohibits counties and cities from classifying the plant as a noxious or exotic weed, a designation that prevents milkweed from being planted in those areas. Sponsors of the new law said their goal was to help the state restore some of its lost milkweed habitat.
"Certainly having the term 'weed' in the name of milkweed – which isn't a weed – has not helped the reputation of these superstar native plants," Derby Lewis said in a statement.
Fellow Field Museum conservation ecologist Mark Johnston said the studies allowed him and other researchers to view cities in a new way, which showed how much space there is to create new habitat for monarchs.
Like Derby Lewis, Johnston wants to help shift societal norms of what is acceptable or desirable in neighborhood gardens so that plants like milkweed become more common across Chicago and other cities.
"I would encourage people to question the grassy lawns that dominate our urban landscape," said Johnston, lead author on the other new study, in a statement. "Could we plant something else that would provide habitat for monarchs and other wildlife?"
The studies led by Johnston and Derby Lewis were conducted in conjunction with the U.S. Fish and Wildlife Service.
Contact Alex Ruppenthal: @arupp | (773) 509-5623 | [email protected]
---
Related stories:
UIC Leads National Initiative to Help Struggling Monarch Butterflies
100-Plus Groups Urge Feds for More Funding to Save Monarch Butterflies
Illinois Lawmakers Pass Bill to Protect Monarch Butterfly Habitat
In Pilsen, Monarch Butterflies a Source of Joy and Education