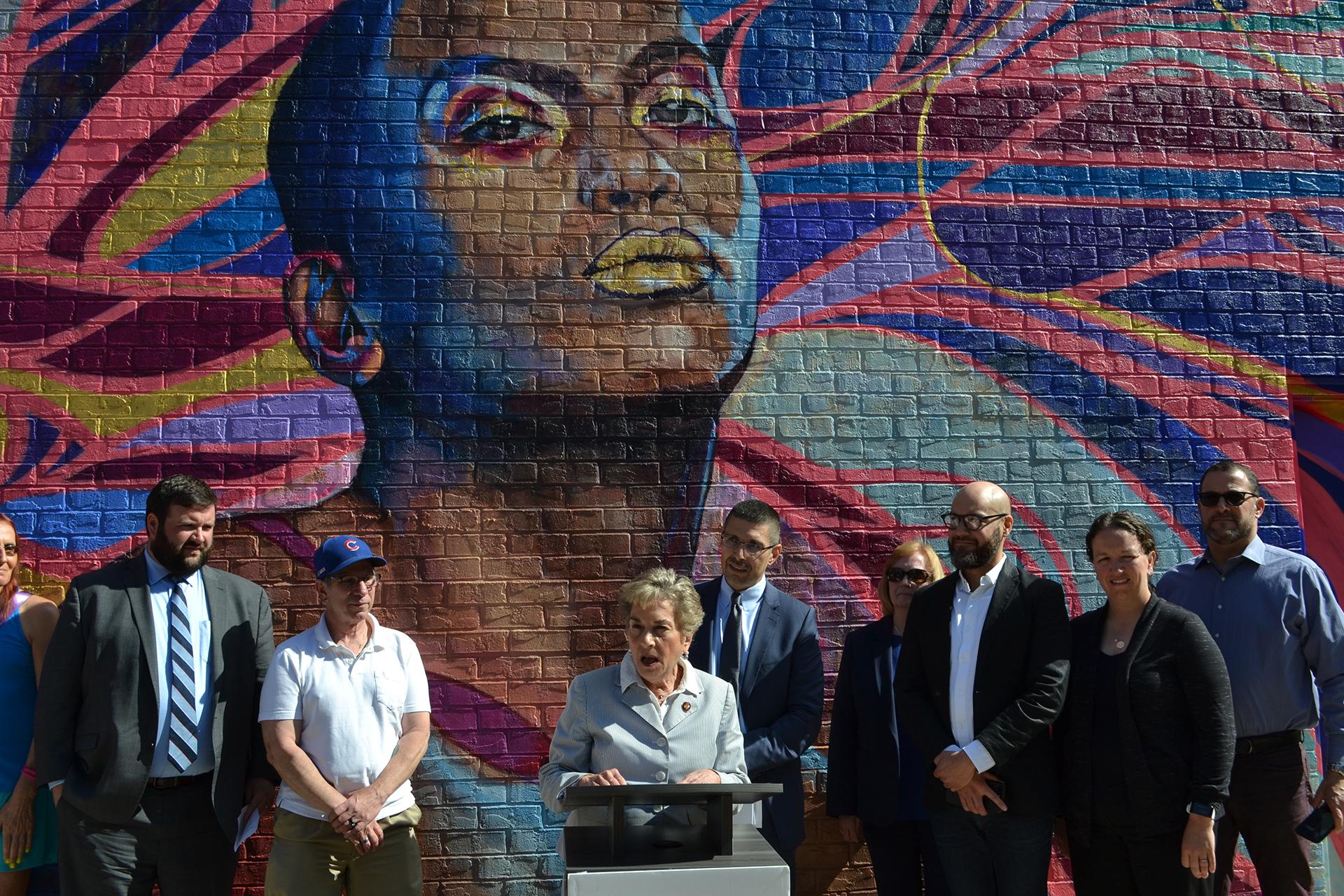 U.S. Rep. Jan Schakowsky (D-IL, 9th District) speaks outside the Howard Brown Health Center Friday, June 14 about how the Trump administration's policies are limiting LGBTQ individuals' access to health care. (Kristen Thometz / WTTW News)
As communities across the country celebrate Pride Month and the 50th anniversary of the Stonewall riots, LGBTQ organizations and activists are speaking out in Chicago against Trump administration policies that limit those individuals' access to health care.
"The LGBTQ community is under threat by the Trump administration," U.S. Rep. Jan Schakowsky (D-IL, 9th District) said Friday morning outside the Howard Brown Health Center in the city's Lakeview neighborhood.
Eva Skye, a Lakeview resident and Howard Brown Health Center patient, said it's a "shame" the LGBTQ community is still fighting for the same rights as activists did 50 years ago at the Stonewall riots in New York.
Last month, the U.S. Department of Health and Human Services issued new regulations that allow health care providers and workers, such as receptionists and hospital board members, to deny medical treatment and services to patients based on their own personal or moral beliefs.
Schakowsky, who is working with House Democrats to overturn the so-called denial-of-care rule, said it could prevent a same-sex couple from receiving fertility treatment, or an individual from receiving HIV medication, or a pregnant woman from receiving information about all of her options, including access to an abortion.
"The Trump administration … is changing the rules that we deliberately put into the Affordable Care Act that protected marginalized communities," said Schakowsky. "Whatever the Trump administration tries to do, we will not go back."
Howard Brown Health President and CEO David Munar said the organization "welcomes the opportunity to keep the spirit of the Stonewall riots alive" as they continue to fight against federal policies that target or discriminate against LGBTQ individuals.
In addition to legislative efforts, LGBTQ organizations are fighting back via the courts. Late last month, Lambda Legal filed a lawsuit against the faith-based rule in the U.S. District of Court for the Northern District of California. The lawsuit included a dozen plaintiffs, including the Center for Reproductive Rights, a global advocacy group that seeks to advance reproductive rights, including abortion.
Earlier this week, Lambda Legal urged the court to block implementation of the denial-of-care rule. "Pride Month is an opportunity to push back and say, 'We're here and we deserve every right just like everyone else,'" said Brian Richardson, Midwest region director for Lambda Legal.
Aisha Davis, Howard Brown Health Center manager of policy and advocacy, echoed that sentiment. "This is a moment for us to rally around the issues," Davis said. "We need to remember that Stonewall was a riot. It started as a riot. … This is a moment to reflect and be hopeful."
Will Wilson, of West Ridge, said outreach and education is a crucial part of fighting back as many of the administration's policies seem to have been developed in private, like the denial-of-care rule. "It's important to continue to talk about them," he said.
"Pride Month is a celebration but we also need to stay focused on the day-to-day battles," Wilson said, like fighting against the stigma and discrimination around HIV and the LGBTQ community.
Contact Kristen Thometz: @kristenthometz | [email protected] | (773) 509-5452
---
Related stories:
Study Finds Most LGBTQ Services Located in White, Wealthy Neighborhoods
Chicago Seeks to Better Address LGBT Health Needs
Not Just Stonewall: New Show Explores 50 Years of Queer Art
UIC Receives $3.5M to Study HIV Medication Adherence
Transgender Chicagoan Reunites with Christian Cousin
---