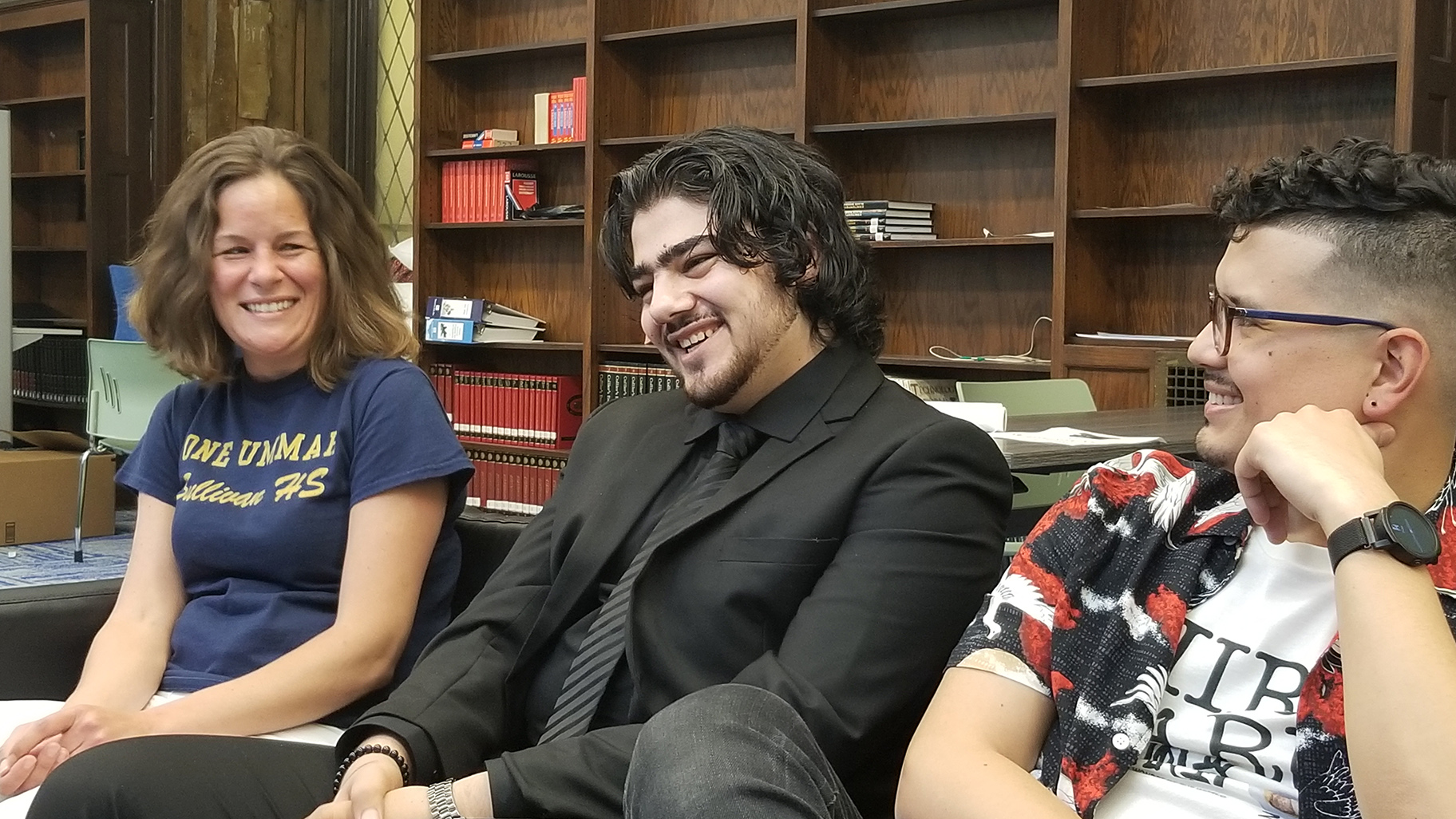 Alaaulldin Al Ibrahim, center, will attend UIC this fall on a full scholarship to study pre-med. Also pictured: Sarah Quintenz, left, and Joshua Zepeda. (Matt Masterson / WTTW News)
For as long as he can remember, it's been the plan of Alaaulldin Al Ibrahim, or "Al" to his classmates and teachers, to study medicine and become a doctor. That'll happen when you grow up in a place almost totally devoid of medical resources.
"Coming from a village that didn't have any health centers, people would drive an hour – if they had a car – or buses would take an hour and a half or two hours to get to a doctor or a hospital," he said. "So that's why I want to be a doctor, to help people out."
Al was born in Umm Walad, a small village in southern Syria of about 7,500 residents. He spent the first 11 years of his life there before moving west to the city of Irbid in Jordan, about 50 miles away from his hometown.
Al's father, who would always call his son "doctor," worked several hours away in Kuwait, leaving parenting duties for Al and his two siblings up to their mother, Summer. His father eventually fell ill and wanted to pull Al and his two siblings from school so they could begin working to support their family.
Al's mother refused, making sure their children's education came first.
"If it wasn't for my mom, all my dreams would have been crushed," he said. "All the things that she did led to right now."
Al's family eventually began applying for refugee resettlement. It's an extremely difficult and lengthy process, but one that offered Al and his siblings the chance at a brighter future; a chance to finally pursue his goal of becoming a doctor.
"It's just been my whole life goal since I was a kid," he said. "Everyone encouraged me to do it."
After nine months, they were approved and learned they'd be moving to the United States. The family settled in Chicago's Rogers Park neighborhood in December 2016, near Roger C. Sullivan High School where Al immediately enrolled.
On Wednesday, Al and his fellow Sullivan seniors graduated high school. He'll be attending the University of Illinois at Chicago this fall on a full scholarship to study pre-med.
"It was great," he told WTTW News during an interview inside his school library. "I was concerned a lot about my tuition and future debt. Going to medical school brings a lot of debt, so that definitely helps not having any undergrad debt."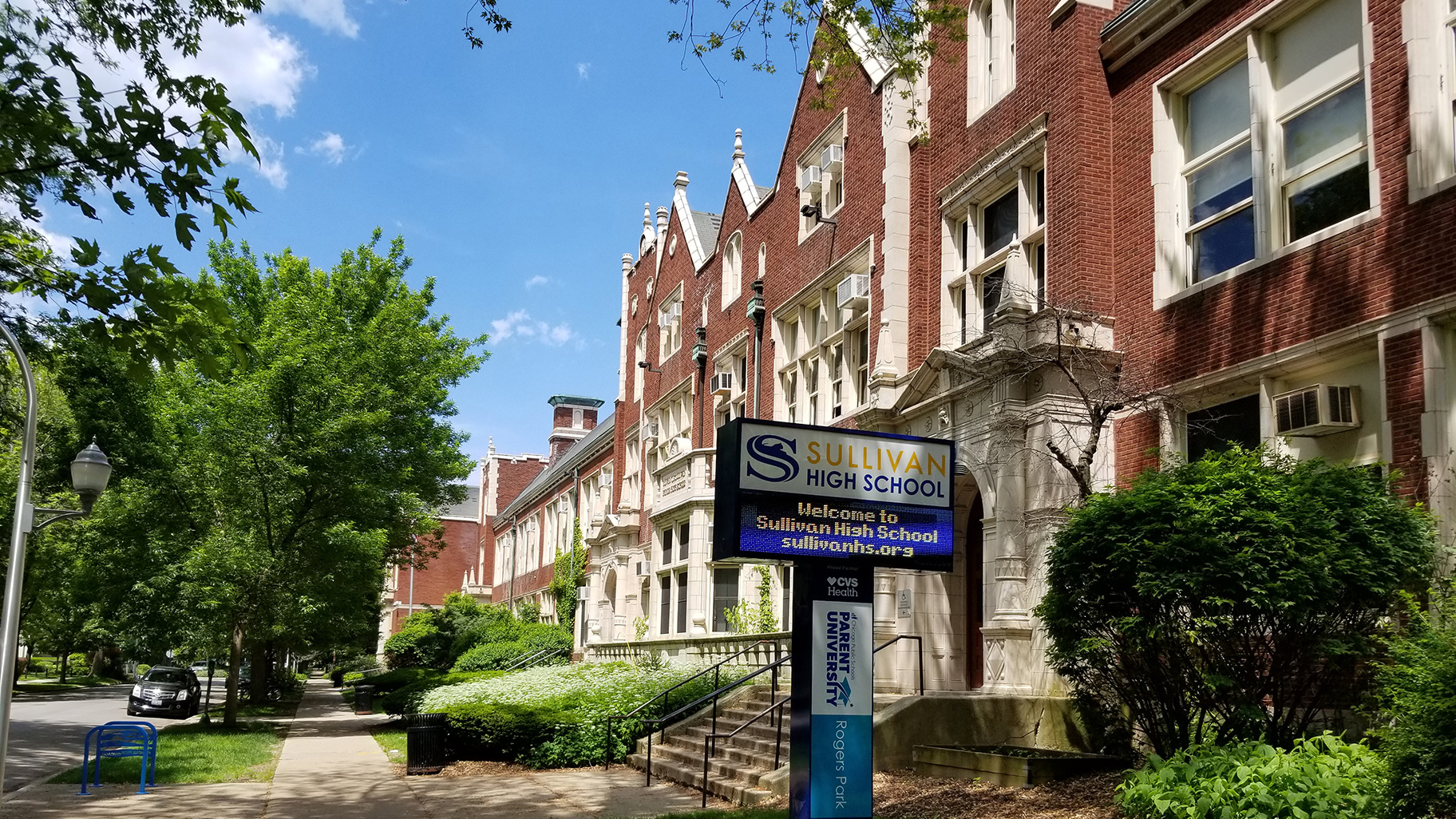 Roger C. Sullivan High School (Matt Masterson / WTTW News)
'I felt like I belonged'
Entering high school can be stressful for any student, let alone someone who's just moved some 6,000 miles to a new school in a new city in a new country. Fortunately for Al, he was entered into a school that's uniquely positioned to handle students who are doing just that.
Sullivan boasts the highest number of refugee students within the Chicago Public Schools system. Two years ago, Chicago magazine dubbed the school "Refugee High."
That's no coincidence, said Sarah Quintenz. She heads the school's well-defined English Language Learners program, which refugee resettlement agencies see as a major attribute for potential students they're looking to place.
"The student body at Sullivan reflects whatever is happening internationally," she said.
"Rogers Park has always been a diverse neighborhood. It's been a landing point for many different immigrants. And if you talk to teachers in the building before, the (English as a Second Language) Department was mostly German-speaking students. Seven years ago when I arrived at Sullivan, it was mostly Nepali speakers and now it's mostly Arabic speakers and Burmese and Swahili."
WTTW News highlighted a play put on at the school two years ago by 10th, 11th and 12th graders who came from countries including the Republic of the Congo, Nigeria, Belize, Mexico, Jamaica and India.
Sullivan's student population was around 700 students this school year, a modest amount for a CPS high school. But nearly half are limited English speakers.
School staff handle this by trying to put students at ease, allowing them to speak their own languages and putting them in groups together to talk about the struggles they've endured in their lives.
"It's just a matter of creating a space where people feel safe that they can be themselves," said Joshua Zepeda, a social worker and research coordinator who worked with Al and other students at Sullivan.
In this sense, Al was somewhat ahead of the curve when he arrived at Sullivan. While he didn't know initially where he and his family would be resettled, he always felt a connection with the United States and hoped he'd end up here.
"I felt like I belonged," he said.
Long before he moved to Chicago, Al immersed himself in American pop culture. The first movie he ever saw was "Jurassic Park." It's still his favorite. He'd watch television shows like "Game of Thrones" and "The Walking Dead" – anything science-fiction – and read English-language books.
This helped him pick up the language quickly. Sure, he had lessons at his school in Jordan, but if he heard a word in a movie or a show he didn't understand, he'd go online and look it up. When he was on social media sites like Instagram or Reddit and came across a phrase he didn't know, he'd search it out elsewhere and figure it out.
By the time he left the country, he said he knew more English than his teacher did.
"To understand the whole culture you have to understand the language," he said. "It motivated me more than school."
"You knew English when you got here," Quintenz recalled. "I was his English teacher the first year he was here and you knew way more English than most of the other students in the room."
'Was it worth it?'
Al reflected on the nine-month resettlement period as the hardest time in his life.
His father passed away in 2015, leaving his mother to support their family in Jordan while simultaneously applying and re-applying to try and find a new home. That meant waking up at 4 a.m., skipping school and driving 45 minutes to the Jordanian capital of Amman – the only place they could submit their resettlement papers to the United Nations.
"We had quite a few visits we had to make to the agency," Al said. "That was a lot of work. They keep telling us nothing is sure yet and you're not guaranteed to be chosen … so we had to keep going to school in case we didn't get accepted."
As the process played out, Al eventually had to choose between taking his school finals or skipping out and heading to Amman to complete resettlement interviews. It wasn't much of a choice.
"Was it worth it?" he said. "I didn't know if I could have the chance to go to college (if we didn't move)."
Now on the cusp of beginning his college education, Al gives all the credit to his mother for making him the person he is today.
"She raised me the right way," he said. "Growing up when I look at how other moms treat their children, the more I realize how lucky I am.
"When you get to know her, she's a warrior. She went through a lot to maintain our education."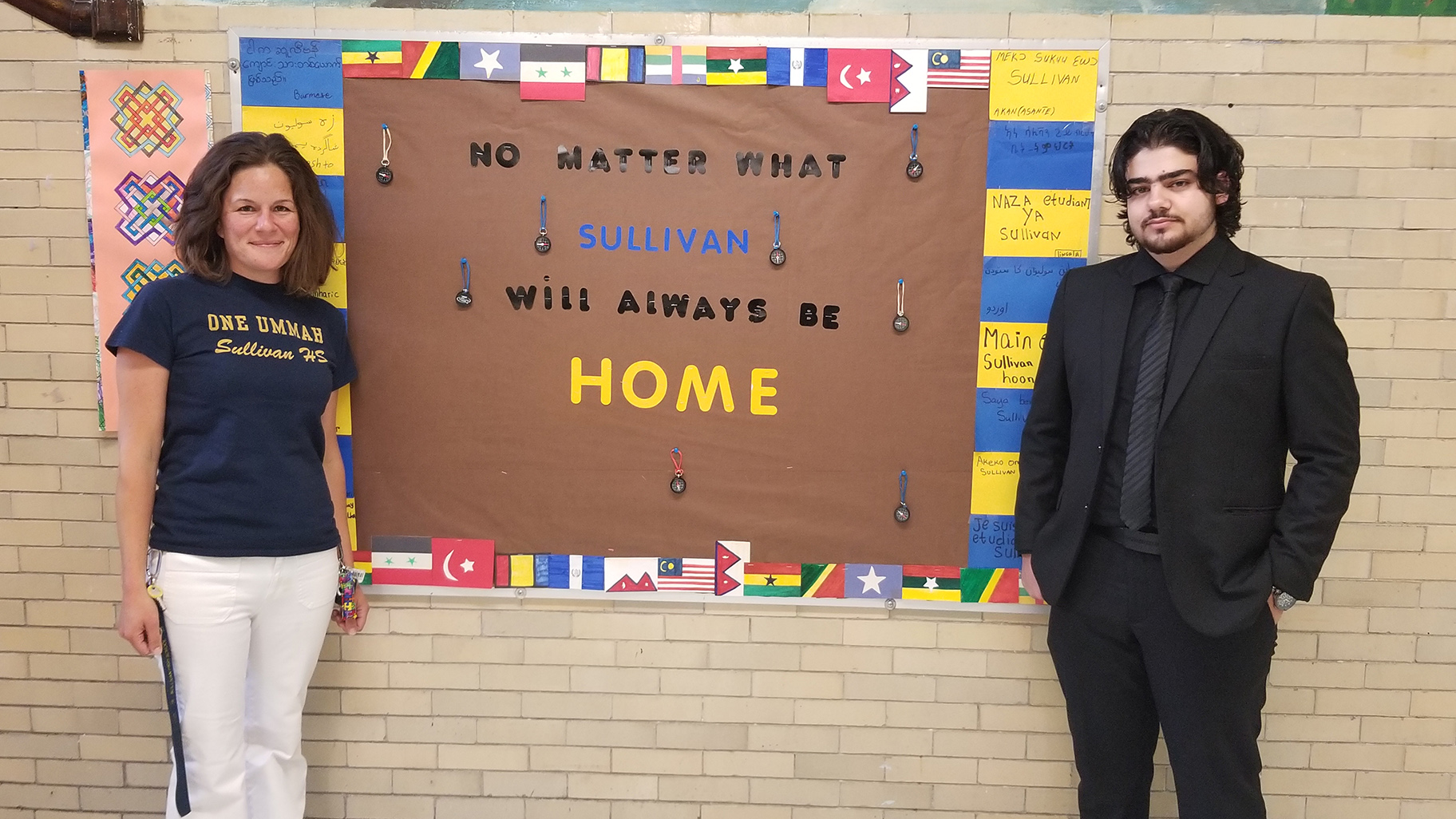 Alaaulldin Al Ibrahim and Sarah Quintenz inside Roger C. Sullivan High School (Matt Masterson / WTTW News)
'Sullivan will always be home'
A sign inside at the end of a long hallway inside Sullivan reads: "No matter what Sullivan will always be home."
Al believes that's the truth.
He found a second family among the school community in his time there.
"My favorite part of the day is after school, coming out to the office talking to (them)," he said.
Al, and other students, refer to Quintenz as "mom" inside the school. She and Zepeda jokingly referred to Al as "John Wick" for the black suit, shirt, shoes and tie combo he wore the day he sat down with WTTW News.
Both are also quick to point out his uncanny maturity.
"You're 16, look 24 and act 29," Al recalled Quintenz telling him when she found him listening to jazz one day during his first year at the school.
"Al is full of grace," she said this week. "He's full of poise, he's very mature. He's gonna do really well in life."
Contact Matt Masterson: @ByMattMasterson | [email protected] | (773) 509-5431
---
Related stories:
International Stories Take the Stage at Sullivan High School
How One Chicago Public High School is Embracing Refugee Students
Noble Charters, CTU Take Steps to Protect Undocumented Students