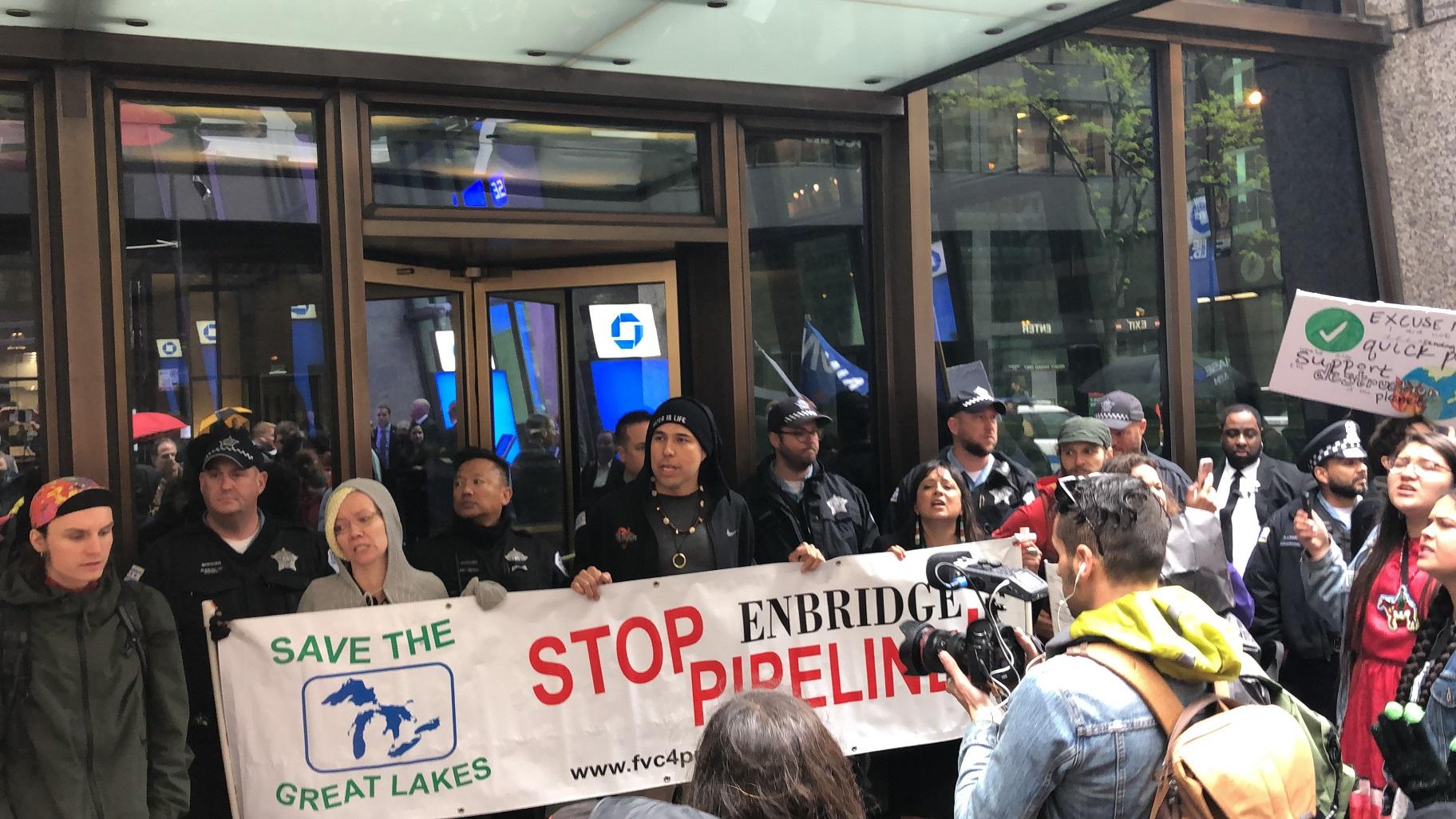 Environmental activists rallied outside Chase Tower in Chicago on Tuesday, May 21, 2019 to protest JPMorgan Chase & Company's financing of fossil fuel projects. (Alex Ruppenthal / WTTW)
Dozens of environmental activists from across the Midwest rallied Tuesday outside Chase Tower in the Loop to protest the financing of fossil fuel projects by the country's largest bank.
Protesters said they entered the building and disrupted JPMorgan Chase's annual shareholder meeting for several minutes before being escorted outside, where they continued to rally for several hours.
Organizers with Rainforest Action Network and other environmental advocacy groups say that since the landmark Paris climate agreement was signed in 2016, Chase has provided nearly $200 billion in financing for fossil fuel projects. That amount is about 30% more than financing from any other bank, according to the groups.
Of immediate concern to organizers is Chase's financing of the controversial Line 3 pipeline by Enbridge Energy, which operates a system of tar sands oil pipelines connecting production sites in western Canada with refineries in eastern Canada and the Midwest. The project would create a new route for transporting oil from Alberta to Wisconsin.
The expanded Line 3 pipeline would pass through the territories of several Ojibwe bands in northern Minnesota, and Ojibwe representatives have rejected and organized against the project. The territories are home to sensitive wild rice lakes that Ojibwe communities rely on for spiritual and physical sustenance.
"Upstairs there are men, white men, in business suits making decisions about how this Earth is going to be treated, how the lands are treated and how people are treated," said Ruth Breech, an organizer with the Rainforest Action Network. "We are here to tell them, 'No more.'
"We are a powerful movement," Breech continued. "We are here today, we were upstairs, and we disrupted their meeting. We let them know we're not going to take this anymore."
In response to the protest, an Enbridge spokesperson said the company reached an agreement with the Fond du Lac Band of Lake Superior Chippewa, allowing the pipeline to cross the reservation.
"Enbridge has listened to feedback from the tribes that are closest to the proposed project route, and as a result, has made modifications," the spokesperson said by email. "The Line 3 project route was designed to go around the Leech Lake Band of Ojibwe [and] at their request, it was removed from the watershed of the White Earth Reservation and routed to avoid the Sandy River, a wild rice water and culturally significant location for the Mille Lacs Band of Ojibwe."
Before the rally, organizers said they delivered an open letter rejecting the company's fossil fuel financing to Chase CEO Jamie Dimon. The letter was signed by 300 indigenous, environmental, human rights and climate justice organizations representing 30 million people.
In response to the protest, Chase issued the following statement:
"JPMorgan Chase has a long history of advancing environmentally sustainable solutions for clients and its own operations. Many companies today are taking significant steps to invest in lower-carbon fuels, such as renewables and natural gas, and promote efficiency, and we are leveraging our business expertise to help them achieve these goals. The issues surrounding climate change and the environment are complex, and we have sought to actively engage with a diverse set of stakeholders to understand their views. We firmly believe that balancing environmental and social issues with financial considerations is fundamental to sound risk management."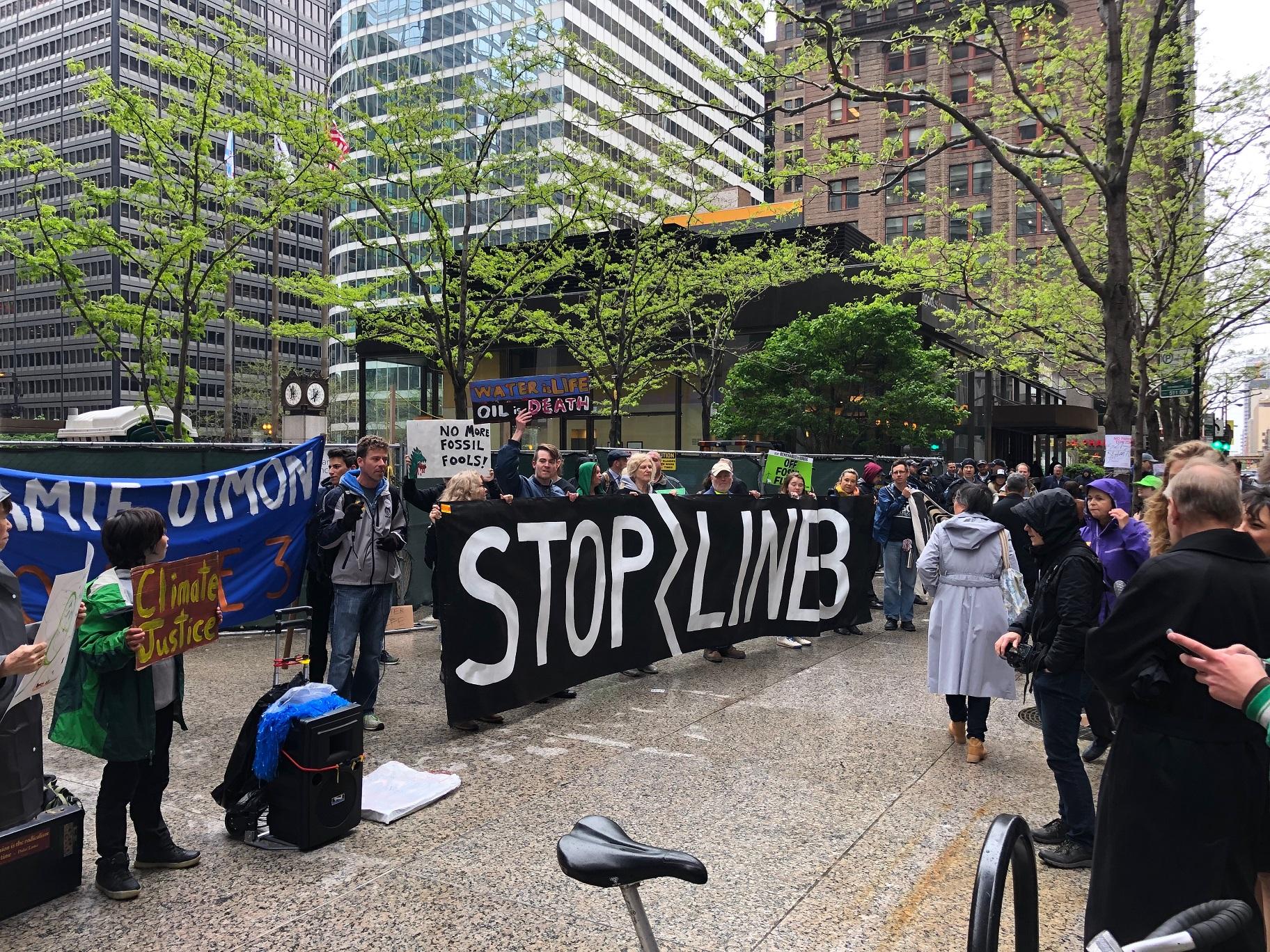 Protesters demonstrated outside Chase Tower over the bank's financing of the controversial Line 3 tar sands oil pipeline expansion. (Alex Ruppenthal / WTTW News)
In addition to the Line 3 project, Chase has financed tar sands oil projects by the companies Keystone and Teck Frontier. Tar sands are considered one of the most carbon-intensive fuel sources in the world.
"Chicago is at the epicenter of a dirty pipeline system, much of it funded by Chase Bank, and we are showing that resistance is more powerful than extractive industries," said Amelia Diehl, of the advocacy group Rising Tide Chicago, in a statement. "By funding pipelines that spill, Chase Bank is directly responsible for putting the water source of over 30 million people in the Great Lakes watershed region at risk."
Note: This story has been updated with comments from Enbridge. 
Contact Alex Ruppenthal: @arupp | [email protected] | (773) 509-5623
---
Related stories:
Chicago-Area Students Join Global 'Strike' Over Climate Change
Heat Waves, Heavy Rain, Flooding: Report Details Dangers of Climate Change in Great Lakes Region