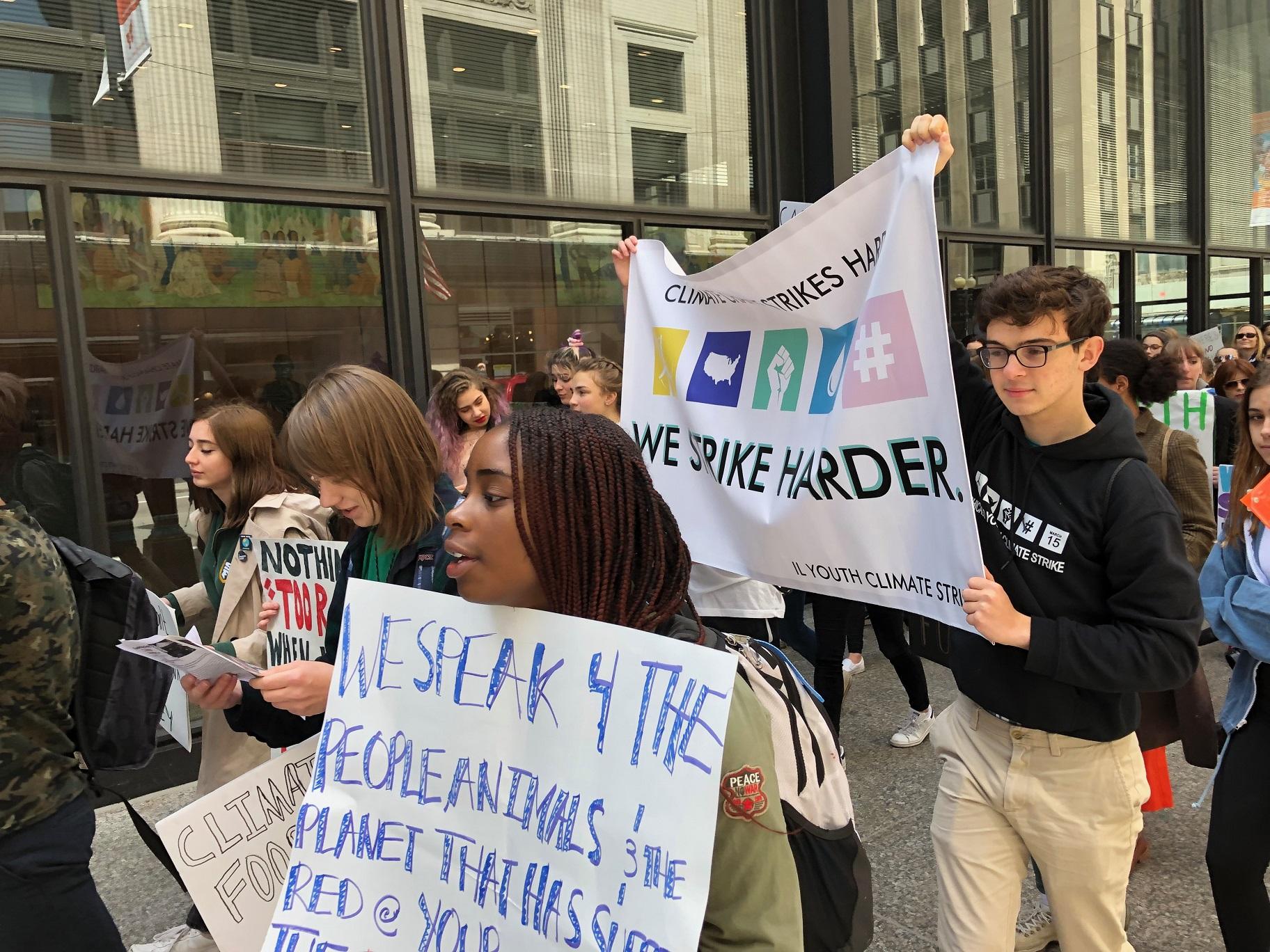 Students from across the Chicago area rallied in support of action to combat climate change in downtown Chicago on Friday, May 3 2019. (Alex Ruppenthal / WTTW News)
Several hundred students ditched classes Friday and marched through downtown Chicago to rally in support of federal and state action to combat climate change.
After marching from Grant Park through the Loop to Federal Plaza, some 200-300 students from Chicago and the suburbs circled the block while reciting chants such as "People and Planet, Always Over Profit" and "Green New Deal," referring to the ambitious climate change legislation approved by the Democrat-led House but which figures to be rejected in the Republican-controlled Senate.
Similar student-led protests took place Friday across the country as part of the Youth Climate Strike, a global movement of youth demanding concrete changes to slow global warming. The events come in the wake of an alarming report by leading climate scientists warning that the world has just 12 years until carbon emissions "reach a point of no return."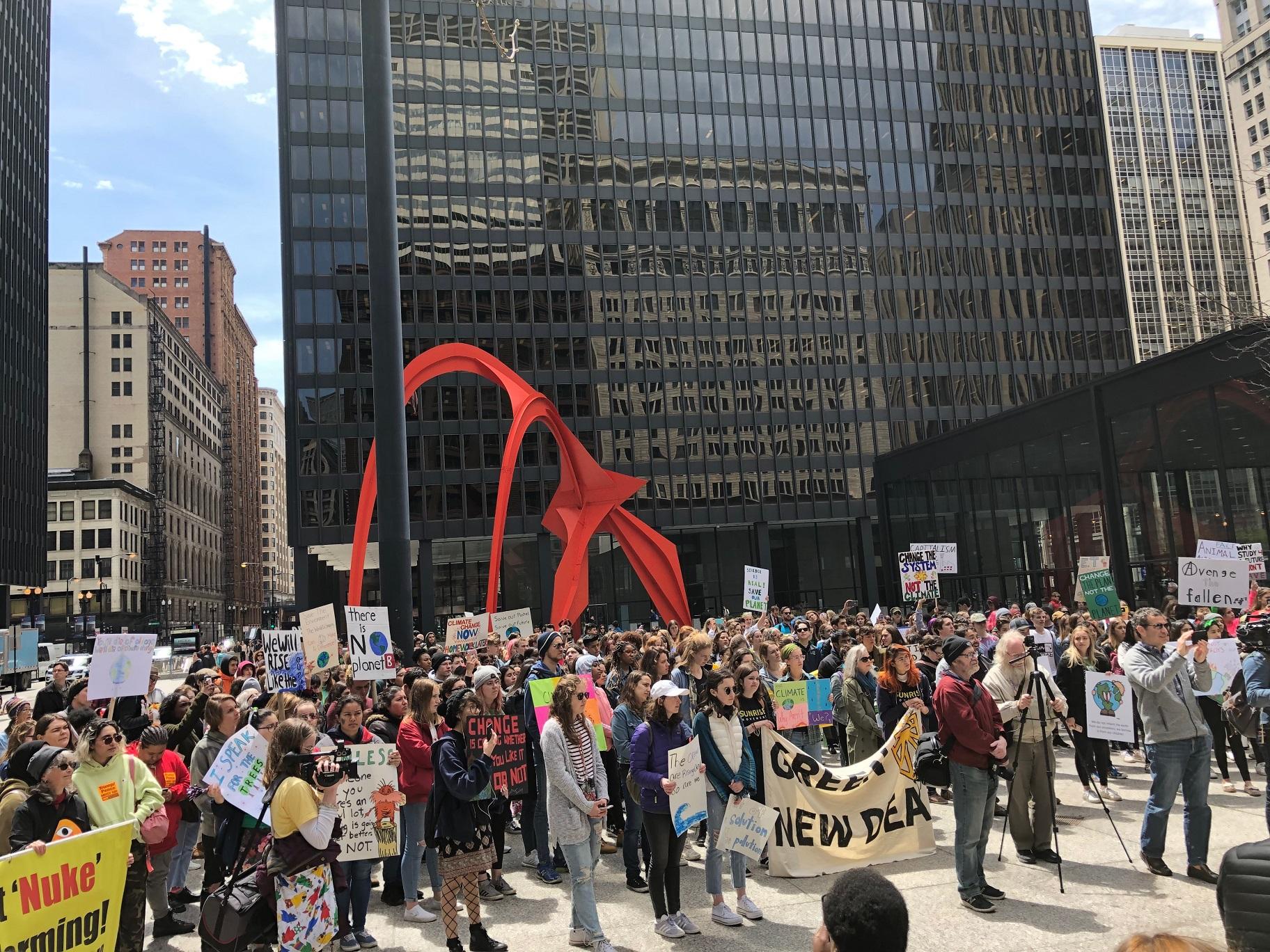 Chicago-area students rallied at Federal Plaza in downtown Chicago as part of the Youth Climate Strike, a global movement aimed at tackling climate change. (Alex Ruppenthal / WTTW News)
Holding signs that read "There is No Planet B," "Change the System, Not the Climate" and "I Can't Believe I'm Marching for Facts," the students vowed to continue their efforts after the event. Some planned to travel to Springfield next week to lobby elected officials to pass climate change legislation.
"We need to recognize that this is not normal," said Isabella Johnson, a high school student and lead organizer of the Illinois strike, during Friday's rally. "We should not have to sacrifice our education because the people in power don't believe in science."
Another student organizer instructed participants to take out their phones and dial the office numbers of two Illinois' U.S. representatives, Republicans Rodney Davis and Mike Bost, both of whom have voted against bills aimed at fighting climate change, the organizer said. She read off the two phone numbers out loud, and many participants punched them into their phones.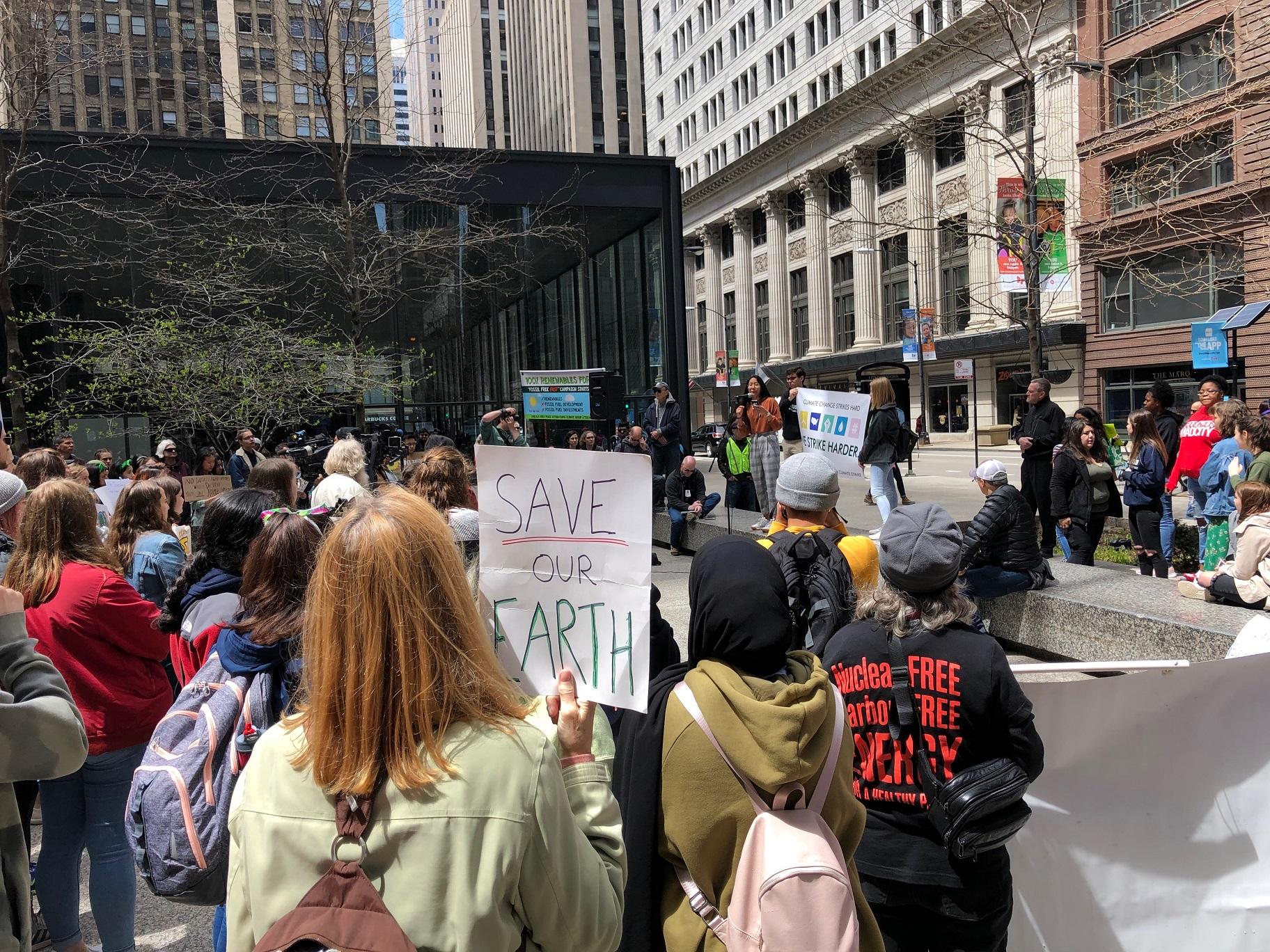 Students at the Illinois Youth Climate Strike listen to organizers during a rally in downtown Chicago on Friday, May 3, 2019. (Alex Ruppenthal / WTTW News)
"Here's a message to our leaders who refuse to take action: Stop prioritizing money over our lives," Johnson said. "You are killing us. People are dying. Why do you not care?"
U.S. Sen. Dick Durbin also spoke at the rally, blasting his Republican colleagues for failing to take climate change seriously and blocking legislative efforts to mitigate its effects.
U.S. Sen. Dick Durbin speaks to students at a Youth Climate Strike event in Chicago on Friday, May 3, 2019. (Alex Ruppenthal / WTTW News)
"Look at the records of those who are running for Congress," Durbin said. "Look at their votes, don't just listen to their speeches. I ask you to take your commitment today to a campaign. Find yourself a candidate you believe in, particularly someone who may be running against someone with a different point of view."
Despite his strong words, Durbin said earlier this year that he hadn't decided whether he would support the so-called Green New Deal, which he called a "resolution aspiration."
Contact Alex Ruppenthal: @arupp | [email protected] | (773) 509-5623
---
Related stories:
Heat Waves, Heavy Rain, Flooding: Report Details Dangers of Climate Change in Great Lakes Region
Activists Denounce Mayor Emanuel's Renewable Energy Plan
Gov. Pritzker Signs Pact Committing Illinois to Paris Climate Goals