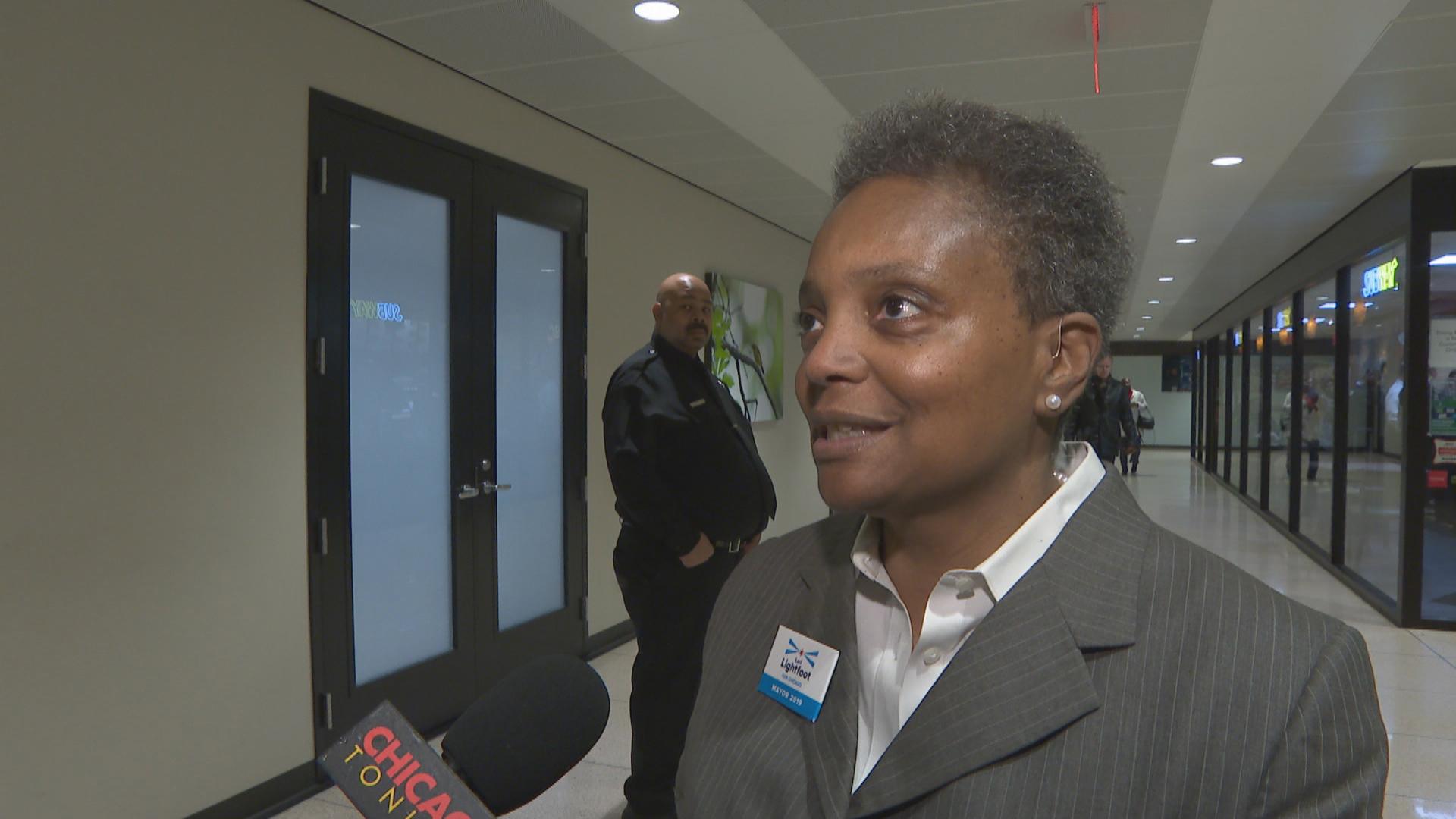 In this file photo, Lori Lightfoot, then a candidate for Chicago mayor, speaks to "Chicago Tonight" on Monday, Dec. 17, 2018.
Reform-minded Ald. Scott Waguespack (32nd), one of outgoing Mayor Rahm Emanuel's biggest critics, has been tapped to lead City Council's largest and most powerful committee. Mayor-elect Lori Lightfoot on Friday released her picks for the coveted committee chairmanship positions, proposing that Waguespack lead the Finance Committee that was led for decades under cloak and dagger for by Ald. Ed Burke (14th).
"Chicagoans expect us to deliver on our commitment to end the old way of doing business in City Council, and this proposal will begin to chart that course," said Lightfoot. "We worked hard to ensure diversity in committee leadership, and to empower aldermen who will help achieve our mission of a more transparent and accountable City Council."
The Finance Committee has traditionally come with the perks of a huge payroll budget, topping $3 million per year, and lots of extra employees. Records obtained by WTTW News show that under Burke, the Finance Committee employed 81 full- and part-time employees in 2018. That was before Burke was charged with one federal count of attempted extortion and stripped of his chairmanship. The committee ran the city's $100 million workers' compensation system for all city workers, until it was moved late last year into the city's Department of Finance – an office in the executive branch of government. Waguespack has vowed to open the books on the committee and operate in a transparent manner. The committee is supposed to deliberate and vote on city taxing, spending and borrowing proposals, but has typically served as a rubber stamp for the mayor.
Other top committee posts were given to Pat Dowell (3rd), who will replace longtime Ald. Carrie Austin (34th) as Budget Committee chair. Ald. Gilbert Villegas (36th) will chair the Committee on Economic, Capital, and Technology Development and serve as Lightfoot's City Council floor leader. Ald. Tom Tunney will chair the Council's Committee on Zoning, Landmarks and Building Standards. This committee is tasked with deliberating and voting on any all zoning changes before those issues head to the full City Council for vote.
Despite recent reporting from ProPublica Illinois on how some committees rarely ever meet, and how they spend money on resources not related to committee business, Lightfoot chose not to reduce the amount of committees but create new ones. Those include the Committee on Ethics and Good Governance, which will be headed up by Ald. Michele Smith (43rd), and the Committee on Contracting Oversight and Equity, which is a consolation prize to ousted Budget Chairman Carrie Austin.
Ald. Brendan Reilly (42nd) will serve as the president pro tempore of the council, with the duty of leading council meetings when the mayor is absent council chambers.
Longtime alderman and former Transportation Committee Chairman Anthony Beale was stripped of his position and left without any committee to run.
"These City Council committees are a reflection of my administration's priorities, and I ask that aldermen rally around them and work with me to realize a vision of a safe, healthy and equitable city for all," said Lightfoot. "I am grateful to the aldermen who have agreed to stand up and lead the way forward with me."
Aldermen must vote among themselves to appoint committee chairs, and there is no guarantee that Lightfoot's choices will be the final selections once the new City Council is seated. But, by choosing a mix of reformers and keeping some of the old guard satisfied, Lightfoot stands a better chance to receive the 26 votes she needs to put her plan to action. The alderman will vote on all of the committee chairmanships and assignments in one fell swoop, which makes it harder for any opposition to coalesce to oppose her nominations. Committee chairmanships have traditionally been used by mayors to create a large bloc of allies on City Council.
One alderman, who was left out of the discussion, says Lightfoot is going against her image as a reformer by using the same practice as mayors before her.
"For a mayor who campaigned on independent governance, and said she didn't want a rubber stamp council, she sure came ready with the ink pads," said Ald. Raymond Lopez (15th). 
Here is the full list of committee chairs, as proposed by Lightfoot:
• Ald. Scott Waguespack (32nd) as chair of the Committee on Finance
• Ald. Pat Dowell (3rd) as chair of the Committee on Budget and Government Operations
• Ald. Gilbert Villegas (36th) as chair of the Committee on Economic, Capital and Technology Development
• Ald. Tom Tunney (44th) as chair of the Committee on Zoning, Landmarks and Building Standards
• Ald. Susan Sadlowski Garza (10th) as chair of the Committee on Workforce Development
• Ald. Howard Brookins (21st) as chair of the Committee on Transportation and Public Way
• Ald. Michelle Harris (8th) as chair of the Committee on Committees and Rules
• Ald. Walter Burnett Jr. (27th) as chair of the Committee on Pedestrian and Traffic Safety
• Ald. Nicholas Sposato (38th) as chair of the Committee on Special Events, Cultural Affairs and Recreation
• Ald. Michael Scott, Jr. (24th) as chair of the Committee on Education and Child Development
• Ald. Matthew O'Shea (19th) as the chair of Committee on Aviation
• Ald. Chris Taliaferro (29th) as the chair of the Committee on Public Safety
• Ald. Harry Osterman (48th) as the chair of the Committee on Housing and Real Estate
• Ald. Roderick T. Sawyer (6th) as the chair of the Committee on Health and Human Relations (formerly the Committee on Human Relations)
• Ald. George Cárdenas (12th) as chair of the Committee on Environmental Protection and Energy (formerly Committee on Health and Environmental Protection)
• Ald. Emma Mitts (37th) as chair of the Committee on License and Consumer Protection
• Ald. Michele Smith (43rd) as Chair of Committee on Ethics and Good Governance
• Ald Carrie Austin (34th) as Chair of Committee on Contracting Oversight and Equity
Follow Paris Schutz on Twitter: @paschutz
---
Related stories:
The Week in Review: Lightfoot's Ambitious Agenda
Looking Ahead: Analysts Preview Lightfoot Administration
Spotlight Politics: Lightfoot, New City Council Prepare to Take Over
Lightfoot, Aldermen Battle Over Aldermanic Prerogative
---