UPDATE: Aldermen Seek to Curb Burke 'Staff-Loaning' Habit
Members of the Chicago City Council are allocated $190,000 out of the city budget to hire three staffers to work in their aldermanic offices. But many aldermen feel that's not enough to dutifully manage their wards.
Enter Ald. Ed Burke.
For years, Burke ran what amounts to an employee loan-out program from his perch as head of City Council's powerful Finance Committee. How it has historically worked: Alderman would get an additional employee to work on their staff for free – the staffers were paid using funds from the Finance Committee's budget – if they asked and Burke agreed. It's one of many ways the 14th Ward alderman has held sway over his City Council colleagues.
"When faced with a request that their office is overwhelmed and needs help, they'll go see Ed Burke, everybody knows that," said one City Hall insider who asked not to be named. "It's a way of exercising control."
Burke held the position of chairman of City Council's Committee on Finance until the end of 2018, when he stepped down after the U.S. attorney's office charged him with attempted extortion and implied there was a deeper investigation underway. According to a database of Finance Committee employees in 2018, at least five employees who were paid for by Burke's committee were loaned out to work on the staffs of other aldermen. WTTW News has confirmed the names of five aldermen who accepted the free extra help: Ald Brian Hopkins (2nd), Ald. Marty Quinn (13th), Ald. Walter Burnett (27th), Ald. Nicholas Sposato (38th) and Ald. Matthew O'Shea (19th).
Some aldermen we spoke with say they believe the actual number of employees loaned out by Burke is higher.
Sposato says he sought help because his physical condition was deteriorating due to a diagnosis of multiple sclerosis, and that he often needed someone to assist him with getting from one event to another. His staff member is listed in the database as a "Clerk of the City Council" on the Finance Committee's payroll with a salary of just more than $25,000.
"Two years ago I asked Ed Burke, 'Look, I have a problem.'" Sposato said. "He goes, 'What's that?' I say, 'I always need someone with me. Is there anyway possible I can get someone?' I heard he gives employees to people that are overwhelmed. And he said, 'Yeah no problem, but she'll have to work 35 hours a week.'"
Sposato says that Burke never pressured him to return the favor.
"I never got that implication," Sposato said. "Ed Burke is one of the kindest, most helpful people I've ever met. He was always a gentleman. This is something he would do for anybody. He never twisted my arm or asked me for anything."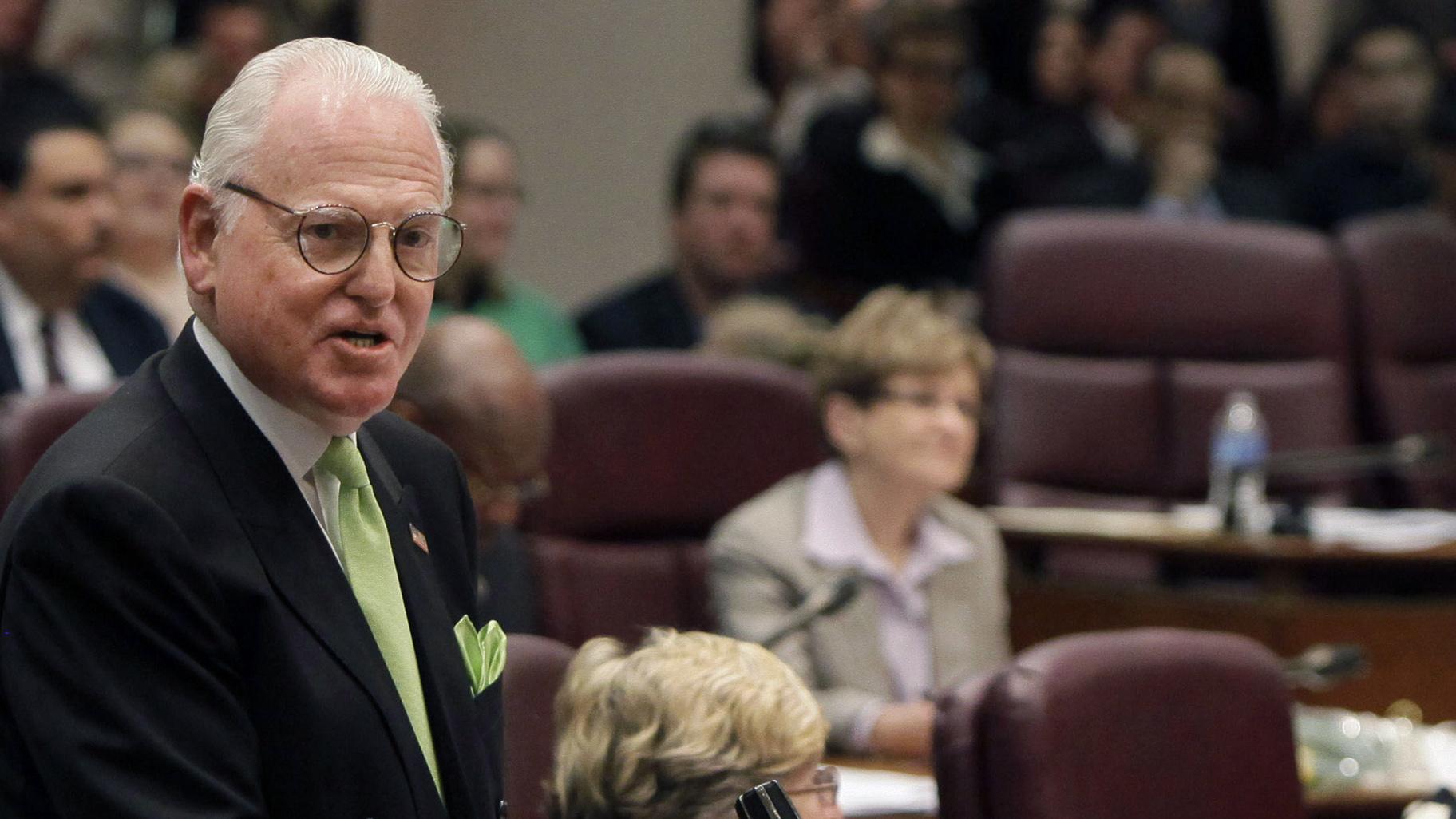 In this May 4, 2011 file photo, Ald. Ed Burke speaks at a Chicago City Council meeting. (AP Photo / M. Spencer Green, File)
Hopkins has an employee who regularly sends out his 2nd Ward newsletter. But that employee is listed as a "Legislative Aide" on the Finance Committee – with a salary of $71,964. Hopkins acknowledged that the employee used to work full-time for his office, but currently works full-time on the Finance Committee and sends out the 2nd Ward newsletter as a part-time job. Hopkins says he pays the employee to perform that specific function out of his staff budget, but that there's nothing nefarious about accepting the help from Burke.
"The Committee on Finance has for years had the largest aldermanic budget and the highest amount of staff," Hopkins said. "Those staff that work for them are City Council staff, so when they're working for other alderman, as long as they're performing city duties, they're still considered aldermanic employees."
A spokesperson for Burnett says the employee he had, paid for by Burke's Finance Committee, no longer works for the 27th Ward alderman. An employee in Quinn's office confirmed that a staffer paid for by the Finance Committee still works on Quinn's 13th Ward staff. (Quinn is a strong ally and campaign worker for Illinois House Speaker Michael Madigan.) O'Shea did not respond to calls seeking comment.
City Inspector General Joe Ferguson confirms the practice has been commonplace in City Council and says it doesn't violate any city hiring ordinances.
"It is a way for aldermen to be indebted to Burke for a favor, and a way for Burke to have one of 'his' people on the staff of an alderman that can report back to him," Ferguson said.
Other aldermen have said the help extends beyond Burke offering free employees.
"Burke has covered things like office infrastructure, cellphone bills, and would help an alderman meet payroll if they were falling short, all paid for by the Finance Committee," said one alderman who asked not to be named. When asked what Burke wants in return, the alderman said one word: "Loyalty."
Burke was replaced as Finance Committee chairman by Mayor Rahm Emanuel's City Council floor leader, Ald. Pat O'Connor (40th).
Neither Burke nor O'Connor returned calls seeking comment.
Follow Paris Schutz on Twitter: @paschutz
---
Related stories:
Ald. Ed Burke Re-elected Despite Federal Corruption Charge
Ald. Ed Burke Accused of Electioneering
Inspector General Decries 'Keep Your Mouth Shut' Culture at City Hall
---