UPDATE: Ald. Ed Burke Resigns as Finance Committee Chairman
Chicago's longest serving and most powerful alderman is facing a criminal extortion charge.
Ald. Ed Burke turned himself in to federal court Thursday, a little more than a month after federal officials raided his City Hall and ward offices.
Document: Read the complaint
A federal criminal complaint against Burke filed Thursday accuses the 14th Ward alderman and chair of the City Council's powerful Finance Committee of using "his position as an Alderman – including his apparent ability to withhold his official support for the building permit and a related driveway permit – in order to corruptly solicit unlawful personal financial advantage in the form of fees arising from the retention" of his property tax law firm, Klafter & Burke.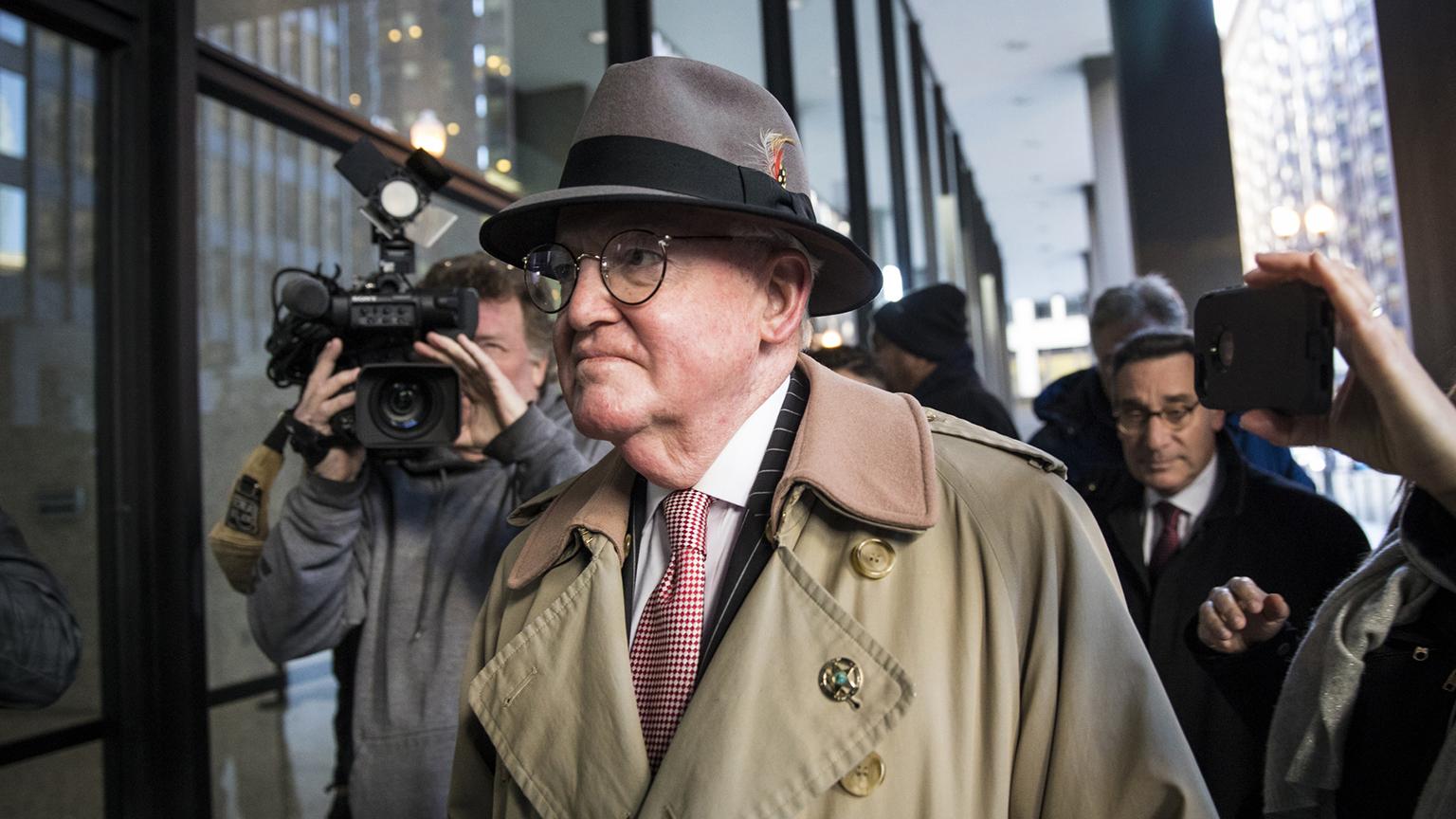 Ald. Ed Burke, 75, walks into the Dirksen Federal Courthouse on Thursday, Jan. 3, 2019. (Ashlee Rezin / Chicago Sun-Times via AP)
Burke entered federal court just after 2 p.m. Thursday with his attorney Charles Skalrsky of Jenner & Block. He arrived in a taxicab, about 1.5 hours after driving by the building to check out the scene. He was in the standard pinstripe suit and fedora, wearing a giant garish pocket scarf as he awaited his appearance before federal magistrate Judge Sheila Finnegan. She read him his rights and ordered him held on a $10,000 appearance bond, meaning he has to fork over the money if he doesn't appear for his court dates. Burke is also ordered to forgo 23 firearms that were discovered in his city and ward offices during those high-profile federal raids in November.
Burke faces a maximum of 20 years in prison and a $250,000 if convicted.
More: Former Federal Prosecutor Talks Charges Against Ald. Ed Burke
This alleged activity is in line with what has been said about Burke for years: that he leverages his very powerful Finance Committee post to gain business for his property tax law firm, Klafter & Burke, that appeals property taxes for his clients. The feds built their case through wiretapping Burke's cell phone, plus email records partially obtained in that raid on his offices, and cooperation of individuals from this fast food franchisee. The complaint states that Burke and a "City Employee 1" discussed playing "hard ball" with a company that has over 100 fast food franchises in the area, including a Burger King in Burke's 14th Ward. The operative was to force them to pay Burke's law firm for tax business. The scheme included allegedly holding up city permits the Burger King franchise needed to complete a remodeling job, including a driveway permit that Burke actually has no legally authority over.
The complaint also alleges that Burke asked the business to donate money to another politician's campaign, later revealed to be that of Cook County Board President Toni Preckwinkle. She says that contribution was never accepted and she has not been contacted by any federal authorities. Burke also arranged a lunch at the Beverly Country Club with this business, allegedly pitching them on his property tax appeals firm, although they say they had not solicited this information and ultimately were not interested in hiring him. Burke's attorney Sklarsky gave a brief statement as he and Burke left the court hearing Thursday.
"The actions described in the complaint does not make out extortion or an attempt to extort," Sklarsky said. "We look forward to a prompt day in court to prove the innocence of Alderman Burke. We have no further comment."
The next hearing is set for 2 p.m. Jan. 18, during which the judge will be asked by the defense to consider tossing the case. The U.S. attorney has 30 days to return a federal grand jury indictment, and they cautioned that Thursday's revelations are not the totality of this case, there is an ongoing investigation.
Follow us on Twitter: @paschutz | @AmandaVinicky
---
Related stories:
Plan Proposes Moving $100M Workers' Comp Program to New Hands
Ald. Ed Burke Holds High-Dollar Fundraiser Amid Federal Probe
FBI Raids Offices of 14th Ward Ald. Ed Burke
What FBI Raid Could Mean for Chicago's Most Powerful Alderman
---