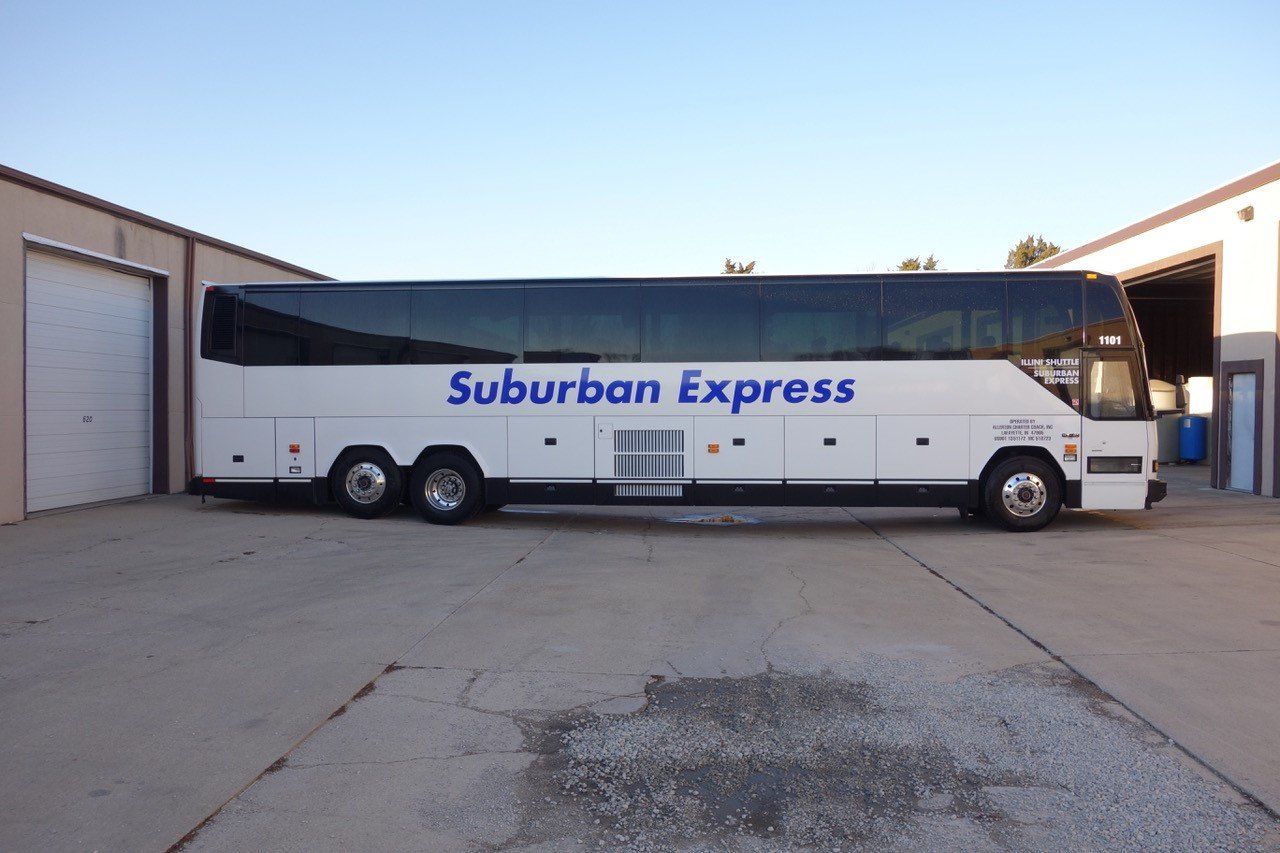 (Courtesy of Suburban Express)
A controversial Champaign-based bus company that was fined $100,000 after it was accused of discriminating against Asian customers by the Illinois Attorney General has abruptly closed its doors.
In a federal court filing published this week, Suburban Express owner Dennis Toeppen announced his company would be ceasing operations effective Tuesday and will be dissolved by the end of July.
"I stopped enjoying this business around 2001," Toeppen wrote in the Monday filing, explaining his decision, "and l think it's beginning to show."
Suburban Express was founded in 1983 and shuttled University of Illinois students to and from the Chicago area for decades. But in recent years, the company repeatedly found itself embroiled in controversy after being accused of antagonizing and discriminating against its own customers.
The company filed dozens of lawsuits over the years against customers who violated its terms of service. Toeppen also maintained a notorious "Page of Shame" on the company's website, which included the names, addresses and contact information of customers who, according to the company, wrote bad checks or used counterfeit bus tickets.
Other customers who were banned by the bus line were labelled as "morally and ethically challenged," "mentally unstable" or "generally unpleasant, if not insane," in a publicly available list on the Suburban Express web page.
As of Wednesday, that site is no longer active.
The company's biggest controversy came in late 2017 when it published an ad that was widely seen as anti-Asian, telling customers, "You won't feel like you're in China when you're on our buses," in reference to the number of non-white students on the university's campus.
Toeppen also criticized the school's financial management, saying it was forced to enroll more international students, which in turn placed "a variety of burdens" on domestic students.
Shortly after that ad ran, then-Illinois Attorney General Lisa Madigan announced she was investigating Suburban Express for civil rights violations. That led to a federal lawsuit Madigan's office filed last year, which accused the company of racial and religious discrimination, "vicious customer mistreatment" and other illegal business practices.
That suit appeared to be coming to a close last month after Toeppen and current Attorney General Kwame Raoul reached a consent decree, which allowed Suburban Express to avoid making any admission of guilt.
But the company was forced to pay a $100,000 fine and was barred from discriminating against customers or refusing service based on a person's race, national origin or religion. Toeppen wrote in a since-deleted Facebook post that he felt his company was being "extorted by the state" through a lawsuit he said contained "false, unproven, unproveable (sic) and legally inconsequential allegations."
Days later, Raoul sought an additional $10,000 fine against the company, claiming Toeppen had violated the decree by continuing to penalize customers who post negative reviews and publishing "unwelcoming communications."
Toeppen told WTTW News at that time that he was on vacation when the consent decree was signed, and believed he had 30 days to "cure any breach" of the agreement.
In his latest court filing, Toeppen said the $100,000 fine will be paid off by May 15, "months ahead of schedule." He said the decision to shut down renders most of the consent decree moot, adding that he has no plans to "facilitate or aid in replacement of Champaign-Urbana service."
"Instead," he wrote, "we prefer to sit on the sidelines and watch as competitor's fares rise, frequency falls, and passenger injuries and fatalities increase."
Contact Matt Masterson: @ByMattMasterson | [email protected] | (773) 509-5431
---
Related stories:
Bus Company Faces New Fine After Agreeing to Pay $100K in Discrimination Suit
Suburban Express Bus Line Facing Blowback from 'Offensive, Bigoted' Ad
Suburban Express Issues New Apology for 'Grotesquely Xenophobic' Ad
Illinois Joins Lawsuit Against Trump's Emergency Wall Declaration