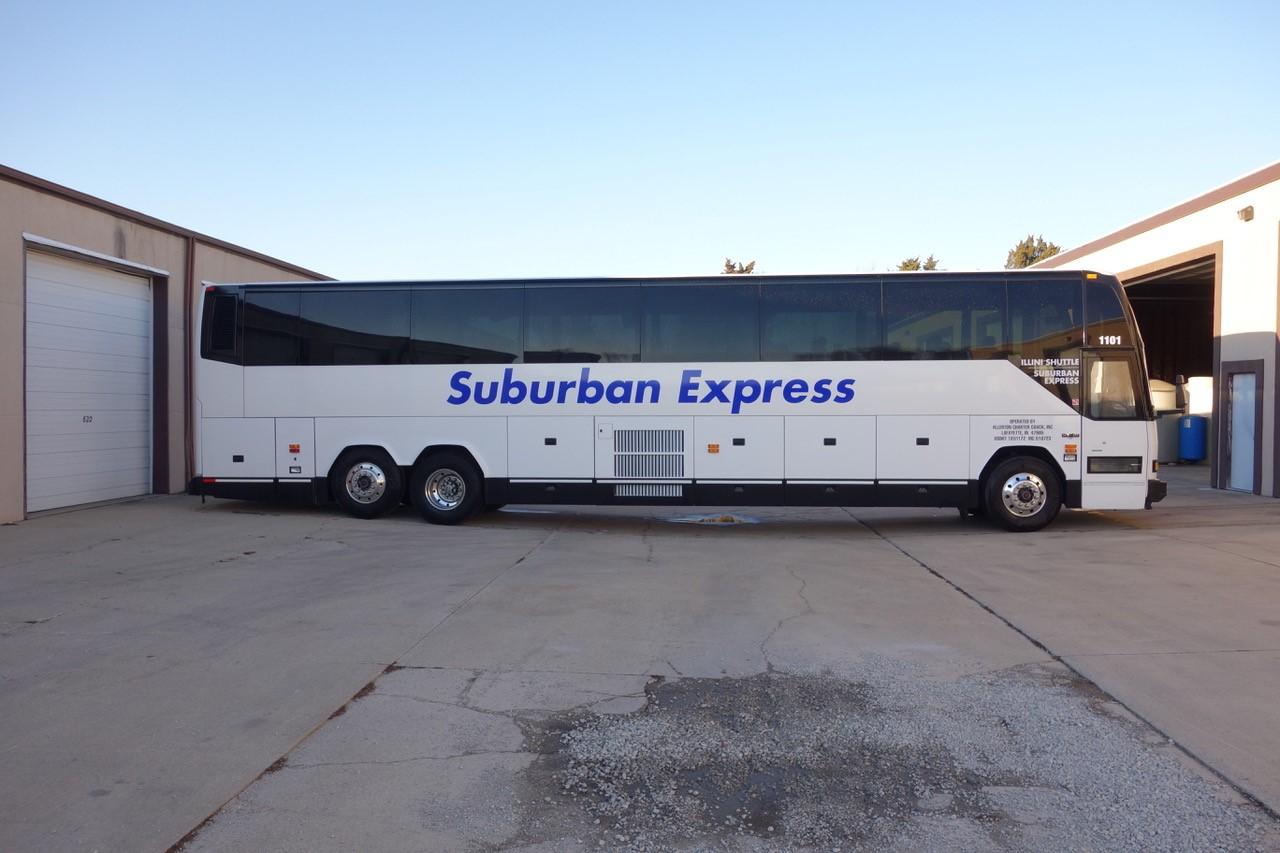 (Courtesy of Suburban Express)
Illinois' top prosecutor says the owner of a Champaign-based bus company that shuttles University of Illinois students to and from the Chicago area has violated a consent decree in "multiple ways." The news comes just days after the owner agreed to pay a $100,000 fine to settle a federal lawsuit that accused the company of discriminating against Asian customers.
Illinois Attorney General Kwame Raoul last week announced his office had reached a three-year consent decree with Dennis Toeppen, owner of the Suburban Express bus line, which requires the company to pay the fine and "end its practice of discriminating and harassing customers and their families." Doing so would effectively settle a lawsuit filed by Raoul's predecessor against the company.
"For too long, students traveling from university campuses to their homes have done so under the fear of being subjected to discrimination and harassment by Suburban Express and its owner," Raoul said in a statement on April 9.
"This consent decree brings an end to Mr. Toeppen's reprehensible business practices and ensures that students receive fair and equal access to Suburban Express's services."
But just days later, Raoul's office has filed a new motion asking a judge to order an additional $10,000 fine, claiming Toeppen already violated multiple aspects of that consent decree, including prohibitions against penalizing customers who post negative reviews and publishing "unwelcoming communications."
Document: Read the new motion here.
The motion claims Suburban Express harassed one customer who wrote a negative Yelp review by publishing the address of their childhood home on the company's website, linking to their LinkedIn account and ridiculing their mental state.
The company also allegedly attacked a person of "Asian origin" by labeling them an "insane … spoiled child" and saying the individual reminds them of a prominent Asian-American who advocates against discrimination, adding that readers should Google that activist "for a good laugh."
"Taken individually or together with the other page Defendants have posted attacking a person of Asian origin, Defendants have circulated communications that Defendants know are to the effect that the individuals under attack are objectionable and unacceptable because of their race and national origin," Raoul wrote in the motion.
Through the motion, Raoul has also asked a judge to order Suburban Express to remove specific pages from its "defamatory" website within 24 hours.
Suburban Express also operates a notorious "Page of Shame" on its website, offering up the names, addresses and contact information of customers who, according to the company, write bad checks or use counterfeit tickets. But the company's complaints against customers don't stop there. Others who have been banned by the company are labeled on the site as "a danger to herself and others," "mentally unstable" or "generally unpleasant, if not insane."
A screenshot of the Suburban Express "Page of Shame." Names and personal information have been redacted.
As part of its agreement with the state, the company is barred from discriminating against customers or refusing service based on a person's race, national origin or religion. Customers who purchased bus tickets dating back to April 23, 2014 are also allowed to seek refunds from Suburban Express between April 30 and Oct. 9, 2019.
Reached via email Thursday, Toeppen claimed he was on vacation in the days after the consent decree was signed and stated he believed he had 30 days to "cure any breach" of the agreement, "whether intentional or accidental."
Toeppen also took issue with the "refunds" outlined in the decree, stating that term never appears in the agreement. Instead, he says his company internally is referring to payments resulting from the decree as "Vote Purchase Payments" and "Beer Money for Suburbanites."
'Passengers like you'
Heading into winter break in 2017, Suburban Express distributed an email ad telling customers they'll be able to enjoy being seated near "passengers like you" on upcoming Christmas break rides.
"You won't feel like you're in China when you're on our buses," the ad states, in an apparent reference to the number of non-white students on campus.
Suburban Express faced further blowback following its initial "apology" for that ad, in which the company did not actually apologize. Instead, it criticized the supposed financial "mismanagement" within the U. of I. that forced the university to admit more international students, which in turn "place(d) a variety of burdens on domestic students."
"We agree that having a mixture of different cultures and ethnicities is valuable," the company said at the time. "But we're not comfortable with the idea of selling our university to the highest foreign bidder."
Suburban Express later apologized for that response and the initial ad.
Then-Attorney General Lisa Madigan issued a subpoena to Suburban Express that same week and eventually filed a lawsuit against the company in 2018, accusing it of racial and religious discrimination, "vicious customer mistreatment" and other illegal business practices.
Toeppen is not required to make any admission of guilt as part of this consent decree, but is required to pay $100,000 to the attorney general's office within 180 days. Toeppen and all Suburban Express employees must also attend annual training sessions focusing on "laws against discrimination on the basis of race, national origin, and religion."
The company's website now includes a "statement of inclusion" which says it does not discriminate "on the basis of any individual's race, color, sex, gender identity, age, religion, disability, national origin, ancestry, sexual orientation, marital status, parental status, military status, or source of income."
Read the full response from Suburban Express.
Suburban Express posted a response to the consent decree on Facebook last week, saying it felt it was being "extorted by the state" through a lawsuit it says contained "false, unproven, unproveable (sic) and legally inconsequential allegations."
Additionally, the company claimed Raoul's statement on the consent decree is "false and defamatory in the extreme."
Toeppen reiterated Thursday there was "no finding or admission of fault, liability, wrongdoing, etc." on his part in the consent decree, which he says is contrary to the language Raoul used in his April 9 statement.
"The AG's lawsuit had a great deal of MSG sprinkled on it," Toeppen wrote in a follow-up email to WTTW News, apparently referencing a food additive commonly associated with Chinese cooking.
"I'd go so far as to say the allegations were false and misleading in the extreme ... We have never harassed anyone. Our position has always been defensive. When someone harasses us enough, we sometimes respond on our website."
In that email Toeppen also included a link to his personal website which includes a photo that appears to show him standing at the Great Wall of China in 2017.
The company says it will consider legal action against Raoul and Assistant Attorney General Thomas Verticchio.
A hearing in the case is scheduled in federal court next Tuesday.
Contact Matt Masterson: @ByMattMasterson | [email protected] | (773) 509-5431
---
Related stories:
Suburban Express Bus Line Facing Blowback from 'Offensive, Bigoted' Ad
Suburban Express Issues New Apology for 'Grotesquely Xenophobic' Ad
Illinois Joins Lawsuit Against Trump's Emergency Wall Declaration