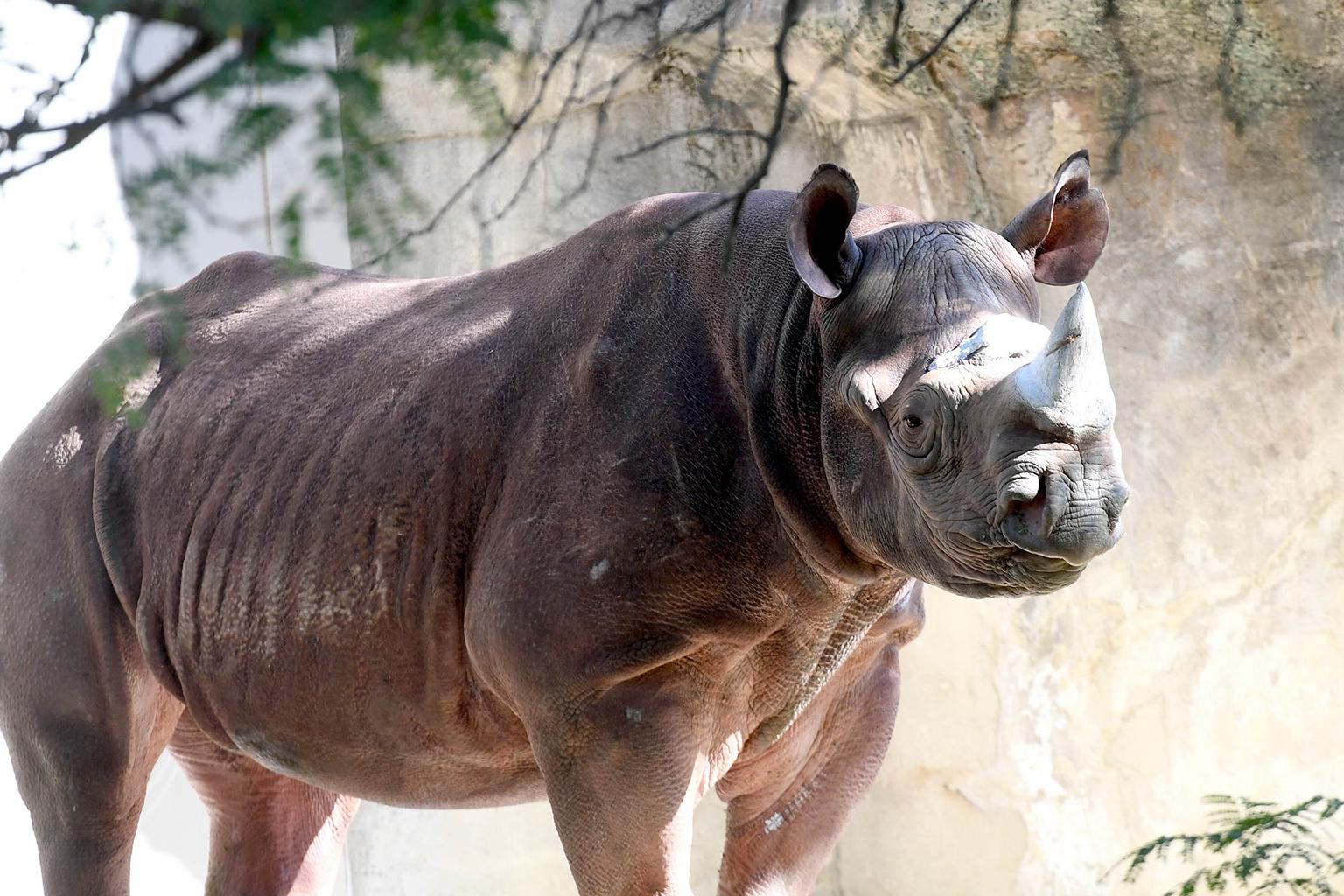 Layla, an eastern black rhinoceros at Brookfield Zoo (Courtesy Chicago Zoological Society)
Layla, a 2,300-pound rhinoceros at Brookfield Zoo, hit an important milestone Thursday, celebrating her eighth birthday just months after surviving a near-deadly infection.
To mark the occasion, zoo staff prepared a birthday cake for Layla featuring fruits and vegetables frozen in flavored ice blocks, decorated with leafy greens and topped with a watermelon and a carrot, which gave the appearance of a candle.
For Layla, one of just a few thousand remaining critically endangered eastern black rhinoceroses, reaching her eighth birthday was not a certainty earlier this year.
The ordeal began last December when zoo staff first noticed that Layla was having trouble breathing and diagnosed her with an obstructive sinus infection. Because rhinos have difficulty breathing through their mouths, any sort of nasal obstruction can become dangerous.
After Layla failed to respond to standard treatments, she underwent sinus surgery in late January, the first of two dozen medical procedures and surgeries the rhino has undergone this year.
In April, nearly 40 zoo staff worked together to transport Layla and conduct what is thought to be the the first CT scan ever performed on a rhinoceros. High-powered images of Layla's skull revealed abnormal tissue in the root of one of her upper molars, which veterinary staff determined had been causing the obstruction of Layla's nasal passages and sinuses, making it difficult for her to breathe.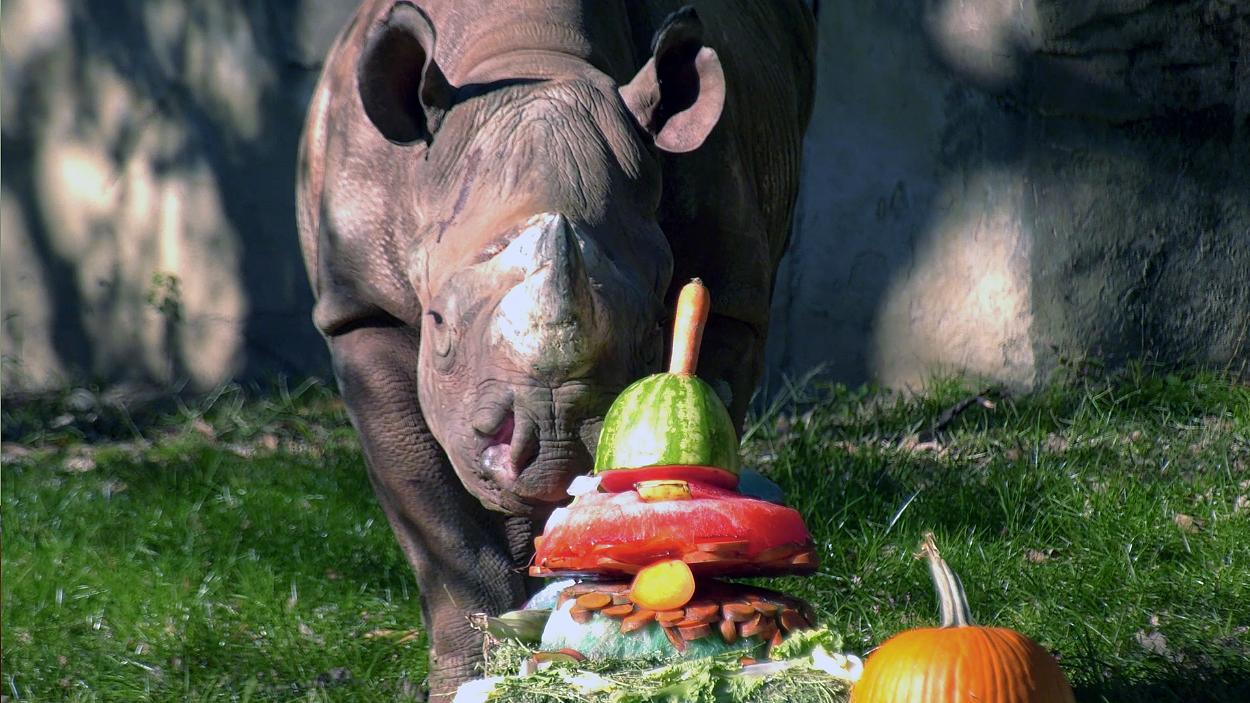 Layla, a 2-300 pound eastern black rhinoceros at Brookfield Zoo, enjoys a birthday cake prepared by zoo staff. (Courtesy Chicago Zoological Society)
Layla had another surgery in May to relieve the infection, but some breathing problems persisted. Veterinarians had a breakthrough in early August, when they were able to insert a silicone stent into a surgically created opening in Layla's right nasal passage. The stent holds the nasal passage open to allow for normal airflow, while also preventing any further growth of inflamed tissue.
With the right side stented open and Layla breathing more comfortably, veterinarians were then able to focus on opening up the more severely affected left nasal passageway, where the problem originated. In mid-August, veterinarians deployed a stent into the left side, allowing Layla to breathe comfortably from both nostrils.
"Layla's medical care has been a significant challenge given her size and the associated difficulty of accessing the primary problem deep inside of her thick skull," said Dr. Michael Adkesson, vice president of clinical medicine for the Chicago Zoological Society, which manages the zoo, in a statement. "Her well-being has been our primary focus and concern over the past year. Our veterinarians have worked closely with our animal care staff to ensure Layla was comfortable and tolerating the repeated anesthesia and surgical procedures."
Layla was born in 2010 at Kansas City Zoo and arrived at Brookfield Zoo in 2012 on a breeding recommendation as part of a collaborative Species Survival Plan. She is one of just 59 eastern black rhinoceroses in North American zoos.
The species is considered critically endangered, with an estimated 5,000-5,400 individuals living in the wild, mainly in East Africa.
Contact Alex Ruppenthal: @arupp | [email protected] | (773) 509-5623
---
Related stories:
Brookfield Zoo Rhino Has Life-Saving Surgery, 2nd CT Scan
Brookfield Zoo Performs CT Scan on 2,300-Pound Black Rhinoceros
Brookfield Zoo Euthanizes Beloved Gorilla Ramar
---