After more than one decade since he was acquitted on 21 counts of child pornography, R. Kelly is back in the courtroom.
The 52-year old R&B singer was released on bond late Monday afternoon after pleading not guilty to 10 counts of aggravated sexual abuse. Cook County State's Attorney Kim Foxx filed those charges late last week after attorney Michael Avenatti said he turned over to Foxx a videotape of Kelly allegedly having sex with a 14-year-old girl, among other acts.
"I don't think it's a very solid case in the state of Illinois," music journalist Jim DeRogatis said during his appearance Monday on "Chicago Tonight." The former Chicago Sun-Times reporter has been covering the Grammy winner for decades.
"I don't think it comes close to the magnitude of his crimes," he said.
The alleged abuse in the latest set of charges occurred between 1998 and 2010 and involved four separate victims – three of whom were minors. Prosecutors say Kelly can be seen having sex with a 14-year-old girl on a videotape recorded in the late 1990s. Other victims include a 16-year-old girl Kelly met outside his 2008 child porn trial and another teen he met while she was celebrating her 16th birthday.
In another case, Kelly allegedly tried to force his hairdresser to perform oral sex. When she refused, prosecutors say Kelly spit on her and masturbated onto her.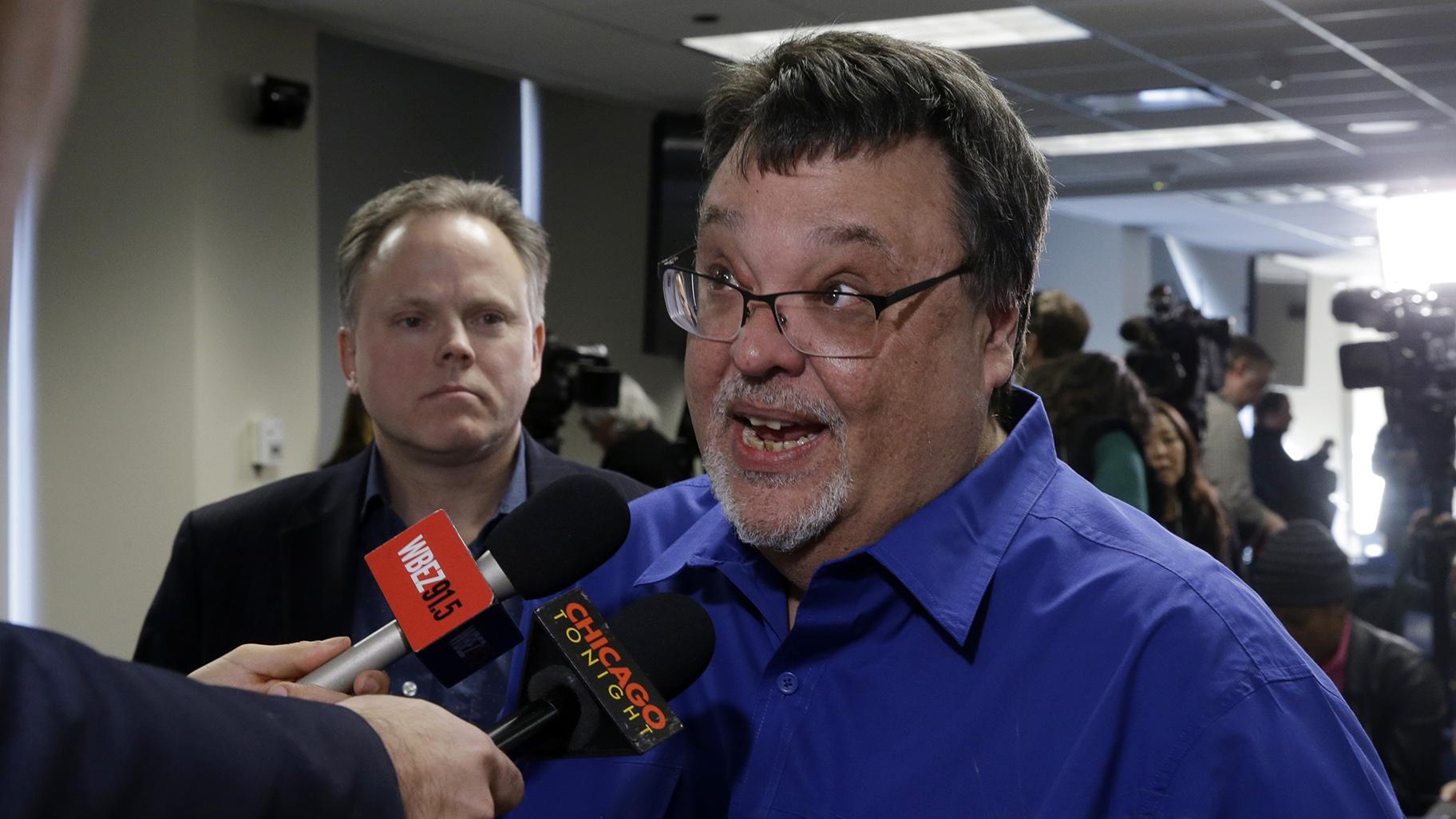 Former Chicago Sun-Times reporter Jim DeRogatis talks to Chicago Tonight and other reporters after a news conference by Cook County State's Attorney Kim Foxx announcing charges against R. Kelly, the R&B star, with 10 counts of aggravated sexual abuse involving multiple victims in Chicago. (AP Photo / Kiichiro Sato)
DeRogatis says that since 1991, 48 women have shared with him their stories of abuse by Kelly.
"Forty-eight women, almost 30 years in the city of Chicago. Every system in this city – police, courts, the South and West sides, the churches, everybody – has failed these young black female victims," DeRogatis said.
At a press conference Monday, Avenatti – who is representing two alleged Kelly victims – said he and his team received tips from numerous additional witnesses over the weekend.
But that doesn't sway DeRogatis, who said he thinks the real case is in New York, where a grand jury has been convened in the Southern District of New York, based on investigations by the FBI and IRS. A third grand jury, according to DeRogatis, is currently in the works in the Eastern District of New York.
"This has been the worst kept secret in Chicago for 28 years," he said. "This is not a secret. The community, women, the activists have been talking for years amd all I've ever done has given a megaphone to the many, many victims, activists."  
Matt Masterson contributed to this report.
---
Related stories:
R. Kelly Pleads Not Guilty to 10 Sexual Abuse Charges
R. Kelly Held on $1 Million Bond
R. Kelly Charged With Aggravated Sexual Abuse
Jim DeRogatis: Parents Claim R. Kelly is Holding Women in a 'Cult'
---