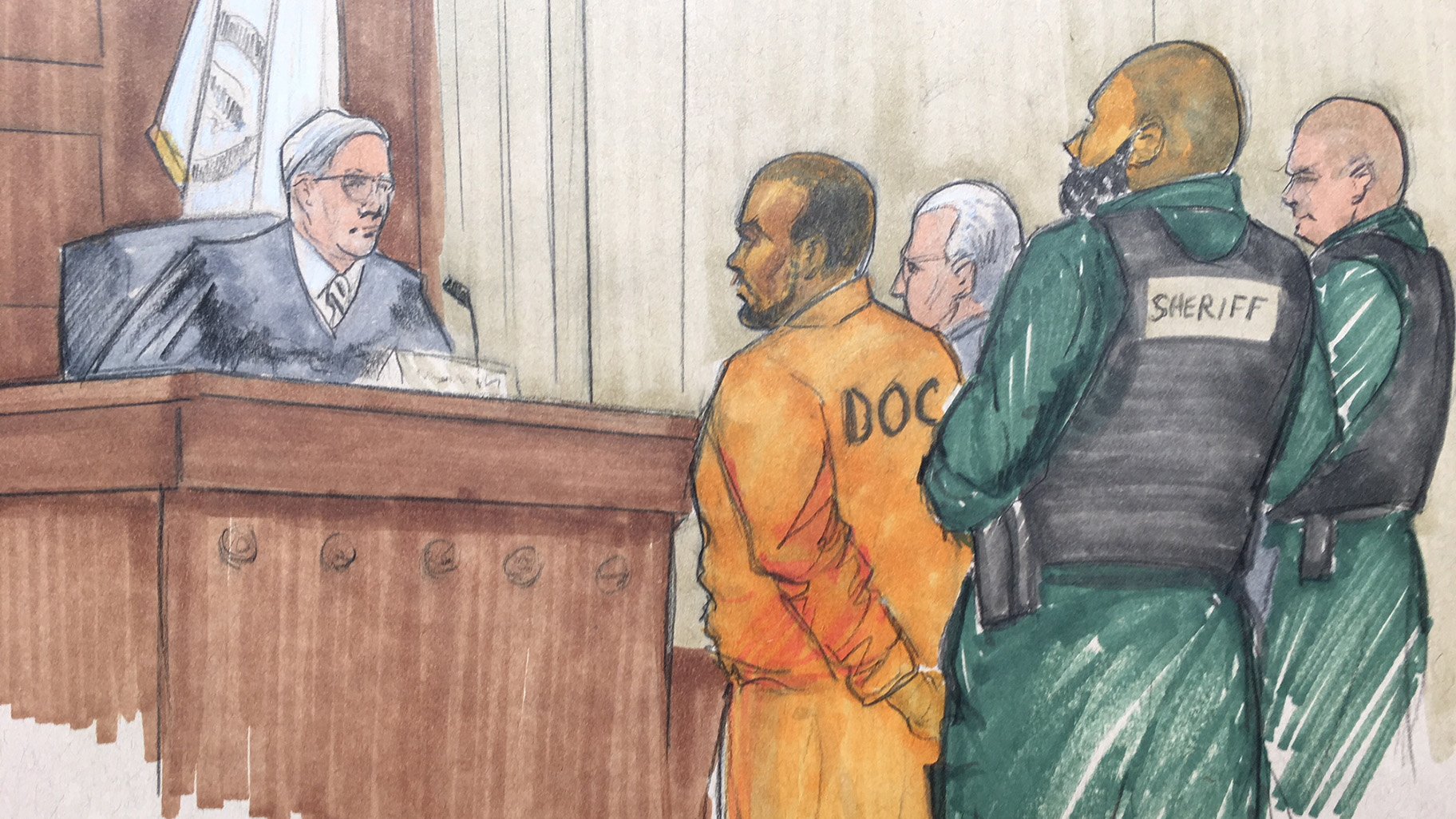 In this courtroom sketch, R&B singer R. Kelly appears before Cook County Associate Judge Lawrence Flood with his attorney Steve Greenberg on Monday, Feb. 25, 2019, at the Leighton Criminal Courthouse. (Credit: Tom Gianni)
R&B singer R. Kelly has pleaded not guilty to 10 counts of aggravated sexual abuse, days after he turned himself in to Chicago police once the charges were filed.
Kelly said little during his brief appearance inside the Leighton Criminal Courts Building on Monday morning. He appeared in court wearing an orange Department of Corrections jumpsuit. His case was assigned to Cook County Associate Judge Lawrence Flood, who arraigned the singer and took his plea.
A grand jury last week indicted the 52-year-old Grammy winner on 10 charges of aggravated criminal sexual abuse. Those are Class 2 felonies punishable by probation or up to seven years in prison.
Kelly spent the weekend in Cook County Jail after a judge on Saturday set his bond at $1 million. Kelly had to post 10 percent of that amount in order to leave jail, which his attorney Steve Greenberg said occurred Monday afternoon. He did not answer any questions as he left the jail just before 5:30 p.m.
Greenberg said his client has been housed in the jail's hospital unit – not due to medical issues, but because it's a more secure location – and is doing "as well as can be expected given the circumstances."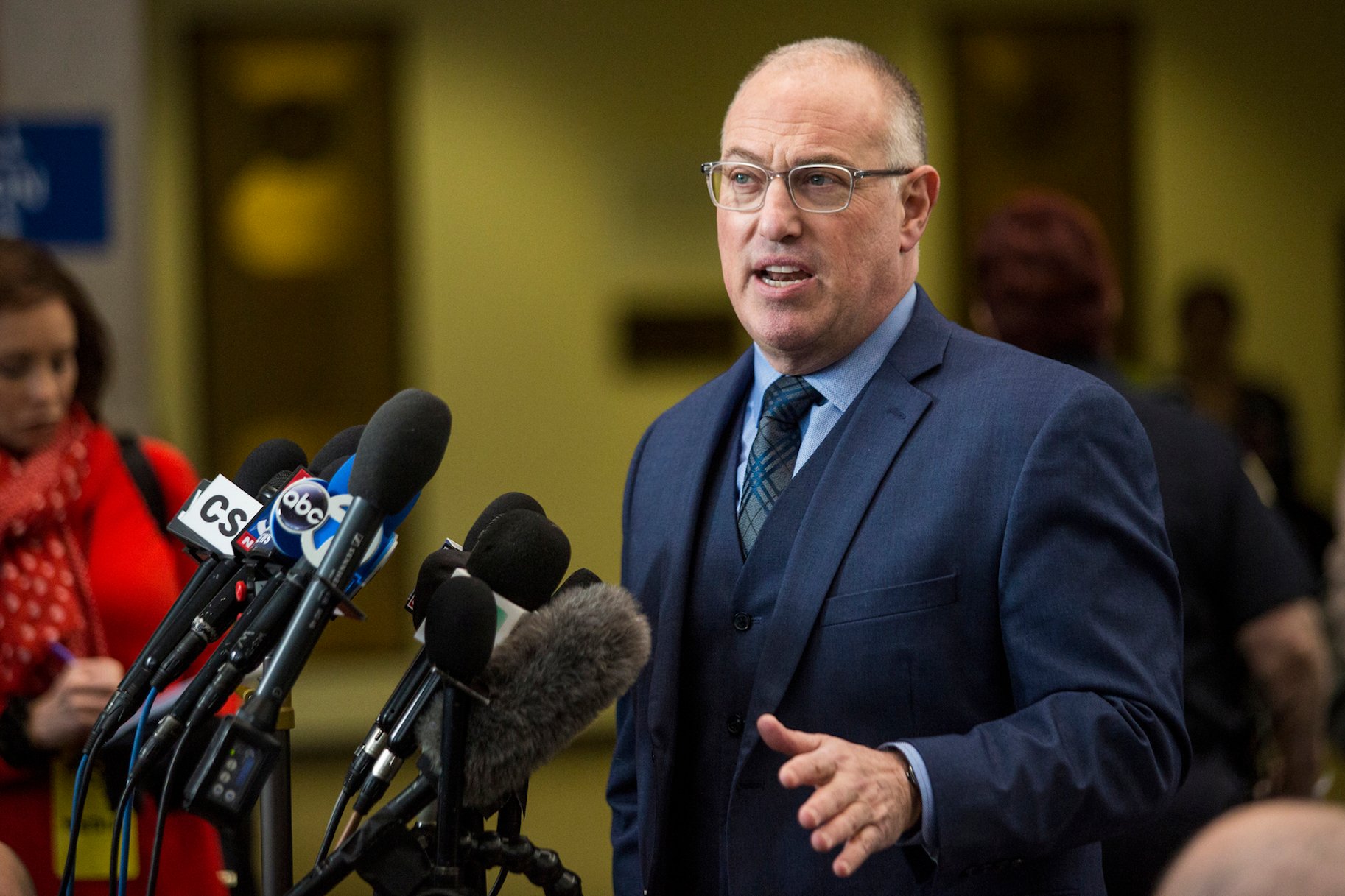 R. Kelly's defense attorney, Steve Greenberg, speaks to reporters at the Leighton Criminal Courthouse after the R&B singer entered a not guilty plea to all 10 counts of aggravated criminal sexual abuse, Monday morning, Feb. 25, 2019. (Ashlee Rezin/Chicago Sun-Times via AP)
The alleged abuse occurred between 1998 and 2010 and involved four separate victims – three of whom were minors. Prosecutors say Kelly can be seen having sex with a 14-year-old girl on a videotape recorded in the late 1990s. Other victims include a 16-year-old girl Kelly met outside his 2008 child porn trial and another teen he met while she was celebrating her 16th birthday.
In another case, Kelly allegedly tried to force his hairdresser to perform oral sex. When she refused, prosecutors say Kelly spit on her and masturbated onto her.
The Chicago native has been surrounded for decades by allegations that he sexually abused underage girls and women. Kelly was acquitted on child pornography charges in a Cook County courtroom in 2008 and has since denied any sexual misconduct.
The latest charges came days after Cook County State's Attorney Kim Foxx's office received a roughly 40-minute video that allegedly shows Kelly engaging in various sex acts with a 14-year-old girl in the late 1990s.
Attorney Michael Avenatti, who represents two of the victims and presented that video to Foxx's office, said Monday he has recovered and turned in a second video.
I can confirm that we will be providing a second video showing R. Kelly engaged in sexual assault of a minor to prosecutors this morning. This tape was recently uncovered in connection with our ongoing nationwide investigation on behalf of victims. Justice must be done.

— Michael Avenatti (@MichaelAvenatti) February 25, 2019
---
That tape, which is about 55 minutes long, again shows Kelly sexually abusing a 14-year-old girl, according to Avenatti. He said he's met with several more witnesses who came forward over the weekend and similarly described a "decadeslong system of abuse."
"This reign of assault and abuse is about to come to an abrupt and permanent end," he said.
Greenberg and Avenatti have traded barbs on Twitter in recent days. But Greenberg insists that despite the heavy public interest, this case won't be tried in the media.
"We're going to try the case in the courtroom, we're going to see what the evidence is and we're not gonna worry about some grandstanding," he said, referring again to Avenatti. "Let's let the system work, and an attorney of all people should be waiting."
Contact Matt Masterson: @ByMattMasterson | [email protected] | (773) 509-5431
---
Related stories:
R. Kelly Held on $1 Million Bond
R. Kelly Charged With Aggravated Sexual Abuse
Journalists Discuss 'Surviving R. Kelly' and Impact on #MeToo Movement
Kim Foxx Calls on R. Kelly Abuse Victims to Come Forward
Reports: Sony Drops R. Kelly After Furor Over Allegations
Inspectors Find Code Violations at R. Kelly's Chicago Recording Studio
---