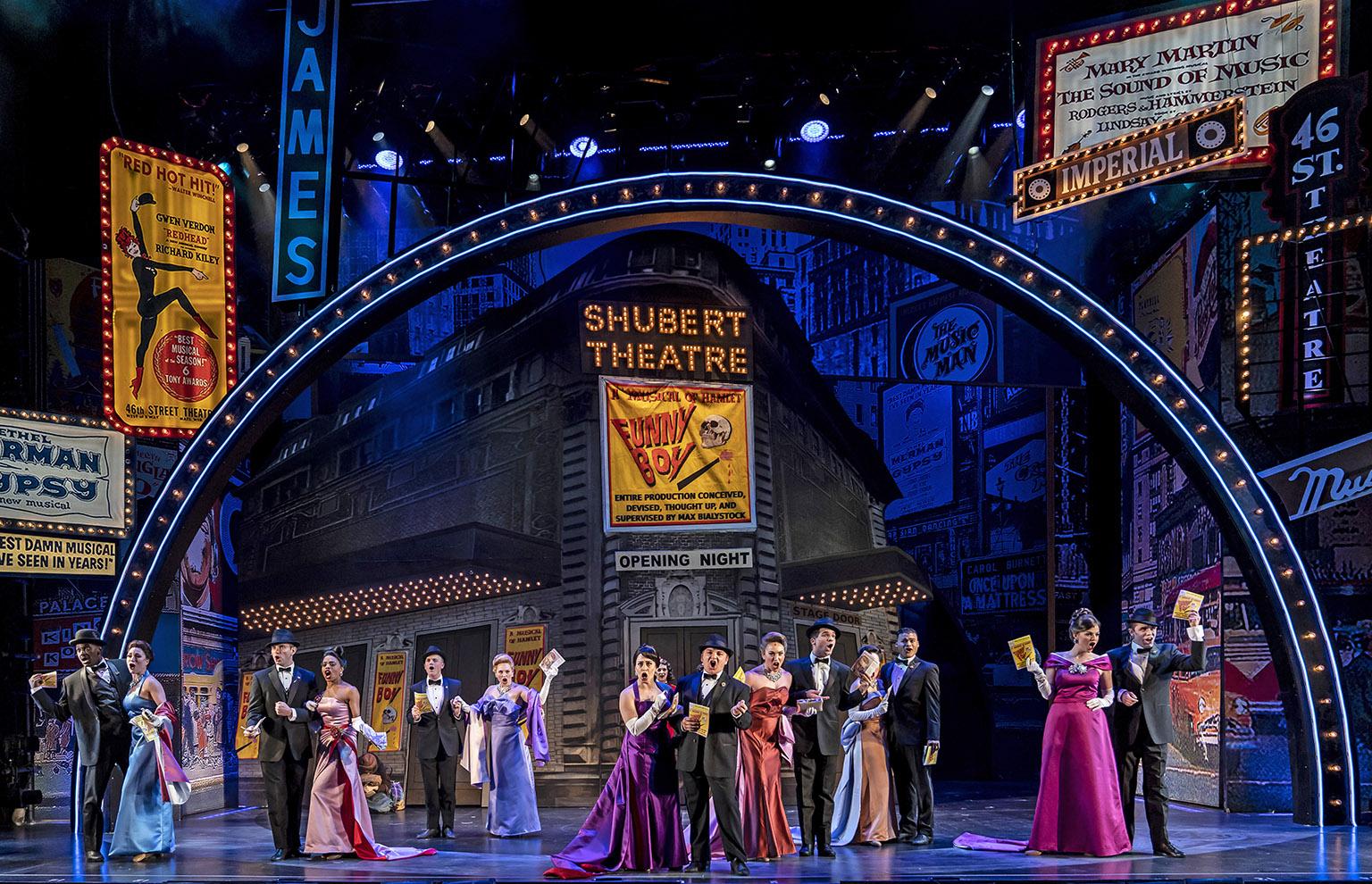 Paramount Theatre presents "The Producers." (Photo credit: Liz Lauren)
Mel Books is 92 years old, and while he was still young enough to play Las Vegas for the first time last year, he probably has little interest in leaving his sunny California home right now in order to fly into a Chicago winter.
On the other hand, he might just want to rethink such a decision. And that is because Jim Corti's brilliantly subversive, envelope-pushing, yet entirely faithful take on Brooks' 2001 musical, "The Producers" – onstage at Aurora's Paramount Theatre – is not only far more lavish than the Broadway original. But given the current climate in this country, and the obsession with political correctness on every front, Brooks' anarchic, irreverent take on history, human behavior (and misbehavior), and the essential nature of show business has never seemed more winningly ridiculous, and at the same time more revelatory. And for all its retrograde tropes, the show in some crazy way feels more contemporary, necessary and dangerously funny than ever before.
I confess, I've had reservations about "The Producers" from the start, despite the many comparisons to "The Great Dictator," Charlie Chaplin's audacious 1940 film satire of Hitler and Nazism. (Statistics about the current generation's overall ignorance about the Holocaust is enough to justify a certain queasiness.)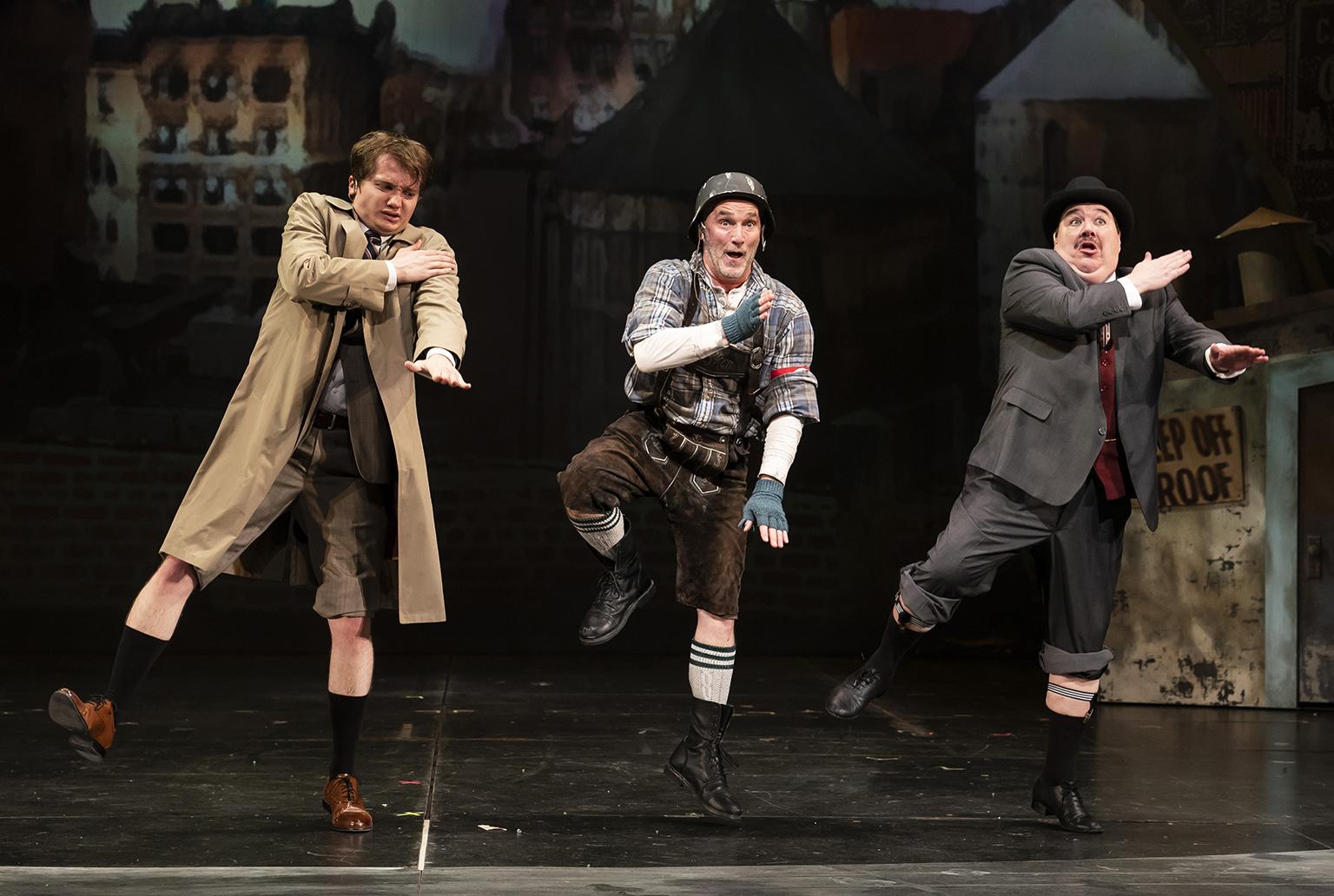 Jake Morrissy, left, Ron Rains, center, and Blake Hammond in "The Producers." (Photo credit: Liz Lauren)
But there is something about Corti's full-tilt approach to the show – which ups the ante of the its Borscht Belt-style humor by way of its book by Brooks and Thomas Meehan, and its rollicking score by Brooks that pays homage to the Golden Age of Broadway – that makes it work in a slightly different way this time around, and truly proves that comedy can be the most powerful of all weapons.
The operative notion here is that nothing is sacred and everything is fodder for show business – a business for which Brooks has a fervent passion. And at this moment, when we are awash in resurgent anti-Semitism, blackface-streaked racism, the #MeToo movement, ageism and matters of sexual orientation, here is a surprisingly gutsy musical that takes everything to its most absurd and outrageous limits, in the process exposing both the truth and the excess of it all.
No one and nothing is spared. The tyrants are made to look like idiots, justice is served, friendship and romance ultimately triumph. And the laughter is cathartic.
For the uninitiated: "The Producers" follows the adventures of Max Bialystock (Blake Hammond, a natural comedian of high energy and considerable volume who moves like an acrobat). A happily amoral Broadway producer who once was a brilliant hit-maker, he has just suffered his latest flop ("Funny Boy: A Musical of Hamlet"), but while he is penniless, and living in his Shubert Alley office, he still can manage to wrangle checks from a cadre of rich elderly female investors who he "charms" with sex games.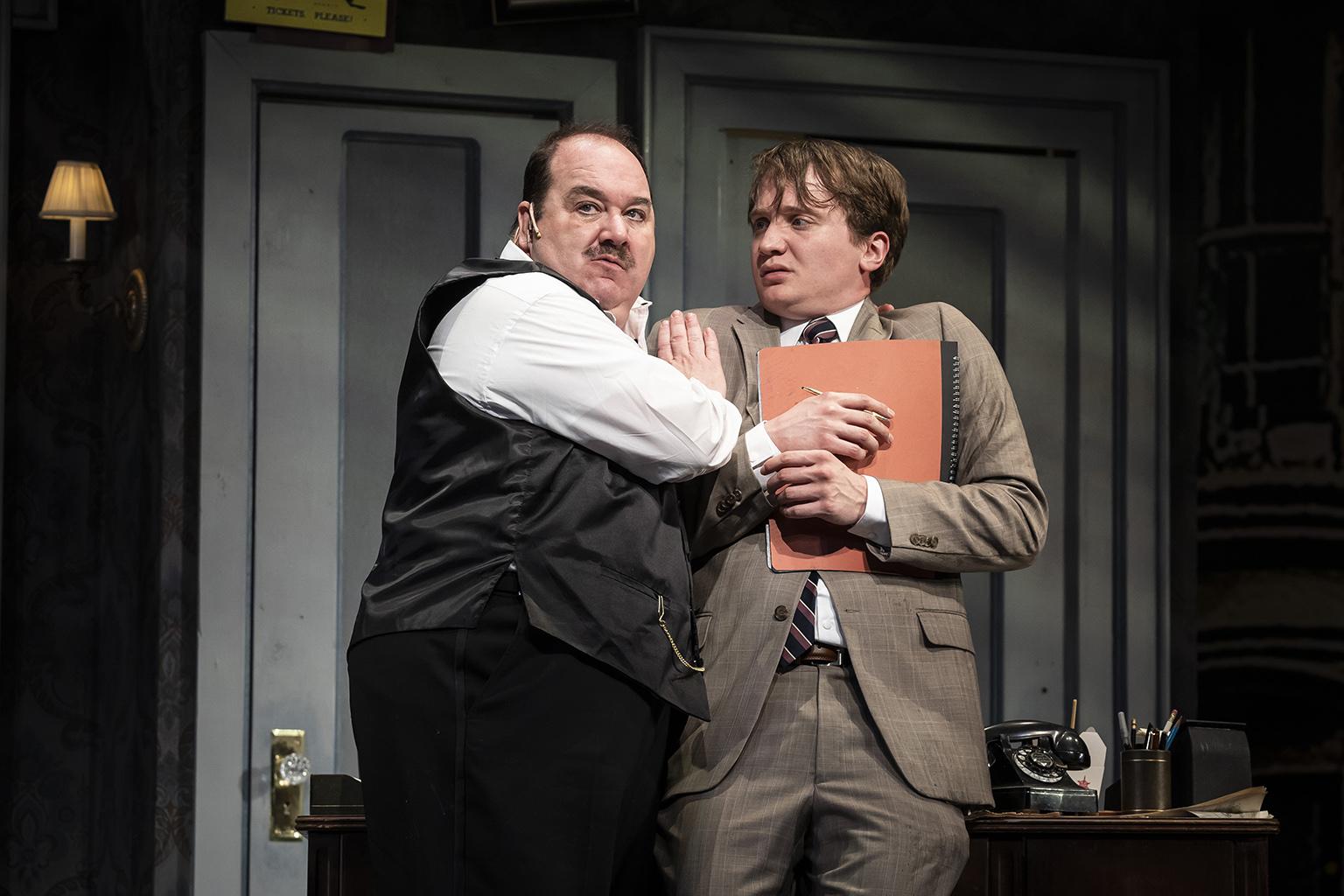 Blake Hammond, left, and Jake Morrissy in "The Producers." (Photo credit: Liz Lauren)
Enter Leo Bloom (Jake Morrissy, a wonderfully malleable actor with a Stan Laurel-like quality). A nerdy, repressed accountant prone to panic attacks, he just happens to harbor a secret desire to be a Broadway producer even if he is entirely too meek and decent to be part of that profession. Nevertheless, his casual realization that a tax loophole makes it possible to make millions on a massive flop sets Bialystock in manic motion.
The two team up and immediately search for the most dreadful script available – one that is sure to be a flop. And Bialystock finds it: "Springtime for Hitler: A Gay Romp for Adolf and Eva at Berchtesgaden" (a reference to Hitler's residence in the Bavarian Alps). It is the work of Franz Liebkind (Ron E. Rains is loony perfection), a crazy, still fervent "ex" Nazi who raises pigeons on his New York rooftop.
A deal is made with the playwright, despite some dreadful antics required to obtain the rights. And in quick succession Bialystock hires a totally inappropriate director – the flamboyant drag queen Roger DeBris (Sean Blake is perfection), who is urged on by his partner, Carmen Ghia (Adam Fane in full flaming comic form). And after catastrophic open auditions (a perfect "Chorus Line" parody), he also decides that Liebkind is probably best suited to play the Fuhrer.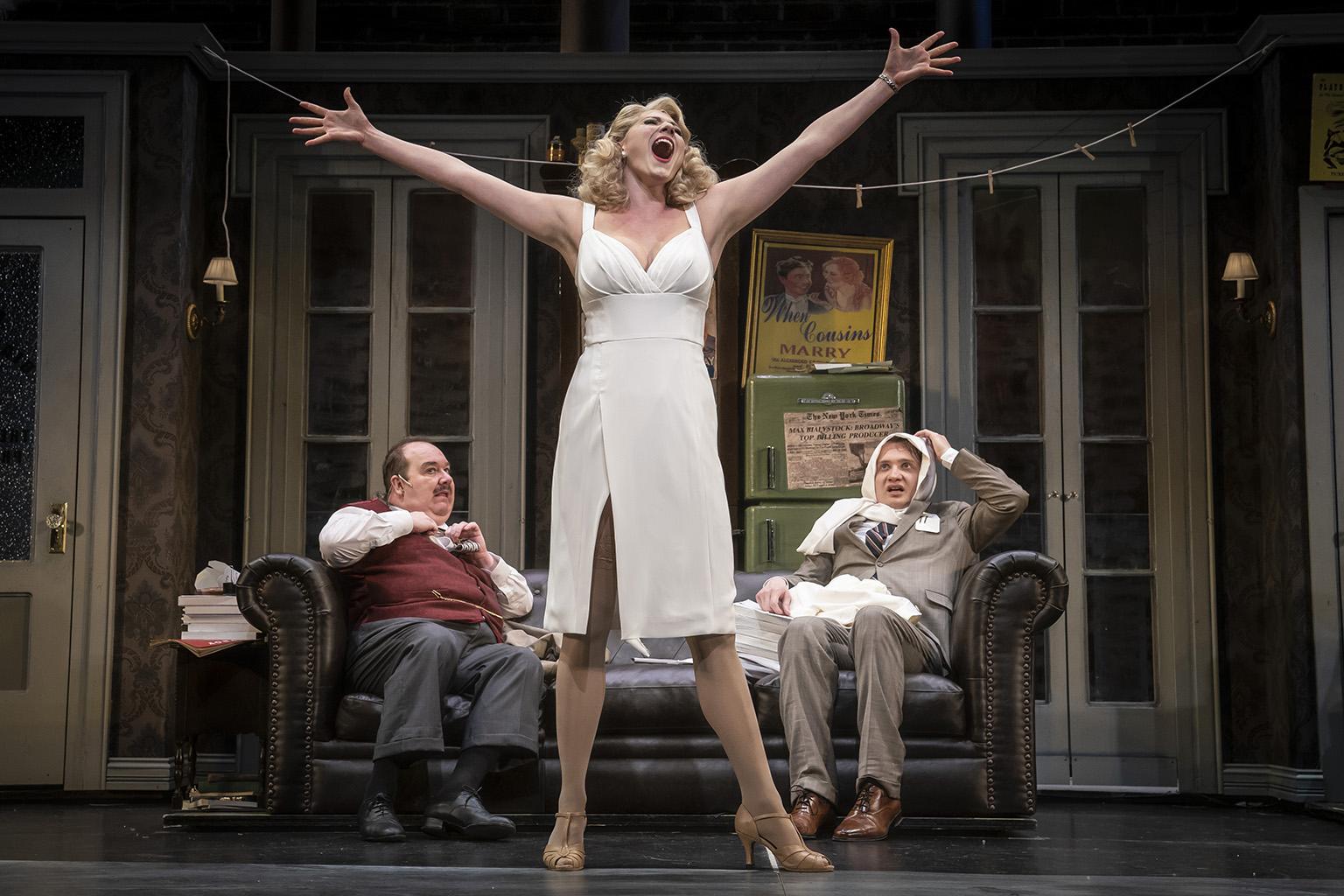 Elyse Collier, center, Black Hammond, left, and Jake Morrissy in "The Producers." (Photo credit: Liz Lauren)
In the meantime, Ulla (the multi-talented and altogether charming Elyse Collier) arrives at the office. Both men are clearly knocked out by this beautiful Swedish blonde with chorus girl legs and a beguilingly guileless personality. And while Ulla hopes to get a role in the show, she also is perfectly willing to serve as the men's secretary/receptionist. Not incidentally, she will change Bloom's life, too.
Of course opening night arrives, Liebkind breaks his leg and can't go on, and DeBris – backed by a goose-stepping chorus and a parade of showgirls in zany beer hall headdresses – pulls out all the stops in "Springtime for Hitler," the big show-within-a show number. And beyond all that there is this bit of genius casting: Blake is not only a superb performer, but he is African-American, so this Hitler caricature now has a whole new added dimension.
As is always the case at the Paramount, the production is on a grand scale. And along with Corti's brainy and fearless direction there is sparkling choreography by Brenda Didier (everything from tap dance, to a lovely Astaire-Rogers duet, to a German clog and an elaborate Follies parody), an impeccable orchestra led by music director Tom Vendafreddo, and a spot-on, easily morphable ensemble.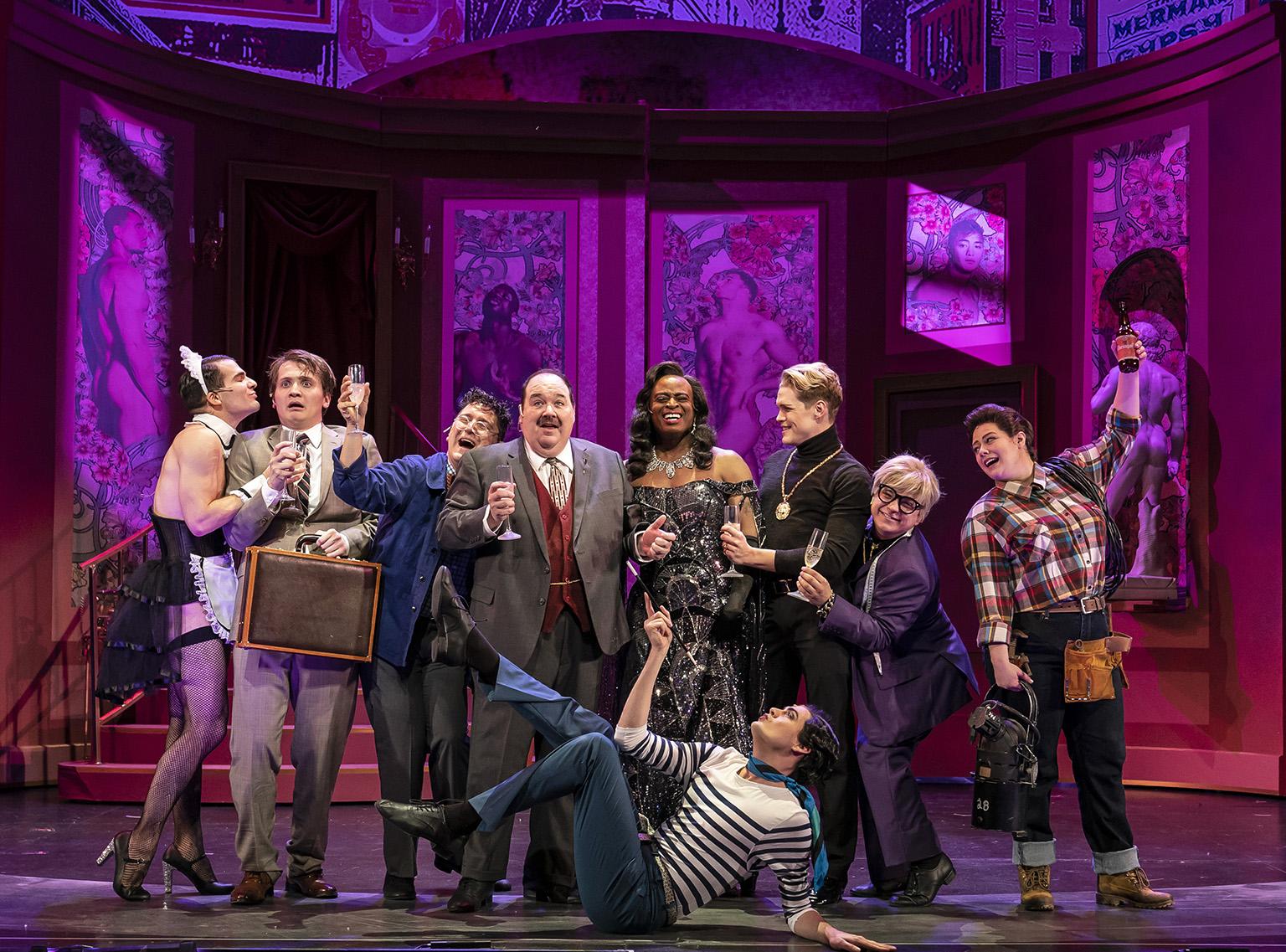 Paramount Theatre presents "The Producers." (Photo credit: Liz Lauren)
Beyond that, William Boles' sensational deep perspective set – wonderfully enhanced by Jesse Klug's lighting, Mike Tutaj's projections, Jordan Ross' elaborate costumes and Adam Rosenthal's crystal clear sound design – are of a quality that easily matches or outdoes anything you might see on Broadway.
In short, it's a huge success story. And not the only one, for this news was trumpeted in a pre-show announcement: The Paramount School of the Performing Arts, housed in a building immediately adjacent to the theater, will celebrate its grand opening on June 1.
"The Producers" runs a though March 17 at the Paramount Theatre, 23 E. Galena Blvd., Aurora. For tickets ($36-$69) call (630) 896-6666 or visit paramountaurora.com. Running time is 2 hours and 45 minutes with one intermission.
Follow Hedy Weiss on Twitter: @HedyWeissCritic
---
At Lyric, an Electrifying 'Elektra' With a Rip-Roaring Female Cast
'The Father' Captures Fractured Reality of Dementia to Blistering Effect
Early 2019 Theater Recommendations from Hedy Weiss
---