At rehearsal more than a week before opening night, ballet choreographer Yuri Possokhov is keeping his dancers on their toes.
"I never think about good rehearsal or bad rehearsal, for me it's just [the] working process. I have no difference between good and bad," Possokhov says.
More: Hedy Weiss reviews "Anna Karenina"
At this rehearsal, leading dancers Victoria Jaiani and Alberto Velazquez are rehearsing the beginning of act two of the Russian classic "Anna Karenina."
"Anna is feverish, and she goes in and out of consciousness and loses herself in what's reality and what is her thoughts, her imagination," Jaiani explains. "So, the tensions are high, because it's the moment where Karenin, her husband, and Vronsky, her lover, are in one room together. So, I think in her head, she wants all to be OK, for it all to be good. And that's just not the case!"
This ballet has been in the works for a couple of years, and this rehearsal is the dancers' first opportunity to rehearse in costume.
"For me it's important to have costumes on every day from now on, because it's a period piece, and the costumes are unusual to a typical ballet dancer. They're big and flowy and massive and stunning," Jaiani says.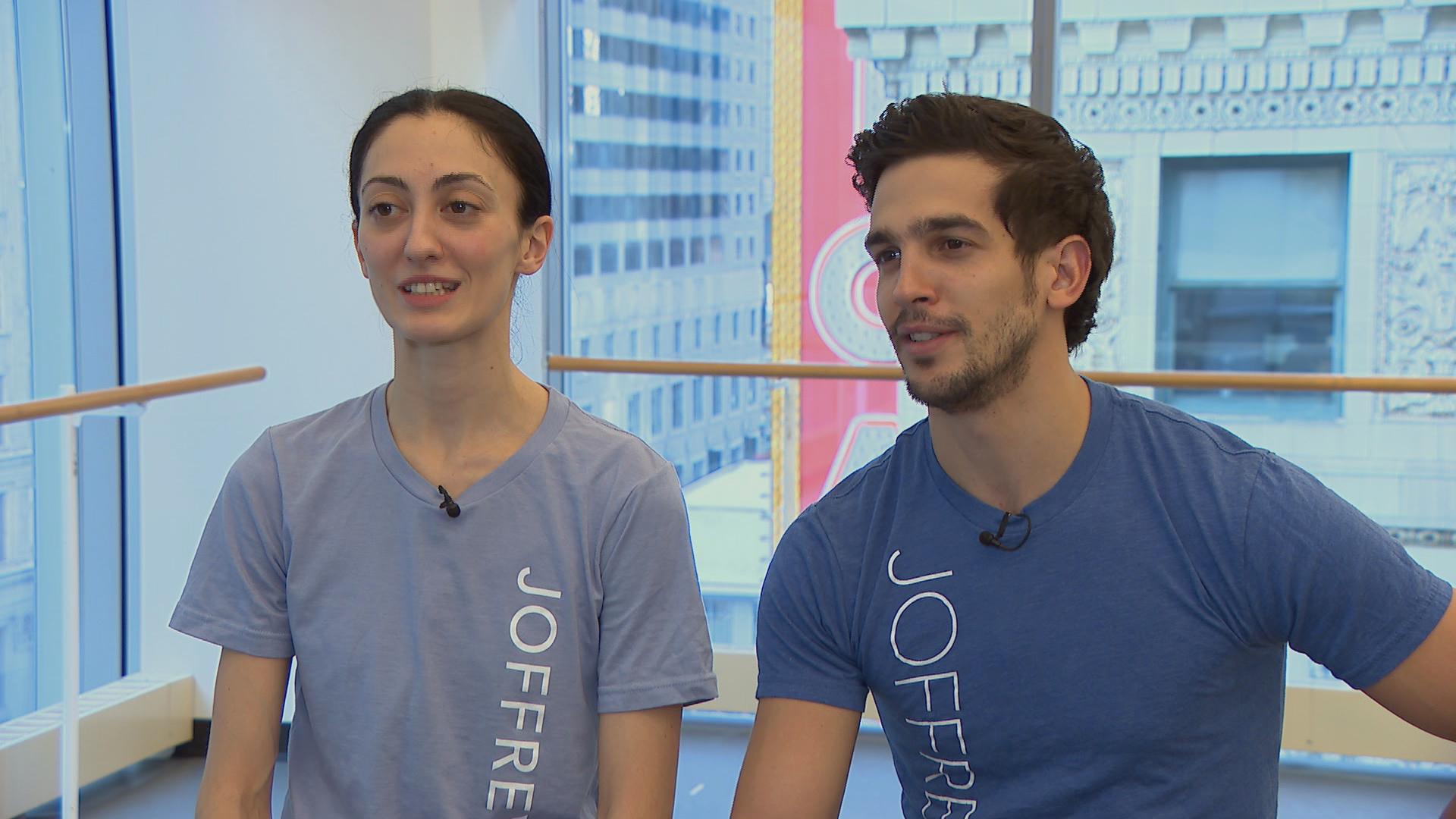 Her partner, Velazquez, adds: "The partnering is quite difficult, sometimes when you create things or work on them [it is] without the costume. But once you put the costume on, it is like a completely different feeling."
This particular feeling has never been created before onstage. That's because the Joffrey commissioned entirely new choreography from Possokhov. He enlisted a fellow Russian, composer Ilya Demutsky, for an entirely new score.
Though the dancers are rehearsing to music, they will only hear the full score, as performed by an orchestra, just a couple of days before opening night. That means they have limited time to rehearse with the full score.
"Those melodies are there, but they may be imagining a piano sound [in their heads] and later it's going to be a flute sound. That [will] be an adjustment for them to make," says music director Scott Speck.
Meanwhile, there are costume fittings, and props and pieces of the set lining the halls of the Joffrey.
At rehearsal, there is another cast of dancers rehearing behind Jaiani and Velazquez. There are a total of three casts performing on different nights of the week.
"I'm looking forward because it's a very important time for the process when [we are] bringing everting together: costume, set design, light design and everything. Everything [is] gonna be unpredictable," Possokhov says.
Building a new ballet from prelude to curtain call can cost well into the millions of dollars, so Joffrey collaborated with The Australian Ballet to share the costs, a routine more companies are practicing.
"It is a way for us to be able to create, in this case, new narrative language, and a full-length evening is more expensive," says Ashley Wheater, the company's creative director.
For Jaiani, who's danced with the Joffrey for 16 years, this is the role of a lifetime – in part because she grew up admiring Possokhov on stage when she was a young dancer in the Republic of Georgia.
"I used to get his signature when I was a little girl. He'd sign my book, then I'd come back in the line and do it again, flip the page. So I had multiple signatures of him," she says. "And for him to be here and create 'Anna Karenina' for the Joffrey – and on me and Alberto – it's just been so exciting, inspiring."
"He just comes in, hears the music," Velazquez says of Possokhov's creative process. "You can see in his eyes that everything is coming together in his head, and he tells us … I don't know how he does it."
"He gets inspired in the moments, just the inspiration is there. He has to create, it has to come out. It makes sense. It makes so much sense," Jaiani says.
The company hopes that it all makes sense to the audience when this production of "Anna Karenina" takes to the stage for the first time.
More on this story
"Anna Karenina" runs through Feb. 24 at the Auditorium Theatre. For more information, visit the Joffrey's website.
Follow Brandis Friedman on Twitter @BrandisFriedman
---
Related stories:
Clowning Around as a Kid Leads to Lifelong Dance Career
The Splendor, Invention in Joffrey's 'Nutcracker' Grows Stronger Each Year
Joffrey Ballet Dancers Demonstrate Their Prowess in 'Swan Lake'
WTTW's 'Nutcracker' Documentary Goes Backstage at Joffrey Ballet
---