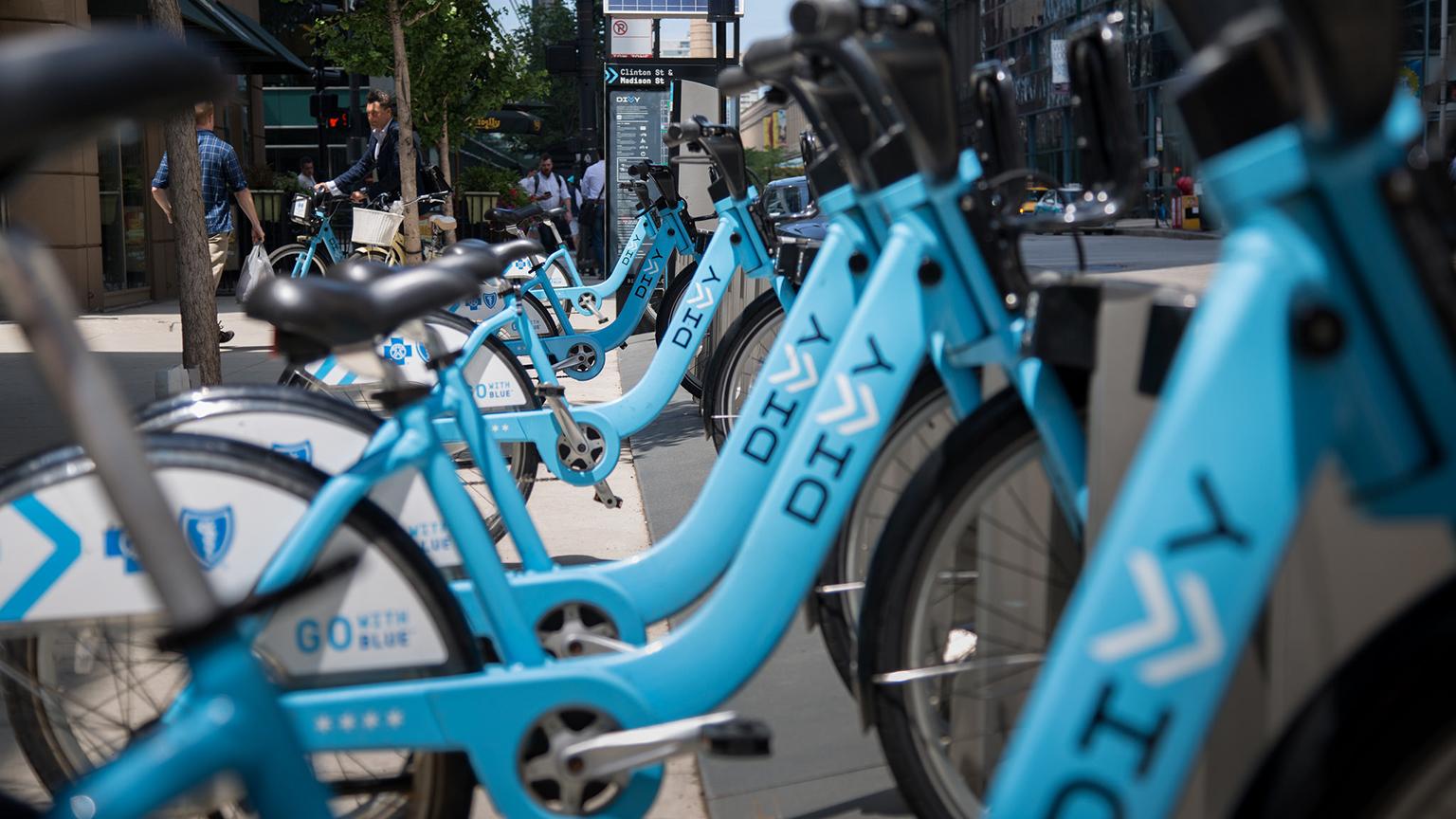 A Divvy docking station in the Chicago's West Loop. (Tony Webster / Flickr)
The sight of sky blue-colored Divvy bikes docked along the curb elicits a very different feeling in Humboldt Park than it does in Evanston – and city planners should take note of the contrast.
Those are the key findings from a new Northwestern University study that examined residents' attitudes toward various modes of transportation in two distinct communities that have clear disparities in economic, public health and technological resources.
Researchers found that Evanston residents more readily accepted new modes of "activity mobility," like the Divvy bike-share program, while residents of Humboldt Park were more skeptical about such programs, which they viewed as signs of privilege and gentrification. Residents in both areas, however, agreed that society should move away from car-centric transportation and toward more environmentally friendly modes.
"Humboldt Park is a tour-de-force of fighting against gentrification in Chicago in order to preserve its Puerto Rican heritage," said Alec Biehl, a doctoral candidate in civil engineering at Northwestern and a co-author of the study, in a statement. "A bike-share system might seem like a threat toward community identity if residents associate it with an influx of residents with higher socioeconomic status, followed by rising real estate prices. Bike-share stations take up space on the sidewalk that should be community space, and some local residents want to reclaim that space."
For the study, published late last year in the journal Transportation Research Part A, a team of Northwestern engineers and cognitive psychologists facilitated focus groups in Evanston and Humboldt Park, which met in summer and fall of 2016. The researchers then used algorithms to examine transcripts from the focus group discussions and identify clusters of words that highlighted themes within the dialogue.
A second algorithm allowed researchers to tease apart the participants' feelings toward different forms of transportation.
Upon analyzing the conversations, researchers noted that while some Humboldt Park residents were not necessarily opposed to bike-share programs generally, they took issue with what they described as a lack of community consultation in bringing the program to their neighborhood.
"One reason current bike-share usage is lower than anticipated is that some local residents may feel they did not 'consent' to its presence in Humboldt Park," Biehl said in a statement.
Researchers said the study demonstrates the importance of surveying different types of communities before rolling out programs like bike-sharing, which tend to be designed at a citywide scale.
Poll: Do you think new programs like bike sharing should be introduced to the community first?
"Mobility is a critical component of transforming cities into more competitive, livable and sustainable urban landscapes, and active mobility is consistently at the core of this agenda," said Amanda Stathopoulos, a professor of civil and environmental engineering at Northwestern and the study's lead author, in a statement. "To be successful, however, the design and implementation of smart mobility solutions need to engage various community perspectives."
Researchers said the next step is to expand their analysis to additional neighborhoods, while also taking a closer look at varying opinions among residents who live in the same area.
The study received funding from Humboldt Park's Puerto RIcan Cultural Center and Diabetes Empowerment Center, the Age Friendly and Citizens' Greener Evanston task forces and Evanston's Office of Transportation and Mobility.
Contact Alex Ruppenthal: @arupp | [email protected] | (773) 509-5623
---
Related stories:
Chicago Plans to Expand Bike Sharing to '100 Percent of City'
Divvy Bike Thefts a Vicious Cycle in Chicago
Dockless Bikes Roll Out on Chicago's South Side
---