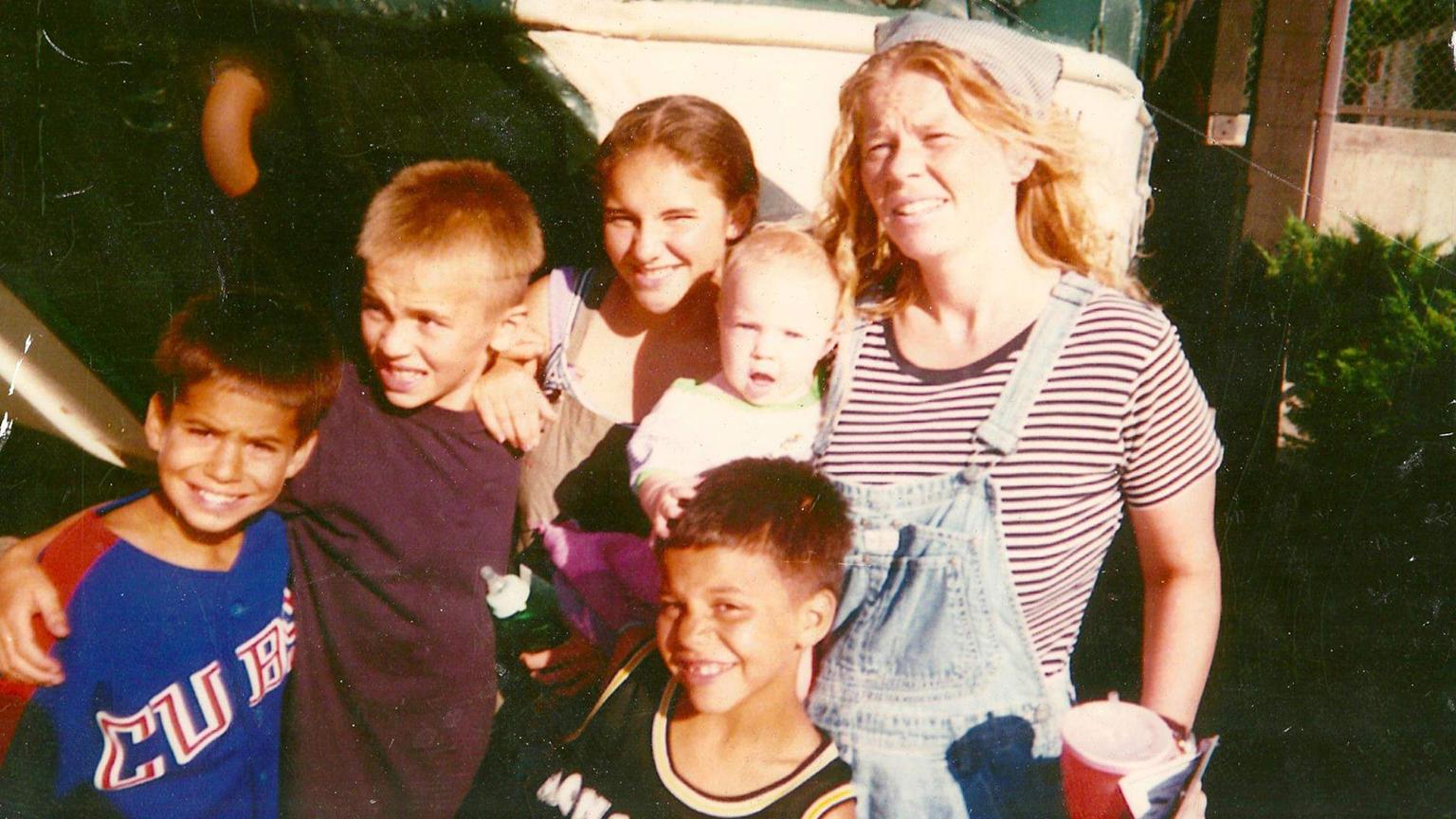 Pictured are Gino Garcia, his mother, Brenda Sexton, and other family members. (Courtesy of Gino Garcia)
When he became a police officer in 2016, Mount Greenwood resident Gino Garcia was following in his mother's footsteps, even working in the same Southwest Side district she once did.
He says the work keeps his connection to her alive. "It gives me a sense in her eyes to see what she dealt with on a daily basis working in the same neighborhood," Garcia said.
But he can't share those stories with her or compare notes. His mother, Brenda Sexton, was killed 18 years ago by her boyfriend, Sam Lupo.
Garcia was just six years old at the time. He says he remembers an argument between the two adults that night and that Lupo "ripped the phone cord out of the wall" when his brother tried to call a relative.
"I got scared and [Lupo] yelled at us and told me to go to my room. I went to my room and cried myself to sleep," Garcia said.
The next morning, Garcia and two of his siblings discovered their mother was dead. She was 31 years old. According to the Chicago Tribune, Lupo struck Sexton at least nine times in the head and face with a bat.
The mother of five reportedly tried to leave Lupo the night she was killed, according to the Tribune. Rebecca Darr, CEO of WINGS, a domestic violence service, says that's often the most dangerous time for a domestic violence victim because the abuser feels as if they're losing control.
She points to a recent high-profile example: the Mercy Hospital shooting.
"Dr. Tamara O'Neal was breaking up with (suspected gunman Juan Lopez) and he wasn't able to maintain the control he had," Darr said. "He wouldn't let go."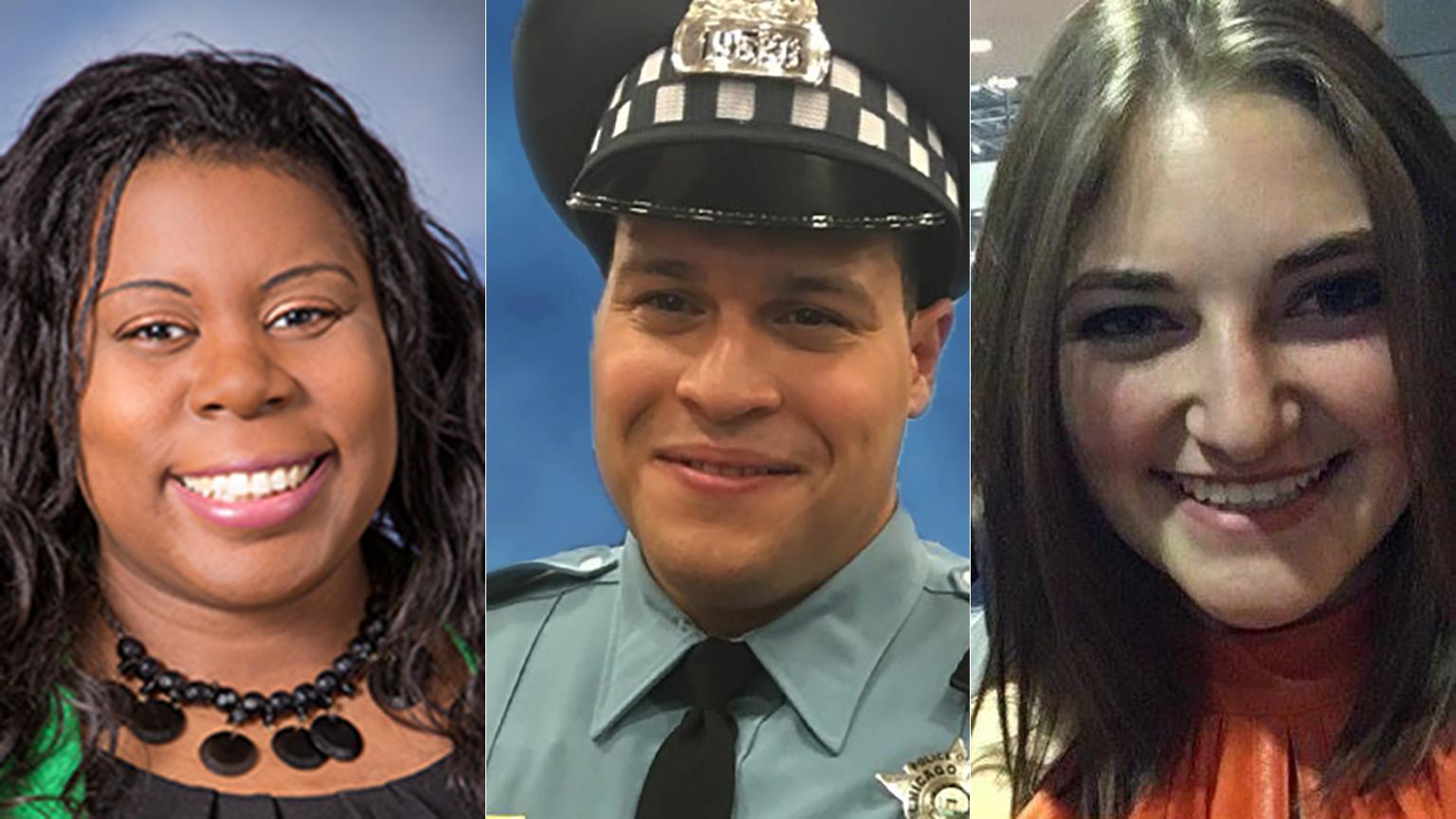 Dr. Tamara O'Neal, left, Chicago police Officer Samuel Jimenez and pharmaceutical resident Dayna Less. (Franciscan Health / Chicago Police Department / Facebook)
O'Neal was one of three people killed by Lopez, her former fiancé, at Mercy Hospital last month. Lopez also died in the shooting.
"We've seen too many cases end like that," Darr said. "I guarantee (O'Neal) didn't see that coming."
Across the country, one in three women experience domestic violence. The Chicago Police Department receives an average of 500 domestic violence calls each day, according to WINGS, which operates an emergency shelter in the former police station Garcia's mother used to work in. The building's transformation took place in 2016, the same year Garcia joined the police force.
Garcia says he opens up about his past when he responds to domestic violence calls, which often involve the abuse of women. "I can say (to victims), 'I've seen my mother go through it, and I don't want that for you and your children,'" he said. In those situations, he tries to urge people to take the next step, such as filling out a restraining order.
About 90 percent of the time, Garcia says an individual will file a complaint against their abuser after hearing his story. "I take every precaution and step I can to make sure they get the help they need," he said.
One of those steps is sharing information about WINGS.
"A lot of people fleeing domestic violence show up with nothing but the clothes on their back," Darr said. That's how Xochyl Quesada arrived at WINGS in the spring of 2016 with her three children. "I didn't have any clothes or diapers," said Quesada, who moved to the U.S. from Costa Rica. "If it wasn't for (WINGS), I wouldn't be here right now."
WINGS offers emergency shelter, transitional housing, financial education, job training services and counseling for adults and children, among other things. "Our number one goal is to make sure they never go back (to their abuser)," Darr said.
Through WINGS, Quesada was able to leave her abuser, find a job and a place to live, and establish her immigration status. The nonprofit has also helped her provide for her children. "At the start of the school year, they got coats, shoes and school supplies," said Quesada. During the holidays, the nonprofit helped with gifts for her children. "They made sure (my children) got everything" on their Christmas list, she said.
Those gifts and other supplies are made possible in large part by community support and donations from individuals, like Garcia, who visits the emergency shelter frequently to drop off donations and talk with residents.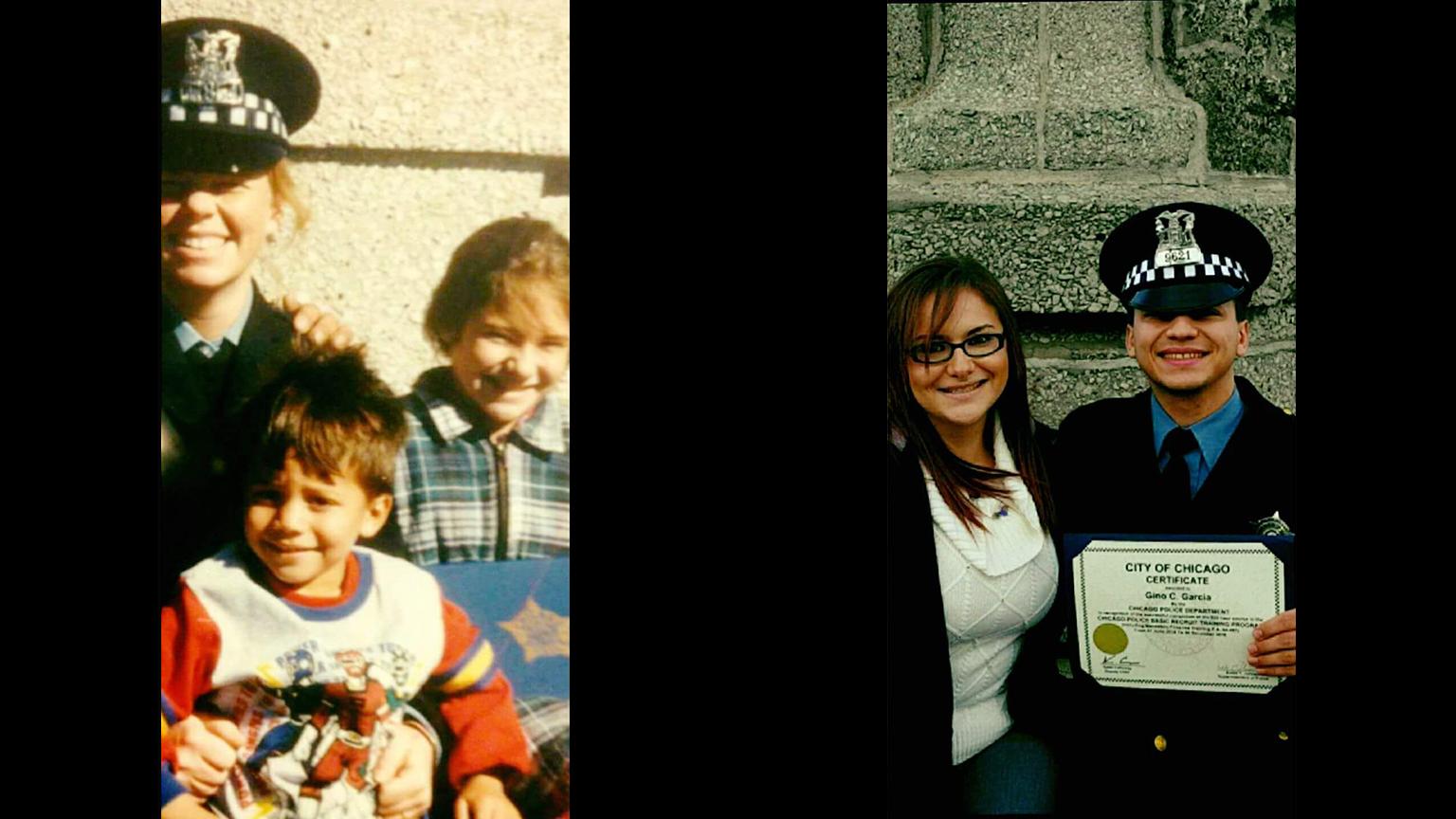 Pictured are Gino Garcia, his mother, Brenda Sexton, and other family members. (Courtesy of Gino Garcia)
"He has a heart of gold," Darr said of Garcia. "Any time a survivor … shares their story it's so impactful."
Garcia's story resonates with those living in the shelter as they've likely heard about his mother during their stay or visited the garden there that's named for her, Darr said. "I think it's healing for (Garcia) to be in the building too and we want that for him," she added.
As for Garcia, he sees his visits as part of his duty. "I'm in a position where I can help people," he said. "I know what it's like to need help and not knowing who can help me. … I want people to remember me as an officer who did his due diligence and helped everyone he could."
Anyone who is experiencing domestic violence or needs support should reach out to someone, such as a family member, friend or counselor. For more information or support, visit the Illinois Department of Human Services website or call the 24-hour hotline: 1-877-863-6338.
Contact Kristen Thometz: @kristenthometz | [email protected] | (773) 509-5452
---
Related stories:
Plaintiff: 'Warehousing' Children Can Ignite Feelings of 'No Self-Worth'
New Lawsuit Accuses DCFS of 'Warehousing' Children in Psych Hospitals
Survey: Adults Say Drug Abuse, Obesity are Top Health Issues Facing Chicago Youth
---