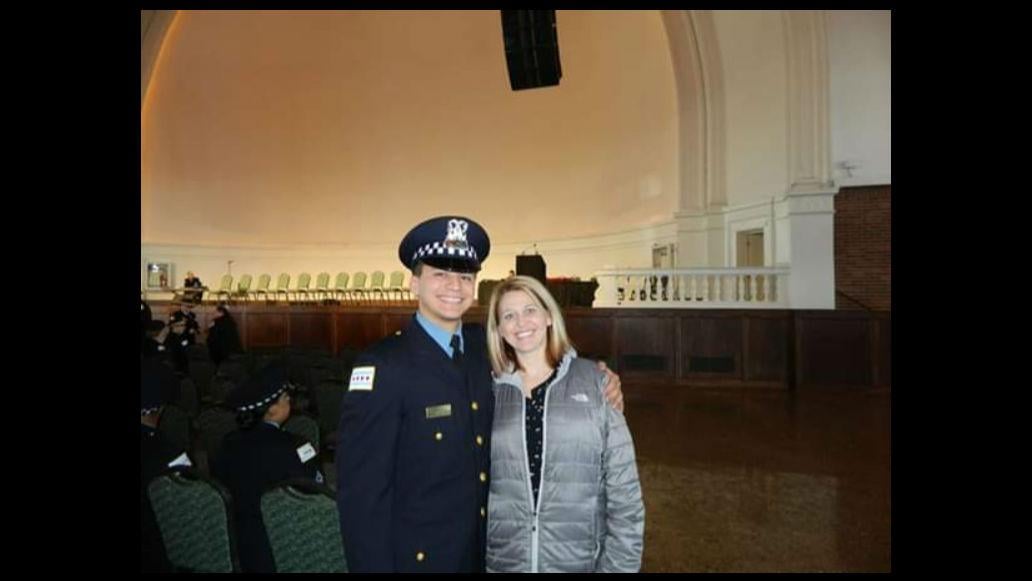 Gino Garcia and his aunt Tiffany Sexton (Courtesy of Gino Garcia)
Chicago police Officer Gino Garcia is intimately familiar with domestic violence. His mother was killed by her boyfriend when he was just 6 years old. Since joining the force in 2016, Garcia has worked to raise awareness of domestic violence by sharing his story and supporting the local domestic violence shelter.
His efforts caught the attention of U.S. Rep. Dan Lipinski (D-IL 3rd District), and they'll get a national spotlight next week when he attends the State of the Union as Lipinski's guest.
Garcia "can serve as a role model for others," Lipinski said. "It's good to see someone who has gone through such a traumatic experience be able to come through that … and decide to serve others."
Garcia followed in his mother's footsteps by becoming a police officer in the same Southwest Side district in which she once worked. "It gives me a sense in her eyes to see what she dealt with on a daily basis working in the same neighborhood," Garcia told WTTW in December.
Both Garcia and Lipinski see the State of the Union as an opportunity to highlight the issue – and people working to address it.
"We continue to deal with issues of domestic violence, and we all too often see examples of it," Lipinski said. "I think it's good to focus on people who are out there and trying to do something about this."
Garcia says he's excited to spread awareness about WINGS, a domestic violence service that offers emergency shelter, transitional housing, financial education and job training, among other things.
"I really want to inform others as to what WINGS is doing," he said. "But also to inform those who feel they are domestic violence victims … that there is somebody to help them."
Garcia said he also hopes this opportunity will spur connections between WINGS and other organizations that address domestic violence. 
Contact Kristen Thometz: @kristenthometz | [email protected] | (773) 509-5452
---
Related stories:
Mother's Murder Drives Chicago Cop to Help Domestic Violence Victims
Congress Back to Work Despite State of the Union Delay
Standoff Over Border Wall, Government Funding Continues
---