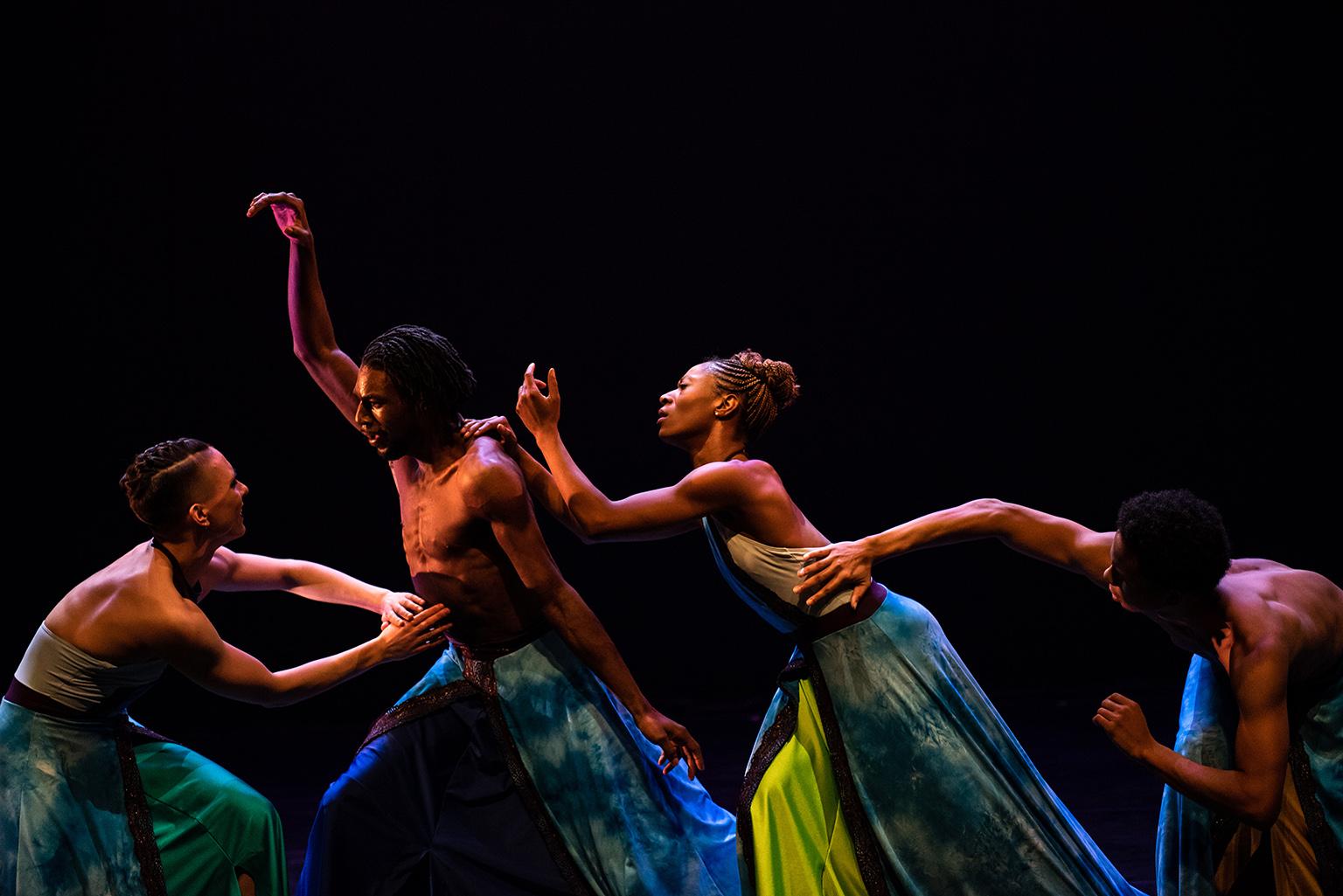 Rebekah Kuczma, Ricky Davis, Dominique Atwood and Ahmad Hill of Deeply Rooted Dance Theater perform "Heaven." (Photo by Michelle Reid)
About a month ago, as part of a program at the Auditorium Theatre shared by three contemporary dance companies, Chicago's Deeply Rooted Dance Theater easily set the stage on fire with its riveting performance. I had long admired this troupe, which I thought of as the Chicago equivalent of the Alvin Ailey company, but I hadn't seen it in several years. And the emotional force of the choreography, as well as the dramatic intensity and technique of the dancers (including a notably strong male contingent) was simply stunning.
This weekend's two-concert engagement by Deeply Rooted – on the stage of the handsome 425-seat Reva and David Logan Center for the Arts on the campus of the University of Chicago – only confirmed the impression that this company is in exceptional form. And that confirmation comes at a most opportune moment. For the troupe – co-founded in 1995 by Kevin Iega Jeff and Gary Abbott, and "rooted in traditions of American and African-American dance, storytelling and universal themes" – has just received substantial funding from the Logan Foundation and the Arts Work Fund to help support the first steps in a major initiative. The goal? To create a new center for African-American dance education and professional performances on Chicago's South Side.
But now to the meat of the matter: the six powerful works on the program that explored everything from social issues and personal endurance to a spiritual search.
Two of those pieces – Abbott's "Parallel Lives" (a company premiere), and Jeff's "Flack" (a revival of a 1984 work) – are true masterpieces.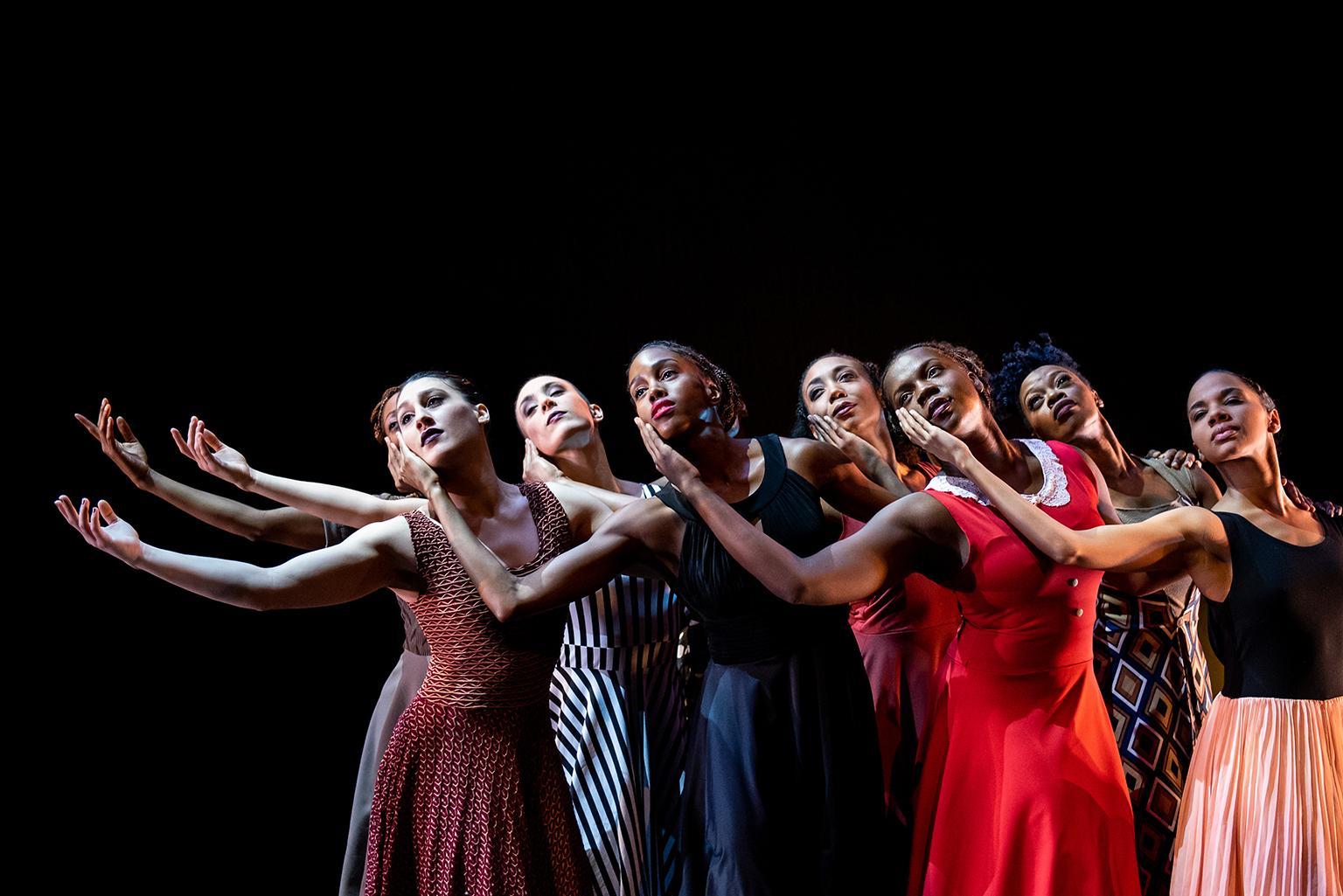 Deeply Rooted Dance Theater company performs "Parallel Lives." (Photo by Michelle Reid)
First, "Parallel Lives," a volcanic piece for 10 female dancers that brilliantly captures the ferocity and drive of poor and working women, and says more about their lives, their relentlessness, their fury and their endurance than a thousand political speeches. Set to a beautiful original score by composer-pianist Evangelos Spanos (based on "La Folia," a virtuosic sonata by Vivaldi), it interweaves a series of solos against a continually reconfigured chorus. And it draws on movement rooted in the repetitive, backbreaking labor associated with agricultural work, an assembly line, the washing of laundry and the sheer strength and will to keep going.
The work, which builds to a breathtaking, marathon-like frenzy, was brilliantly danced by Marlayna Locklear, Shanna Cruzat, Rebekah Kuczma, Breanna Dorsey, Dominique Atwood, Paige Fraser, Nina-Rose Wardanian, Nyemah Stuart, Briana Arthur and Meisha Ried. Costume designer Carolyn Meckha Cherry's dresses added a distinctive touch.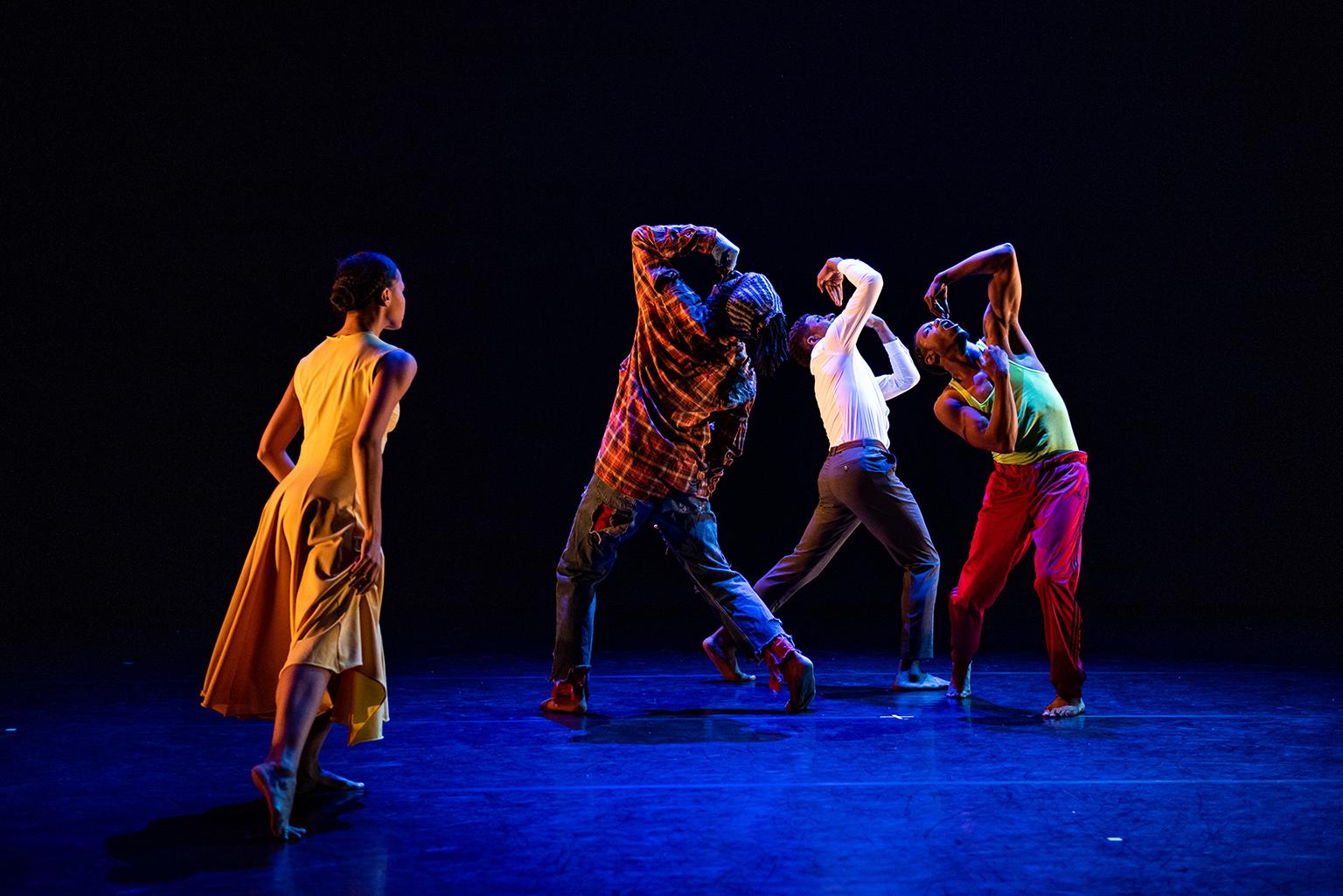 Briana Arthur, Joshua L. Ishmon, Joshua Henry and Pierre Clark in "Flack." (Photo by Michelle Reid)
Jeff's "Flack," set to familiar songs by Roberta Flack, Donny Hathaway and Quincy Jones, was pure dance theater as it brought together six ideally defined urban characters, each in search of something. They included the romantic girl in a Yellow Dress (balletic Arthur); the troubled Sister Soul-Jah (a fervently questing Locklear); Baby Sister (the observant Atwood); a Homeless man starved for human connection (Joshua L. Ishmon); an edgy B-Boy (Joshua Henry); and a White Collar guy in a suit (Pierre Clark).
The program opened with Jeff's lyrical 1982 work, "Nia Keii – A Gift of Life," an evocation of the natural world set to the fluid jazz piano of Joe Sample. With its expressive use of arm movements and contractions it was winningly danced by Wardian and William Roberson (as Water), Stuart (as Greenery), Ishmon (as the Sun), and Kuczma and Clark (as Land).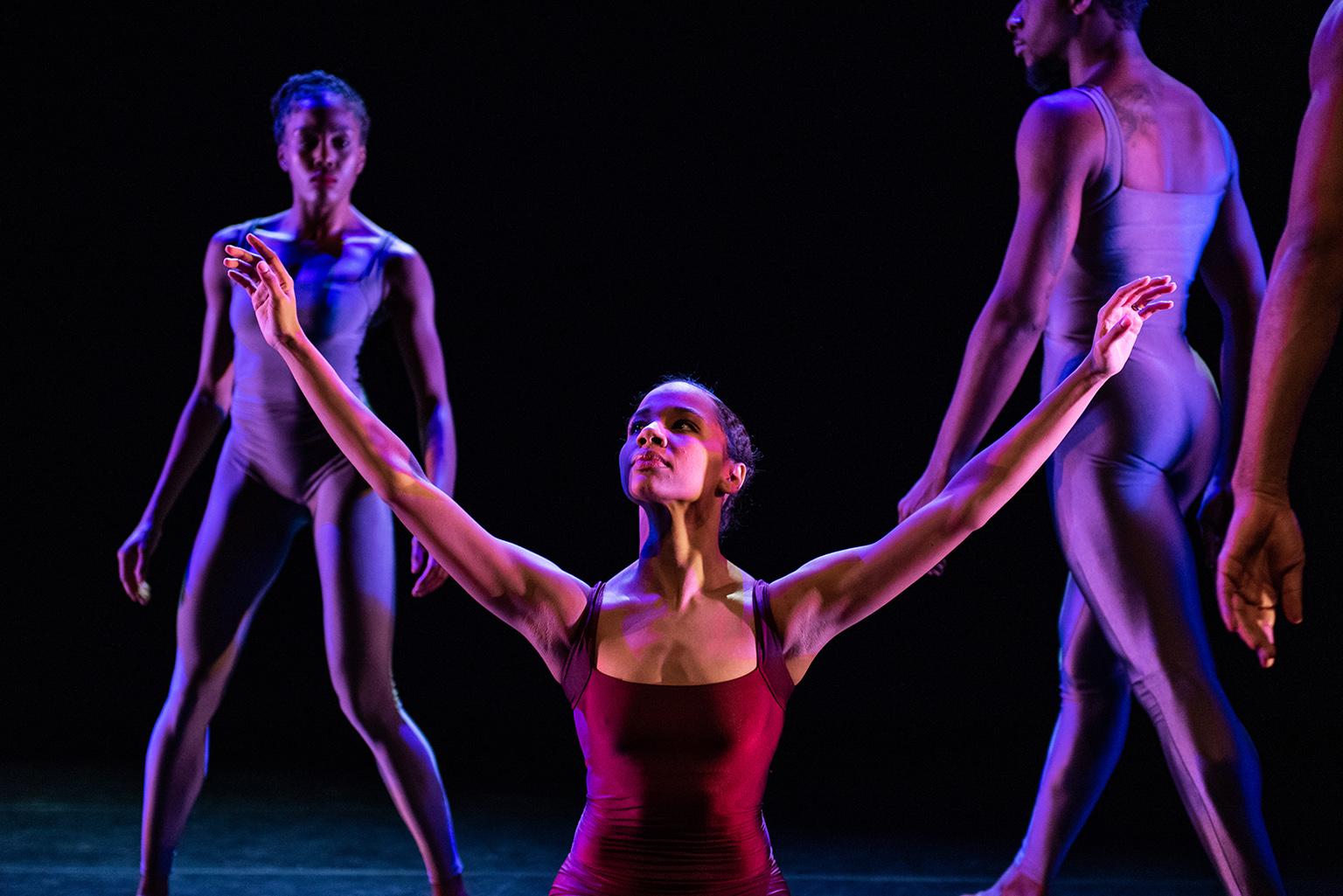 Briana Arthur, Paige Fraser and Joshua Henry in "Forces." (Photo by Michelle Reid)
Nicole Clarke-Springer's world premiere piece, "Forces," to the music of Marcelo Zarvos, featured a mix of sculptural balletic moves and a sense of gravitas as a woman in deep red (Arthur), interacted with Fraser, Henry and Roberson as part of a mystical journey.
"Somewhere," an excerpt from Abbott's 1992 work, "Sweet Ree," featured an intimate romantic duet performed by Atwood and Henry, with the voice of Aretha Franklin driving a pas de deux most notable for lifts in which Atwood's body was perched horizontally on Henry's outstretched arms.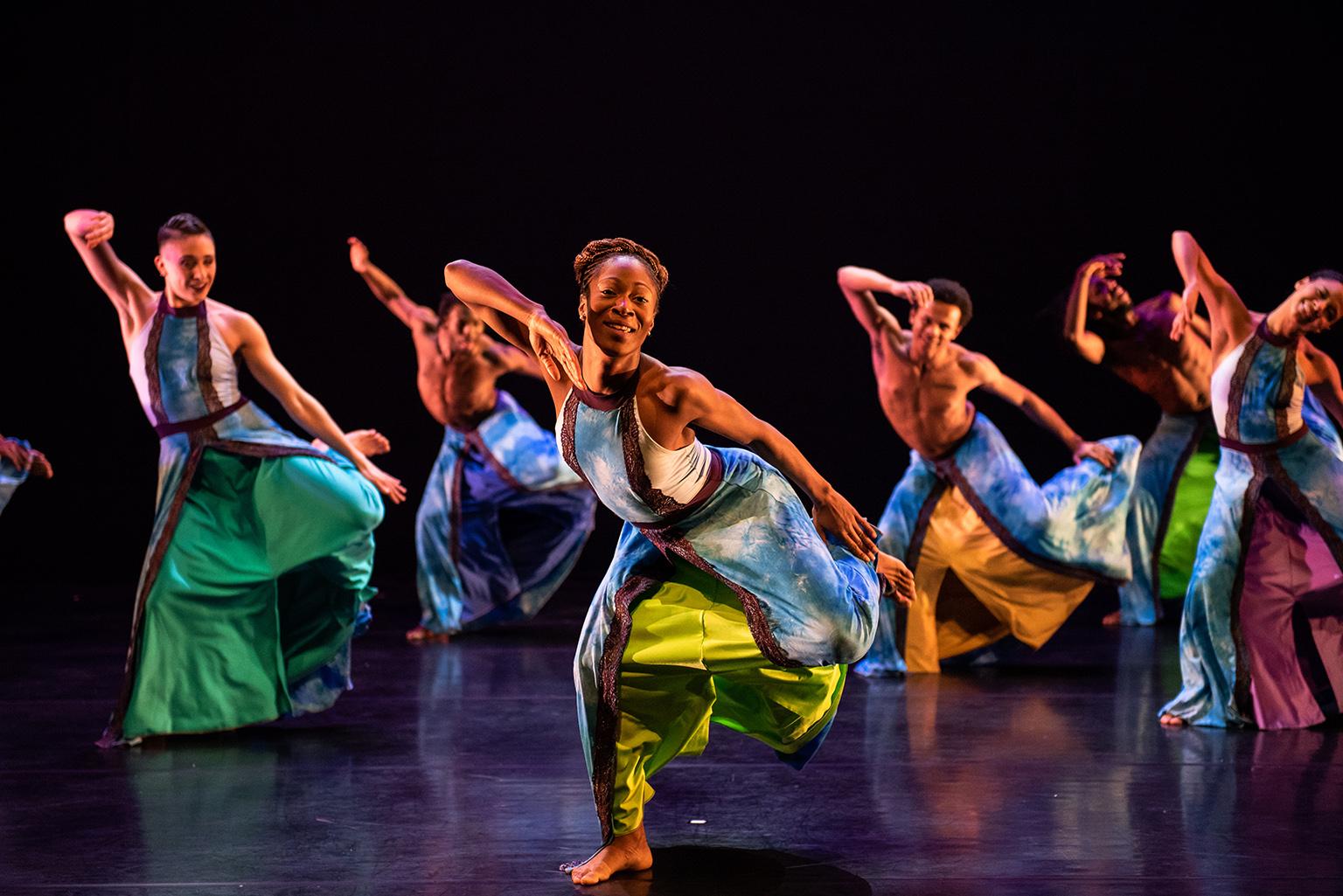 Deeply Rooted Dance Theater company in "Heaven." (Photo by Michelle Reid)
The concert closed on a wonderfully jubilant, spirit-raising note as the company danced "Heaven," an Aileyesque 2004 work co-choreographed by Jeff and Abbott, set to Chicago-based musician Sam Trump's rousing "reimagining" of music by Janice Pendarvis, Anthony Moten and Raymond Jones, and featuring vibrantly colored costumes by Nathan Rohrer, evocative lighting by Sarah Lackner, and the message that "after the storm there are those who carry on." It left me wishing that the Logan Center might, at least for the foreseeable future, anoint Deeply Rooted as its dance company-in-residence. It would be an ideal fit.
Follow Hedy Weiss on Twitter: @HedyWeissCritic
---
Overly Similar Pieces Undercut Impact of Hubbard Street's New Works Festival
The Splendor, Invention in Joffrey's 'Nutcracker' Grows Stronger Each Year
Visceral Dance Soars in a Dramatic New Industrial Space
---