Candidates for Chicago mayor have now officially entered the rough and tumble part of the contest.
On Monday, a flurry of petition challengers filed their objections minutes before the 5 p.m. deadline. They believe that some of their opponents have not met the legal requirement of having 12,500 valid signatures of registered voters and are attempting to knock them off the ballot. 
One of the candidates facing the most heat is Illinois Comptroller Susana Mendoza, who says other campaigns are trying to silence her voice.
Others facing challenges so far: Dorothy Brown, Bill Daley, La Shawn Ford, Ja'Mal Green, Lori Lightfoot, Garry McCarthy and Neal Sales-Griffin.
The challenges played out along racial lines, with candidates taking aim at other candidates who they feel might attract a similar voter base. Cook County Board President Toni Preckwinkle is behind five challenges, including those to Mendoza, Lightfoot and Brown. Willie Wilson is behind challenges to Brown, Green, Sales-Griffin and Ford. Paul Vallas submitted a challenge to McCarthy, and little-known candidate Jerry Joyce filed a challenge to Daley, who turned in 40,000 signatures.
Some notable campaigns face no objections to their petitions, and have a clear path to ultimately land on the ballot. They include: Gary Chico, Amara Enyia, Bob Fioretti, Joyce, Preckwinkle, Vallas and Wilson.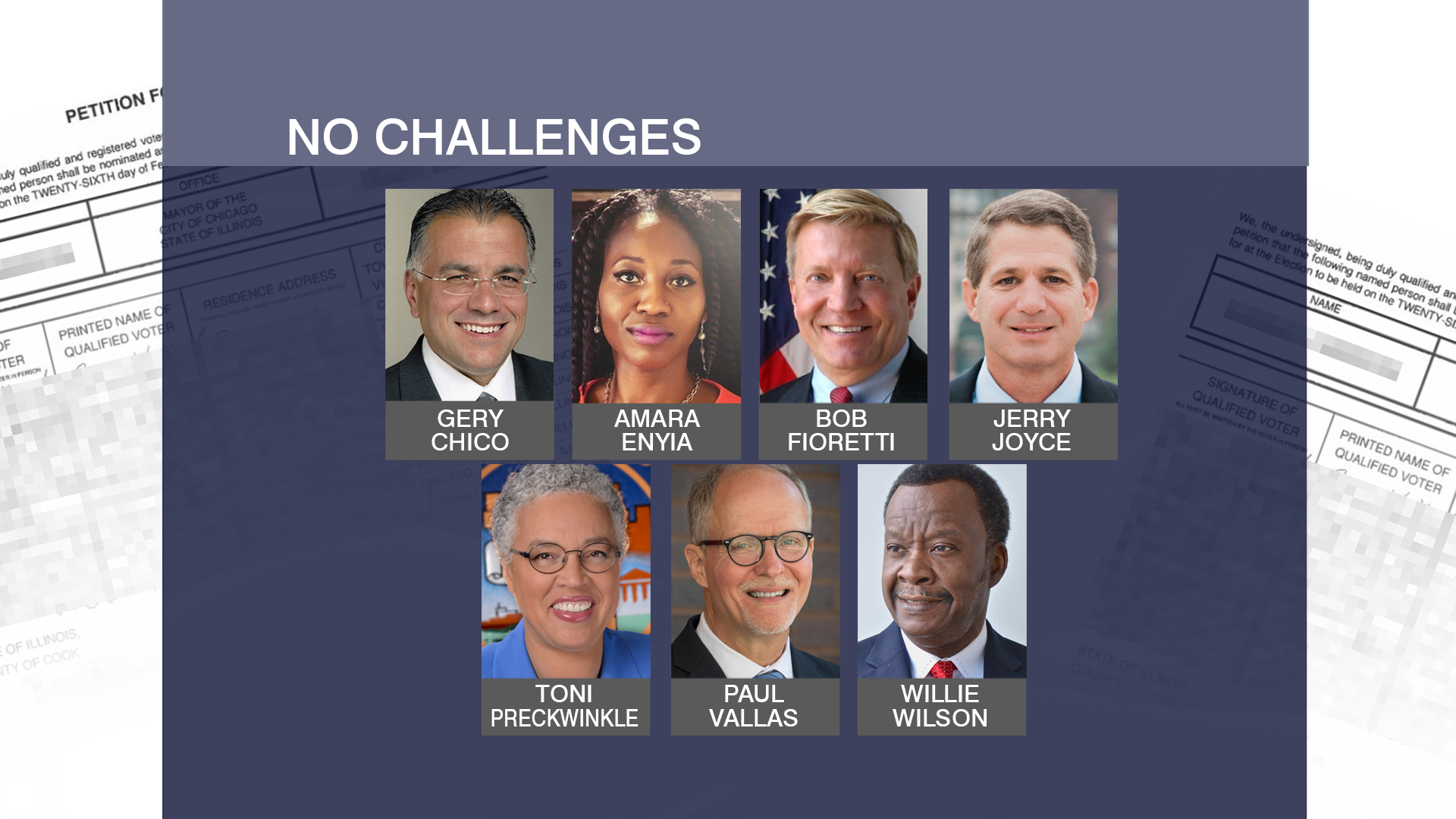 Mendoza, who was seen as an early front-runner, has sought to portray the challenge against her campaign as "the establishment" attempting to "silence a fresh and new voice." She submitted twice the required number of signatures last Monday, the last day of filing. But other campaigns have gone through those petitions line by line and are convinced there are enough forgeries, fake addresses, or non-registered voters to take her under the 12,500 threshold and leave her off the ballot.
Representatives for Mendoza, who is on vacation in Florida this week, say other campagins are conspiring together against her because they believe she is the front-runner.
"They aren't doing this to protect the rule of law, not for good democracy," said Mendoza campaign co-chair Marty Castro. "They're banning together to throw (Mendoza) off the ballot because it's the only way they can stop her and the only way they can maintain their control on the status quo."
Meanwhile, Preckwinkle, who was sworn in Monday for another term as Cook County Board president, did not take questions about the challenge. In an interesting wrinkle, Daley attended Preckwinkle's speech to support his brother, John Daley, who is being sworn in to another term as Cook County commissioner.
Regarding her campaign's aggressive move to challenge other campaigns, a Preckwinkle spokesperson issued a statement saying:
"Everyone needs to follow the same rules to get on the ballot. We understand that this is a daunting process for candidates but it is the first test that every mayoral campaign must pass."
Daley all but agreed with Preckwinkle, and brought up the fact that Mendoza has employed the tactic of knocking opponents off the ballot in past elections.
"This is the law," Daley said. "When you're running for office, you follow the law.
"Comptroller Mendoza has thrown people off the ballot in other races. And so it's a little disingenuous and not honest with people to have some sense of outrage when it's the system and the process which she's taken advantage of."
Mendoza's campaign repeatedly dodged questions about whether or not it was hypocritical to complain about being challenged.
The road to the final ballot becomes tougher for Mendoza and the other candidates with challenges. 
Starting next Monday, each one of these cases will have hearings before the election board where a judge will go through each signature and either agree with the objector to knock them off, or agree with the candidate to put them back on. Chicago Election Board spokesperson Jim Allen says there is a lot to do in a short period of time, meaning that ballots will not be ready for the scheduled early voting date in this election, Jan. 17.
"Realistically, it's probably not going to start on time," Allen said. "The objection may take a week or two, or it can take six-to-seven weeks, and even then, the loser can take the challenge to court."
Allen estimates that around 190 challenges were filed in all, including dozens of challenges against aldermanic candidates and other candidates for citywide office. Two of the four challengers taking on Ald. Ed Burke in the 14th Ward, Irene Corral and Tanya Patino, are facing challenges.
Follow Paris Schutz on Twitter: @paschutz
---
Related stories:
Embattled Ald. Ed Burke Facing Re-Election Challenge
Deadline Day Arrives for Chicago Mayoral Hopefuls
Political, Financial, Housing Issues Face Next Mayor, City Council
---