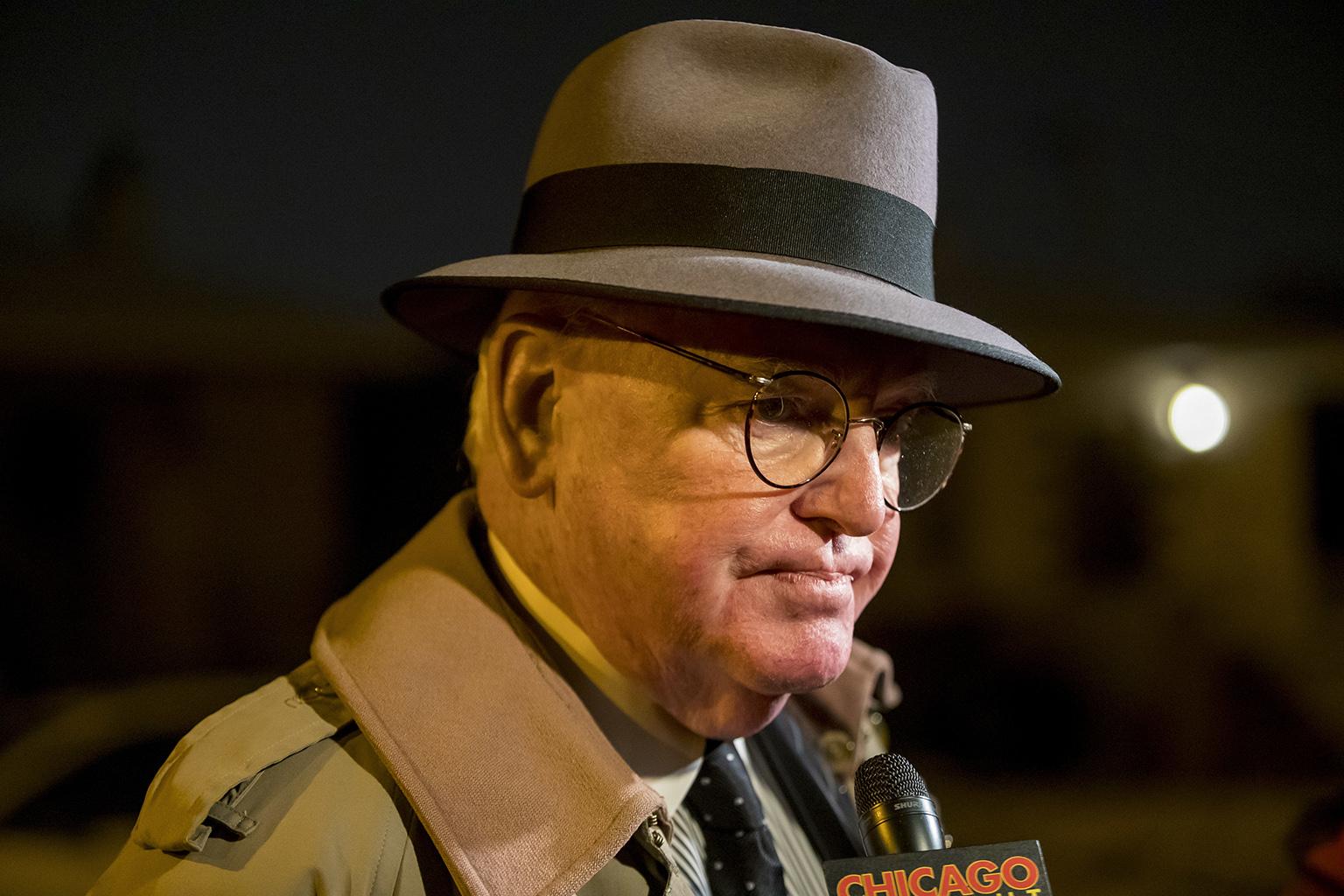 Ald. Ed Burke speaks to "Chicago Tonight" and other media after returning to his home on the Southwest Side on Thursday, Nov. 29, 2018. Earlier in the day, federal agents conducted a raid on his offices. (Brian Cassella / Chicago Tribune via AP)
As powerful Ald. Ed Burke (14th Ward) deals with fallout from the federal raid on his city and ward offices on Thursday, four candidates have quietly lined up bids in recent weeks to try and unseat him.
Before news of the raid spread, dethroning Chicago's longest serving and most powerful alderman may have seemed unthinkable: Burke controls campaign funds worth more than $11 million. But Burke isn't taking the challenge lightly. In recent months, he's stepped up his public appearances and campaigning.
In the spring, Burke's brother, state Rep. Dan Burke, was defeated by an up-and-coming Latino candidate named Aaron Ortiz, who had significant backing from U.S. Rep.-elect Jesus "Chuy" Garcia. Garcia and his allies have made no secret about their intentions to down the Burke empire, and are playing a role in the challenge Burke is currently facing. They feel Burke is a kingpin they can topple, largely because of the demographic changes that have taken place in the ward he has controlled for nearly 50 years.
The city's 14th Ward comprises once-white ethnic Southwest Side neighborhoods like Gage Park, Archer Heights, Brighton Park, and Garfield Ridge, near Midway Airport. The area is now around 80 percent Hispanic, and many Hispanic power brokers feel the ward's representation should more accurately reflect the district's demographic makeup.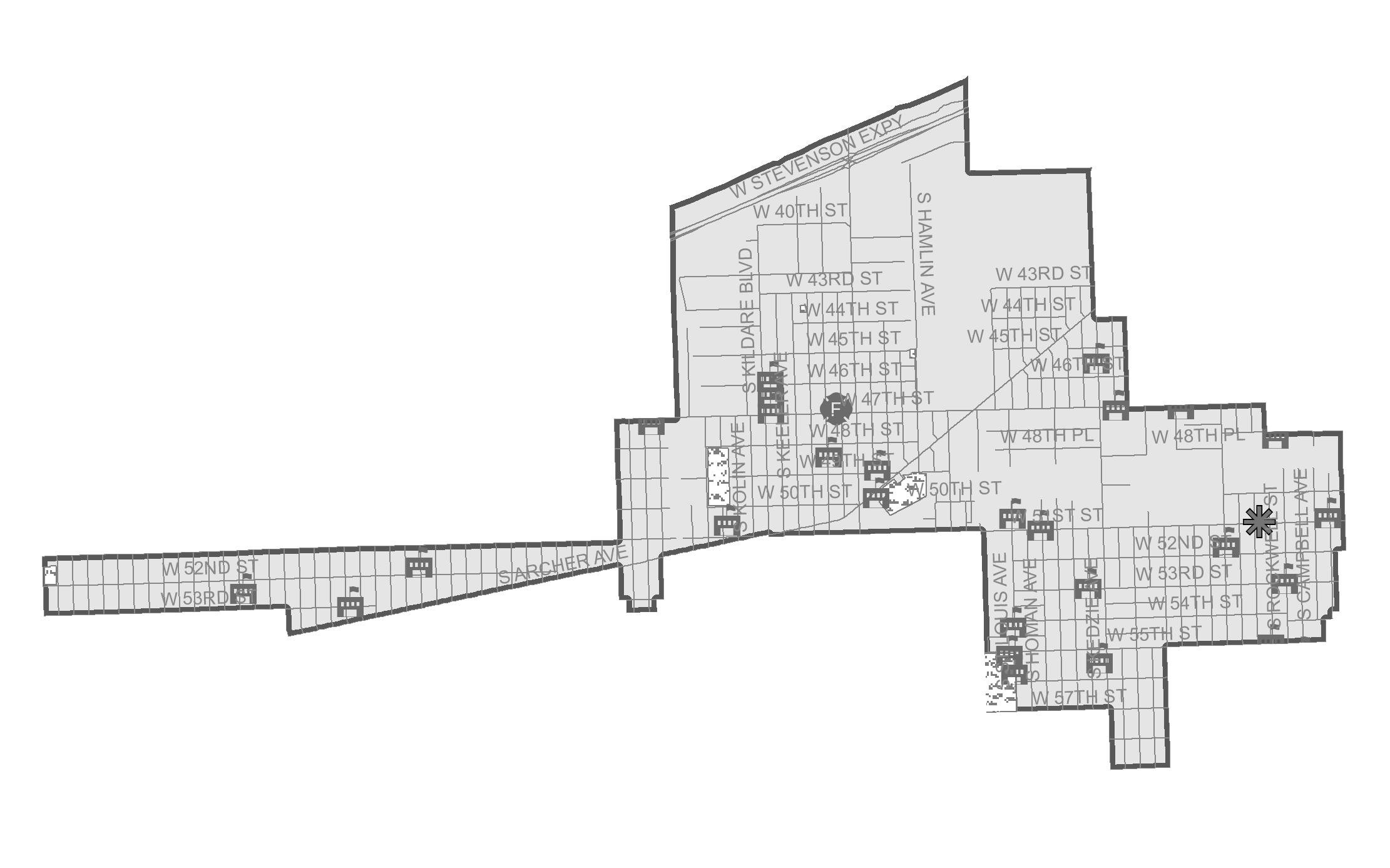 Chicago's 14th Ward (Credit: City of Chicago)
"I think it's important that we give the community options," says one of the candidates, Jaime Guzman, who worked as a staff member for Garcia on the Cook County Board. "It's been a long time since the community has had a viable option. He's lost touch with the community. His politics don't resonate with the community; his relationship with Donald Trump doesn't resonate with the community."
Burke has since severed his business relationship with the president, after serving as Trump's Chicago property tax appeal attorney for a decade and shaving about $14 million off the tax bill for Trump Tower. In recent months, Burke has attempted to take a tougher stance toward the president, criticizing his approach to immigration and his opposition to Chicago as a sanctuary city. But the prospect of a federal investigation has energized Burke's challengers.
"The community wants a progressive, reform candidate that's going to change the way politics is going to be done," said candidate Jose Torrez, a community organizer who has worked on multiple political campaigns for Garcia. "Not the way Ed Burke has been doing it. The community feels that this is the time. With this – hopefully – investigation, they feel that it's time for Burke to go."
But Burke says he feels the community is on his side, judging by the fact that they've re-elected him to office more than a dozen times.
"I've had the trust of the voters of this community for 50 years, and I'm certain that they know that I'm a person of integrity and honesty, and we'll see what happens," Burke said Thursday, just hours after the FBI raid.
Investigators carry boxes away from Ald. Ed. Burke's 14th Ward office on the city's Southwest Side on Thursday, Nov. 29, 2018. (Jose M. Osorio / Chicago Tribune via AP)
The images of federal agents raiding and taping up Burke's office may leave him wounded for the time being, but it won't deal the mortal blow that an indictment would, according to former Chicago alderman and longtime political observer Dick Simpson. For that reason, Simpson believes that a candidate is going to have to prove their organizational and fundraising meddle to pose a serious challenge.
"The thing that's most important in a ward like Burke's is the ground game, and the number of precinct workers that are available to a candidate," Simpson said. "It requires certainly more than $250,000 to get the kind of literature delivered to the voter in whatever form. More money is better, but significantly less money makes it very difficult."
Rather than settle on one challenger to take Burke on, Garcia and his allies are attempting to give themselves options should Burke try to knock anyone off the ballot. Garcia says he wants to wait and see who emerges as the strongest possible challenger that can raise the most money before deciding on an endorsement.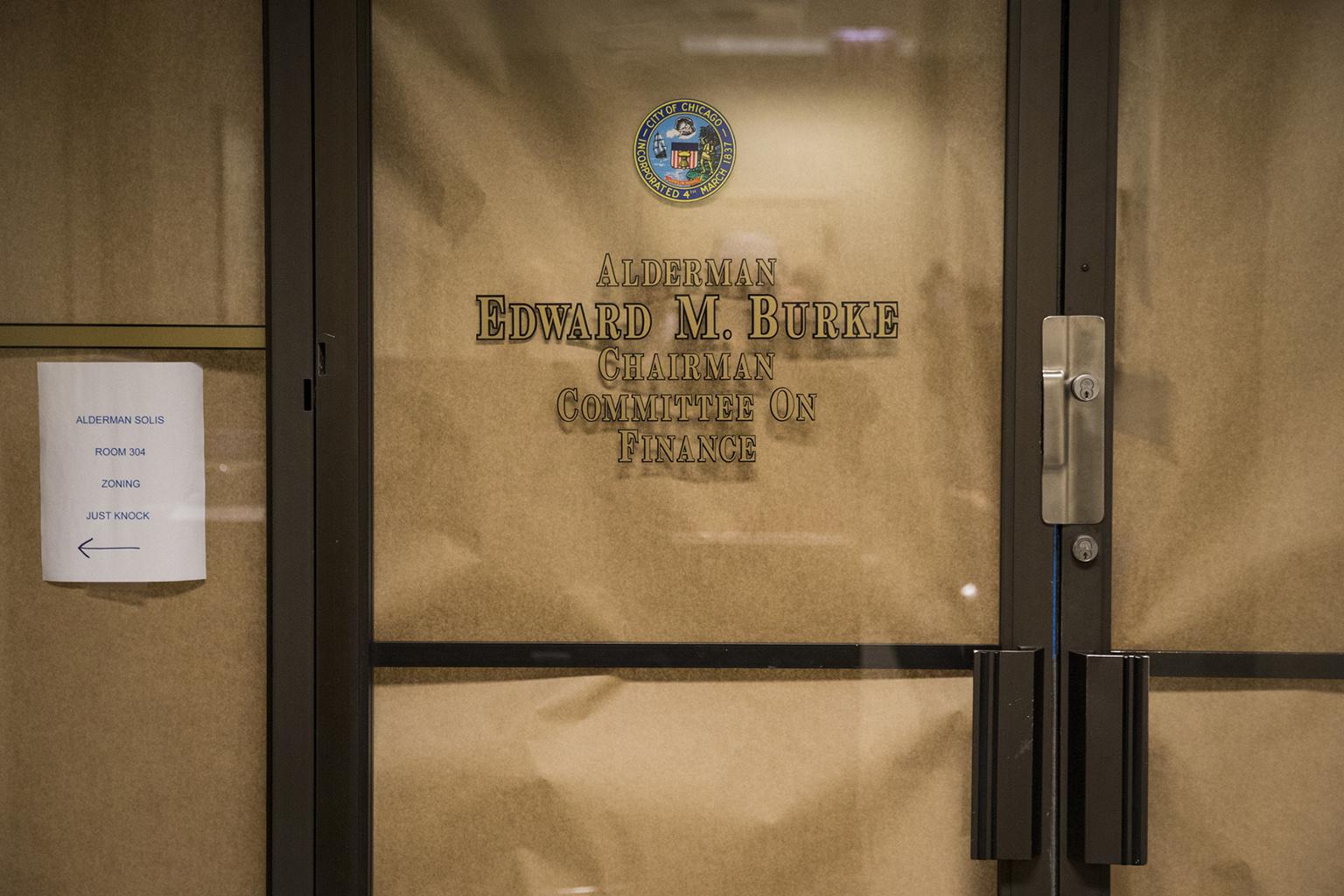 Brown paper covers the windows of Ald. Edward Burke's office at Chicago City Hall on Thursday morning, Nov. 29, 2018. (Ashlee Rezin / Chicago Sun-Times via AP)
Tanya Patino, a civil engineer for People's Gas, is a third Garcia-aligned candidate. She's also a youth soccer coach and mentor who has worked on Garcia campaigns, as well as campaigns for state Rep. Ortiz. She too jumped on Thursday's raid to highlight her dissatisfaction with the way Burke has conducted himself as alderman, and said the federal investigation could be focused on a number of possible misdeeds.
"It could be his blatant disregard for campaign electioneering laws or a myriad of other disgraceful and unethical behavior that he has displayed during his 50 years in office," Patino said, adding in an interview that she was motivated to run for office because she witnessed a shooting while coaching a soccer match. "Regardless of what this investigation brings to light, I'm still ready because our community deserves more."
Burke has come under scrutiny in the past for his ironclad management of the city's workers' compensation program, where he signs off on all of the duty disability payments that go to injured workers. Inspector General Joe Ferguson has tried for years to gain oversight of the program, but Burke has successfully kept Ferguson away. In 2012, the feds issued a federal grand jury subpoena to access the records, but nothing more has been heard from that investigation. Burke also benefits from leveraging his city post to gain clients for his law practice, which specializes in reducing property taxes for them.
"It's time for Burke to stop holding our throats down and saving the rich millions of dollars, and taxing the lives out of people like my parents, our community members," Torrez said. "We're the ones getting affected directly by it. He's saving money for people that don't even live in the ward."
A fourth candidate, Irene Corral, is not connected to Garcia and could not be reached for comment.
Follow Paris Schutz on Twitter: @paschutz
---
Related stories:
The Week in Review: FBI Drops Political Bombshell
FBI Raids Offices of 14th Ward Ald. Ed Burke
What FBI Raid Could Mean for Chicago's Most Powerful Alderman
Emanuel, Burke Sued Over Workers' Compensation
Ald. Burke's Law Firm Helps Trump Trim $11.7M Off Property Taxes
---