Chicago-born playwright and activist Lorraine Hansberry is best known for her iconic play, "A Raisin in the Sun."
Hansberry died young, at just 34 years old. For someone so widely read, much of her life has been little-known – or forgotten in the years since. Today, with recently-opened archives offering a fascinating look at Hansberry, her story is coming into clearer view.
In the new book, "Looking for Lorraine: The Radiant and Radical Life of Lorraine Hansberry," author Imani Perry helps tell that story. Perry, the Hughes-Rogers Professor of African American Studies at Princeton University and the author of several previous titles, joins us to discuss her latest book. 
Listen to Lorraine Hansberry's 1959 conversation with Studs Terkel in WFMT's Studs Terkel archives. Watch Jay Shefsky's 2010 profile of how Hansberry's family challenged racist barriers to home ownership in Chicago.
Read an excerpt from "Looking for Lorraine" below.
Chapter One
Migration Song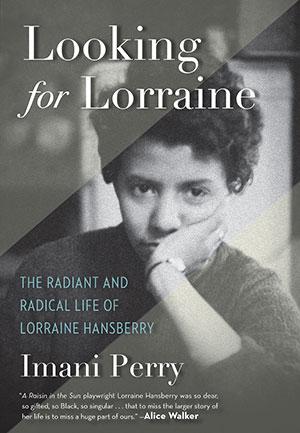 THE WEATHER WAS COOL, blue sky and bluster. Lorraine was born in May. Her mother, Nannie Perry Hansberry, gave birth in Provident, the first Black owned and operated hospital in the nation. It was a fitting location. Carl and Nannie, like thousands of others, had de­parted from the Deep South decades prior and built their lives in the Windy City. Chicago was a destination of Black hope and aspiration. The Hansberrys were strivers. And Lorraine was the last of their four children. She came into something special.
Their life, like that of most Black Chicagoans, was on the South Side. But Carl and Nannie were distinguished in their community: They were college educated. Carl had graduated from Alcorn State in his native Mississippi and Nannie, from Tennessee State University in her home state. Nannie was a teacher and a ward leader for the Re­publican Party. Carl was a successful real estate entrepreneur, a man known as the "kitchenette king" in the Chicago Defender. He earned this designation by routinely purchasing three-unit apartment build­ings and chopping the units into ten smaller sections, each of them with a partial kitchen attached to the living room. The kitchenettes allowed Carl, and the other investors who followed suit, to provide housing for Black residents who, due to widespread housing discrim­ination, were squished into far too small a terrain. Quite simply: the South Side was bursting at the seams, and Carl found a lucrative so­lution to the problem. As a result, the Hansberrys were, at least in the eyes of the community in which they lived, wildly successful.
And yet, like the vast majority of their skinfolk, they were shut­tered into the ghetto. The Great Depression had cast an already poor community into desperation. The waves of migrants from the South slowed, and the people relied on each other even more intensely. Lor­raine would remember her early years in this way:
The honesty of their living is there in the shabbiness: scrubbed porches that sag and look their danger. Dirty gray wood steps. And always a line of white and pink clothes scrubbed so well, waving in the dirty wind of the city. [. . .] Our south side is a place apart . . . each piece of our living is a protest.
Living on South Parkway and Forty-Fifth, the Hansberry fam­ily was knitted within a fabric of migrants. They occupied the same building as their tenants. Many of the adults worked in the stock­yards of the smoky industrial city that was at once a center of global exchange and a site of intense segregation. Chicago was known for business, from gangsters to gilded captains of industry, and the hard-scrabble lives of its laboring residents. The Black migrants from Southern farms traded terror and cotton fields for crowded units with hallway toilets and a slightly greater taste of freedom.
Lorraine, though a bookish and interior child, was part of the throng of children playing on those wooden back porches of Chicago apartment buildings and on the burning concrete of Chicago blocks. Her recollections of childhood were often sweetest when she remem­bered summertime:
My childhood South Side summers were the ordinary city kind, full of the street games and rhymes that anticipated what some people insist on calling modern poetry. . . . I remember skinny little South Side bodies by the fives and tens of us, pant­ing the delicious hours away.
A favorite game was the childhood classic Mother, May I, the choreography of which Lorraine described tenderly:
One drew in all one's breath and tightened one's fist and pulled the small body against the heavens, stretching, straining all the muscles in the legs, to make—one.... giant…step... Why was it important to take a small step, a teeny step, or—one giant step? A giant step to where?
Some steps Lorraine was expected to take as a child of the Black middle class, in particular, isolated her. They discomfited her, and even made her suffer. In one of the most poignant recollections of her youth she recalled the terrible error her parents made in sending her to school in a lavish white fur coat in the middle of the Great Depres­sion. Wearing it, Lorraine thought she looked exactly like someone wearing one of those dreadful rabbit suits meant to entertain chil­dren. She detested those big human rabbits. Her parents thought it was lovely. Lorraine explained their delight, in part, by saying that she was the only child who did not come from the "Rooseveltian atmosphere of the homes of the thirties." Her parents had not yet defected like other Black folks from the traditional Black Republi­can Party affiliation that reached back to Reconstruction. President Franklin Roosevelt's social safety net was not entirely in line with the Hansberrys' politics. Carl was a capitalist. When Lorraine showed up at school in that fur coat, her classmates gave her a good wal­loping. She understood why. She too reviled the fancy coat and soon all symbols of affluence. Her providential birth became a source of shame. Though a little girl, she knew, as someone intimately con­nected with her people, people who had so little in comparison to her family, that her classmates had good reason to resent that coat when food was often scarce and both work and housing were hard to come by.
The gap between Lorraine and her parents was pronounced in other ways. From her perspective, Carl and Nannie approached parenting in a utilitarian fashion. All four children were well fed, clothed, and provided for. But there was no coddling. When sick, the children were nursed back to health with appropriate remedies and attention, but not much affection. The Hansberry children were ex­pected to be good and were matter-of-factly taught clear values:
We were also taught certain vague absolutes: that we were better than no one but infinitely superior to everyone; that we were the products of the proudest and most mistreated of the races of man; that there was nothing enormously difficult about life; that one succeeded as a matter of course.
Carl and Nannie's parenting style might have had something to do with class or generation, or merely disposition. Even though her parents were good parents, for Lorraine the emotional distance hurt. She yearned for affection. That, along with her being the youngest and a bother to her older siblings—Mamie was seven years her senior and Perry and Carl Jr., nine and ten years older respectively—con­tributed to an early sense of loneliness.
Though Lorraine rebelled from her parents' politics and, as far as she was concerned, the coat incident was one of those early signposts of such rebellion, and she resented their emotional distance, the les­sons about race and racial loyalty that she learned from them took root. Most of all: one must never betray the race. Notwithstand­ing their status, Carl and Nannie's striving was not primarily self-aggrandizing. They were "race people" in the old-fashioned sense of the word: respectable representatives who believed that every suc­cess and every failure was either championing the race or shaming it. Carl's entrepreneurialism was consistently connected to fighting against Jim Crow practices. His greatest fight began in 1937, the year Lorraine turned seven years old. Carl set his sights on a brick build­ing for purchase at 6140 South Rhodes Avenue. This one was differ­ent from his previous purchases. The home was covered by a racially restrictive covenant, a private land agreement in which neighbors in the area had agreed to not sell to African Americans and other "un­desirables." Such agreements covered the majority of Chicago real estate at the time. But a personal dispute between one homeowner who served on the board of the Woodlawn Property Owners Associ­ation and the rest of the board led him to sabotage the neighborhood by selling his home to a Black purchaser, Carl Hansberry. Carl was well aware that his purchase would lead to a legal battle. He enlisted the support of the National Association for the Advancement of Col­ored People (NAACP) in advance and received a mortgage from the Supreme Life and Liberty Insurance Company, a Black-owned outfit that was often involved in Black politics in the city.
The case that resulted from Carl's bold move sits somewhat dully in constitutional law textbooks today. But behind it was a harrowing story for the seven-year-old Lorraine. As an adult, she described the event in an unpublished letter to the New York Times. Carl, she said, spent a great deal of money and time working on the case with the NAACP. She, her mother, and siblings occupied the home and lived under siege. Outside their door a howling white mob lay in wait. She and her siblings were hit, spat upon, and cursed out as they walked to school. In the evenings, her mother protected the home with a German Luger pistol while Carl was often out of town working with the team of lawyers, fighting for their right to be there.
In an interview with the Chicago Tribune, Lorraine's sister, Ma­mie, recalled that a chunk of cement was thrown through the win­dow by a member of the mob. The cement almost caught Lorraine's head. It was thrown with such force that after it shattered the glass, and nearly hit the seven-year-old girl, it landed at the living room wall and lodged itself tightly into the plaster. "That was a grotesque sight to see that lodged in the wall," Mamie told the Tribune. "You know that somebody doesn't like you, doesn't want you there."
Any reader familiar with Lorraine's most famous play, A Raisin in the Sun, will sense that this episode, and Lorraine's near-death ex­perience in the midst of it, is an undercurrent of Raisin's story of a Black family that buys a home in a white neighborhood in Chicago. But in truth, the Hansberry experience was not unique. There were literally hundreds of cases across the Midwest of white mob violence in response to individual efforts to integrate. The consequences were destroyed property, lost homes, trauma, and sometimes death. Unlike the South, in which the racial hierarchy was marked in a plethora of other ways, from segregated train cars to lynching, in Northern cities real estate was the border of racial status.
Before writing A Raisin in the Sun, Lorraine reflected on her own childhood experience multiple times in fictional form. Lorraine ha­bitually worked through her ideas, memories, politics, and passions by writing vividly imagined fictional scenes. They are a key to reveal­ing her interior life.
And so it had come to this. Horrified as he stood on a height above the Potomac, James Madison, the fourth President of the United States—and now, some wondered, the last?—watched his beloved Washington City as it seemed to vanish into a crimson-orange swirl of fire. It was after midnight on Wednesday, August 24, 1814, and Madison was a fugitive, escaping the Capital— first by ferry, then by galloping horse—for the dark wilderness of Virginia.
Excerpted from Looking for Lorraine: The Radiant and Radical Life of Lorraine Hansberry by Imani Perry. Copyright 2018. Excerpted with permission by Beacon Press.
---
Related stories:
Chicago Celebrates Legacy of Playwright, Activist Lorraine Hansberry