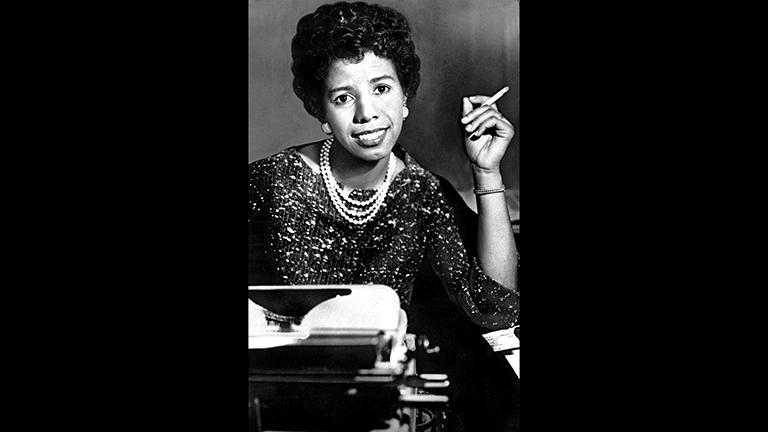 Lorraine Hansberry (Courtesy of The Goodman Theatre)
Award-winning playwright Lorraine Hansberry packed an impressive career into a short life. Now, a local theater wants to celebrate the South Side native's work that extends beyond the stage.
"She was always an activist. She comes from a family of activists," said Chuck Smith, resident director of the Goodman Theatre.
The Goodman, along with the city of Chicago, will honor Hansberry's legacy with The Lorraine Hansberry Celebration, a series of events which kicks off Saturday and runs through June 5 in conjunction with the Goodman Theatre's production of Hansberry's second play, "The Sign in Sidney Brustein's Window."
The celebration features seminars discussing Hansberry's lesser-known works, such as her essays and unpublished teleplays, and an awards ceremony to honor her contemporaries – African-American women who have changed the scope of American theater. Honorees include singer, actress and composer Micki Grant; playwright and director Shauneille Perry; actress Lynn Hamilton; actress, dancer and educator Dr. Glory Van Scott; and musician, actress, activist and poet Camille Yarbrough.
Hansberry changed the scope of American theater herself in 1959 when she became the first African-American female playwright to have a show on Broadway with "A Raisin in the Sun," for which she won New York Drama Critics Circle Award.
The city will also proclaim May 19 as Lorraine Hansberry Day in honor of what would have been her 86th birthday. Hansberry was diagnosed with pancreatic cancer and died at the age of 35 in January 1965, the same day her second play closed.
[Read Lorraine Hansberry's biography from the Chicago Public Library]
Hansberry and her family have a special role in Chicago's history, Smith said.
"Lorraine Hansberry's father was one of the unsung heroes of African-American activism in the city of Chicago," he said.
Smith said Carl Hansberry was a realtor who bought property from a white landowner on the South Side and moved into a white neighborhood. The family was harassed and attacked but refused to leave. A court ordered the family to move, but Hansberry's father took the case all the way to the U.S. Supreme Court. And won.
"That's what opened up the whole idea of land ownership to African-Americans in the city of Chicago. Not too many people know about that," Smith said.
Hansberry carried on that spirit, using the stage to put civil rights in the spotlight. She met with then-U.S. Attorney General Robert Kennedy in 1963 to advocate for the civil rights movement.
"Hansberry and a group of black artists made [Kennedy] sit down and understand what the heck was going on with the civil rights movement and why it was important to get behind it, and really shook him up. So her life to me is a rich life of activism," Smith said.
For Smith, Hansberry is a personal hero. She went to Englewood High School, just a few blocks away from Smith's own high school. Smith has followed her work for years and directed the Goodman Theatre's production of "A Raisin in the Sun" in 2000.
"That play was one of the first plays that I saw that I actually identified with," Smith said. "I knew the characters. I understood who the characters were. I had lived or been around the lives of these people in my own personal life, and I saw myself on stage in the character of the young kid, Travis, who slept on his grandmother's couch, which was me living on the South Side."
Smith said the themes prevalent in Hansberry's work – such as segregation, fair housing and racial identity – still resonate with today's audience.
"Black activism today is alive and well," Smith said. "It was alive and well in her day, it was alive and well when she was writing, and it's alive and well today long after she's passed," Smith said.
"I'm hoping that as we relive the life and works of Lorraine Hansberry, we will become more aware and stay aware of what's going on in our communities today."
The Goodman Theatre's production of "The Sign in Sidney Brustein's Window" opens April 30 and runs through June 5. For a list of seminars and other Lorraine Hansberry Celebration events, go here.
---
Related stories from "Chicago Tonight"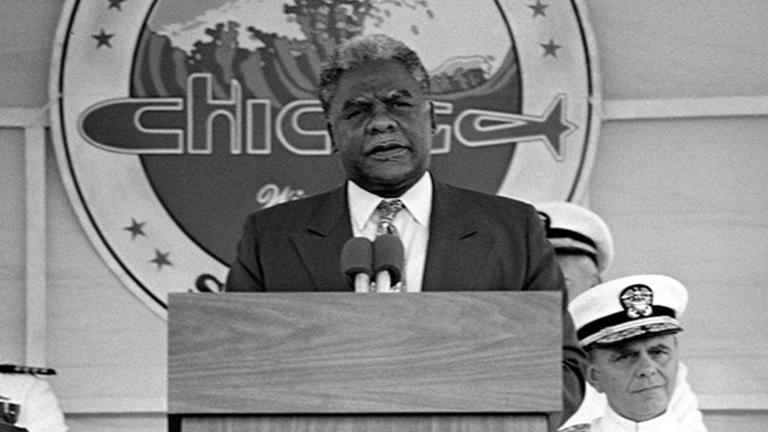 Summit to Honor 'People's Mayor' Harold Washington
April 25: Nearly 30 years after his death, the "People's Mayor" Harold Washington is being honored with a daylong summit, and registration is filling up fast. Paula Thornton Greear with the Chicago Urban League says remembering Washington's legacy is essential, especially given today's political climate. 
---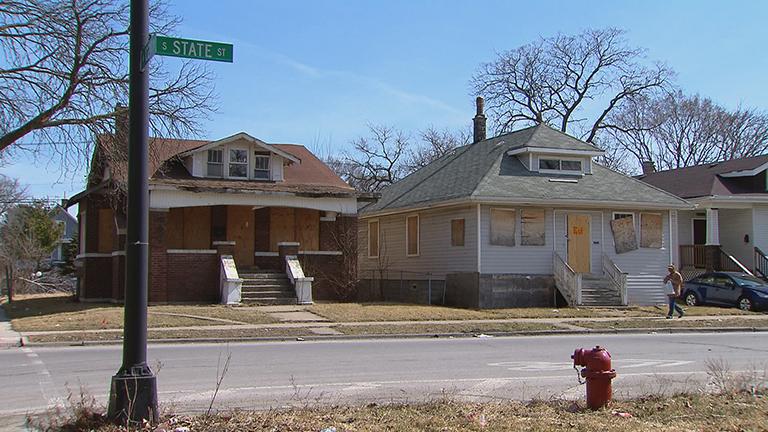 Report Highlights Struggles in Chicago's Segregated Communities
March 14: A new report from the Chicago Urban League says many blacks still live in racially segregated and impoverished neighborhoods.
---