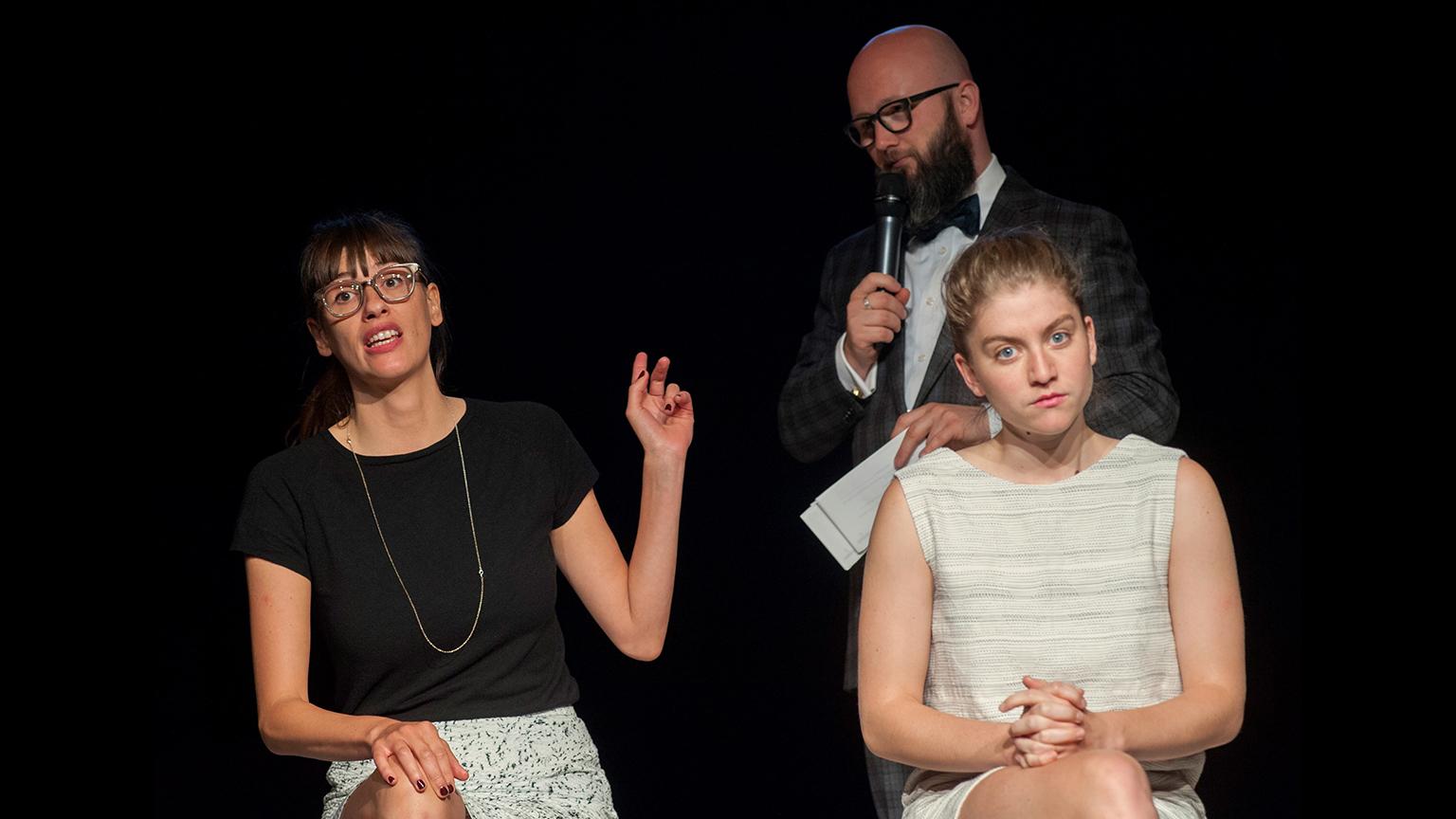 From left: Aurelie Lannoy, Angelo Tijssens and Charlotte De Bruyne in Ontroerend Goed's "Fight Night." (Photo by Yvon Poncelet)
"Fight Night" is the second of three theater productions to arrive at Chicago Shakespeare's intimate Upstairs Theater this season as part of its "Big in Belgium" series. And if the final show in the series ("Us/Them," a work about the brutal 2004 Beslan School siege by Chechens, set to run Jan. 22-Feb. 3, 2019) is even half as good as the first two, you might very well conclude that the small European nation responsible for them is now the creative hub for some of the most original and astute theatrical work to be found anywhere.
Like "BigMouth," the brilliant one-man show that kicked off the series, and suggested the frequent (and often dangerous) disconnect between substance and style in political oratory over the centuries, "Fight Night" seems to have been devised as a response to the global (dis)temper of our times. But in its exceedingly clever, entertaining, highly polished (and winningly non-intrusive) 85-minute interactive form it could not be more different.
The operative conceit of the show – which has been written by Alexander Devriendt, Angelo Tijssens and the cast, and shrewdly directed by Devriendt – is that the approximately 190 members of the audience on any given night will engage in a process similar to a television "elimination" contest (which, in fact, is not all that different from how our election process works). And ultimately they will choose one of five contenders for an unspecified office.
Along the way, after listening to these office-seekers' responses to various questions (mostly generic, although the answers reveal quite a bit), the audience casts its "votes" by means of a small individual electronic device handed out to each person as they enter the theater.
Each contender's age, temperament and physical appearance (there can be no denying we are an intensely visual culture) all have an impact on the outcome. But so does the audience demographic, and of course each audience will be different, as will the choice of the winner. (The logistics of all this are difficult to decipher, but I have been assured every audience sees a somewhat different show and renders varying "election" results.)
Early on in the process the emcee (played by the droll, bald Tijssens, dressed in a quirky plaid suit), oversees a demographic survey of the audience, tallying (to often intriguing results), statistics about gender, age, marital status and weekly salary. The candidates (who go by their real first names) include: Charlotte De Bruyne, a leggy, 20-something blonde; Aaron Gordon, a good-looking young black man (and the only non-white in the group); Aurelie Lannoy, a tall 30-something brunette in a pants suit; Jeroen Van Der Ven, a good-looking, somewhat arrogant man with a neat beard in his mid-30s, and Max Wind, a boyish-looking fellow with the air of a postdoc.
Each of them (with impeccable English and distinctive personalities) makes an opening statement, and then a vote based on very early impressions (and prejudices and whims) is taken. Once the tallies are in and projected on a set of screens, the lowest vote-getter must leave the stage.
The audience then votes on the remaining candidates based on the their defining character traits ("passionate but vain," "appealing but manipulative," "trustworthy but chaotic," "kind but pedantic"). We are, perhaps, getting a better sense of who they might be. The audience, too, is asked to reveal itself when prodded to vote about whether they are "a little bit racist, or sexist, or violent, or none of those things." So the election dynamics are considered from dual perspectives. And at a certain point there is talk of two of the candidates possibly forming a coalition, of their feelings about religion, of the importance of giving voice to even the smallest group of voices not represented by the candidate, and if the option to not participate at all and let the whole process self-destruct.
One of the more intriguing moments comes when the audience is asked to vote about which verbal slur offends them most, and one of the candidates makes a thoughtful argument about the many ways in which words can be used and redeemed.
If this all sounds a bit gimmicky be assured it is not. It is great fun, but it also offers food for thought and self-questioning, along with a healthy dose of cynicism and a reminder we need to listen far more intently and interpret every word with greater care. As for timing, the arrival of "Fight Night" just a week before the midterm elections could not be more fortuitous.
(One final note: Mayor Rahm Emanuel was in the opening night audience. Wish he would write a review.)
"Fight Night" runs through Nov. 4 at Chicago Shakespeare Theater Upstairs, 800 E. Grand Ave. on Navy Pier. For tickets ($32-$56) call (312) 595-5600 or visit www.chicagoshakes.com. Running time is 85 minutes with no intermission.
Follow Hedy Weiss on Twitter: @HedyWeissCritic
---
'Hello, Dolly!' Still Leads the Parade of Musicals in the Key of Joyful Escapism
American Blues Theater's 'Buddy Holly Musical' Tops 2018 Equity Jeff Awards
Joffrey Ballet Dancers Demonstrate Their Prowess in 'Swan Lake'
In Porchlight's 'Gypsy,' a Mama Rose of Hurricane Force
---