Chicago police Officer Jason Van Dyke and defense attorney Elizabeth Fleming listen to testimony Wednesday, Sept. 26, 2018 during the seventh day of the trial. (John J. Kim / Chicago Tribune / Pool)
Attorneys for suspended Chicago police Officer Jason Van Dyke wrapped up their third day of defense by calling a truck driver who they believe was attacked by Laquan McDonald the night the 17-year-old was fatally shot, and an instructor from Chicago's police academy who trains recruits in use of force statutes.
Van Dyke is charged with first-degree murder after shooting McDonald 16 times during a police call in October 2014. He also faces 16 counts of aggravated battery and one count of official misconduct. 
During their training, Chicago police recruits learn they're allowed to use deadly force in situations in which a suspect has threatened or inflicted great bodily harm. But deadly force must be "reasonable" and "necessary" and needs to be an officer's last line of defense, according to Illinois state law.
On the witness stand Wednesday, attorney Yolanda Sayre, who has worked as an instructor at the academy for more than two decades, showed jurors a worksheet she uses to teach recruits when deadly force is justified. According to Sayre, there are five such justifications under Illinois law, but her testimony focused on just two of those: when a person commits a "forcible felony involving the infliction or threatened infliction of great bodily harm or death"; and when a person attempts to "defeat an arrest" by use of a deadly weapon.
Chicago police attorney Yolanda Sayre talks about use of force training on Wednesday, Sept. 26, 2018. (John J. Kim / Chicago Tribune / Pool)
McDonald was armed with a knife the night he was killed, and Van Dyke's attorneys on Wednesday said he used it to attack truck driver Rudy Barillas in a lot on 41st Street and Kildare Avenue moments before he was shot. 
Through a Spanish interpreter, Barillas testified that he found a man who appeared to be breaking into a truck in that lot the night of the shooting and called 911. The man then attacked Barillas with a knife before fleeing the lot toward 41st Street.
Barillas, who wasn't harmed in the attack, said the man was wearing a black hoodie and dark jeans – similar to what McDonald was wearing that night. But he never actually identified his attacker as McDonald.
The defense presented this testimony to show the jury that McDonald had committed a "forcible felony" that would justify use of deadly force.
But prosecutors argued officers can only use deadly force in limited circumstances as a last resort, which they say wasn't the case when Van Dyke opened fire. 
"No matter what the circumstances are, (deadly force) has to be 'reasonable' and 'necessary,'" special prosecutor Dan Weiler told Sayre, noting that some form of those two words are used 15 times through her training worksheet.
"Absolutely," she replied.    
Get more updates below from Wednesday's courtroom proceedings. Get complete coverage of the trial here.
1:23 p.m.: 'Catastrophic Injury'
Jeremy Stayton testifies on Wednesday, Sept. 26, 2018. (John J. Kim / Chicago Tribune / Pool)
The surgeon who attempted livesaving surgery on McDonald testified that the injury caused by the gunshot wound to the teen's right chest is almost always fatal.
"If he had been shot with that injury right in front of us, the chances of survival would be very low in any case," said Dr. Jeremy Stayton, a former surgeon at Mount Sinai Hospital, where McDonald was taken following the 2014 shooting.
Stayton testified that this type of injury to the pulmonary artery proves fatal more than 99 percent of the time. In his career, he said he has never seen someone survive something like this.
"It's a pretty catastrophic injury," he testified.
McDonald had no vital signs when he arrived at the hospital and had minimal blood loss from his other injuries, according to Stayton. He explained that was likely because McDonald's blood pressure had already dropped to zero before he had a chance to bleed further.
Even so, Stayton testified that McDonald's death – while quick – would not have occurred instantaneously.
"It wouldn't be you're alive one second and dead the next," he said. "It takes a while to bleed to death."
---
11:44 a.m.: 'Revolver Knife'
Defense attorneys called a 27-year Chicago police veteran to testify about an officer safety alert warning police of a "revolver knife."
CPD Sgt. William Schield told jurors about the alert, which went out in 2012, that informed police about a knife that contained a .22-caliber revolver capable of firing multiple shots in its handle.
McDonald was armed with a knife when he was shot, and Van Dyke's attorneys are trying to show why their client felt deadly force was justified.
On cross-examination, Schield admitted that he has never seen such a weapon recovered since the alert went out, nor is he aware of any other officers who have seen something like this "revolver knife" in his CPD career.
---
Truck driver Rudy Barillas testifies on Wednesday, Sept. 26, 2018. (John J. Kim / Chicago Tribune / Pool)
Rudy Barillas, the truck driver who called 911 the night of Oct. 20, 2014, explained to jurors how he defended himself from a knife-wielding man inside a truck lot on 41st Street and Kildare Avenue.
Barillas and his wife arrived at the lot to park a truck that night when they saw a man inside another truck and called police.
Barillas, who never identified this man as McDonald, said it appeared as if the person was trying to speak but was "tongue-tied." After exiting the truck, the man got within 3 to 4 feet of Barillas and began slashing at him.
Barillas, who was uninjured, testified that he threw his phone and a handful of gravel at him before the attacker left the scene toward 41st Street – only seconds before police arrived.
"You were able to fend off this man with a cellphone and a handful of rocks, is that right?" special prosecutor Joe Cullen asked.
"Yes," Barillas responded through a Spanish interpreter.
"You were lucky?" defense attorney Randy Rueckert then asked on re-direct.
"Yes," Barillas said again.
---
10:16 a.m.: 'I Was in Shock'
Chicago police Officer Leticia Velez testifies Wednesday, Sept. 26, 2018 during the trial. (John J. Kim / Chicago Tribune / Pool)
Officer Velez said the infamous dashcam video of the shooting didn't show things from her perspective.
"It doesn't show (McDonald's) face," she testified. "It doesn't show the look in his eye."
On cross-examination, Velez admitted she initially didn't want to respond to the "hot call" at 41st Street and South Pulaski Road and instead told her partner she wanted to go to dinner. Following a discussion, she and her partner did "grudgingly" decide to go to the scene. 
Velez became combative with special prosecutor Jody Gleason, who questioned the officer about why – if she believed McDonald was armed with a gun – she didn't get on the radio to warn her fellow officers on the scene.
"I was in shock," Velez testified. She also struggled to recall whether she had un-holstered her own service weapon while on the scene.
"You're asking me something that happened four years ago, ma'am," she said.
But Velez did recall seeing Van Dyke continue to fire shots after McDonald hit the ground. And after the shooting, Velez also said her first call was not for an ambulance, but to the Fraternal Order of Police – the police officers' union.
She also claimed Van Dyke's partner Joseph Walsh searched McDonald's body for additional weapons – something that is not seen on the dashcam video.
---
10 a.m.: 'He Looked Deranged'
The first defense witness of the day was Chicago police Officer Leticia Velez, who arrived at 41st Street and South Pulaski Road on Oct. 20, 2014 in the moments before McDonald was shot. She described this as a "hot call" in which she and her partner were responding to officers in need of assistance.
She testified about her first encounter with McDonald as the teen ran past her squad car in the moments leading up to the shooting.
"He did not look at us, he did not look in our direction. He just kept looking straight ahead," Velez said, adding that McDonald "looked deranged."
Velez said she could see a "shiny object" in McDonald's hand. Based on his moments and the way he ignored police on scene, she believed he may have been carrying a handgun.
---
9:02 a.m.: Defense Witness No-Show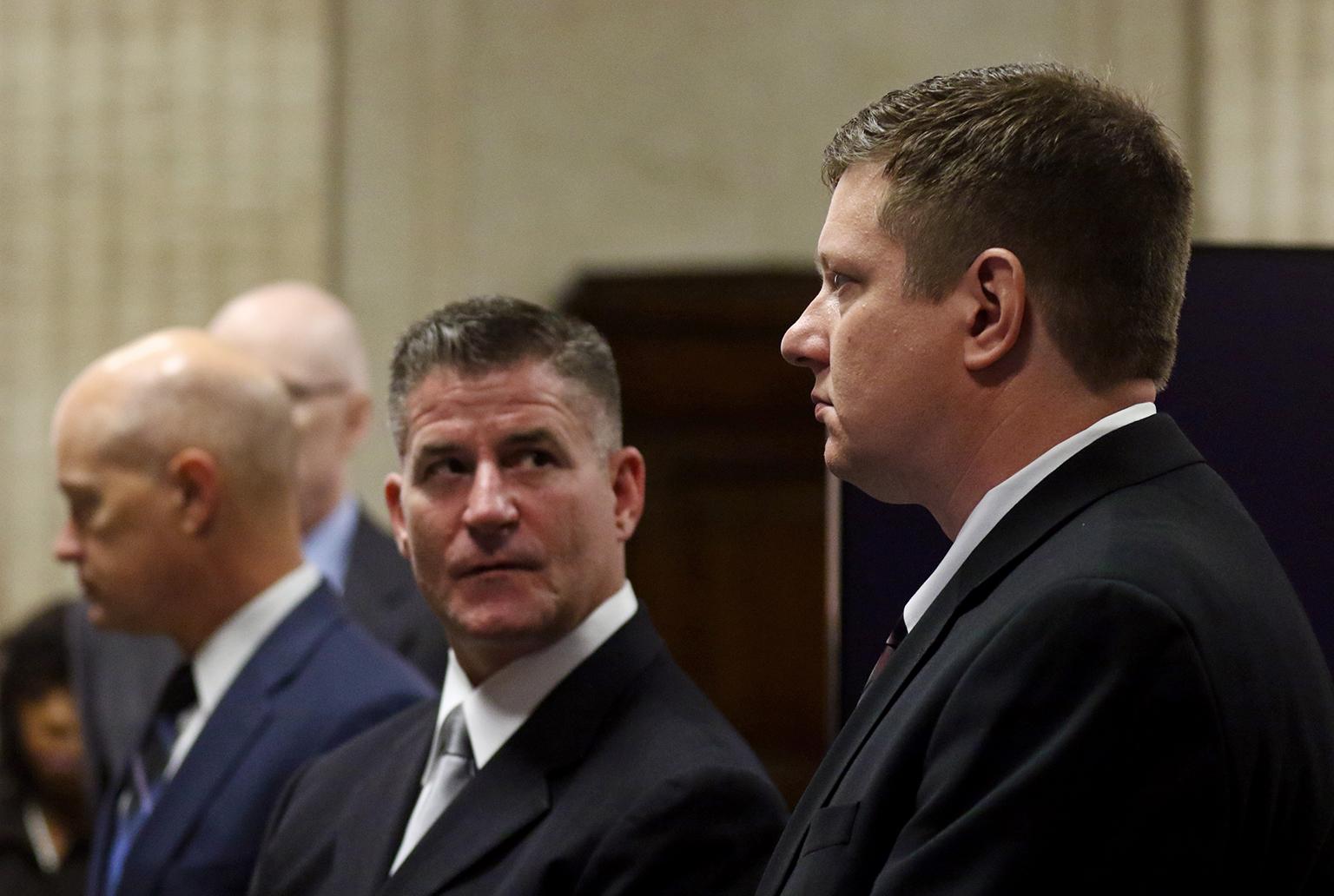 Defense attorney Dan Herbert, center, looks at his client, Chicago police Officer Jason Van Dyke, Wednesday, Sept. 26, 2018 during the trial. (John J. Kim / Chicago Tribune / Pool)
Judge Vincent Gaughan chastised Van Dyke's attorneys and threatened to toss out evidence over a witness who has not shown up to court when called.
In his opening arguments, defense attorney Daniel Herbert claimed McDonald attempted to stab a truck driver who found the teen attempting to break into vehicles and called 911 on the night of the shooting.
That truck driver has been called as a witness, but has not appeared in court. When asked if the man was present Wednesday, Herbert began answering "I think …" before Gaughan quickly cut him off.
"I don't care what you think really," the judge said. "I told you I'm going to strike the animation if he doesn't show up and testify."
That animation would be the animated video recreation of the shooting defense attorneys presented to jurors on Tuesday. If stricken, jurors would not be allowed to consider that evidence during their deliberations.
The case will resume Thursday morning at 9 a.m.
Contact Matt Masterson: @ByMattMasterson | [email protected] | (773) 509-5431
---
Related stories:
Van Dyke Defense Presents Fatal Shooting from Officer's Perspective
Van Dyke Defense Opens with Testimony of Laquan McDonald's Past
6 Key Points From Week 1 of the Jason Van Dyke Murder Trial
Jurors See Graphic Autopsy Photos on Day 3 of Van Dyke Murder Trial
Van Dyke's Partner Takes Stand, Claims Shooting Was 'Necessary Action'
A Timeline of the Laquan McDonald Shooting
---