Judge Brett Kavanaugh's confirmation hearings for Justice Anthony Kennedy's vacancy on the Supreme Court have been raucous – certainly by U.S. Senate standards.
Sen. Corey Booker on Thursday released some confidential documents to the public via Twitter about Kavanaugh's views on racial profiling -- at the risk of losing his Senate seat. "The public has a right to know," Booker said. "We are rushing to confirm a judge who … 90 percent of their record is being obscured."
Booker's Democratic colleagues released other documents in an effort to back him up. But Republican staffers later said those documents were cleared the night before to be released publicly.
Within moments of the start of the hearings Tuesday, Democrats on the Senate Judiciary Committee were interrupting proceedings, demanding they be delayed after 42,000 pages of documents were dumped on committee members late Monday. Democrats also decried the lack of transparency over Kavanaugh's record.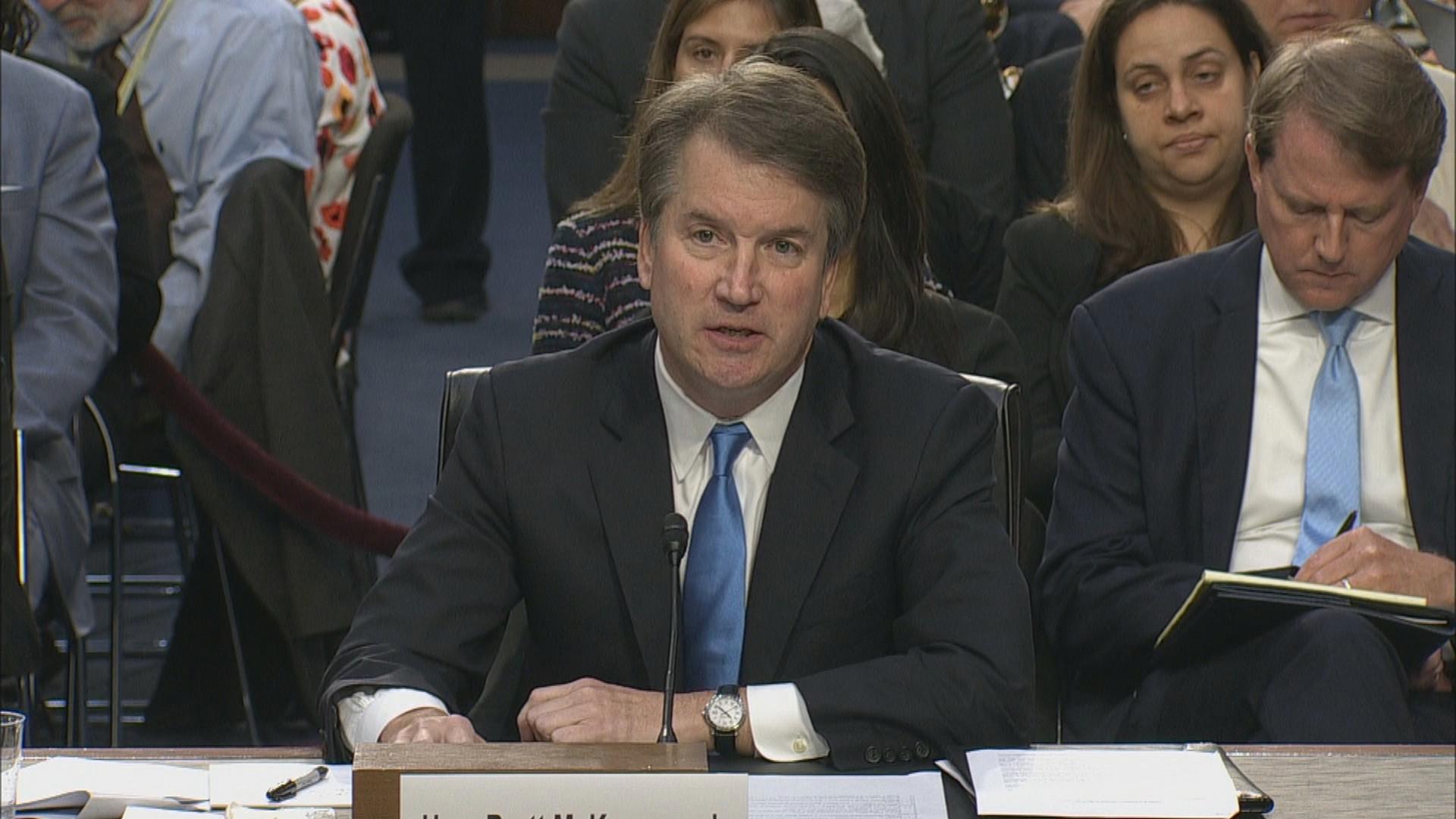 Judge Brett Kavanaugh discusses Roe v. Wade during his confirmation hearing before the Senate Judiciary Committee on Wednesday, Sept. 5, 2018.
Throughout it all, Kavanaugh has maintained his composure and has delivered safe answers to the tough questions coming his way about the president's fitness, abortion rights, affirmative action, recusal and more.
During his opening remarks, Kavanuagh equated the role of judge as similar to being an umpire. "A good judge must be an umpire – a neutral and impartial arbiter who favors no litigant or policy. As Justice Kennedy explained in Texas v. Johnson, one of his greatest opinions, 'Judges do not make decisions to reach a preferred result. Judges make decisions because the law and the Constitution, as we see them, compel the result.'"
Joining us to talk about the confirmation hearings – and the likely outcome of the proceedings:
David Franklin, who clerked for Justice Ruth Bader Ginsburg in 1999 and 2000. He teaches constitutional law at the DePaul University College of Law and is currently serving as the Illinois solicitor general.
Carolyn Shapiro, an associate professor of constitutional law and the founder and co-director of the Chicago-Kent College of Law's Institute on the Supreme Court of the United States. She clerked for Justice Stephen Breyer in 1996 and 1997.
Michael Scodro, a partner at the law firm of Mayer Brown who clerked for former Justice Sandra Day O'Connor in 1998 and 99. Since then, he has argued a number of cases before the U.S. Supreme Court.
Ashley Keller, who clerked for Justice Anthony Kennedy from 2008 to 2009. He is a partner in the firm Keller Lenkner, which at the moment has a direct connection to the Supreme Court nominee.
---
Related stories:
Trump Picks Brett Kavanaugh for Supreme Court
Trump to Announce Supreme Court Nominee
How Are Supreme Court Justices Selected and Approved?
---