The opioid crisis in the United States is being fought on many fronts. And one is at O'Hare airport.
It's there that a team of specially trained dogs keep narcotics, as well as a wide range of other illegal products, from entering the country through the mail. The dogs have been at it for many years but have recently been trained to sniff out the growing number of opioids.
There's rarely a time when 7-year-old Perro isn't enthusiastic about his job. While he is doing a job, for Perro, it's always playtime.
On the conveyer belts of the International Mail Facility at O'Hare Airport, Perro is on the hunt for certain smells. And when he detects one, he's rewarded with a toy.
"He's trained to sit when he finds one of the trained odors," said Christopher Brogni, Customs and Border Protection officer K-9 unit. "We reward him from source. We attempt to make it appear that the toy is coming from source."
That source is often an innocuous looking package. But what Perro's keen sense of smell and his training sniffs out is hardly ever innocuous.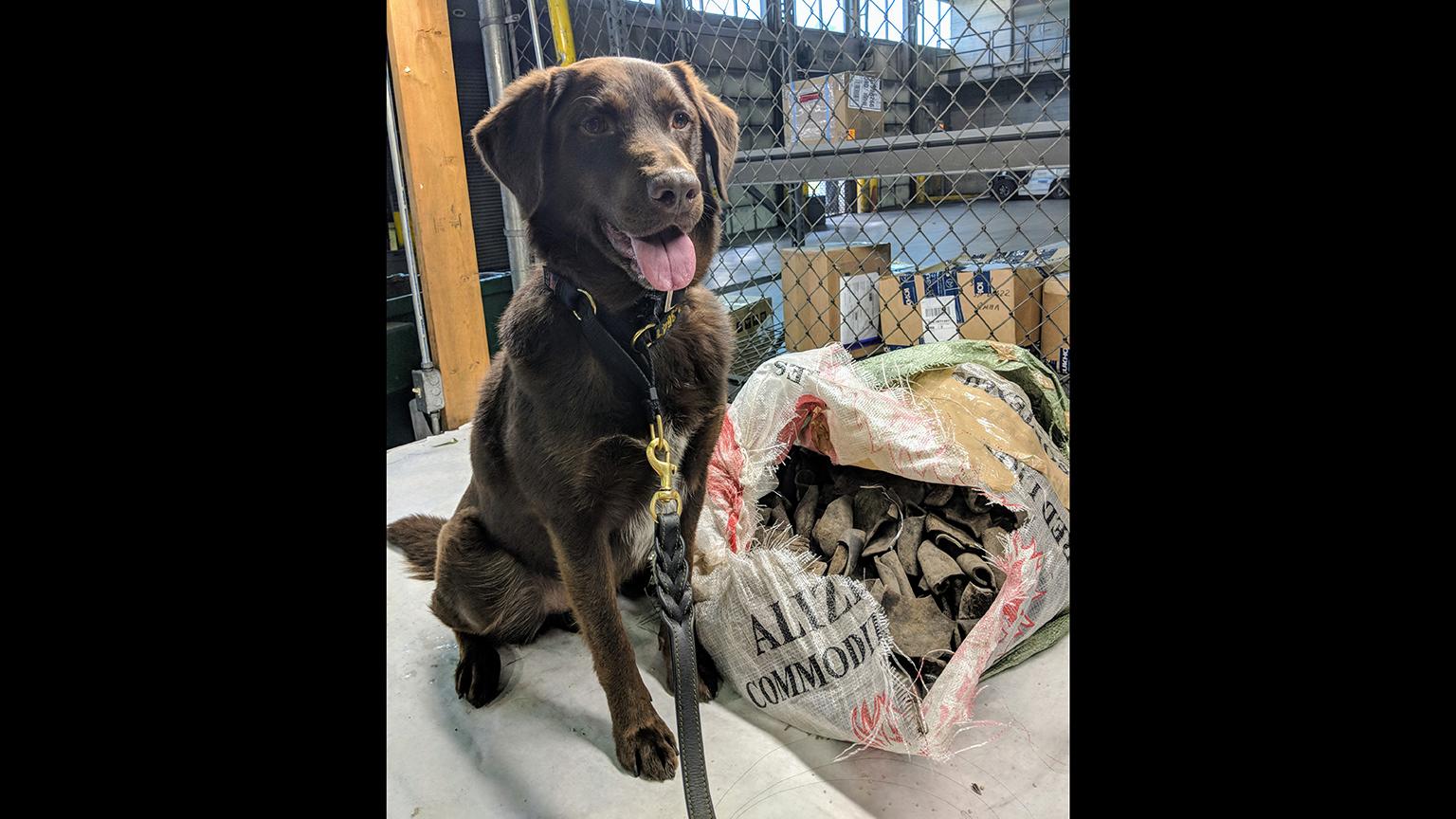 Rusty, an agriculture detection dog, sits next to contraband found on July 24, 2018 at an Air France cargo warehouse at O'Hare International Airport. (Courtesy U.S. Customs and Border Protection)
The International Mail Facility at O'Hare Airport processes 15 million packages from all around the world every year. The mail is put through X-ray machines to root out contraband. But finding controlled substances is the domain of 32 teams of Customs and Border Protection K-9s and their handlers. And they find a lot.
"It's been constant," said Brogni, who has been working with Perro for two years.
It takes intense training to get a Customs and Border Protection K-9 up to snuff. German shepherds, Dutch shepherds, Labs and beagles are the primary breeds CBP employs. At facilities in Virginia and Texas, trainers spend 12 weeks teaching dogs how to search for a wide range of controlled substances, including heroin, methamphetamine, ecstasy and marijuana.
"As of this last year they were added the ability to detect fentanyl," Brogni said.
CBP Officer Francis Byrne handles many of the packages that are seized at the O'Hare facility. A lot of them contain counterfeit goods, from fake Chanel shoes to realistic-looking, military-style weapons. But he also racks up a sizeable amount of drug seizures.
"People buy their drugs in the mail on the internet and they ship them right to their house," Byrne said.
A toner cartridge that looked a bit too tidy under X-ray inspection was found to contain Xanax, Byrne said. But sometimes the illicit drugs are not so cleverly hidden.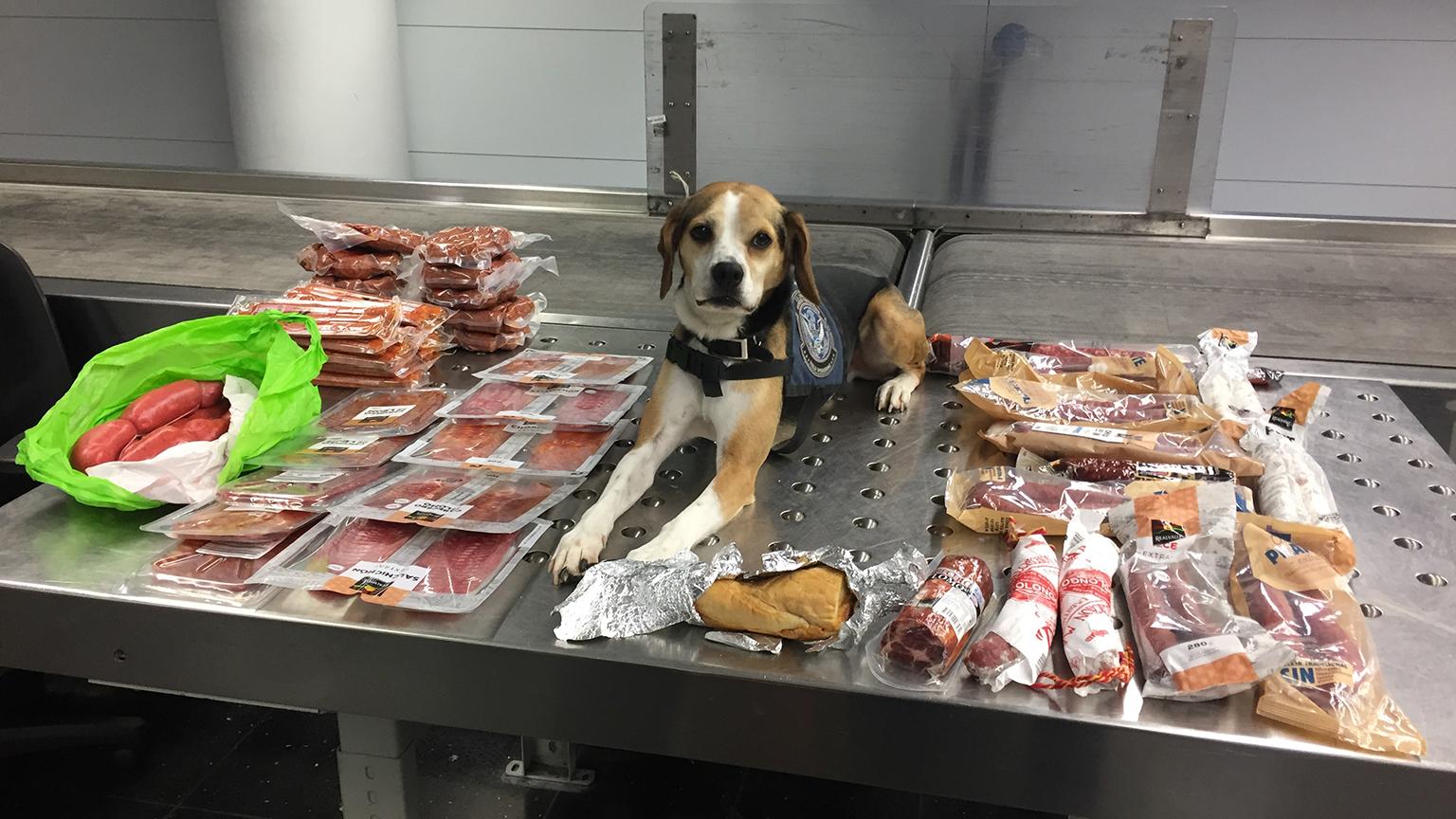 Dino, an agriculture detection dog, sits next to a cache of meat discovered at an O'Hare baggage carousel. The passenger, coming from Spain via London, declared and surrendered one chorizo sandwich before reluctantly admitting he had more meat. In total, 33.4 pounds of pork meat and chorizo were seized. (Courtesy U.S. Customs and Border Protection)
Customs and Border Protection K-9s also work the luggage carousels at O'Hare, where officials say K-9s like Dino find mostly agricultural and meat products prohibited by law. It's on the mail conveyer belts where most of the foreign contraband is discovered, and the sheer volume limits how many intended recipients suffer repercussions.
"The amount is so high that it's really difficult to make an impact as far as prosecutions," Byrne said.
The O'Hare K-9 teams are assured work every day at the O'Hare International Mail Facility but they eventually will get to retire like their human partners. Perro has about two years to go.
"He's only assigned to me, so we're partners, so when the dog retires the K-9 handler has the ability to adopt the dog and take them home," Brogni said.
"He's going to be coming home with me – at least so my wife says."
More on this story
In case you're wondering, Perro and the other O'Hare dogs aren't on the job continuously all day. They work for about an hour, and then get an hour off.
The benefits of having extraordinary smelling skills.
---
Related stories:
Fighting the Opioid Epidemic, By Mail
New Illinois Law Bans Sale of Ivory, Rhinoceros Horn
Revised Law Frees Police in Illinois to Rescue Suffering Cats and Dogs
---