Mail from Sudan. Packages from South Korea. Bubble-wrapped boxes from Iran.
Some may be love letters, written by a member of the military to a spouse in the suburbs. An envelope with a customs declaration announces it contains "beauty products." Inside a brown cardboard box from China, a pair of the latest Air Jordan shoes.
With a burgeoning E-commerce industry, there's increasingly more of it.
These are some of the thousands of pieces of mail sent from overseas and processed – and screened for contraband by customs agents and the U.S. Postal Inspection Service – at the Chicago International Mailing Facility near O'Hare.  
The "beauty products"? A plastic bag containing a designer drug. The Air Jordans? Counterfeit – that's intellectual property theft.
Gov. Bruce Rauner toured the mail facility Tuesday to highlight the state's goal of cutting opioid-related deaths by one-third by 2020. An action plan unveiled this fall outlines Illinois' plans; a crisis hotline offering resources for addiction treatment is expected to be up and running as soon as next week. Illinois State Police Director Leo Schmitz, who was also part of the tour, says troopers are using a new app that instantly tracks where overdoses occur, so they can instantly respond. A directive issued by Public Health Director Nirav Shah allows anyone to acquire Naloxone, an opioid antidote used to reverse the effects of an overdose, without a prescription.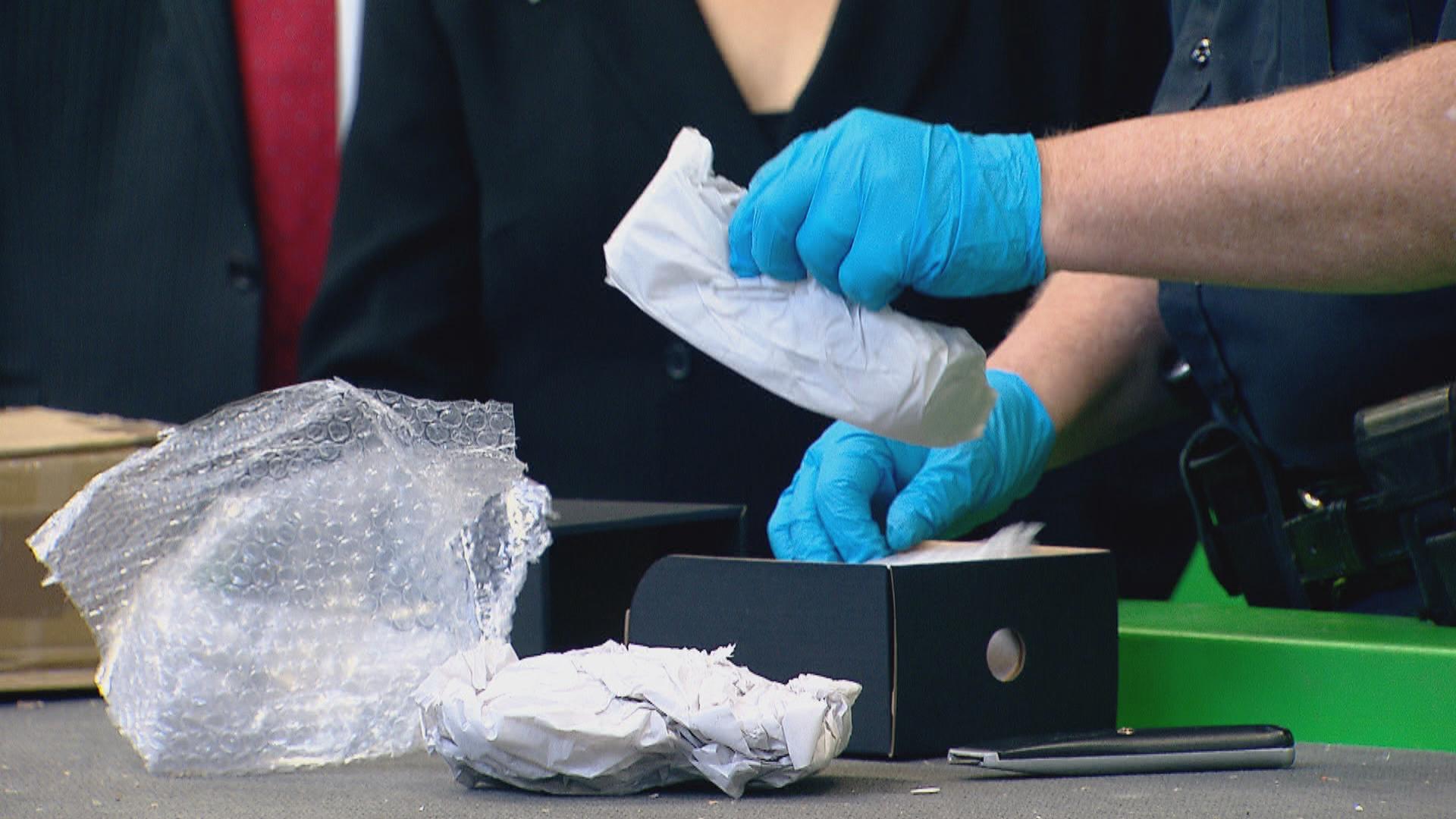 But at the Chicago International Mailing Facility, the focus is on enhanced cargo screening.
While customary searches are done using X-rays and drug-sniffing canines, newer methods sound decidedly more sci-fi.
"To achieve our competing goals of addressing the threat posed in this environment and facilitating the flow of legitimate international mail, we rely on technology to assist us in screening the massive and ever-increasing volume of mail shipments that arrive in Chicago each day," said U.S. Customs and Border Protection Area Port Director Matthew Davies. "Through the use of radiation portal monitors, X-ray machines and newer equipment like the Field Triage Infrared Spectrometer and the Gemini ... these allow us to rapidly identify unknown substances."
The Gemini uses a laser to scan biological substances, searching a digital library to instantly analyze the chemical makeup of whatever powder or rock someone sent in the mail.
Davies says when heroin is seized at the Mexican border, it's typically already cut. But drugs that are sent by mail are often still in their most concentrated forms.
That can be dangerous for officers when a drug like fentanyl, an opioid that's stronger and deadlier than heroin, is in a package. Several officers at the mail facility say they're careful to always wear rubber clubs when inspecting shipments, because of the lethal danger of even touching fentanyl.
Customs agents seized 82 fentanyl shipments at the Chicago International Mailing Facility in the 2017 fiscal year, 89 percent of which came from Hong Kong and China. 
Follow Amanda Vinicky on Twitter: @AmandaVinicky
---
Related stories:
Family Tragedy Prompts Local Woman to Fight Opioid Epidemic
Nov. 9: The opioid epidemic in Illinois is more acute than in many other states, according to the National Safety Council. We discuss the crisis and a new memorial that highlights the human toll of opioid addiction.
---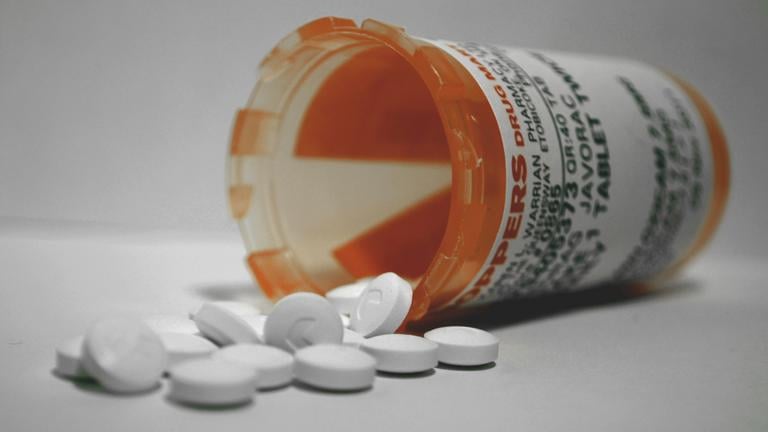 Chicago, County Officials Take Action Against Opioid Epidemic
Nov. 1: Local officials call for restrictions on opioid prescriptions as Mayor Rahm Emanuel proposes a $500,000 investment to fight the opioid epidemic.
---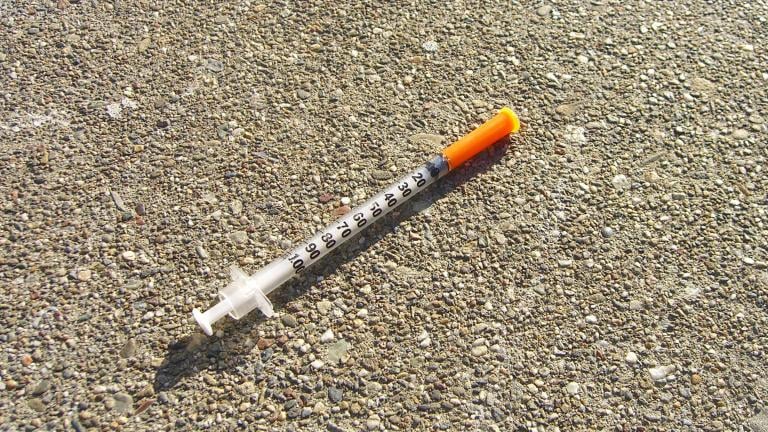 Trump Declaring Opioid National Emergency Could be 'Game Changer'
Oct. 25: As opioid overdose deaths continue to rise, President Donald Trump on Thursday is expected to declare the ongoing epidemic as a "national emergency."
---