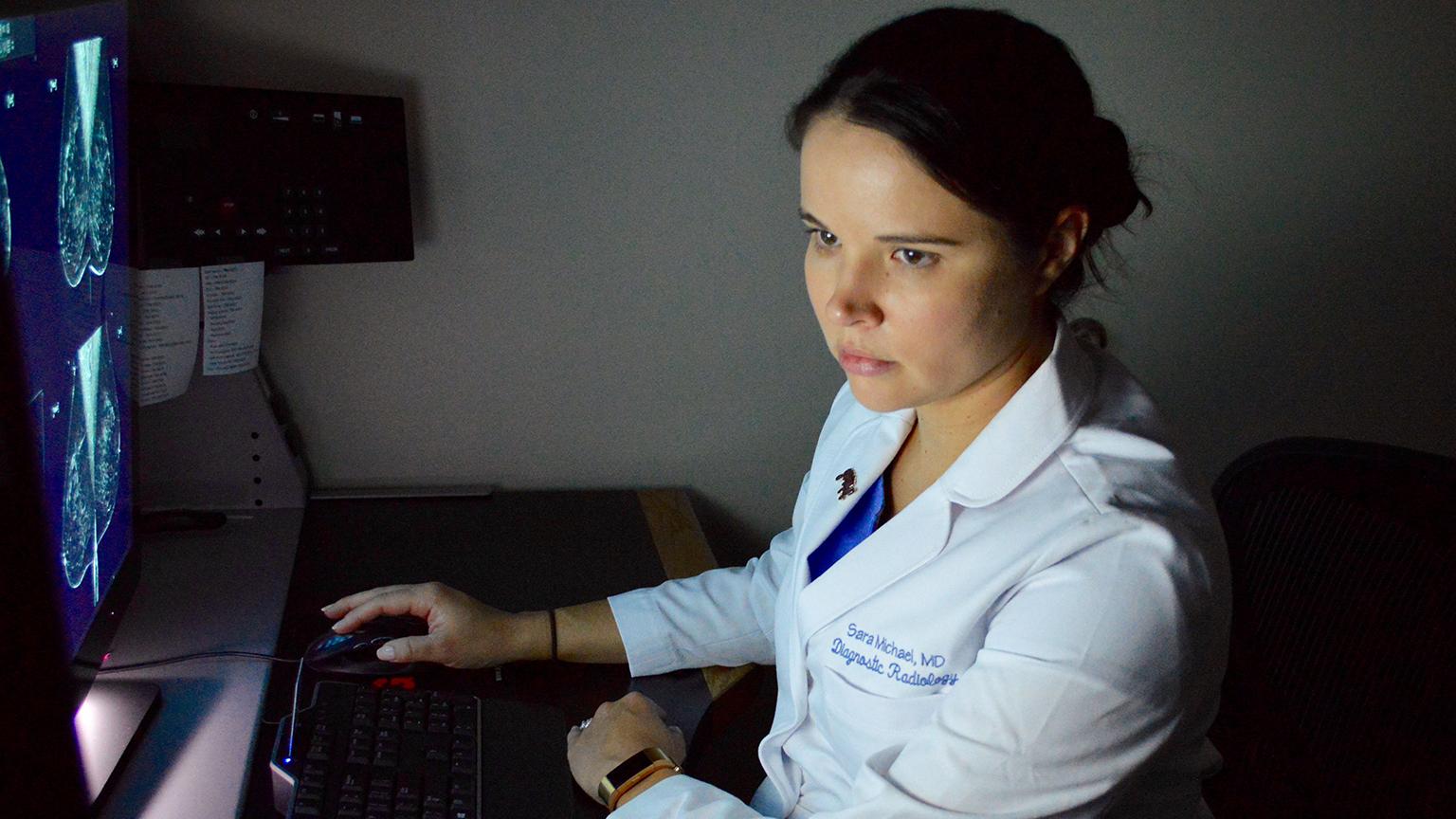 Diagnostic radiologist Maj. Sara Michael reviews a mammogram at Blanchfield Army Community Hospital to look for any abnormalities in the breast tissue. (Photo Credit: Maria Yager)
A new state law will require mammogram providers to notify women whose test results show they have dense breast tissue.
The legislation, signed by Gov. Bruce Rauner on Friday, was spearheaded by Glenview resident and breast cancer survivor Patti Beyer. Beyer doesn't have a family history of breast cancer, but she does have dense breast tissue – a risk factor for the disease. According to the American Cancer Society, women who have dense breast tissue have a "slightly" higher risk of developing breast cancer than those who do not.
"I am so relieved because this will allow women to be competent on breast health," Beyer said. "This allows women to participate in their health."
Breast density is only seen on mammograms and isn't detected based on how a woman's breasts feel, according to the ACS. Radiologists classify breast density using four categories that range from almost all fatty tissue to extremely dense with very little fat and higher percentages of fibroglandular tissue. 
Dr. Georgia Spear, head of the department of breast imaging at NorthShore University HealthSystem, said in March the legislation would "educate and inform women … of their breast density in order to achieve their best chances for early detection of breast cancer."
Up to 40 percent of women ages 40 and older have dense breasts, according to Dense Breast Info, an educational website dedicated to providing information to patients and health care providers.
The new law takes effect Jan. 1, 2019 and was sponsored by Rep. Michael McAuliffe and Sen. John Mulroe, who tried to get a similar bill passed in 2014.
"The most important part of this is just educating and informing women of what the dense breast tissue is all about, so they can make better decisions about their health," Mulroe said. "I hope that with this information, women will feel empowered."
Under the new law, women will be notified via a summary of their mammography report sent to them if they have dense breast tissue. (Previously, letters sent to patients were not required to include this information.) The report will provide some additional information and direct women to contact their breast imaging health care provider for more details.
"I think the conversation and dialogue will be beneficial for everyone," Beyer said. "Illinois is the first state to encourage women to contact their radiologist or breast imaging health care provider for more information. I think that's wonderful." 
Across the country, more than 30 states have mandatory breast density notification laws. For more information on breast density, visit Dense Breast Info.
Contact Kristen Thometz: @kristenthometz | [email protected] | (773) 509-5452
---
Related stories
State Bill on Dense Breast Notifications Advances 
'Grace' Captures Breast Cancer Survivor's Journey, Mastectomy Tattoo
Cancer Survivor Pushing for State Law on Dense Breast Notifications
'Left Boob Gone Rogue' an Insightful, Humorous Blog About Breast Cancer
---